Kevin Smith's Height
5ft 8 (172.7 cm)
American film director, best known for Clerks, Chasing Amy, Dogma, Mallrats and Jay & Silent Bob Strike Back. He said in US Magazine in 2010:
"i am 5'10'"
.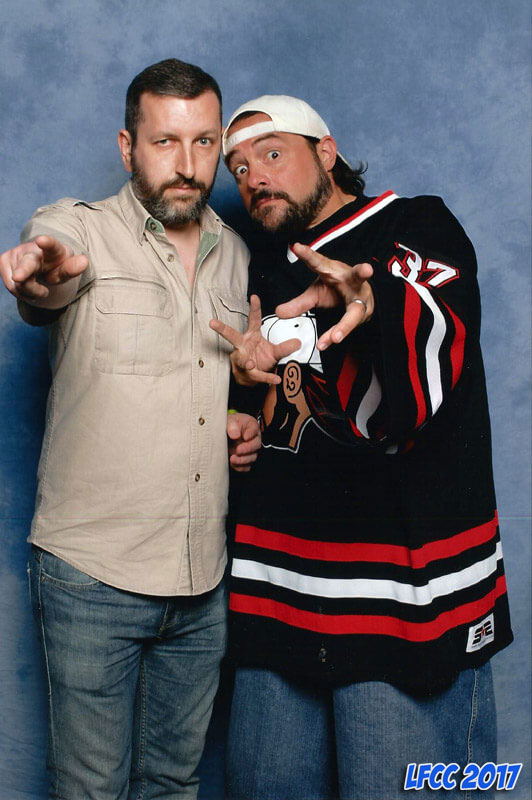 5ft 8 Big Rob and Kevin
You May Be Interested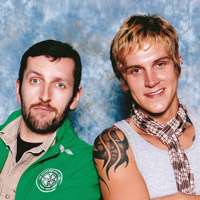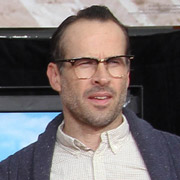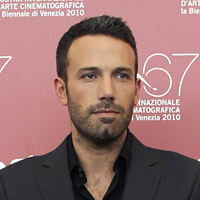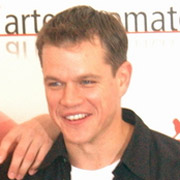 Add a Comment
63 comments
Average Guess (20 Votes)
5ft 7.66in (171.9cm)
Sandy Cowell
said on 20/Sep/18
How can Kevin think he's 5ft10? He doesn't even look 5ft8 in this picture, but it isn't the easiest one to judge from.
He can have 5ft7.5!
World Citizen
said on 18/Feb/18
Difficult to see how tall he looks with you.

Editor Rob
yeah, I think seeing him up close though, he was at most 5ft8.
randomuser
said on 24/Sep/17
@Mat 5'10.25
What a disgrace he is to real 5'10ers!!!!!
This guy is infinitely more successful and talented than your average 5'10 bloke. 5'10ers are a disgrace to him.
Shredder
said on 2/Aug/17
Rob , did you meet him? I take it you didn't meet everybody there.
Editor Rob: since I like the guy I wanted to do a pose with him, but I forgot for a moment I get photos for this site, so it wasn't the best one, he dropped more height in the pose, but he wasn't over 5ft 8 up close. I'll put that one up anyway!
Randomguy
said on 20/Apr/17
At the end of Jay and Silent Bob Strike Back, there is a scene where Smith, Mewes, and Jason Lee are walking side by side talking. Smith looks 5 inches shorter than Mewes and Mewes looks 2 inches shorter than Lee who seems to be 6'2. So I would think Smith is 5'7.
adolf
said on 12/Jun/16
here's with Teddy Sears
Click Here
johnnyboy
said on 10/Nov/15
I know Kevin smith,he is 5'7,the reason he looks shorter is because he's heavy.
Scott
said on 20/Apr/15
I met Kevin at "An Evening with Kevin Smith", and stood next to him for a picture. I've had my height measured by myself and others several times before for various things and know that I'm 176cm tall (5'9 1/2"). As an avid Kevin Smith fan, I knew he was reported to be my height, but when I stood next to him I was surprised to see I was a good 2 inches taller. I'd say he's 5'7".
slothee
said on 3/Mar/15
Now way he anywhere near that tall. He was at least 3.5 inches shorter than Jason Mewes, probably more like 4". He's 5'7"-7.5". 5'10" let alone 5'9" is a joke.
lelman
said on 15/Dec/14
Looks way shorter than this because of his weight, and probably awful posture.
Len
said on 4/Oct/14
Wouldn't put him over 5'8", and 5'7" would not be surprising.
Lorne
said on 25/May/13
I liked your old caption better, Rob! But he is at listed. In the early 90's, there was less than 3 inches between him and 181cm Jason Mewes. Today, obesity may have knocked him down a bit. And he wears 0.6in Vans a lot, as you pointed out, so not less than 174cm.
Steven
said on 4/May/13
No Way ! He looks more like 5'7-5'8 (171-172) !!! Because Jason Mewes is 181 and he looks very smaller !!
T-Squared
said on 2/Nov/11
It seems like he wears really comfortable footwear most of the time (like something without much of a lift). Even with that in mind, 5'8.5 seems spot on.
Chris175
said on 8/Sep/11
i see 5-9, depends on footwear though and kevin is closer to the camera
Red
said on 12/Jun/11
@OliTheMan- That's because Edgar Wright is 5'8"
MannJones
said on 29/Nov/10
i think 5'7 is a fair height for smith. Also he is so crazy fat it may skew perspective. But he is short indeed.
josh
said on 25/May/09
rob you need to downgrade him like 2 inches .5ft6.5 is the height you should have him in look at him in jay and silent bob he is so much shorter than jason mewes who is only 5-11
Haze
said on 14/Mar/09
btw dont let smiths hair fool you.
Haze
said on 14/Mar/09
Click Here
him and seth rogen, who i believe to be 5'10.5. and rogen is slouching. i see 2 inches on smith with rogen slouching.
and it doesnt help that kevin smith is SUPER fat these day. holy **** hes huge. hes claimed 5'11 before and that is what rogen claims. no way
C
said on 13/Jan/09
If Smith is wearing Vans or Airwalks in this photo, then he could very well be over 5'9" at least.
denis
said on 12/Nov/08
he looks normal in that picture but nowadays he has put on a lot of weight and that keep your eyes going up and they go from side to side(rotate your head in 360 degrees for a full image)
glenn
said on 23/Oct/08
i appreciate that rob.i dont expect you to catch every comment.the naysayers have a right to their opinions towards me.i just feel i need a break from reading that kind of negativity.
Roger
said on 23/Oct/08
Joe Blow, do you have some sort of a complex? Or what makes you comment on Glenn on different pages? He has changed for the better, it seems you have an axe to grind. I strongly suggest you cease commenting on celebheights, your inputs are neither welcomed nor appreciated.
glenn
said on 22/Oct/08
I promised no escalating fights,cursing or name calling.but im allowing myself to get upset and defend myself as needed.this is me and Im human,with a temper.Mamun is a incredible individual,no question.but im completely different in most ways.doesnt mean I dont mean well for the site,or Im a jerk in person.insults I shouldnt do either."get a life" might qualify as that and I apoligize.in the future this should be as harsh as I get.read Clays post.made sense.
glenn
said on 22/Oct/08
thanks for defending me clay.people are blind and have no social skills.my fault was my temper and exploding at people verbally.people of course dont see all the time i put into it for free.and its my idea to be measured with rob in april.roger knows the whole truth here on the site.he knows i wasnt going to return.
glenn
said on 22/Oct/08
hahahaha.nothing can be further than the truth guys.i had no intentions of returning.rob contacted me first and i changed my mind.i appreciate rob greatly.you want to slander me and call me a liar,well then i can say get a life.im nice to those that deserve it and if thats you james then im surprised at you.not the first post i read by you that my head scratching lately.you guys dont want me here,then complain to rob.ill gladly leave again.for good.it has nothing to do with people not agreeing with my estimates.more to do with the tone and respect towards me.still the same but changed? what the hell does that mean? duh.if i defend myself or speak up,then im a jerk.id like to see joe blow with great pics and in my shoes.he would probably be worse.
[Editor Rob: Joe blow is taking that comment too far, I tried to explain to him to give you a break, but I will delete his comment here.]
Clay
said on 5/Sep/08
Glenn was brash and abrassive but only when someone would call him a fool first or only at the people who constantly would tussle with him. If you were respectful and level headed Glenn was the nicest guy around considering how much time he would put in to answering everyone questions, etc.
Anonymous
said on 4/Sep/08
Supermun is definately nicer than Glenn.
Clay
said on 31/Aug/08
Supermun is standing behind Smith here. Definite 5'8/5'8.5.
Mamun
said on 31/Aug/08
Any time soon James !
Regards
Mamun
Mamun
said on 31/Aug/08
Thank you miko !
Regards
Supermun
miko
said on 30/Aug/08
Mamun is a legend. He is friendly and takes fantastic photos, we can't ask for more.
Mamun
said on 30/Aug/08
I will tell you the truth my friends . In the very beginning Glenn was very
angry at both ROB and me because at one point ROB had almost six of my pics
posted in the front page . He posted some very angry remarks about me in
the Alam Channa page durning the beginning of October 2007 . But latter on
he did reaLize that it wasn't my fault and I had nothing to do with what ever
him and ROB had agreed on . Beleive it or not my friends he did appologize to
me in private in that regard and had also explained to me why he was angry
with me . Ever since then , every e-mail he would send my by celeblink.com
would be very friendly ones . I didn't however argue with him on his height
estimates . I didn't go there my friends . I hope I have answered your
question James .
Brad thanks once again for your kind remarks !
KInd regards
Supermun
Brad
said on 29/Aug/08
You "couldn't" and a cease policy of 30 with Mamun's pictures? It is like somebody taking over the ship. Glad he was pushed overboard. May admiral Mamun take over the wheel captain.
Viper
said on 29/Aug/08
He looks the same height as Mamum
Mamun
said on 29/Aug/08
Thanks ROB for everything ! This was a Superman costume that I had my self
designed ! It was an all black Superman costume instead of the Blue , Red
and Yellow . I really really used to turn of lot heads every time I wore
this costume in an event . Some celebs even loved this out fit . The late
Micheal Turner ( the famous superman artists for DC comics ) personnaly took
my picture . If you good people had the pleasure of seeing me with this
outfit , I could promise you this would be something you haven't seen before
and would have loved it !
Regards
Supermun
Editor Rob
said on 29/Aug/08
Since glenn had got annoyed with some Mamun pics - basically he didn't want to be upstaged and wanted Mamun cut off after 30 or so pics! - I "couldn't" show this one alongside glenn's, so it was only a link. But now now Supermamun returns to the page.
Anonymous
said on 15/Feb/08
Hey, speaking of others in the "Jersey Trilogy," how tall is Walt Flannagan? Because I saw him at Jay & Silent Bob's Secret Stash last year, and I wouldn't have put him past 5'5". And even that's a stretch.
poster
said on 5/Feb/08
"Smith looks 5'9 and a bit with Mamun."
I was thinking the same but smith is closer to camera, plus you can't see the top of mamun's head nearly as clear as you can see the cut off point of smith's
willcall
said on 25/Nov/07
I met him and shook his hand and I towered over him at 5'10" I would guess 5'7" his wife looked about the sme height as me.
Anthony
said on 11/Nov/07
Smith looks 5'9 and a bit with Mamun.
Anonymous
said on 11/Nov/07
glenn you do look taller than him by half an inch or so.
G-MANN
said on 8/Nov/07
Never thought he was very tall. His wife always towers over him.
Antron
said on 7/Nov/07
5-9 max, he's shorter than matt damon
Mr. T
said on 7/Nov/07
I'd be willing to believe 5'9". Fat can really skew your height.
Joe
said on 7/Nov/07
Same height as Glenn: hair gives him the advantage
glenn
said on 7/Nov/07
bizzare guy to figure out.sometimes he looks 5-7 to me.most of the time 5-9.
Bee
said on 7/Nov/07
Yeah I agree, Glenn does look slightly taller than him here. What do you think Glenn?
cantstop25
said on 7/Nov/07
i would give him an inch over glenn here
Anonymous
said on 7/Nov/07
Glenn you actually look taller than him if you cutt off his big hair
antron
said on 4/Jun/07
Sometimes Kevin Smith looks 5-9. Sometimes he looks 5-8. Sometimes Kevin Smith lives in a fantasy world and has grown to 5-11... If he is really almost 5-11 then his wife would have to be a six footer since she always looks taller than him in modest heels. The only problem is, she's not. Also look at my pic of him shorter than Matt Damon, who is no taller than 5'10.
the shredder
said on 5/Apr/07
Sometimes 5'11 ... lol ! ... more like Never past 5'8 !
P. Smith
said on 4/Apr/07
He has been doing podcast on his myspace (he calls them smodcast). In the first one his producer/buddy Scott was talking about the tallest man in the world and Kevin said; "I'm about 5-10, sometimes 5-11..." I really have no clue on the guy. I have a relative who's close to 6-2 when he's standing straight up, but due to a big frame and bad posture looks 6 flat a lot of the time.
[Editor Rob: he writes comedic scenes....that "sometimes 5-11" has to be the funniest thing he's ever written...funnier than the whole of jay and silent bob strikes back!]
Antron
said on 2/Feb/07
Here is an interesting shot with Matt Damon, whom I always thought was about 5'9" or so:
Click Here
is the other guy Tarantino? I can't tell, not the best pic
colleen
said on 17/Oct/06
Met him at one of his talks in flip flops. About 5' 8". TOPS would clear 5' 9" but I don't think so. Had a boyfriend who was 5' 10" so I'm used to that height in guys and no way. He was taller than I am though. I'm 5' 6".
Regus
said on 30/Sep/06
WOW--Zack--that pic of Mewes and Smith you linked too-Dang. Smith looks maybe My height at best(5-7). Shoot. The boy lies about his height as bad's Pedro Martinez....
sf
said on 24/Aug/06
Kevin Smith was standing right next to 5'7" John Melendez from the Tonight Show the other night. They are almost the exact same height. Smith was not taller than Melendez.
Hank
said on 24/Aug/06
I have met Kevin (who "didn't have time" for a pic), and he is 5'6" at most. Maybe Mewes is shorter too. I was wearing Vans slip-ons, he was wearing boot-ish looking things. I'm 5'7" and he is just a tad (1"-2") shorter.
Zack
said on 9/Aug/06
Zomg, if Jason Mewes is 5'11.5, there is no way that Kevin is 5'8.5
Look at the height difference even though Jason is slouching pretty much. Its atleast 5inches.
Click Here
(I)
Regus
said on 5/Aug/06
If you look at him, the 5-8 mark is closer, sure. He's about the same build I was a few years ago before I actually decided I wanted to weigh less than 200. He might be a little taller.
EJ
said on 2/Aug/06
You're being very generous. If Jason Mewes is 5'11", and there are tons of photos and shots of him and Kevin Smith together, how do you come to 5'9"?
[Editor Rob: 182cm for mews, I give this guy footwear benefit, it looks more difference, closer to 4 inches a lot of times, here With 5ft 6 vardolas in heels and him in 1/2 inch 174cm can be closer]
J.
said on 1/Aug/06
His posture isn't good at all. He also has a pretty tall wife which doesn't help his case of looking short. Plus, he has a tubby build which can allude to the illusion of short stubbiness. I dunno, 5'10" completely straightned up? I doubt it.