Jean Reno's Height
6ft 1 ¾ (187.3 cm)
Morocco-born French Actor best known for Leon, Ronin, Mission:Impossible, Godzilla and La Femme Nikita.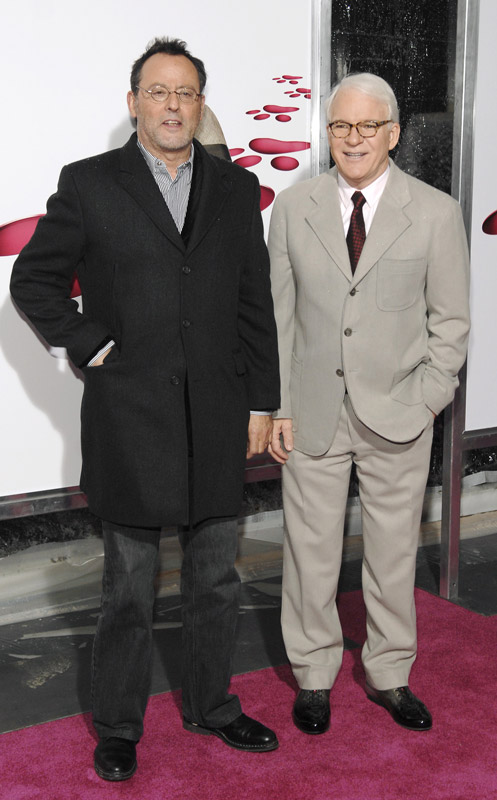 Jean with
Steve Martin
Photos by PR Photos
Add a Comment
116 comments
Average Guess (32 Votes)
6ft 1.97in (187.9cm)
Sinclair
said on 12/Aug/20
Reno gets at least a genuine 6'2" peak height from me. In French Kiss and The Pink Panther, Reno seems taller than Kevin Kline, I'd estimate 6'2" for Reno and 6'1.75" for Kline. There was about a two inch height difference between Reno and Tom Hanks in The Da Vinci Code and the same goes between Reno and Steve Martin in their Pink Panther movies. 6'2.5" listed Alfred Molina seemed to be slightly taller than Reno in The Pink Panther 2.
Almost 180cm guy
said on 7/Aug/20
Today, Reno is 72 years old so he probably isn't over a flat 6ft 1 anymore. But in the 90's he looked well over this mark. I found some photos of him next to Sean Bean from 1998, Reno looked about 3 inches taller than Bean:
Click Here
Click Here
Click Here
Rob, which is more likely in your opinion, 6ft 1 and 7/8 inches for Reno's peak height or 5ft 10.75 for Bean's peak height?

Editor Rob
Reno's 187 claim I think is honest, whether he reached 6ft 1 7/8th I'm not as convinced on.
Hulk23
said on 25/Jul/20
Honest 187cm guy!
Tall Sam
said on 13/Jul/20
Yeah its true he looks towering and looms large in his French films, not as much in things like Ronin, Pink Panther,
Godzilla, etc. You'd get the impression that he's at least 6'3" from some of them, guess the other French actors were quite short.
Rampage(-_-_-)Clover
said on 11/Jul/20
He looks strikingly tall in those old French movies...
meezemaker
said on 15/Nov/19
His footsize is very large...
Usually largeshoes has équivalent heels
This point should be usually says
Caldoni
said on 25/Oct/19
I'm inclined to say 6-2 solid peak. Reason why is I lived in Paris in the very early nineties and regular saw Jean actually drunk a good few times on the West Bank side of Paris. I'm a weak 6-3 and I'd say absolutely he was just under my height.
Rampage(-_-_-)Clover
said on 19/Oct/19
Rob, do you reckon he could be at 6ft1 now?

Editor Rob
He may well be sitting around that now.
Dmeyer
said on 7/Sep/19
Strong 187 Peak make sens
meezemaker
said on 5/Sep/19
But defenitly smaller than 191cm 'Danny Aiello in Leon whearas Reno was wearing big heelboot.
He said 187...
But comparing to other actors who claims 187 too like vincent cassel and others, we can doubt of objectivity
Sonnecker
said on 7/Jun/18
Awesome actor, I'm a huge fan of him since a lot of years!
In the film The Purple Rivers he was a bit taller than Vincent Cassel.
Tall man, not far from 190 cm with a generally big structure. He hadn't lost anything noticeable until he was 60, I'd give him 6'2"1/4 in his prime peak, and 6'1' 1/2 today.
Tunman
said on 6/Dec/17
Click Here
How tall his wife is?like 5'9 assuming he's more like 6'1 at 69 years old.
Also how tall would you say Johnny hallyday was?He's a famous french singer who died today?Would have thought around 5'11 peak (he was 5 years older than Reno).
Rampage(-_-_-)Clover
said on 29/Nov/17
Rob, maybe 188cm peak and 186-187cm today?
JJAK
said on 28/Oct/17
Weird guy can look a massive 6 3 to a weak 6 1 in la femm nikita lame movie smallest he ever looked to me.
That is the first thing I saw him in he used to be described as latin and french raised born in morocco.
Good actor but often a lug or tough guy he was awesome in Leon! aka the professional.
Rampage(-_-_-)Clover
said on 16/Oct/17
Could look 189cm in the 80's
john
said on 22/Sep/17
With Andy lau listed at 173 cm here
Click Here
Richardspain
said on 20/Sep/17
@Christian
Maybe in his younger days Reno was a strong 188 cm/ 6'2 ft. Nowadays he is over sixty years old and as he said is 187cm I think he is honest.
Christian-6'5 3/8
said on 4/Sep/17
He's a legit 187cm like he claimed once, but I doubt he'd be a full 6'2"
Rampage(-_-_-)Clover
said on 3/Sep/17
Still looks near 6ft2 w/h Steve Martin...
Jim Hopper
said on 13/Aug/17
Met him in Paris around 94. He was drunk near the Eiffel tower!! Seriously!! Im just over 6-2" so in my converse Id say say 6.2 3/4. He was not much shorter in his flat sandals.. 6-2" prime imo.
Peterson188cm
said on 31/Jul/17
Jean Reno (peak): 188cm
Steve Martin (peak): 183cm
Kevin Kline (peak): 186.7cm
RichardSpain
said on 24/Jul/17
188 in peak could be.
Nowadays 187cm as he said in spanish talk show "hormiguero"
And he said speak in 5 languages, english, spanish, french, italian, and Arab. Today he lives in New York city.
Spanish
said on 14/Jul/17
188 cm peak.
Jean Reno born in Casablanca, Morocco, his real name: (Juan Moreno y Herrera-Jiménez). He is not French, both parents were spanish, so to me, He is 100% Spanish but nationalized French!
RichardSpain
said on 3/Apr/17
Jean Reno is 187cm today. He said his height at spanish program "el Hormiguero". You can see it here
Click Here
around minute 00:45 , he speaks in spanish.
Sonny Black
said on 28/Mar/17
One of the few actors that doesn't lie about it his height. 6'2 peak and still looks close to that today, his lean build makes him seem taller.
berta
said on 21/Feb/17
vewry honest guy with his cliam still looks this height and i though he was little over 6 foot 2 when he was young, but if he cliams this exact height then it prtobably is that
Willes189
said on 18/Feb/17
I thought that this man was 6'3, there's no way that he's under 6'2
berta
said on 6/Feb/17
this guy makes 187 lok very tall.actually thought he was 188-189 10 years back
Logan Hedlund
said on 20/Jan/17
For mr. Reno I'd say solid 6'1.5. Do you think ed. Rob that he might be have lost some height with age? Maybe 6'1.75 right out of bed?
HonestSlovene
said on 26/Oct/16
Gave off a 6'2" ish impression in most films tbh. Not 6'1 or 6'3.
berta
said on 14/Oct/16
if he says he is 187 then he is probably not taller even when youing
Rampage(-_-_-)Clover
said on 23/Sep/16
188cm peak
Dmeyer
said on 10/Aug/16
If 187cm peak then propbably 186cm by davinci code again it brings Hanks to 5 ft 11,75
Rampage(-_-_-)Clover
said on 3/Jun/16
Still looks a solid 186/187cm today. I think he was 188cm peak and as dropped 1-2cm since. Still looked it in Ronin
Dmeyer
said on 30/Apr/16
Hé does look 4-5cm over tom Hanks 10 years back wish proves 5ft 11,75-6ft is very likely for Hanks , defenetly no less than solid 187cm peak like 6ft 1,75 or weak 6ft 2 , today closer to 6ft 1
fred
said on 18/Mar/16
Depardieu used to be 5.11 at least. Reno may have reached 6.2 when younger.
Rampage(-_-_-)Clover
said on 15/Mar/16
Looked a strong 6ft2/weak 6ft3 in The Big Blue and Leon. Not under 188cm in the 80's-90's
Rampage(-_-_-)Clover
said on 1/Jan/16
Or 187.9cm which technically is 6ft2 on the nose
Rampage(-_-_-)Clover
said on 4/Nov/15
188cm peak, Rob?
Looked at least 6ft2 in Leon and The Big Blue.
[Editor Rob: if he came out with 187 I believe that is what he would have been measured at...now it may well be 187 and a little bit and the little bit he's dropped. What if it was 187.5? It's close to 6ft 2...]
meezemaker
said on 19/Sep/15
Reno has been interviewed five / six years ago and since that definitely not the kind of person to lie, he likes to show who is really...no time for show off. He answered 187 cm. I would estimate regarding his stature and the men he is saying right. Other point, he got at least 3-4 inches on Depardieu in the movie "tais-toi!"
Rampage(-_-_-)Clover
said on 6/Sep/15
188-189cm peak
187-188cm today
Sam
said on 5/Jun/15
Rob, would you consider a current listing of 6'1" for Reno?
[Editor Rob: at one point he'll go to that.]
MrTBlack
said on 3/Jun/15
@Editor Rob
Wouldn't 187cm be closer to 6'1.5" than 6'1.75" because 187/2.54= 73.6220472?
Sam
said on 19/May/15
Actually only looked 6'1" range IMO next to Steve Martin in the terrible Pink Panther remake. Maybe 1.5-2 inches taller. Also probably that range in Couples Retreat, so I think he's due for a current listing.
Rampage(-_-_-)Clover
said on 3/May/15
"Peak height was 6ft 2½in (189cm)"
Looks near 6ft3 in Leon and The Big Blue.
Does look a little below 6ft2 today though.
Andrea
said on 30/Apr/15
Rob, he actually claims to be 187 in that video... Why is he still listed at a full 6'2? You also should mention he claims 187 in his description...
[Editor Rob: just never realised it wasn't changed.]
Judd
said on 29/Apr/15
i can't buy anything under 6'1.75" at peak (with a good chance to be 6'2")...
today he's maybe a little shorter, if until 2006 he did look as tall as Alfred Molina, who IMO was a strong 6'2" and today maybe 6'1.5-1.75"...
6'1.75-2" at peak and 6'1.25-1.5" today are my estimates for JR
Sam
said on 1/Apr/15
This guy's probably lost a little height with age.
Rampage(-_-_-)Clover
said on 20/Mar/15
@Hypado
Where did he say that?
Hypado
said on 8/Feb/15
Cool, Jean Reno himself says 187 cm. Is good se a honest actor about her height.
AlexMahone
said on 8/Oct/14
I don't think so that he lost any height at age 66. I agree with Rampage(-_-_-)Clover his peak height was 6'2.5-6'2.75 (189-190cm).
If Steve Martin is 182 than Reno easly 189, beacuse in the Pink Panther (horrible) remake movies was 6-7cm height difference between them.
bobbieshaftoe
said on 6/Sep/14
The voiceover for the 2001 movie 'Wasabi' gives his height as 6'4", but he is clearly at least a couple of inches shorter than Vince Vaughan in 'Couples Retreat'.
Dmeyer
said on 26/May/14
188cm peak 185.5-6cm now
James B
said on 24/Apr/14
6'1.5 better fit
Rampage(-_-_-)Clover
said on 8/Jan/14
"Peak height was 6ft 2.5in (189cm)"
Pleb
said on 21/Dec/13
@maio
No they're not the same level:
Click Here
Mario
said on 6/Dec/13
At 0:55 he decribes himself as 187cm tall, it's in spanish
Click Here
Rampage(-_-_-)Clover
said on 24/Nov/13
Rob, is there a chance that Reno may have been a fraction over this at one point?
Dmeyer
said on 2/May/13
188cm peak now 186cm
Dmeyer
said on 10/Feb/13
Peak solid 188cm today today 186cm
5ft10guy(Not Growing)
said on 29/Dec/12
I think he is just 6'1 in couples retreat he looks about three inches taller then kali hawk if she is 5'10
Larc-186.7cm-188.6cm
said on 27/Sep/12
@Rampage(-_-_-)Clover:
He was always barefoot in the movie "Couples Retreat".
188-189 peak, 187 now.
maio
said on 21/Aug/12
i think he was a strong 6 ft 1.5 in/187 cm in his prime, maybe also 6 ft 1.75 in.
Nowadays he lost a good half of an inche, so 6 ft 1 in/185 cm is right for him. Look at these pics with a strong 6 ft 1 in/185 cm Zinedìne Zidane (
Click Here
Click Here
).
They are at the same level!
Jake: 1.82 m-- 1.83 m-- 1.84 m
said on 30/Jul/12
6ft 2.5in morning; 6ft 1.75in evening.
CK
said on 2/Feb/12
How is it that there's no photo with Jean Reno and Rob? There's too much resemblance to let that opportunity go.
Attila_194cm.
said on 21/Jan/12
187cm for Jean Reno is accurate.
Martyr
said on 10/Nov/11
He himself said 187cm/90kilos
Sounds right to me
nice guy
said on 5/Nov/11
in his younger years 6'2 in casual shoes, 6'1 flat...now 186cm in shoes and 184cm flat
dmeyer
said on 1/Nov/11
peak 188-9cm now 186-7cm
Hullywood
said on 13/Aug/11
Was described as 1.93m in Wasabi. He really looked that height for me in the movie.
Mr. Tempus
said on 28/Jul/11
He always looks tall, for sure 6'1 - 6'2 is right for him
Dmeyer
said on 27/Jul/11
Solid 6'2 peak now a bit under
Dmeyer
said on 27/Jul/11
I think 189 peak 188 10 years now 187 hé is just over mid 60s
Hugh
said on 23/Jun/11
James says on 13/Oct/10
With 5'11 Steve Martin he looks 187cm
So peak 188cm and 187cm currently
In 3 years time he could drop down to 186cm.
-------------------------
Those pics shows max 1 inch (and I say MAX) height difference.
Rampage(-_-_-)Clover
said on 29/May/11
Looked close to 4 inches shorter than Vince Vaughn in Couples Retreat.
Fred
said on 27/Apr/11
187.00 cm I repeat, he said.
6'1.75
Rampage(-_-_-)Clover
said on 26/Mar/11
6ft2.25-6ft2.5 prime Rob?
Sasha
said on 5/Feb/11
In films Jean Reno doesn't look tall - something like 5'11"-6'0. But almost always he slouches terribly. So if he stands straight, he could be 2 inches taller.
dmeyer
said on 17/Nov/10
189 peak 187 now looks 6 ft 1.5 no more today at 63 he was taller at peak
dicky curtis
said on 26/Feb/09
maybe we saw them in a different movie i reccon
-_-_-(Hugh)-_-_-/
said on 24/Feb/09
I can't see him shorter than 6ft2. 6ft2.25 would be more appropriate. He infact looked about one inch taller than Kline.
dicky curtis
said on 21/Feb/09
He looked shorter than kevin kline by an inch
-_-_-(Hugh)-_-_-/
said on 16/Feb/09
188cm-190cm is spot on. He never looks shorter than 6ft2. I'd say a strong 6ft2. I really do think that 187cm is unrealistic.
glenn
said on 7/Feb/09
saw this guy just the other night.seemed 6-1 with bad posture.so,yeah i guess 6-2.i read 6-3.
Hugh
said on 6/Feb/09
In the 80's he looked 6ft3ish at times. He's into his sixties at this point so it's possible that he's lost height. Still he does look a good 6ft2. I would say 190cm in his prime.
Hugh
said on 20/Jan/09
188-189cm.
Hugh
said on 1/Dec/08
Nope I personally think I'm right on the money with my estimates. Actually 6ft3 for Molina is a bit of an exaggeration. More 6ft2.25-6ft2.5.
Anonymous
said on 16/Nov/08
Hugh you give them all a inch taller than they are, or perhaps in shoes...
Hugh
said on 20/Mar/08
He's tall. I was in Paris when they filmed the Da Vinci Code. I saw Reno, Hanks and Molina. Hanks looked 6ft1ish. Reno 6ft2.5ish and Molina 6ft3. And yes he's considered a giant by french standards.
j-c
said on 22/Jan/08
When I was living in Montreal,I saw him a long time at the end of a concert of big french star and friend of him, Johnny Hallyday.
I am 1M79 and he seems to be 1M86 but I am sure he isn't 1M90. Very sympathic person.
By the way, I am french and I am not considered like a tall guy compared to other French men (french male average tall in 2006 is 1M76)
patrick
said on 11/Jan/08
About French height, nowadays one: yes, they are much taller than "yesterday" (not hard!)but also much, much thinner!
The same amount of
JO
said on 17/Aug/07
I m french and I saw jean réno.I m 180cm so I think jean réno was 189 190
5'11.5 guy
said on 10/May/07
Jean Reno looks between 6'2 and 6'3 IMO.
hb45
said on 12/Jan/07
1m87/88 is the good estimation. Which is pretty tall for a french. French average height is 1m75, but the young french are much taller than the older generations. I've read once that the french who are about 20 years old now reach 1m78, that's much taller than 50 years ago!
Anthony
said on 17/Dec/06
6'2 looks right. He looked really big in "Leon". He towered over Oldman. And Portman, who probably wasn't even 5' at the time.
Miiiiiiighty
said on 1/Nov/06
The pic with Chirac and Douillet is badly taken ...
Douillet seems almost Reno's height whereas he is 196cm tall (6'5"1/4) ...
My guess is Chirac 188 and Reno 190 ...
dmeyer
said on 26/Sep/06
in davinci hanks looked very close to reno height but a friend of mine took a pic of them and hanks looked 5 cm shorter also in les rivieres pourpres reno was taller than 188 cassel
Andreas
said on 25/Sep/06
by the way, for those unfamiliar, 6'1" is 185.42 cm and 6'2" is 187.96 cm, so he's somewhere in between... say 6'1".5
Andreas
said on 25/Sep/06
Met and spoke to Jean Reno about ten times. I love socialising with him because, much like David Beckham (5'10.5), he has no airs of pretentiousness just because he's a celeb and enjoys conversing with normal, average people. According to what he told me, when he enlisted the help of a personal trainer to lose some weight back in 1995 or so, he stands at exactly 186 cm, but is often made to wear shoes with thick soles and sizeable heels when cast for roles in which he plays a forceful character.
ralph
said on 3/Sep/06
he has a tall wife, zofia borucka, who is 6 foot.
Click Here
Gonzalo
said on 30/Jun/06
I always thought he was around 1`90 but in French Kiss he didn´t look taller than Kevin Kline. Kline is tall but next 1`93-95 guys he looks much shorter, like 8-10 cm. I guess Reno is 1`86-87 and so is Kline
nima
said on 21/Jun/06
jean reno is 6'2 1/2" (190) and he looks shorter because his waist is bent
thelasttiger
said on 4/Jun/06
I think he is probably 6'1 1/2 allthough his shoulders make him look 6'3"
Jo
said on 2/Jun/06
He looks two inches taller than Tom hanks in The Da Vinci Code
dmeyer
said on 18/May/06
he might be close to the 6'3" he is claiming
ForensicNYC
said on 17/May/06
Jean Reno 6'2"(left), Matthew Broderick 5'8"(center) and director Roland Emmerich 6'1"(right) on the Godzilla set: All wore military style combat boots.
Click Here
Anonymous
said on 16/May/06
190 is possible since he looks almost 20 cm taller than cruise
dmeyer
said on 14/Mar/06
6'2" seems close
Laos
said on 12/Mar/06
He looks about 3 inches taller than Steve Martin. 6'2" or 6'2.5"
Anonymous
said on 9/Feb/06
i think he is in the 188 190 cm range
Anonymous 2
said on 23/Jan/06
It stated to make 189 cm 6' 2 1/2"at Michel drucker.la same size was quoted in film" wasabi "189CM"
[Editor Rob: yeah, I can maybe see this...looking at him again, he can look in the 6ft 2 zone]
Anonymous
said on 30/Dec/05
He always looks huge on screen, he could be the 6'3" IMDB gives him or then Chirac is smaller than we thought:
http://jean-reno.ifrance.com/legion_reno.jpg
http://membres.lycos.fr/jeanreno/photos/douillet.jpg
But the very Chirac looks 186-187cm (compared to 184cm Zapatero):
http://cocaina.redliberal.com/Chirac%20Schroeder%20y%20Zapatero.jpg
http://es.geocities.com/emigrararg/espana/lagoslideres.jpg
Sorry for the quality of this one, but is the only full-body shot (Zapatero Chirac, Schr
Anonymous
said on 30/Nov/05
you right rob compare to bruce he looks 6'1" i alwais thaught he was 6'3" now i think he is 187 cm at best
dmeyer
said on 3/Jun/05
in the movie wasabi he is listed as 6'4''
sam
said on 31/May/05
I thought he was at least a solid inch taller than 6'1 1/2", closer to 6'3".
J.J
said on 31/May/05
Yep I think you are spot on there Rob - though most sites list him as 6'3", he looks just over 3inches taller than gary Oldman and Gerard Depardieu who are both 5'10"