Gerard Depardieu's Height
5ft 9 ½ (176.5 cm)
Peak height was 5ft 10 ¾ (179.7 cm)
French Actor best known for roles in films such as Cyrano De Bergerac, Green Card, Last Metro, Loulou, Jean de Florette, Going Places, 36th Precinct, The Woman Next Door, 1900, Unhook the Stars and 102 Dalmatians.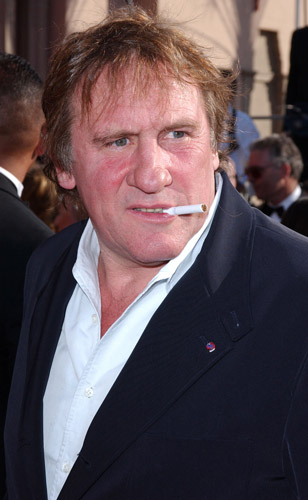 Photos by PR Photos
Add a Comment
78 comments
Average Guess (21 Votes)
Peak: 5ft 11.15in (180.7cm)
Current: 5ft 9.8in (177.3cm)
Arch Stanton
said on 22/Oct/20
I'm surprised this guy didn't make it to President of France. The way the world is going you'd expect it! He was one of those rare actors where you enjoy every film he was in, there's so many gems from the 70s and 80s made in France that most people have never heard of.
Almost 180cm guy
said on 29/Aug/20
Hey Rob! There aren't many French actors on your website. What about height from the actor who played Asterix with Depardieu first? Here are some photos of Christian Clavier with Gerard Depardieu and Laetitia Casta from 1998:
Click Here
Click Here
Click Here
Click Here
Clavier was 46 then and Depardieu 49 so they both couldn't lost any height yet. Then Laetitia Casta was already 20 years old so she probably reached her full height by then. I found two more pictures of Clavier alongside Jean Reno from 2001:
Click Here
Click Here
Clavier was 49 at the time and Reno 53, so they both probably hadn't lost anything yet. Christian Clavier is listed on the internet as 5ft 6. Rob, would you say he could look around that mark in his 40's?
Sinclair
said on 28/Aug/20
I think Depardieu rarely seemed four full inches taller than Daniel Auteuil in their films together, particularly in 36th Precinct. I consider 5'10.75" to be a fine peak listing for Depardieu.
Fabrizio
said on 14/Jul/19
Si potra anche essere abbassato con gli anni, ma in un duetto con Panariello 171 cm lo sovrastava di almeno 12 cm, quindi 183
Ian C.
said on 9/Apr/19
Depardieu is a lot like Oliver Reed and Marlon Brando, in that they were born with excellent physical gifts which they then squandered by eating themselves into obesity. Plus Reed and Depardieu where enthusiastic alcoholics. I have a theory that extremely strong people don't age well, because the resilient strength of their youth leads them to develop a reckless disregard for moderation that eventually ruins their health.
Richardspain
said on 25/Apr/17
Perfect 180cm in his younger days.
Now 177cm for his bad posture.
Adijos
said on 21/Mar/17
Peak - 5'11.25" = 181 cm
Today - 5'10" = 178 cm
C: The Height Analyzer
said on 24/Jan/17
He looked 6 inches taller than 5'8'' Andie MacDowell in Green Card. Something is off with this listing!
Flyin
said on 11/Apr/16
Always a fan of Gérard. Is.this an example of bad posture. If he's gone from nearly 5"11 to only 5"9.5 that's quite a bit.
Arch Stanton
said on 11/Mar/16
He's a guy you could probably describe as "grotesquely handsome". Ugly guy, but you can see in a lot of his earlier films that he has a lot of charisma and free spirited and that sort of animalism that some women would like. Quite like Jack Nicholson in his charisma around women. If you watch him in Unhook the Stars he looked like he was really undressing Gena Rowlands with his eyes, bit creepy, and I doubt that was just him acting, however good he is! Can look a bit shorter at times but posture never great.
Editor Rob: women love a bit of a rugged man like Depardieu, a guy who will take no BS...although in the last 10 years he has become a physically pale imitation of the man he was in his 20's and 30's.
Arch Stanton
said on 2/Jan/16
He always had a bit of a hunch though Rob, walking around in films like Going Places and Loulou in the 70s he had that sort of hunched swagger.
Editor Rob: I forgot how many films he's been in.
Arch Stanton
said on 2/Jan/16
Rob can you update with a photo and add films Last Metro, Loulou, Jean de Florette, Going Places, The Woman Next Door, 1900, Unhook the Stars and 102 Dalmatians?
Sam
said on 12/Nov/15
He could seem a good 2 inches taller than Robert De Niro in 1900.
tanguy
said on 6/Jul/15
here u find nearly barefoot delon with depardieu ans the american top model : Vanesa Hesler list between 175 and 180cm
Click Here
diavolo
said on 29/May/14
Depardieau with 5'7"ish Hungarian prime minister Viktor Orbán and 5'9"ish French footballer Michel Platini.
Click Here
I think he needs some downgrading. Really lost a lot of height for his old days along with being in a very bad shape obviously.
Arch Stanton
said on 20/Jan/14
Delon can actually look tallish though in Rocco and his Brothers next to a lot of the little Italian actors. He can look near 5'11 in shoes, so barefoot maybe your suggested 5' 9¾" (177cm) would be accurate, it's also listed at that on the database, perhaps it's official. I have a hard job believing he was over 5'10" though as I say, but he did look nearer 5'10" than 5'9" next to Lancaster.
Arch Stanton
said on 20/Jan/14
Rocco and his Brothers is one I've been meaning to watch...
Arch Stanton
said on 20/Jan/14
Actually Rob I think a full 5'10" peak would be OK. Lancaster only looked 2-3 inches taller in The Leopard
Click Here
and you can g image and Claudia Cardinale for recent pics, he looks a lot taller, she's lost quite a bit of height I think.
I can't remember how he fared next to Quinn in Lost Command. I'll try to see a few of Delon's films this week to help you out more.
Arch Stanton
said on 15/Jan/14
Pique looks more like Andy Sugden, albeit much taller and better looking! I spotted Depardieu in Life of Pi as the cook. It would take a brave man to stare out Depardieu! I wouldn't mess with him!
Sam
said on 14/Jan/14
There's actually a bunch of pictures with Delon and Depardieu...as I felt they look close in height. Depardieu might be slouchier and drop a little more but I'd be surprised if there was more than half an inch between them.
Click Here
[Editor Rob: what about a 5ft 9.75 for Delon then, is that reasonable...]
Arch Stanton
said on 12/Jan/14
I meant Andy Sugden. Just reminds me of him, doesn't really look like him though..
Arch Stanton
said on 12/Jan/14
5'9.5 peak for Delon would be about right yeah.
Sam
said on 8/Jan/14
Rob, might you add a page for Alain Delon?...I actually think he might be close to Depardieu in height, though he can look 5'9"-5'10" to others.
[Editor Rob: I'm thinking about it...177cm might be a good shout for him]
Jeff C
said on 6/Jan/14
Mr Stanton, I enjoy reading your commments. Regarding Alain Delon in Purple Noon, is actually one of the few movies where he looks the shortest in my opinion. However, in Le Samourai directed by Meville he looks the tallest. When I was kid in Cuba in the late 70's I grew up watching his movies as well as Errol Flynn, I think Castro like Flynn because he was a supported of the cuban revolution during the beginning. He didnt see what was coming.
Arch Stanton
said on 5/Jan/14
A young Depardieu actually looks a lot like Sam Dingle off Emmerdale!! He was never a "handsome" guy, but he was certainly fairly decent looking as a young guy and at least you could see why he attracted so many women. Today he's something of a caricature! I think 179cm would be spot on for peak.
Arch Stanton
said on 4/Jan/14
Yeah I'd say 5'10.5-75 looks right next to De Niro in 1900, although Depardieu's boots do look rather thick.
Arch Stanton
said on 4/Jan/14
He looks 1-2 inches taller than De Niro and about 5 inches shorter than Donald Sutherland in Novocento (1900). 5'10" range seems OK.
5'9.5" for Delon is OK but I doubt he was taller. Delon was sort of comparable as a young man to Zac Efron in terms of looks and a good looking guy but I wouldn't consider him "male perfection" or as good looking at you say ex. man.
Jeff C
said on 2/Jan/14
He was In a movie called Two against the Law with Alain Delon and he was taller than him. I think Delon was 5'9.5 at the most, but he had the looks.
existential.man
said on 28/Dec/13
delon simply had the best male face structure and eyes ever. he was considered the best looking man in europe and he was a huge star. although nobody is sure of his height. he did look kind of tallish but he had a very slim body so who knows.i hope it will be added soon
Arch Stanton
said on 25/Dec/13
@Pamela: You'd be surprised how many people in the UK and US have never even heard of Delon. I only know of him as I'm a film buff and have seen some of his films, I've never heard his name mentioned on TV or in magazines here! I'd guess he'd only be vaguely familiar to Rob. He is a huge personality in France and Italy though.
Arch Stanton
said on 25/Dec/13
Yeah he does look hunched you're right, but facially he really is perfect casting for Cyrano de Bergerac, much more so than Jose Ferrer!
Arch Stanton
said on 25/Dec/13
Rob, I think as is said below Alain Delon is definitely of similar status on the continent and should probably be listed here. You might remember him from Lost Command opposite Quinn, but he worked with some of the greatest directors Europe ever produced and some of his films like Purple Noon are considered masterpieces by the critics today. He was one of France's/Europe's biggest movie actors back in the 60s and 70s and had like a Brad Pitt-like status among women on the continent. I doubt he was a low as 5 ft 8, but thinking how he looked next to Lancaster and Cardinale in The Leopard I think 175-6cm would be a good shout. Can you add him some time in the New Year perhaps?
[Editor Rob: it's one name I kept meaning to but never seen much of him to really add, I might have a look next year]
Pamela Wells
said on 31/Oct/13
Delon is, according to Richard Burton's diaries, about 5'8" tall. But who knows? You are right. Why Isn't such a male icon listed?
dmeyer181.2-183.8
said on 22/Jul/13
he is supose to have been 182cm as he was taller than 179cm belmondo
existential.man
said on 19/Jan/13
Rob, I am really interested in the height of french film star Alain Delon. I was surprised that such a male icon doesn't have a proper height listing on the internet.Could you please help me out?
Dmeyer
said on 30/Oct/12
Hé is defenetly nô taller than 177cm but at peak as tall as 180cm easy
LG69
said on 24/Aug/12
At his peak...looked 5'11"...now 5'9.5. Big framed guy.
c-mo
said on 21/Aug/12
i always thought that he is 6'1-6'2 :)
great actor
Sam
said on 10/Feb/12
He looked around 3 inches taller than Robert De Niro in 1900
Frenchie
said on 26/Dec/11
Seems correct to me, he was near 5ft10.5 5ft11 in his heydays, then packed a lot of bad weight, mostly flab, I'll way over a hundred pounds. That combined with aging and some minor motorbike crash made him go below 5ft9 nowadays.
BTW He always had a bad posture, I saw him when I was 12, in 1983, on a set with Yves Montand who was supposed to be 6ft2 and he looked at least 4 or 5 inches shorter than him cause his neck going forward made him look 5ft9.
maio
said on 5/Dec/11
Famous French Stars:
Gerard Depardieu: 5 ft 10.75 in/180 cm (PEAK), 5 ft 9.5 in/177 cm (TODAY)
Jean Reno: 6 ft 1.5 in/187 cm (PEAK), 6 ft 1 in/185 cm (TODAY)
Alain Delon: 5 ft 10 in/178 cm (PEAK), 5 ft 9 in/175 cm (TODAY)
Vincent Cassell: 6 ft 1.25 in/186 cm
Anne Parillaud: 5 ft 6 in/168 cm (PEAK), 5 ft 5.5 in/166 cm (TODAY)
Sophie Marceau: 5 ft 7.5 in/171 cm
Brigitte Bardot: 5 ft 5.75 in/167 cm (PEAK), 5 ft 4 in/163 cm (TODAY)
Tony Parker: 6 ft 1 in/185 cm
Marion Cotillard: 5 ft 6 in/168 cm
Charles de Gaulle: 6 ft 4 in/193 cm
Laetitia Castà: 5 ft 6 in/168 cm
Virginie Ledoyen: 5 ft 3 in/160 cm
Isabelle Adjani: 5 ft 3.5 in/161 cm
Emmanuelle Seigner: 5 ft 7 in/170 cm
Luc Besson: 5 ft 8 in/173 cm
Emmanuelle Béart: 5 ft 4 in/163 cm
Catherine Deneuve: 5 ft 6 in/168 cm (PEAK), 5 ft 5 in/165 cm (TODAY)
Zinedine Zidane: 6 ft 1 in/185 cm
Thierry Henry: 6 ft 2 in/188 cm
ANDREA[ITA]
said on 4/Nov/11
Rob, you say 177 but that would make the guy on the right would be around 190 and i assured you that he was owned by 6'2.5 guy in an italian show! he looked max 184-185 next to him! in this picture he doesnt look average (177) but he looks shortish!
[Editor Rob: he's also got poor posture, if I stood in Gerard's position beside the 176cm guy I might look several cm shorter.]
ANDREA[ITA]
said on 4/Nov/11
Rob, just tell me something:
Click Here
here you have gerard and two italian presenters! how the hell he looks so short? i mean the guy on the left is 176 and the guy on the right is 185-186! They claimed it... it seems that all italian celebs downgrade their heights according to this site because they appear taller than their claiming next to listed heights of this site... Say something rob!
[Editor Rob: the guy on the left is gaining several inches with the position/angle, but as I say he looks to have lost height, today looking at him again he maybe was a 180cm man who has fallen towards 177.]
Rampage(-_-_-)Clover
said on 27/Oct/11
180cm(5"10.75) prime
Today looks more in the 5"9 range.
Stiffelio
said on 19/Aug/11
I met him after a theater performance five years ago and I actually took a picture of us. He definitely had at least 1 in on me and I'm 5ft 8.5in. He's got a burly build but he slouches so 5ft 10in is very possible.
Shaun
said on 19/Aug/11
5'10.5" standing in a puddle??
Jimmy
said on 17/Aug/11
Wow, this is a surprise! He definitely appears taller on screen - thought he was at least a solid 6' flat??
Dmeyer
said on 28/Jul/11
In thé movies tai toi wirh Jean Reno 9 years ago hé looked 3 in under 6 ft 2 Reno at worst Reno was 187 so 179 180cm for Gérard i agrée now hé is only 5'10 looking 5 ft 9 in bad posture up to 50s hé CAN look near 5'11
Rampage(-_-_-)Clover
said on 27/May/11
5ft10.75(180cm) for his peak may be correct
ANDREA[ITA]
said on 28/Apr/11
He's no more than 175 today!
Bon
said on 22/Jan/11
I've found a 5'10.75 figure for him, that should be correct.
josh
said on 17/Jan/11
Had 2 inches on de niro in 1900. A certain 5ft 10 atlest.
Anonymous
said on 5/Jan/11
He looked like he was 5'11 at his peak at least.
Austrian
said on 18/May/09
just one question.... if hes 180, or even 178... how is this photo possible:
Click Here
U turn
said on 8/Feb/09
He was 184cm in his prime.
Hugh
said on 31/Dec/08
I don't buy 182cm in his prime.
Lg69
said on 13/Oct/08
Gerard is a big man in terms of body mass. His stocky frame can be misleading in terms of height. I think he is 5'10".
Hugh
said on 9/Sep/08
This is perfect. Anything over 5ft11 is ridiculous.
David
said on 4/Sep/08
I have seen many movies with him and 5'11" actors, and hes always shorter...guess 5'9" is right.
Stiffelio
said on 11/Aug/08
I met him in Italy some five years ago. It was backsatge after a theater performance where he was acting as a recitalist. Im 5ft8.5in and he was at least an inch taller than me. We had similar street footwear. He may look shorter because he is stocky and slouches, but he's a big, bulky man. So 5ft9.5in to 5ft10 is correct.
Petrus
said on 10/Aug/08
mmmmm, my wife has seen him in Paris, near a friend who was 1,75m tall. Depardieu wasn't taller...
French actors are hobbits !
Huh?
said on 4/Apr/08
I thought he was much taller! I thought he was like, 190 cm tall. He appears much taller in most movies
jo
said on 12/Sep/07
i saw depardieu and i can tell that he is 5 10
The Horse of FUNK
said on 1/Aug/07
Also, 1492 is one of my favorite films, despite how unpopular it is, but while watching it, you can see Gerard doesn't measure up to Sigourney Weaver, in fact he appears about a half to full inch shorter than her, which would put him around at the 5'10.75" mark.
The Horse of FUNK
said on 1/Aug/07
I disagree with Rut. I'm a strong 182cm and he doesn't seem it to me. He's my favorite European actor and he looks every bit of 5'10.75" (180cm). Now days, nearing 60 year of age, it's hard to tell, but he is probably closer to 5'10" now days.
So, my estimate would be 5'10.75" for most of his life and 5'10.25" or 5'10" flat now days.
dmeyer
said on 5/Jun/07
can look 5'9.5 with sloush but aleast 5'10 and was 5'11 weird is that all people that meet heem say 6 ft plus that virgo girl mention 5'11 to 6 ft for him he can look 5'9ish in pics he was mesured 182 cm at 13 years old
dmeyer
said on 1/Jan/07
maybe stood a lidl over 5'11 in his 20s in some french movie i have seen he looks near 6 feet
dmeyer
said on 1/Nov/06
i think people loose height around 50 years old like 0.5 in to 1 inch and around 60 to 70 the can loose 2 in + like eastwood looked only 2 inches taller than me when i met him i have a friend who is 35 and told me he was mesured at 6 feet in his 20s for some reason he is a hair shorter than me at 180 to 181 range
Alex
said on 16/Sep/06
The movie was "Green Card" with Andie Macdowell
dmeyer
said on 3/Aug/06
thanks rob
dmeyer
said on 2/Aug/06
so whi dont u give peak 5 11
[Editor Rob: I will do that yes]
Rut
said on 11/Jun/06
182 cm in his prime
stAs
said on 3/Jan/06
he said he was 180cm in one movie with Andie Macdowell
rut
said on 31/Dec/05
Ok, if anone knows the particular movie in which he said that, let me know..
Rob, did you see my site..?
Once again, a great 2006 to all!!
Rut
said on 30/Dec/05
He was 1.82m when he was twelve..so..
Rob do you know in which movie he says 177cm?
Have a great 2006!
Rut,-www.rutger.jungslager.nl
Rut
said on 3/Dec/05
Raj, if you read this: in which movie did he say I'm 177 cm or does anybody know that movie..? personally I think in his heyday (and I read this from a book) he was 182 cm, also I think besides the later 177 cm claim he never personally stated his height.
rick
said on 5/Aug/05
NO,NO,NO ! 177 cms is around 5'9 3/4" !!! 5'9" is exactly 175,26 cms.
virgo
said on 17/Feb/05
i met Gerald in Atlantic City, NJ while he was filming 'Bogus' with Whoopi Goldberg (who i also met). i am fairly tall for a female, 6'0 (6'1 with shoes). when i spoke with him, i was practically eye level. his height, at the time (1995 or 96) was about 5 foot 11 inches to 6 foot. so unless some serious osteoporosis has set in within the last 9 years, he is still close to that height.