Jennifer Hudson's Height
5ft 9 (175.3 cm)
American Singer and Actress from DreamGirls. In a newsblaze.com interview when asked how tall she was she replied:
"Five foot nine"
and on twitter mentioned:
5"9 without shoes . Over 6 ft with heels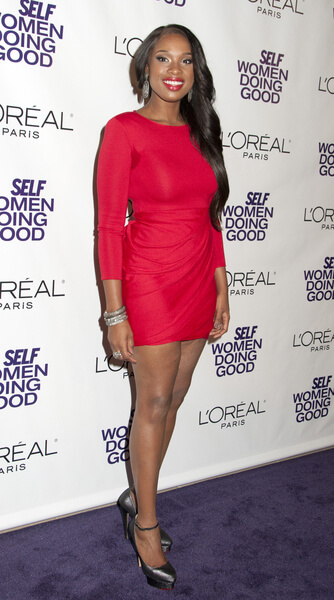 Photos by PR Photos
Add a Comment
27 comments
Average Guess (12 Votes)
5ft 8.94in (175.1cm)
Damon Blank
said on 28/Jun/19
Those are huge heels.
Joshua
said on 7/Jun/18
5'9 for sure
Anonymous
said on 22/Aug/17
170-171cm barefeet
M
said on 7/Aug/15
No way she is 1.75m, maybe 1.70m in the morning.
Bishop
said on 5/Feb/15
Not the best pics but here she is with 5'9.5" Iggy Azalea:
Click Here
Jeffery
said on 7/Feb/14
5'9". Nearly 6'1" with heels.
Emily
said on 16/Dec/13
Lol at the tried downgrades on this page. She's definitely at least this height barefoot. She's noticeably tall.
Sammy
said on 16/Nov/13
5'9 would seem close. Though cameras do lie, Standing next to Jessica Alba
at swavorsky event, Jennifer looks noticeably taller than Jessica Alba. From the
above pic, those legs look hard to beat and the top part of the blouse leaves
a bit to admire as well.
Dom
said on 8/Nov/13
There is no way in hell Jennifer is under 5'9", she actually looks a bit more most the times
Chunkamonk
said on 23/Jan/13
I don't think she's 167 nor 175 or even 173. More like 170-171.
Oneguy
said on 15/Jan/13
anon 167??????? are you crazy dude! she's tall! like 173 at least!
Anon
said on 12/Jan/13
She could be more like 167cm. My boss is 167 n has the exact same proportions as her. Sorry, Jennifer isnt really 175. She is in heels. Downgrade needed.
195jerry
said on 3/Jan/13
has anyone seen the weightloss commercial she did with jessica simpson? the height disparity didn't look that huge assuming Simpson is listed at 5'2.5. Is she really 5'9?
Joe
said on 6/Nov/12
Jennifer Hudson is definitely taller than 5'7". Just look at a pic of Hudson
standing next to Alba, who is listed at 5'6+. Jennifer is at least 2 inches
taller than Jessica, more closer to 3 probably. The comparison is interesting.
Both are attractive but indeed built quite differently. Jessica is small
breasted, tiny hips, and petite. Jennifer is much larger breasted and much
curvier, but not fat. Probably a 40 lb weight difference even with the
weight loss by Jennifer. What makes Jennifer just as attractive is a much
larger bone structure. If Jessica were Jennifer's weight, she'd look fat
and pudgy. If Jennifer were Jessica's weight, she'd look emaciated and
anorexic. what's nice is differing opinions as to what men find attractive,
leaving more possibilities for what is accepted beauty.
CBM
said on 30/Oct/12
I would say 5'9 with heels, 5'6.5-5'7 barefeet.
marla singer
said on 26/Oct/12
Impossible. She looked 5'7" next to almost 5'3" Fergie (at the NY rockin' Eve).
LauraSki
said on 4/Aug/12
I don't think Hudson is 5'9 or even close. She doesn't have the look or the frame of a girl that tall. She looks more like 5'6, possibly 5'7.
Meat on bones
said on 2/Aug/12
I would say five nine in heels. She's about 5'6 actually. Hollywood always adds extra few inches.
Laughing
said on 18/Jan/12
She did not weigh 180! I am laughing right now. How can someone be obese at 180 and 5'9? That is hardly overweight for a voluptous 5'9 black woman. That's what I weigh at a muscular size 12 (5'7). We carry weight differently. She was 237 lbs before her weight loss, now a size 4 at approx 157.
Emily
said on 10/Jan/12
she was over 200 pounds and lost 80 pounds and is now a size six.
Sheila
said on 12/Aug/11
This is interesting. I am a 5'10" female weighing at 121 lbs. and I am not a size zero. If Jennifer weighed 180 lbs before her recent weight loss (and has lost 80 lbs.) she would now weigh 100 lbs. at 5'9" and very unhealthy weight. Perhaps this is why she can now wear a size zero. My medical doctor is trying get me to gain up to 130 lbs. which will still put me under weight.
Rebecca
said on 3/May/11
She said on ok! tv that she is 5 9 without heels
SAK
said on 24/Apr/11
Hudson was on somethingfortheweekend, she wore big heels, and was 2 inches taller then Tim LoveJoy(18cm/5ft11),
I would peg her at 5ft9 or 5ft9.5.
anon
said on 1/Mar/11
She was looking great at the Oscar Awards. Well toned body and nice height. Would put her at 5'9" & 145 lbs
jamie
said on 16/Feb/11
watching her on the grammys next to florence welch who i have heard is 5'10. i see 5'8. but the angles aren't great and i can't see Flo's heels.
Sam Rick
said on 21/Dec/10
If she is 5'9 and 140lbs then David Otunga is 5'11 but claims that he is 6'0 and weighs 240 lbs.
Patrick
said on 4/Dec/10
I just saw her at the airport. I am 6'1. She had high heels on and was just about as tall as me. I'd say she was at least 5'11" in heels.