Jennifer Jason Leigh's Height
5ft 3 (160 cm)
American actress best known for roles in The Machinist, Fast Times at Ridgmont high and Existenz. She is quoted in the book "Life Of The Mind" mentioning her height, saying:
"I'm 5ft 3in"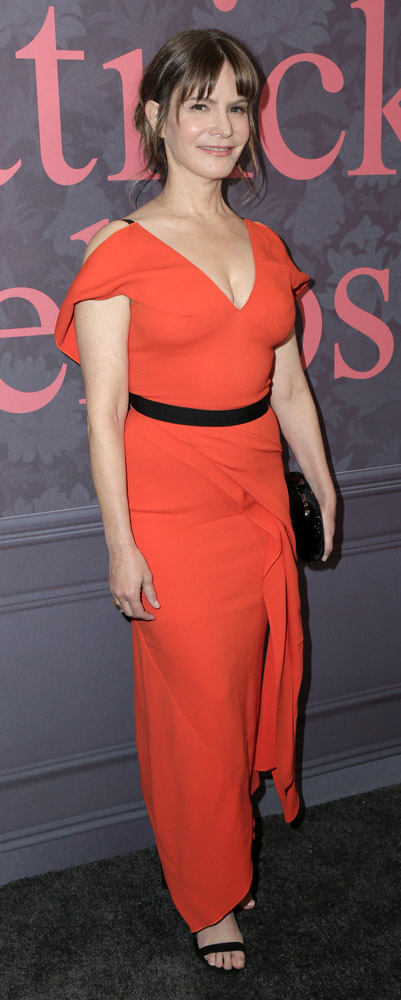 Photo by PR Photos
Add a Comment
19 comments
Average Guess (3 Votes)
5ft 2.67in (159.2cm)
Sandy Cowell
said on 1/Nov/16
Jennifer Jason Leigh has been in some fantastic films, of which I have eight. She was great standing up for her put-upon mother in 'Dolores Claibourne', my favourite of hers, and just lately she took on a role in Quentin Tarantino's 'the Hateful Eight' playing a comical old character, older than her years, I should imagine!
I cannot remember ever not knowing that Jennifer is 5ft3; I think it was mentioned in the film 'Single White Female' where you can see how much shorter she is than Bridget Fonda, who is 5ft7.
I like and respect this actress for the gutsy and original parts she plays!
jtm
said on 11/Mar/16
i haven't seen it yet but she looks so short next to kurt russell in the hateful eight trailer.
Sean73
said on 14/Sep/13
God i love this woman!I don`t care if she`s 6 foot or 5 foot 3,she`s perfect in my book!
snake
said on 6/Apr/13
rob? how are you able to guess the height of those celebrities whom you haven't met still?
[Editor Rob: seeing them with other people whose height you have a better idea of helps]
snake
said on 5/Apr/13
how are you able to guess the height of celebs whom you haven't met?
5'8.76786
said on 7/Aug/11
She wasn't a full foot smaller than legit 6'2 Sam Elliot in Rush. Definitely 5'3 or very close to it.
glenn
said on 17/May/09
the jacket and existenz? i dont think i ever heard of those.how about fast times at ridgemont high? thats what she is known for.
ACG
said on 16/May/09
it really sucks what happened to Vic.... :(
j.Lee
said on 15/May/09
glenn doing the usual... leaning down with short gals
glenn
said on 12/May/09
how tall?
glenn
said on 12/May/09
geez.what a dummy i am.i didnt know that was her father.
Brad
said on 9/May/09
I met her father Vic Morrow once. Scarey looking guy but a nice guy.
glenn
said on 7/May/09
she's very shy and hates posing.well at least in the 2000s.i have one from 1999,and one from 1992.this one is 2007.when she took this with me,she turned down my friend.she isnt mean though.
miko
said on 7/May/09
Did she have an attitude Glenn?
glenn
said on 6/May/09
hard photo to get.
lillee
said on 5/Feb/09
was 3 inches smaller than Bridget fonda in single white female. fonda is deffo 5 foot 6
mcfan
said on 31/Dec/08
Looks more 5'2/5'2.5.
Scott B
said on 13/Jan/08
She looks to be 5'3.
Anonymous
said on 12/Aug/07
she is about 5'3 even. seemed about 3-4 inches smaller than 5'6-5'7 phoebe cates in fast times at ridgemont high. glenn or rob, can you post phoebe cates' height on here? i didn't see her on here.