English comedian, author and actress known for appearing on I'm a Celebrity, Get Me Out of Here!, Grumpy Old Women and Loose Women. She once said
"Id like to see how clothes could work on me - size 14 - five foot four - as well as on the gorgeous ones"
.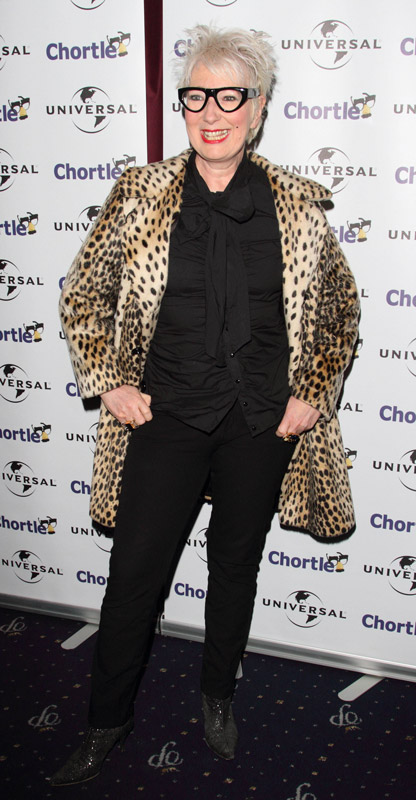 Photos by PR Photos
Miss Sandy Cowell
said on 5/Feb/21
It's such fun to see Jenny Eclair on Countdown this week, cheering us all up with her funny stories and quotations from her books. Her latest is called 'Older and Wider'! 😂👌
5ft4? Yup! Even though we can't see her stand on Countdown, I'm still giving her 5ft4. Her posture is the same as it's always been.
Miss Sandy Cowell
said on 10/Jul/20
I LOVE the friendly-faced, quick-witted Jenny Eclair and she hasn't had any comments this year - sacrebleu!
Well, here we go then, together with a guess for 5ft4. Do you know, I've never seen her looking miserable?
👱‍♀️💐💕😄👌
Miss Sandy Cowell
said on 23/Dec/19
It's amazing that I haven't seen this episode of 'The Chase' since January! Well, I'm seeing it again, and enjoying watching the lovely, funny Jenny accrue all that money, which I know she doesn't keep! Why do I know? I checked out my comment!
5ft4. 😁🎄🕯️🎅⛄🎁👍
Sandy Cowell
said on 21/Jan/19
Not long into my DVD of 'Grumpy Old Women', Jenny is talking about her sparse bush! What else has this DVD got in store for me? 😂😂😂😂😂
She's SUCH a tonic! 😁👍
Sandy Cowell
said on 13/Jan/19
I had the great pleasure of seeing Jenny in 'The Chase' again early this morning. Her Chaser was Anne Hegerty, and in her first round, she only got three right. Not to be defeated easily, Jenny turned down the £3,000 accrued and went for £32,000! SHE SUCCEEDED, and coupled with Nick Hancock who also won over £30,000, they were defeated by Anne at the end - with one measly second to spare!
They still both won £1,000 for their chosen charities, and that's not money to be sniffed at!
Jenny must have worn reasonably high heels because she looked almost as tall as Nick Hancock.
Nik
said on 7/Jan/19
Isn't it nice to see how honest Jenny is about her own height? She is fully deserving of her own page on celebheights and it is interesting to find out how tall she is!
Sandy Cowell
said on 7/Jan/19
Jenny Éclair is one of the funniest of the female comedians EVER! I think to celebrate her arrival on Celebheights, I shall hunt around for my 'Grumpy Old Women' DVD, which I always found a preferable watch to the far more serious faced 'Grumpy Old Men', but then I suppose I would do, as I am indeed of the age and sex that qualifies! If you think that women hold back on the swearing front, then just watch this!
Jenny was also in a truly hilarious programme shown one Christmas in, I think, the late nineties, about Peter Cook and Dudley Moore doing their 'Derek and Clive Live' routine. Certain of my favourite comedians and other people, including the late railway RMT leader Jimmy Knapp, who lived across the road (I knew his step-daughter, Alex), were all listening to the sketches and laughing hysterically! I recently found it on U-Tube, and it's still well worth a watch. Jenny Éclair's laughter was infectious and now that I know her height is 5ft4, my journey is complete!😊👍
Thanks Rob!

Editor Rob
I think she does look quite average height-wise, but personality wise, she certainly is a funny lady.