Jerome Flynn's Height
5ft 11 ¼ (181 cm)
British actor and singer best known for roles in TV series such as Soldier Soldier, Game of Thrones and Ripper Street. My sneakers were about 0.4-0.5in more thicker than Jerome's.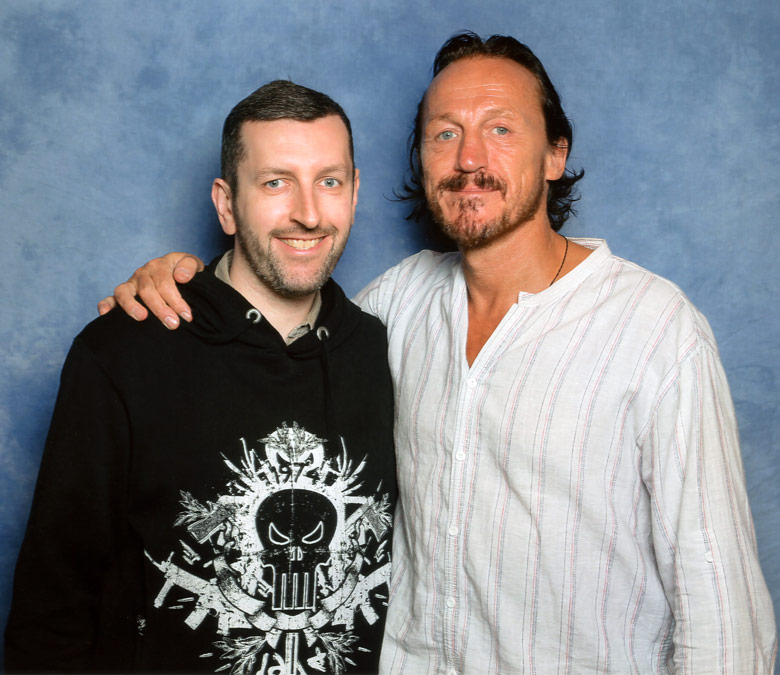 5ft 8 Rob and Jerome @ LFCC 2014
You May Be Interested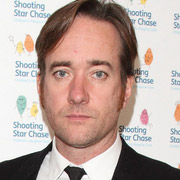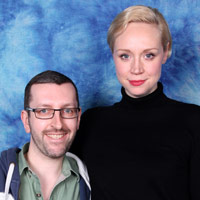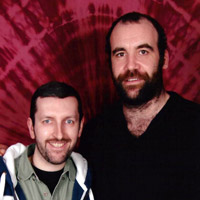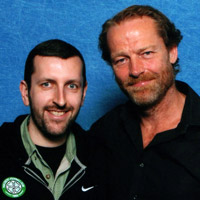 Add a Comment
53 comments
Average Guess (51 Votes)
5ft 11.06in (180.5cm)
Rampage(-_-_-)Clover
said on 2/Apr/20
Rob, how tall is Robson Green?
I'm gonna guess 5ft8-9 range. Looked shorter than Jerome

Editor Rob
I think under 5ft 9
Jkiller
said on 17/Jan/20
Very weak 5'11. Definitely not taller than that.
179cm guy
said on 10/May/19
I think that 5'11-11.25 peak and 5'10.5-10.75 nowadays is likely for Jerome. I'll give him 5'11.
Bobby 5'10
said on 11/Jan/19
@Alex65
Even if he was 5'10.75 at MOST, he's still way closer to 5'11 than 5'10. So, naturally anyone would round up. Rob also has a footwear advantage which makes look barely 5'11 but take away that advantage and you've got a solid 5'11 guy.
Patrick|1.76m
said on 25/Nov/18
Rob,
do you really think, that Flynn is not more in the 1.77-1.78m range?
You need to have a look on the photos of rob feinstein, who met many celebs. And next to Charlie Sheen etc. he looks like he´s a 1.74-176m guy.
Click Here
Here het mets Flynn by hisself, and Flynn looks not really more than 2-3cms taller.
Click Here
Here is Feinstein with guys, you guess like 1.72m to 1.76m range
Aj Styles
Click Here
Daniel Bryan
Click Here
Kiefer
Click Here
So i think you gave flynn about 2cms too much.

Editor Rob
Have they the same sneaker thickenss and posture. He still looks taller without considering if Jerome has a bit less footwear or posture. I think if you look through that guys photos, he can seem around 5ft 10.
Junior Hernandez 1990
said on 19/Oct/18
I'm truely surprised Jerome hit over 5'10 with Rob since he got less sneakers. Maybe he is 5'11 in person not sure 5'11 1/4 yet. In Black Mirror i couldn't tell he was over 5'10.
Rickie
said on 10/Sep/18
Since when have we referred to trainers as sneakers? Going all international on us Rob?

Editor Rob
I use them interchangeably, but since the majority of visitors are American I probably use that more often than I would talking to people in the UK.
Alex65
said on 26/Aug/18
Weak 5'11, barely 180 cm or 5'10.9 for me. A little too far from 5'11 on the size ruler to claim that height, so my guess is 5ft10 3/4. Even if he looks near 6ft in GoT.
6ftMedium
said on 4/Jun/18
He looks like 4inch taller version of Nusret.
miko
said on 26/Oct/17
He's the kind of guy who with a skinny frame could pull off looking 6 foot on screen.
In reality a very solid 5'11.
Animus
said on 2/Oct/17
He appears two inches shorter than Coster-Waldau on Game of Thrones. The average user guess definitely seems too low. I'm not sure he is a 5'11½ guy, although he can pull it off, so overall 181cm seems like it's his height.
Dejavu
said on 16/Sep/17
He looks only 5'10 above
Bobek
said on 28/Aug/17
In that "size ruler" on screen he is not even 5'10 without hair but I suppose he could gain about an inch if staighten himself so 5'11 is for the best I mean weak 5'11 (179,5, maybe 180).181 out of the bed.
Andrea
said on 19/Aug/17
He can look near 2 inches shorter than Nikolaj on GoT, I believe, so somewhere in 5'11 range is believable.
Although he looks more 179 range with you, Rob...
Animus
said on 2/Aug/17
Based on Rob's picture with him, I'd say around 5'11" is accurate for him. He is in that 5'10¾"-5'11¼" zone. Since he's an older guy and probably isn't standing as tall as a young man would, I'd give him 5'11¼", but it's probably the most he could be these days. As a younger man he was probably a very solid 5'11", possibly 5'11½".
Drax
said on 16/Jun/17
Could he be more 182 cm?
Editor Rob: in the 90's he did seem near 6ft at times, but in person I don't think he's as tall as he could look on TV.
World Citizen
said on 13/Jun/17
I think he is 179 cm.
berta
said on 20/May/17
maybe 180 would be better listing
Namor
said on 17/Apr/17
Hey rob, where would 177.1 cm come up on this guy?
Editor Rob: maybe 2 inches above his eyebrows.
Tiago
said on 17/Jan/17
He is 5'10,5 FT no more
Victor Surratt
said on 14/Jan/17
He always stay with a bad posture but he could be a 5ft 11.25in at his peak.
Spurty McGoo
said on 11/Jan/17
Hi Rob, can you add Black Mirror to his list of credits, his car monologue was one of the funniest things I've ever heard on a tv show that dark.
Koos
said on 29/Aug/16
There is a photo of Jerome with his two main Ripper St co-stars and although he is wearing flat shoes compared to the other two wearing shoes with average heels, he appears shorter than Adam Rothberg who is listed as 180cm. My guess, he's about 5'10, maybe half an inch more at the most.
strange
said on 4/Jul/16
How does this work? The angle is weird or something? In the little measurement thing that pops up when you mouse-over the pic he is clearly only 5'10".
Editor Rob: the camera is on a tripod for this photo, but he does have between 0.4-0.5 inch less sneaker than me
NBAer
said on 21/Mar/16
Agree,he looks almost 180 with less footwear,so 181 is spot on.
5'10man
said on 10/May/15
Good listing Rob
Tymmo
said on 29/Apr/15
he looks around 177-178cm in that picture to be completely honest
Oanh
said on 28/Apr/15
Ser Mer says on 8/Apr/15
In the photo he looks not over 5'10.5" so about 5'11"
That makes no sense :)
5'11" seems right
Sam
said on 28/Apr/15
Can look near nearly 2 inches shorter than Nikolaj at times I guess.
Judd
said on 21/Apr/15
Mike I agree about the fact that he does look taller than rob by no more than 2" but you can't forget his sadly posture! 5'11-11.25" is reliable!
mike 1.82
said on 17/Apr/15
He Looks 1.78cm next to you Rob. im 1.81 - 1.82 max with good posture and 1.86cm peole looks huge next to me, its 5 cm diference. Im Sorry but 1.73cm or 1.74 rob next to Jerome didnt look he's 1.81cm even with shoe. 1,78- 1.79 with shoe for Jerome. i can see 5 max 6 cm difference of both
TJE
said on 14/Apr/15
Rob, you think a decent 5'11 is possible for Jerome?
[Editor Rob: 180-1 range I think he'd measure, whether he has lost a few mm at 50, it's not impossible.]
Tom
said on 11/Apr/15
So rob, its official his height is 181cm. Or are you still unsure?
[Editor Rob: on seeing him up close he looked a guy in 5ft 10.5-.75 range, but of course I have nearly 0.5in more sneaker than him so around 181 I think is near the mark. He's not a six footer though, as his own website claims. ]
Joel12
said on 10/Apr/15
i would say he is no more than 180cm(a fraction under 5'11)
Balrog
said on 9/Apr/15
Looks pushing 5'11'' on the pic, with the less footwear, 181cm I'd say is right on the money.
Yaspaa
said on 9/Apr/15
Given he's only 52, I doubt he's lost anything.
[Editor Rob: half a cm would be common by 50 range.]
Sam
said on 9/Apr/15
Could pull off six feet on GOT, except for the giants (i.e. Christie, McCann & the others) on that show, everyone's a bit shorter than you'd expect from their appearance there. Looks like 5'11" is pretty accurate from the photo.
joe 193cm night
said on 8/Apr/15
5´11(180)
miko
said on 8/Apr/15
Given he's 52 it's not impossible he's lost a CM from his peak.
James B
said on 8/Apr/15
looks 5'10-5'11 with rob to me
Ser Mer
said on 8/Apr/15
In the photo he looks not over 5'10.5" so about 5'11"
Sander 184
said on 8/Apr/15
181cm i see (rob 1 cm more in shoes)
The Exorcist
said on 7/Apr/15
Looks a weak 5'11" in the photo with Rob.
teej
said on 6/Apr/15
Yeah he looks 181-182cm range spot on
Judd
said on 6/Apr/15
It all depends by his shoes and posture! In the picture he doesn't look more than 2" taller than Rob, however 5'11.25" is reliable of course!
Elias
said on 6/Apr/15
nice picture rob ;) , He looks 181cm - 182cm next to you.
Steve
said on 4/Nov/14
Did you meet him in person or just presuming??
[Editor Rob: I did see him up close a couple of times and thought he wasn't over 5ft 11, although he had less footwear so 181 range I felt was quite possible for him.]
Steve
said on 3/Nov/14
Rob why the down grade wasn't he originally five foot 11 and a half ?
[Editor Rob: up close I believe he is more around 181cm range than 182]
littlesue
said on 11/Sep/14
I asked this in the Staffroom where I worked, there were about 20 ladies with heights between 4ft 9 and 5ft 10, most of us said about 5ft 10/11 except for a couple of the taller ladies over 5ft 8 who said 6ft
Steve
said on 10/Sep/14
Damm rob I got the short end of the stick. I'm 5'11".75 looks like i don't get all the ladies.
Steve
said on 9/Sep/14
Hey rob what's the best height for a man to attract all the ladies. Is it 6 foot 2 or 6 feet or etc...???????
[Editor Rob: 6ft 2 might be an ideal height to attract as much attention as possible from women.]
glynny
said on 16/Jun/14
looked a full 183 in game of thrones and soldiersoldier an is officially listed that on a few sites rob? i dunno its possible he could be abit more than 182?
[Editor Rob: I wasn't as convinced he was a full 183 guy]
cole
said on 8/Jun/13
He looks closer to 5'11 flat next to 6'3 Matthew MacFadyen, maybe 181 cm would be better than the listed 182?
Click Here