Jimmy Carr's Height
5ft 10 ½ (179.1 cm)
British Comedian and TV Presenter.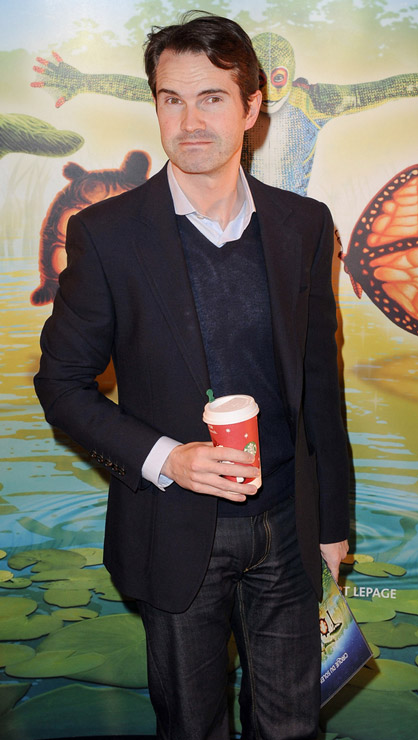 Photos by PR Photos
Add a Comment
74 comments
Average Guess (29 Votes)
5ft 10.7in (179.6cm)
Yas
said on 14/Jan/21
They had Jon in 2 inch Cuban heels on Cats. He was still at the very least 4 inches shorter than Sean standing right next to him. 5'7 for Jon. When standing next to Jimmy it looked about 2 inches between them.
MaskDeMasque
said on 8/Aug/20
5'10.5 seems about right. In photos, he looked an inch taller than woody harrelson. I thought he was around 6 foot initially but wears big lifts most of the time. He looks similar height to 6 foot Sean lock on 8/10 cats.
Miss Sandy Cowell
said on 15/Sep/19
🎁🎈😂 Many Happy Returns Jimmy! 😂🎈🎁
Wishing funnyman Jimmy a delightful day's worth of celebrating, with loads and loads of novelty presents!
5ft10.5. 😁👍
🎁🎈🎂🕯️🎁🎈🎂🕯️🎁🎈🎂🕯️🎁🎈🎂🕯️
Sandy Cowell
said on 28/Dec/18
THAT LAUGH!!!! 😂😂😂
Sandy Cowell
said on 28/Dec/18
Jimmy looks positively tall next to Ellie Simmonds and Fay Ripley on the edition of 'Celebrity Catchphrase' that I am about to watch!
He is playing for a burns unit: what a terrific cause. I hope he does well! The game is now underway and his enthusiasm is undeniable!
5ft10.5, but I would have thought an inch taller from my initial comparisons
Sandy Cowell
said on 13/Dec/18
@ Monkey Knees - You have a very interesting job!
I'll go for 5ft10.5 for Jimmy.
Monkey knees
said on 15/Jul/18
Have met him a few times due to my work at London venues. I am 5'11.5 dead on (curse God each day for that 0.5 inch...) And an inch taller in work boots. He was an inch or so shorter in dress/stage shoes. So 5'10.5 is correct.
Blade Brown
said on 29/Dec/17
I saw him at Swiss Cottage station the other day. Was surprised how tall he was, which is how I've randomly ended up here. From looking across on the opposite escalator I would say around 5ft 11.
Rick
said on 14/Sep/17
Jon Richardson?
I'm guessing 174cm as Jimmy has a solid 2 inches on him accounting for lifts.
Ted
said on 6/Sep/17
Sean Lock has a solid 2 inches on him. 181 -182 cm.
Subwoof
said on 18/Aug/17
Rob, how tall do you think Natasia Demetriou is? A video here for a comparison to Jimmy Carr:
Click Here
Editor Rob: not sure yet.
SomeTallGuy
said on 6/Aug/17
@Quoter86
Society isn't that obsessed with height apart from random insecure young women, it's the people on this website. You can't judge societys opinion of height by what commentators here say lol, it's incredibly biased
Fred
said on 25/Jun/17
Saw him at a festival and had about and inch on him. Wouldn't go anymore that 5ft 10.25
Quoter86
said on 1/May/17
Abey 2.5" is tiny. The fact a 5'10.5" guy feels he towers a 5'8" one and can hence mock him proves just how obsessed society is with height and how much value it puts on small differences. It's sad.
Rick
said on 15/Mar/17
He wears lifts quite often so I would say he was somewhat insecure about his height. And I say this as a HUGE Jimmy Carr fan.
5'10.5 seems accurate although obviously with lifts he can look close enough to 6'.
Abey P
said on 20/Jan/17
You can mock someone about height if your 2.5 inches taller, that's the difference between being short and not being short. Anyway, height not important but just thought I'd point that out. Jimmy Carr sing insecure that's just rubbish on here from jealous people wanting him to be insecure. Solid 5 ft 11
Chris
said on 12/Dec/16
I saw him and David Walliams once in London, and he's not very tall. Walliams (6'3) towered above him. I'd say Walliams was 5-6 inches.
taller.
I personally thought he was about 5'9 but the tallest I'd go is 5'10. He's very much average sized.
Chris
said on 12/Dec/16
He always seems really tall (6'1 or 6'2) in his PR/official/media pictures, but I think he just insists on flattering angles. He's probably insecure.
Noodlepip
said on 22/Nov/16
I'm 6'0" and when I met him (after show, signing autographs), we were pretty much eye-to-eye, but he was wearing really heely shoes (suiting his, well... suit), so 5'10.5" to 5'11" sounds about right.
Al
said on 13/May/16
Strangely seen him 3 times in person, on a train in Notts and at (the same) cinema in Manchester twice!
I would say 180-181cm... based off me being 180cm. But hard to say due to him wearing shoes with slight heels and me trainers. Seemed more a 5'11 than 5'10 though.
That guy
said on 16/Apr/16
Click Here
he looks 6'1 with 6'5 jeremy clarkson
MaskDeMasque
said on 9/Dec/15
Huge lift wearer, i saw a clip of him stood next to 6 foot Lee Mack and he was the same height lol.
5foot11guy
said on 26/Jul/15
Met him a couple of months ago, before standing right next to him I looked at his shoes which definitely added around half an inch, and I am exactly 5'11, and Jimmy and I were exactly eye level, exactly the same height, so I think 5'10.5 is perfect.
tom
said on 9/Jul/15
Just found some pictures of one of my friends with Jimmy Carr (his pics). He's 5'10" - 5'10.5" range, and Jimmy looks to be in the same area, closer to 5'10" flat at a guess. Looks very average.
How much height would those shoes give? Jon might actually be a bit smaller than me at 5'9" - 9/5" range even in them, assuming SL at 6', Jimmy in the range described. Here's the video again as the last one was taken down (
Click Here
).
John987
said on 6/Jun/15
A delusional and insecure guy when it comes to height. Constantly mocks Jon Richardson on 8/10 cats for height yet he's only 2.5" taller at most. Pretty ridiculous. Claims 6' too.
5'10man
said on 22/May/15
Not even convinced he's this. I met him in person and was the same height if not marginally taller both with standard dress shoes on. I am 179m out of bed, so Rob do you think it is possible that he could be more like 5'9 in the evening, maybe only a weak 5'10 out of bed?
Rampage(-_-_-)Clover
said on 3/Mar/15
I knew he wasn't 6ft!
tom
said on 25/Jan/15
(
Click Here
) Here's the video @lelman is talking about. Skip to 4:10 and you can see the shoes he's wearing, then he goes right over to stand next to Sean Lock then Jimmy Carr right after. Jimmy's definitely got an inch on him even in the shoes, and Sean Lock about 3? It's a bit awkward, you can tell Jon's a bit self conscious about it.
[Editor Rob: jimmy looks a good couple of inches taller there.]
lelman
said on 8/Dec/14
@Toby190
I saw an episode of 8/10 cats where Jon claimed to be 5'10" on a good day, but I think he said it under pressure. They made him wear Cuban heels and stand next to Sean Lock and he still looked a good 2 inches shorter (Sean claimed 6ft right before.)
Looking at pictures of Carr and Lock, they look pretty close in height. Do you think Carr wears lifts / big heels? Lock seems pretty secure in himself can cant imagine him lying.
MaskdeMasque
said on 6/Oct/14
I saw a pic of him with Woody Harrelson and he looked an inch taller, so 5'10.25-5 range for jimmy
LvH8
said on 23/Aug/14
Have seen him in person. Easily 5'11/6'0. Easily. Very charming too.
John86
said on 26/Jul/14
5'10 flat. Comes across as insecure about his height (he occasionally mocks Jon Richardson for being short which is funny coming from someone only 2-2.5" taller) and he has impeccable posture. Wouldn't surprise me if he wore lifts for when he films. Find it hard to imagine him a genuine 5'10.5" and a shade under 5'10 wouldn't surprise me.
Toby190
said on 21/May/14
What do you think of Jon Richardson's 5'8'' claim? Seen him on Alan carr chatty man and next to jimmy carr on 8 out of 10 cats and looks nearer 5'7''. Thanks for a great site!
[Editor Rob: I think he can look close to 5ft 8]
lelman
said on 5/Apr/14
Click Here
What the hell is going on in this photo? They all look a similar height (except Jonathan Ross of course). Since Lee Evans is 5'9", I think Carr looks 5'10"ish.
Vibram
said on 27/Dec/13
Looks to be 5ft9.5 > 5ft10 next to 6ft2.5 David Walliams. Footwear advantage to Walliams.
Click Here
Rob, I think he needs a downgrade to 5ft10, he even said he was 5ft10.
becca
said on 31/Jul/13
Jimmy carr looks pretty tall when he is on tv. I think he is hillarious an i wouls love to see him live although i have already met him.
Scott 5'11.
said on 21/Jan/13
I agree with Josh (170-12) he does self mention 5'10 and looks it. He's 5'11 at most.
Adam
said on 3/Jan/13
Well I'm 6"0 and he was definitely a good 2 inches smaller sooo.
Jason
said on 27/Sep/12
I stood next to him at a urinal in a London pub. Closer to 5'10" I reckon.
Craig
said on 11/Sep/12
Met him a couple of years back, i'm 5'11, and he was exactly the same size of me when i got a pic with him. And people who think Robbie Williams and Beckham are above 5'10 are dreaming. seen pic of John Bishop with Robbie on Soccer aid and Joihn Bishop was a good inch taller, whilst seen a pic of John Bishop with Jimmy Carr, and Jimmy was about an inch taller. Whilst Beckham Barefoot is spot on with Robbie. Robbie wears lifts, and prob Beckham. Bit lond winded, but true.. why they have to lie and say their 6 foot?
Anon
said on 1/Sep/12
He's definitely taller than me - and I'm 5'10.5. I met him randomly a month or so ago, and he gave the appearence of being much taller than I've ever thought he looked on TV. The photo I have with him makes it look like he's about half an inch taller than me, but he's clearly leaning inwards so in reality I'd say would be quite a bit more. Can't quite recall the footwear situation, but I don't remember them being noticeable in terms of heel height at all!
MaskDeMasque
said on 11/Aug/12
watching his stand ups and various tv works, i'd say he's 5'10.
BigT
said on 24/Jul/12
Does look this height at times, but tends to wear boots or heels, between 176-178 cm would be my estimate.
Godred
said on 5/Jan/12
@Josh - nice find - sounds about right, he is a boot wearer,making him look bigger,he`s down at 6`0 with a certain film website.
Josh (170-12)
said on 30/Dec/11
In his first DVD 'Jimmy Carr: Live' he places some small ads in papers and one says that he's a 5'10" guy
Broadcast
said on 30/Dec/11
When standing with the 6'5" Jeremy Clarkson, he seems to be taller!
I think he really is 5'11" and a victim of wonky camera perspective.
Godred
said on 19/Jun/11
I think about 5`9, have you seen those boot heels?
James
said on 1/Jun/11
i would have guessed 5'10
dffffffffffz
said on 1/Jun/11
he stood next to david mitchell whos 5'10 and he was an inch taller so i say thats fair
ff
said on 17/Apr/11
For some reason, I expected him to be short. I think it's because of his narrow shoulders.
Rich
said on 30/Mar/11
I met him this Sunday, Im 5'8" and Jimmy Carr was about 2/3 inch taller than me. Id say 5ft 10/5ft 11
dom
said on 17/Mar/11
He's very narrow shouldered, looks like a little boy.
Dean
said on 7/Feb/11
Gary Linekar is 177cm tall and Jimmy Carr was slightly taller Id say 179-180 for Jimmy is fair
Clive
said on 16/Jan/11
Met him after a recent show and shook his hand. I'm 177CM (we were practically eye to eye) I'd give him 178CM Max.
anan 676
said on 9/Jan/11
i saw him walking down the street in edinburgh and im 5'11 and he was wayyyyyyy smaller then mee about 5'8
stephen
said on 5/Apr/09
this is so wrong! im 178. he is 178 or 179. why dont you see him on jonathon ross, and then decide how tall he is.
Leroy
said on 14/Jan/09
Richy.. Jeremy is a very tall guy, taller than Michael Jordan. 5" shorter would make Carr 6'1"
Leroy
said on 14/Jan/09
I was in the third episode, second season of Distraction. He is clearly taller than me (5'11", 183cm) I've been looking on this site for about an hour now, and some suggestions are clearly wrong. For instance, Arny is at least 6'2".. people saying hes under 6ft are idiots. Just my point of view. Jimmy Carr is myself, plus my pinky finger.
Anonymous
said on 1/Jan/09
Always thought he was around 6', but he was at least four inches shorter than Jodie Kidd on Channel 4's Big Fat Quiz of the Year. I was surprised. They commented on how short she made him look.
George
said on 28/Dec/08
Hes 6foot on the dot
hannah
said on 2/Sep/08
Im 5ft11 and i felt like i was TOWERING over him!
id say 5ft 8/ or 9
Me
said on 25/Aug/08
I've met him twice! The first time he seemed tall(last year), this year he seemed not as tall! I'm 5ft 10.5 in and he definately wasn't taller than me!
amelia
said on 18/Aug/08
i met jimmy carr in london. i'm 5ft 10 but was wearing 3 inch heels and he was still a little taller than me. he's definitely quite a tall guy. he's not exactly very big outwards either so being quite slim may make him look a little bit taller.
Nick
said on 7/Jun/08
I met him after a show, and we were exactly the same height. I'm 5'11.5", so I guess so is he!
michael
said on 17/May/08
tv says he is 5'10. im 5'10 and he was the same, give or take 0.5cm, plus he may have been wearing higher heeled shoes.
you're just ruining this website by leaving him this tall.
Sid
said on 8/May/08
Was on Graham Norton today, was about 2 inches taller, gram is close to 5-10, not the 5-8 Rob has him listed.
ian
said on 8/May/08
I would say 5'10" max. Johnathen ross was a lot taller when he appeared on his show
dudesmeister
said on 7/May/08
im 5'10'' and would say, having met him in starbucks that 5'11.5'' is exactly right.
Matt
said on 7/May/08
I saw him once in the street and was surprised by how tall he was - looks shorter because of his shape. I'd say a solid 5'11" - shoes had normal-sized heels
miko
said on 6/May/08
A solid 5"10 guy, I personally would say he is a little under 5"11.
anonymous
said on 5/May/08
i've met him once, im 5'10/178 and he is that or 180cm 5'11 at the very most. probably 5'10, cos i take it he was wearing his usual smart shoes which have a bit of a heel. i was expecting him to be slightly shorter though cos of his shape.
Anonymous
said on 5/May/08
His height was quoted on TV, as 5'10
Anonymous
said on 5/May/08
Has a very large head which makes his body look smaller. But looks around 6ft mark.
Richy
said on 2/May/08
No way. Jeremy Clarkson literally dwarfed this guy! The difference was more than 5 inches! I reckon Carr is 5'10 max.