Jodi Lyn O'Keefe's Height
5ft 8 ½ (174 cm)
American Actress best known for roles in tv shows Nash bridges and Prison Break. She once said
"I got too tall too fast. I was 5ft one day and 5ft 9 the next"
. I heard her say
"5 foot 10"
as her height to another 5ft 10.5 girl who was in front of me, and she's also said
"almost 5 feet 10 inches.
In this photo (by Daniel Schweitzer/ Starfury Conventions) I was wearing 0.75 inch sneakers, Jodi had roughly 2 inches more footwear over me.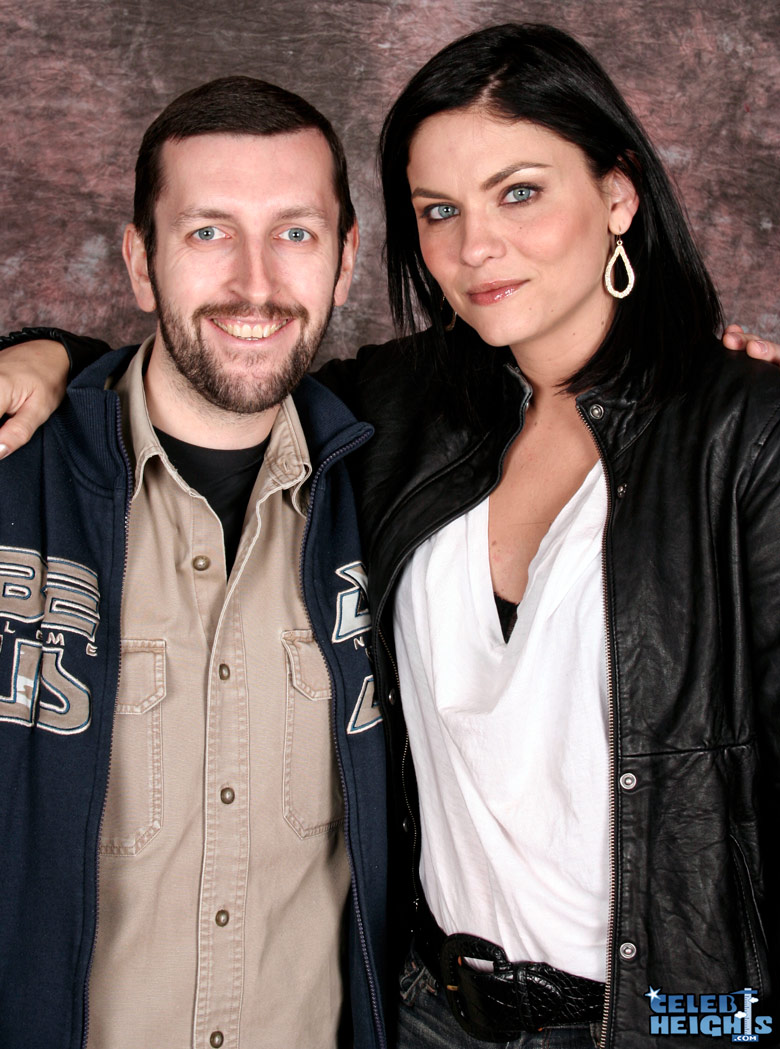 5ft 8 Rob and Jodi
You May Be Interested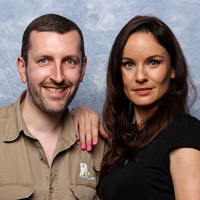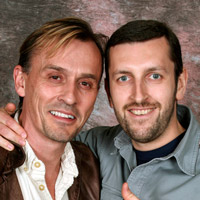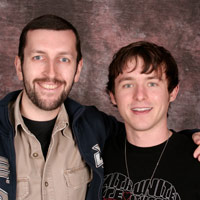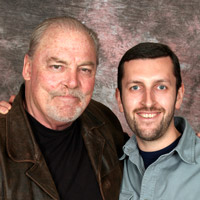 Add a Comment
114 comments
Average Guess (19 Votes)
5ft 8.55in (174.1cm)
Leesheff85
said on 21/Jan/21
I'd say her and sarah wayne are the same height both 5ft 8 1/2 max
slim 6'1
said on 15/Jan/21
Same height as Robert knepper and taller than Sarah Wayne callies
Tunman
said on 22/Oct/20
Rob,there's a very good chance for 173
Click Here
Stop at 3:28 she looks the same as Vance with 2.5-2.75 heels.Even if it's not sure,let's assume he has 1.5" shoes,even then she's still at best 5'8-8.25.
Also
Click Here
Here Sarah whom you said is like 5'8.25-8.5 seems to have a slight edge like 1/4 if you stop at 1:19 so again 5'8-8.25 seems more likely.Would you bet that she edges you?I'm really not sure on that one.Well knowing that Sarah almost certainly dips few mms under 174,I would bring Jody at 5'8 or 5'8.25...you said yourself there's a good chance for 5'8 flat after all.

Editor Rob
5ft 8 to 8.5, it is a range that is likely
Mimi
said on 17/Oct/20
At worst she is a flat 5ft8 but I see her as Rob's height or a few mm taller.
Panchsfhool
said on 17/Jul/20
I think she is 1.73 same barefoot height with jon cryer in T&HM and charlie sheen who is 1.75 was noticeably taller than her
JohnMoore-162cm
said on 5/Apr/20
She isn't over 5ft8 imao
Mimi
said on 25/Nov/19
Her 5ft9 claims is more reasonable than her 5ft10 claim.
Jamz
said on 1/Nov/18
Do you know How Tall Adam Hann Byrd is? He was in Jumanji(as young robin willians) and Halloween H20 with Jodi,Josh Harnett,Michelle Williams and Ll Cool J
Ll and Harnett tower him and Jodi looked slightly maybe 5'6 or 5'7

Editor Rob
Looks a bit under average.
Nik
said on 5/Jul/18
@ Yht - She is losing a lot of height due to her slouching (and leaning!) in the photographs above!
Yht
said on 4/May/18
There is no way she is over 5'8
She is not taller than Rob without footwear advantage even she is standing as much as possible
So 5ft 7 3/4 is fair I think
The Shredder
said on 8/Dec/17
I've been saying 5'8 flat since I saw the Prison Break movie , Both she and Sarah Callies are in same footwear and Sarah looked about an inch taller , so even with looser posture Sarah still would have the edge.
Cameron
said on 6/Dec/17
Looks sub 5'8" in the bottom photo. But perhaps she's slouching?
Editor Rob: yes, she's not standing as well as she could, though if she were truly 5ft 10 she would have looked a lot taller in person than she did.
Slim
said on 1/Oct/17
Yeah, that makes sense, she looks like someone who slouches to look smaller.
Slim
said on 11/Sep/17
Rob, she's taller than Sarah Wayne callies, does this mean a quarter inch to Jodie or a quarter inch away from Sarah?
Editor Rob: they are very close and may well measure within a small fraction... I would have said Sarah had a better posture in TV and in person than Jodi.
Canson
said on 10/Sep/17
I honestly thought she was 5'9 bit maybe not
mohammad188cm
said on 8/Sep/17
The most beautiful woman i've ever seen...trully beautiful...rob i have a question...in mentioning heights,is their height in centimeter or inch???for example in past you wrote someone's height as 6feet1inch and 185cm....but recently you've changed all of them... and you have written that height 6feet1inch and 185.4 so which one is right??
Editor Rob: for 12.5 years I rounded the equivalent metric (centimetres) value to the closest whole cm.

So if you had 6ft 1, which is 185.42cm, the closest full cm is 185.

But now, I am just showing to 1 decimal place.

The A-Z and the 'Compare Heights' pages are still being rounded to closest cm though.
Andrea
said on 25/Jun/17
Rob, are you sure she's a big 174 woman? I wouldn't have guessed her much over 5'8 on PB, to be fair.
I mean, there are some scenes where she wears quite big heels and still doesn't look much taller than Robert Knepper. I agree that Sarah is probably a bit taller than her, not that much but still a bit taller.
What's the lowest you'd argue? Do you think at worst she would be as tall as you or say the 173 girl from the HC?
I know you mentioned she has bad posture at times in person (I wouldn't have said so on the show) but she looks 177 in the top picture and actually no taller than you in the bottom one, without considering the noticeable footwear advantage of course. How likely is under 5'8?
Her 5'9 claim certainly seems too much, let alone the 5'10 one!
Editor Rob: I suppose a chance of 5ft 8 flat, would be interesting to measure her or have seen her in flat shoes!
Average height and slim
said on 30/May/17
Same height as Robert knepper in prison break.
Either she deserves a 5" 8.75 upgrade or Robert knepper deserves a 5" 8.5 downgrade.
berta
said on 10/Apr/17
i think she could be 175. and 174 on bad days. osmewhere in that ragne. 173 is sto short and her 178 claim is just funny
Charizard
said on 20/Jul/16
Correct listing but 2-3 inch heels clearly seen on prison break one bodyguard in season 2 in khaki pants is 5'8 and she made him look short with heels when they would of been same height. She would be 5'11-5'11.75 for sure in prison break with them thick ass heels... She even towered/on the spot with her taller bodyguards on the show.
Enes
said on 2/Feb/16
Looks shorter than sarah callies in prison break the final break
K3ep
said on 26/Dec/15
Such a lady, really good height
Hector
said on 1/Sep/15
Solid 5'9 I would say.
Allie
said on 23/Aug/15
Rampage, you should ask Taylor Swift whose a solid 5'9, why she has claimed 5'11.
Rampage(-_-_-)Clover
said on 2/Jul/15
I'd expect s lower claim. Tall women tend to round down.
Tunman
said on 1/Jul/15
I'm always shocked to see that even big girls need to lie.Is 173-4 not enough tall for a girl nowadays?
I could understand the 5'9 claim,just rounding up or measuring close to it in the morning but 5'10 is laughable.
Danimal
said on 29/Mar/15
Close to 5'9" barefoot.
Rampage(-_-_-)Clover
said on 22/Oct/14
No way is she under 5ft8
176,2Tunman
said on 18/Aug/14
5'8-8.25" for her and 5'8.5" for Sarah is perfect.
Oh,Rob I envy you especially for this one,definitely her beauty is hypnotizing you agree?Man,I would marry her immediately.
Alex 6'0
said on 15/Aug/14
Minus the 2 inches footwear advantage it looks like Rob would edge her out slightly or they'd be the same height. I give her a solid 5'8 to 5'8.25
Greg
said on 3/Aug/14
Great bone structure - sorry, that wasn't a comment on her height :)
Anton
said on 24/Apr/14
Rob, where was the "I got too tall too fast. I was 5ft one day and 5ft 9 the next" quote from?
[Editor Rob: didn't save the publication at the time.]
J.Lee
said on 16/Mar/14
Rob isn't it amazing how she is 1.5 inches from 5 ft 10 but still gets confused with it?
[Editor Rob: could have measured near it in footwear? Or rounded up after measuring...or lied...or met G who told her with a straight face he was 5ft 8 and then she thought 'bloody great I'm 100% 5ft 10 then']
J.Lee
said on 13/Feb/14
Rob, why do u think she said 5 ft 10
[Editor Rob: maybe measured in sneakers near it?]
Mike Stone
said on 25/Sep/13
Probably one of the most beautiful woman of all time. I don't
care about her height.
Jack
said on 30/Aug/13
What an amazingly attractive lady and a nice statuesque beauty. Compared to the first pic where she is standing relatively straight, in the second pic she seems to be slouching and tilting her head downwards so as to not appear taller than Rob
Pat
said on 22/Jul/13
she is fine and tall, nuff said
lelman
said on 13/May/13
She was always looked the same height as T-Bag and the 'shorter' guys on Prison Break - so I think it's listed correctly.
Dmeyer
said on 7/Mar/13
If she looked 5'10 minus 2 in more shoes give her 5'8 she does Look shorter than 5'9-9.25 sheen and shorter than 175cm sarah Wayne callies
Dmeyer
said on 6/Mar/13
In eveything work she done , she looks 5'8-8.25 , did she Look 5'9 to you rob
[Editor Rob: she looked near 5ft 10 to me (not looking at footwear), of course then take the advantage away. She has bad posture a lot of time I saw her.]
Jack
said on 26/Jan/13
I think she is 5'8'5"(174 cm)
mike 181cm
said on 16/Dec/12
Rob how tall does the kid to the left claim 5"5?
[Editor Rob: I don't know what he claims]
Arch Stanton
said on 4/Dec/12
She reminds me of the chick Fairuza Balk from Sandler's The Waterboy. Girl with black hair, blue/green eyes and leather jacket always look badass.
LG69
said on 11/Nov/12
meant to say "not so easy to figure out."
LG69
said on 11/Nov/12
She has a 2" footwear advantage over Rob, and she looks about 2" taller in the top photo. In the bottom photo, her head is more tilted, so it's as easy to figure out. Anyway, considering her footwear advantage, I'd say she is 5'8" barefoot.
Josh B
said on 22/Sep/12
Rob, who's the guy in the lower photo?
[Editor Rob: marshall allman from prison break aswell]
Rampage(-_-_-)Clover
said on 24/Jul/12
slightly shorter than legit 5ft9 Robert Knepper.
173-174cm is closer.
Ras
said on 22/Jan/12
Going by the second pic I'f say she's shorter than you Rob, it looks fishy. I'd still give her 174cm/5'8.5".
ad
said on 29/Dec/11
She is tall and beautiful
the shredder
said on 14/Dec/11
I dated a girl that looked just like her !
ANDREA[ITA]
said on 10/Dec/11
not over 5'8!
Physics Enemy
said on 22/Nov/11
ChiasmataX - I think I made a mistake. She's 5' 9.5" in footwear according to Matt's pic. Her footwear is 2.75", giving 5' 6.75". Add 1" for lean and that's 5' 7.75". So yes, she's under 5' 8".
Physics Enemy
said on 22/Nov/11
You can shave, dye your hair and get a cool haircut. What's the problem Shaun?
ChiasmataX
said on 22/Nov/11
@Physic Enemy no man you can't add height of people in shoes like that. Normal shoes don't add much height like they are advertised (normal shoes usually add 1-1.5cm at most, if you want to add 2cm you need lifts or elevator shoes or nike air max.) Just wear your own shoes and measure yourself and you will see. With a 0.75 inch shoes here Rob is still about 174-174.5cm at most (not 175cm), which means with the 2 inch shoes advantage Jodi is about 171-172cm bare-feet at most not 175cm. Her big frame fool people into thinking she's 175cm. Not many women goes beyond 173cm BARE-FEET in height.
Shaun
said on 18/Nov/11
Physics Enemy says on 7/Nov/11
Shaun - You're tall, blonde, blue eyed and white? You have it made.
Yep, with a surfer goatee and hair like Gordon Ramsay/James Cracknell. I know, that's what everybody says when I say I wish I had dark hair and coloring.
Physics Enemy
said on 9/Nov/11
Matt, stop trying to fool people with those line drawings using a 5' 8" Rob. He's 5' 8.25" on the stadiometer barefoot AND you keep forgetting Rob is a solid 5' 9" in FOOTWEAR, so your charts are always off by an inch.
By your chart + 1 inch, Jodi looks 5' 10.5". But she's clearly leaning. Add an inch for that and you get 5' 11.5". She's got 2.75" footwear according to Rob. So that makes her 5' 8.75". Close enough to her claim for us to trust 5' 9".
Physics Enemy
said on 7/Nov/11
Shaun - You're tall, blonde, blue eyed and white? You have it made.
lorne
said on 10/Oct/11
... Damn she is sexy. She certainly does have the proportions of a legit 5ft9 woman, but if she had close to a 2 inch footwear advantage, then she doesn't look much taller than you. I mean even if she straightened up, I don't see more than 2 inches... maybe 174cm is fairer???
Shaun
said on 26/Sep/11
I have sky blue eyes Legend, I'll swap my Gordon Ramsay hair with your dark hair please!!
PB_fan
said on 23/Aug/11
She looked way smaller than 185 Linc Burrows, 10 cm at least. so 175 cm fair enough
Legend
said on 13/Aug/11
@shredder
No. Why can't a guy care how he looks? LOL
Tex
said on 8/Aug/11
If she was standing straight--she would be over 5'10".in this photo ..5'9" has got to go/// I think Rob may be losing his touch.....jk
5'8.56784
said on 26/Jul/11
Rob, do you think she could be a bit over 5'9, she definitely has the proportions of a big girl
[Editor Rob: I don't believe so.]
the shredder
said on 23/Jul/11
Legend ... Your a female ?
Legend
said on 22/Jul/11
She's 5'8.5 and I wish I had blue eyes with my dark hair. My eyes are hazel though.
Rampage(-_-_-)Clover
said on 30/Apr/11
175cm(5"8.75) I think
Observant
said on 10/Apr/11
Lets be generous and give her 5'10 based on the height chart, thats still only 5'8 flat barefoot nothing more.
Legend
said on 9/Jan/11
I will be honest, she's beautiful, and she's not over 5'8.5 barefoot.
somebody new
said on 9/Jan/11
if she looks taller in this photo she's not 5'9. Maybe 5'8,5 at most. I always wondered why would a tall girl lie... to make herself even taller, lol
Hugh 190cm
said on 2/Jun/09
5tf8.5-5ft9.
dmeyer
said on 1/Jun/09
rob are you sure she is that tall
[Editor Rob: she is losing a bit of height in that photo with posture for sure, I felt she could be 174cm.

I mean, not in this photo, but the following day when I got another photo - which shows her shorter than she is here, hence why I show the taller one - she said her height to the girl in front of me as 5ft 10.]
dmeyer
said on 31/May/09
at the very least 1 to 2 cm shorter than 174 callies so at best 5 ft 7.75 to 5 ft 8
dmeyer
said on 31/May/09
i finaly got the proof thet jody is a week 5 ft 8 possibly 5 ft 7.5 , in the final break she is a good in under 174 calies this listing is wrong , sometimes i disagree with rob about 0.25 to 0.5 in no big deal but this one might be an in
Hugh 190cm
said on 28/May/09
hmm. 5ft8.5
VVV
said on 2/Apr/09
I am going to Califarnia next month i really hope i get some stars (inclusively Jodi Lyn) to see :) Jody just has those magical blue eyes you cannot avoid to fall in love with =)
Heightcritique
said on 20/Feb/09
She is 5'10". She has really long legs and a beautiful well-proportionate body. I met her when she was filming Nash Bridges and saw her last year in a coffee shop in San Francisco, and she is without a doubt a tall girl. I am a little bit over 6' with shoes, and she was just a little shorter than me. Wonder why she is not a supermodel?
BengallTigerr
said on 13/Dec/08
Sarah Wanyne Callies said in S04E14 "She's about 5'7,she's got black hair and blue eyes". So I don't think she is actually taller than 5'8.
Anonymous
said on 12/Dec/08
Alexander...it's better nutrition and growth hormones in the food. If someone tells you they've only eaten organic food, so it can't be the growth hormones, just remember, they were probably breat-fed, hence the better nutrition part! Yeah, we're all breeding a new generation of Vikings!
Mike
said on 12/Dec/08
She's definitely 5' 9'', even with the 2 inch heels. Possibly 5' 9.25'' with better posture.
B.s.k.
said on 10/Dec/08
Hey you people are just who i need! In the forth grade i was short 4 my age. Then came my fifth grade year and i grew 9 inches thru the summer b4 til the end of 5th grade. I stood 5 ft 6. Then the next year the same thing happend. I went from 5 ft 6 to 6 ft 2. And my family dob did tests to rule out any kimd of over production of hormones. But after that i sorta peaked. Im turning 21 in 2 weeks and i stand 6 ft 5 out of shoes. Well my question is is this a normal growth pattern 4 guys over 6 ft tall? And do any of u think i can reach 6 ft 6? I have startd growing again but it seems to of stopped. Plz take the time to help. And happy holidays. U guys really know ur stuff
Vibram
said on 10/Dec/08
She does actually look 5ft7.75 if rob is 5'8" - 5.8.75 in shoes and shes got a 1.25 heel advantage. She's hot - the blue eyes & black hair combo look Irish and stunning.
Alexander, I notice amongst the young (18-25) there are more and more guys 6ft+ than previous generations. Claiming 5ft10 small for young men and avrg. for girls is, quite frankly, a bit far fetched.
Josh
said on 10/Dec/08
I agree with Alex barefoot shes about 5'8
Anonymous
said on 9/Dec/08
on the last episode of prison break she was described by sara as about 5 ft 7
joe II
said on 2/Dec/08
9th grade is 13-15 isnt it? ive noticed the same thing, and its definitely not in my head. most of guys in my grade (10, end of the year for us) range between 5'8 and 6'1
Anonymous
said on 9/Nov/08
Alexander. No that's all in your head. The average height for a 9th grade male is 5'6-5'7. For girls it's 5'3-5'4.
Alexander
said on 4/Nov/08
u noticed how tall ppl are getting now .......like ppl in my school.....im 16, the average height for girls in school is like 5'10 and guy is 6'0.......im 5'10 and i feel reli short....watsup with that....................i'd say the average height in the world has gone up too.........isn't 5'10 for a guy taller than the average height
RICHARD
said on 20/Oct/08
Then come to Del Mar here in Corpus and I'll show you this very tall girl,who may be 6'1, and you'll be surprised. I call her legs,but she has nice,long legs so maybe I like my women tall. They are getting taller now and days
Jlee
said on 18/Oct/08
Richard, what are you talking about? is it heels? or maybe your college has lots of tall tall tall girls. Girls are not taller than guys. I bet if i went to your campus I could immediately find 10 or 20 guys about 6 feet tall. Maybe in the whole campus there are 10 or 20 girls 6 feet tall. No, but trust me it's because the ones that are tall, you notice them more. You don't notice the short ones. But trust me, the average girl is not taller than the average guy.
Alex
said on 18/Oct/08
I still feel she may be 173 or 174cm max barefoot if she has 2 inches more in footwear than Rob.
RICHARD
said on 18/Oct/08
Either it's me or does it seem like girls are taller now than guys are ? I go to college and see all these tall,long-legged girls walking around,yet these guys,including me,are mostly towered by them. Girls are definetly growing taller now,or at least this generation is
Alex
said on 17/Oct/08
173cm could be correct. She has 2 inches advantage in footwear over Rob and 2 inches taller. If she has the same footwear as Rob then they'd be the same height I would think.
Paul 178cm
said on 16/Oct/08
Wow! nice photo Rob!
Alex
said on 16/Oct/08
She looks 2 inches taller with a 2 inch footwear advantage. Wouldn't that make her 5'8-5'8 1/2 barefoot maybe?
DMEYER
said on 10/Oct/08
she can look mush shorter on pb she look similar height with knepper when she has 4 in heels
Big King
said on 11/Sep/08
Rob, she looks more than one inch taller than you.
[Editor Rob: I mention above the photo that I wear 0.75 inch sneakers and Jodi is wearing heels which give her an extra 2 inches above what I'm getting.]
mf
said on 18/Aug/08
Rob,
heels don't add as much height as you think, particularly because it forces you to bend your knees. Very rarely do women stand upright when taking a picture with their heels on. It's also quite unusual for a taller women not to bend her knees with a shorter man.
[Editor Rob: I do know a thing or 2 about heel heights, I've measured a girl in a lot of styles and know how much they generally give.]
dmeyer
said on 20/Jul/08
considering she had 2 in footwear she could be 5 ft 8 considering the heels she wears on prison she dosnt seem over 174 cm
[Editor Rob: 174 or 175 is safest range I think.]
Josh
said on 20/Jun/08
Shes between 5'8 -5'9 .
Alex
said on 19/Jun/08
She looks 2 inche or so taller with a 2 inch advantage in footwear. I'd go with 5'9 or maybe just over 5'9 at most.
Legumo
said on 19/Jun/08
5'9 tops so the listing is perfect.
anonymous
said on 17/Jun/08
beautiful eyes
Stiffelio
said on 17/Jun/08
In the picture she looks 2 in taller than you, Rob. But if she had a 2 in heel advantage on you, then that makes her exactly your height,i.e. 5'8". So what's your verdict on her?
[Editor Rob: she did look near 3 inches taller up close so I would guess 175cm, but 174cm isn't impossible.]
dural
said on 17/Jun/08
Doesn't even look 5'9" next to Rob with her 2in footware advantage. The 5'10" quote must be in heels.
glenn
said on 1/Jun/08
i heard she was tall.5-10.
dmeyer
said on 29/May/08
defenetly no more than 5 ft 8 to 5 ft 8.5 since she looks 3 in under 6 ft 1 purcell who is 6 ft 2 to 6 ft 2.25 in shoes minus 3 in thats 5 ft 11.25 minus 3 in heels 5 ft 8.25 since she wears 3.5 in heels so 5 ft 9 morning maybe
dmeyer
said on 22/Feb/08
rob how come she ooks 5'9 with her heels like 5'10 with 2.5 in heels on she is closer to 5 ft 8 ,wath do you think rob
[Editor Rob: could be calling or rounding a little, I ain't seen any PB season 3 so maybe in future I'll remember.]
dmeyer
said on 21/Feb/08
she is 5 ft 9 to 5 ft 10 when wering heels barefeet she is more 5 ft 8
dmeyer
said on 20/Feb/08
rob take a look at prison break she consistenly looks 3.5 in smaller than purcell and miller and she has 2.5 to 3 in heels ,now i know how a 5 ft 9 in woman looks with 3 in heels aleast like a 5 ft 11 men that will be only 2 in smaaler than purcell she looks to be like 5'8 witout heels ,or someting is wrong a 6'1 men shouldnt tower a 5 ft 9 woman with 3 in heels 5 ft 9 is too high
MARK
said on 27/Dec/07
I've seen Miss O'Keefe in person. I'd say 6ft tall. I stood next to her as I was getting her autograph and she was wearing flip flops. I'm 6ft 1 and we had excellent eye to eye contact.
sam
said on 3/Oct/07
5'9" looks about right for her in her appearances with Dominic Purcell in Prison Break; she would look closer to his height if she was 5'10".
anonymous
said on 26/Dec/06
Yes, I saw her often in San Francisco and she was about 5'9" (5'8" barefoot) with sneakers but she was only 16 years old. It is probable that she is a little more now that she is in her 20s. She was a sweet and nice person. I hope her celebrity status do not ruin her good nature.
Editor Rob
said on 16/May/06

She also said in a Maximonline chat:
"Actually, I'm almost 5' 10'"
.
Cube432
said on 22/Mar/06
I use to search for her stats. When suggested, I've once read of her agreeing in an interview that she's "approximately" 5'10".
nj
said on 18/Mar/06
Jodi Lynn is at least 5'9" and more likely an inch taller. Look at her next to James Spader when she was a recurring character on Boston Legal.