John Landis Height
5ft 10 (177.8 cm)
Peak height was 5ft 10 ½ (179.1 cm)
American Director known for helming movies such as The Blues Brothers, An American Werewolf in London and Trading Places. This photo (by Daniella) was taken at the London Film Convention from 2008, I thought he was between 178-9cm.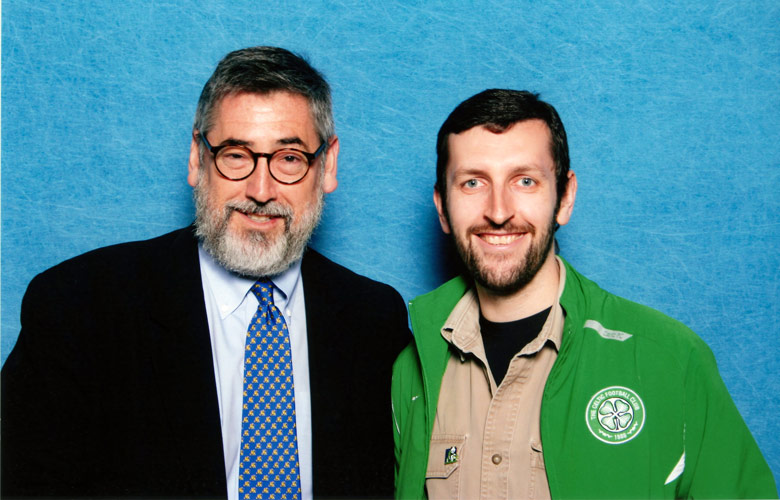 5ft 8 Rob and John
You May Be Interested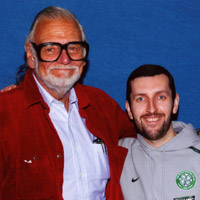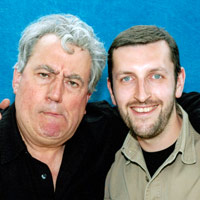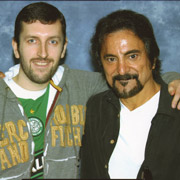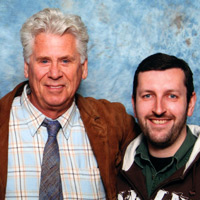 Add a Comment
53 comments
Average Guess (17 Votes)
Peak: 5ft 10.72in (179.6cm)
Current: 5ft 9.97in (177.7cm)
Nearly 180cm guy
said on 28/Dec/19
Rob, how tall was John in 2008 when you met him? If he was between 178 and 179 cm, then was he 5'10.25" or 5'10" and 3/8 inch?

Editor Rob
Seemed a solid 5ft 10 guy back then, but a full 179 range? I'm not as sure of that.
Miss Sandy Cowell
said on 3/Aug/19
🕯️🎂🎭🎁 Happy Birthday John! 🎁🎭🎂🕯️
Have a very Happy Birthday John Landis - 69 today!
5ft11 peak;
5ft10 today. 😁👍
🕯️🎂🎭♋🕯️🎂🎭♋🕯️🎂🎭♋🕯️🎂🎭♋
movieguy12
said on 19/May/19
I miss Frank2, not sure if he left the side under a cloud or just moved on. It's really great when you get people who have met celebrities or seen them close up posting on here. Lets face it most people posting on here aren't going to be involved in Hollywood productions or the film business and so our estimates are mostly just guesses based on the movies we have seen. Which as we all know can be misleading. On the flip side you can never tell if someone is telling the truth about their encounters or non encounters with the famous. A question for Rob if he has the time to answer. When you meet famous people do you get the chance to quiz them or comment on their height. I ask because although I don't work with celebrities I'm a height obsessive and have a job where I encounter a lot of people. I have in the past commented on someone's height if they are very tall but have found they tend to find it weird if you mention it more than briefly. So I now avoid the subject lol. Not everyone cares about height it seems. The people who visit this site regularly probably have much more interest in height than the general population.
Miss Sandy Cowell
said on 12/May/19
I just saw John pop up in the film 'Parasomnia'! It was only a bit part though....
😉👍
Peak: 5ft10.75
Now: 5ft10
Miss Sandy Cowell
said on 26/Apr/19
He even did the special effects for Michael Jackson's 'Thriller' video! Is it surprising it was such a hit? I used to have it recorded from the telly, as part of a compilation which my ex-boyfriend cleverly put together. Then I found it on video in a charity shop. What I really need now is a copy on DVD.
Peak height: 5ft10.75
Now: 5ft10
Robby Harris
said on 8/Aug/18
@Nik: Frank was pretty reliable (at least most of the time), and had a solid reputation on here for his claimed work in the entertainment industry spanning a few decades. I figured he'd be fairly accurate with guys around his height. If he said he met John, and that John was an inch taller than himself, then I'd be surprised if John was any less than 5'11" peak. Note that Frank was about 5'11" himself.
Nik
said on 8/Aug/18
5'10" is fine!
Robby Harris
said on 6/Aug/18
Frank2 had stated quite a few times that John was an inch taller than him, or about 6' around the time he first hopped on the site...I'm thinking John was probably no less than a solid 5'11" in his prime...though its quite hard to say...what could possibly contribute to such a somewhat noticeable height loss by 58? He doesn't strike me as a lift guy.

Editor Rob
I doubt he wore lifts, but I do think it is possible he lost some height as he wasn't 5ft 11 up close!
Sandy Cowell
said on 23/Jul/18
Then you were a very, very lucky Rob! 🐘
Christian 6'5 3/8"
said on 22/Jul/18
He looks less than 5'10" in this pic.
Sandy Cowell
said on 20/Jul/18
You lucky thing Rob, to be pictured with this legend of cinematic special effects!
5ft10 now; 5ft10.75 peak.

Editor Rob
There are many guests over the years who only do one convention and don't return, so it was good to meet John that weekend. He probably has lost 1/2 to 3/4 inch.
M58
said on 17/Jan/18
@Rob: Is John leaning down in this photo? It sort of looks like it. Also, is it possible he was 179 cm that day and 180 peak? You mentioned he looked 178-179...

Editor Rob
He looked within 1cm in person of what he did in the photo, not as tall as 5ft 11 that day.
Bobby
said on 30/Nov/17
He can look 5'9.75 next to you, I mean that's what I'm seeing, then again, Rob is more 5'8.25, so there'd only be a difference of 1.75 inches, and not 2 inches since Rob is still over 5'8. 5'10 looks right though. I'll say that his peak height was 5'11 however.
Anonymous
said on 1/Oct/17
Landis seems a strong 177 cm next to Rob.
Maybe his peak was nearly 180 cm but not more.
World Citizen
said on 29/May/17
Looks 175/176 here
Yes yes
said on 19/Feb/17
When will you give his son Max Landis a site?
I would put him in the 6'3" range :)
MaskDeMasque
said on 15/Jan/17
Is he dropping height here? if your footwear are similar, he looks 5'9.5
ArthurJohn
said on 23/Nov/16
Rob, what height did he look the most when you saw him in person?
Side note, I think the height lines might be helpful to add on this one :)
Jack
said on 4/Sep/16
Rob, his son is listed as 6'4 on google. What do you estimate his height to be? What height do you think his mother was?
Editor Rob: maybe 6ft 3
5
said on 20/Mar/16
Okay if he is only 5"10 then MJ is 5"5-5"6...Is it possible that he was 6"1 when he was younger???
Editor Rob: I'd be surprised if he shrunk much by late 50's when I seen him.
Cantchooseaname
said on 1/Dec/15
Here's a better photo you could do an analysis with,
Click Here
its much bigger and has a higher quality
Editor Rob: in that photo he could pass for 5ft 9
Cantchooseaname
said on 24/Nov/15
Peak height for John Landis: 5'10.5"
In his photo with Michael Jackson, Jackson looked 3 inches shorter with severly slumped posture, so i tried to compare my standing height to the posture he had in his photo, and it deducts at least 1.75" inches, maybe more, so that makes Jackson 5'9" minimum
But because of Landis' heeled dress shoes that at least had a half inch over Jackson's flat loafers, Jackson may have had a peak of 5'9.5", and Landis? Maybe 5'11" at his peak if he lost a bit more height than listed. When Jackson and Landis stood up straight they looked very close in height, especially in video footage.
mike
said on 13/Sep/15
how much height on average does a 58-year old man lose?
[Editor Rob: might only be a small fraction on average that most won't really be able to tell...but, as you approach 60 you might find your posture isn't as good. You might stand a bit looser than you generally stood in your 20's and 30's.]
Bill
said on 4/Aug/15
In the photo of Michael Jackson and Landis, Michael looked 3 inches shorter - but then of course he was lowering his posture which deducted around an inch or so. So 5'8"-5'8.5" for Jackson.
But then again, Landis was wearing quite big heeled shoes while Jackson was wearing flat shoes, so maybe 5'9" for Jackson is closer in reality.
water7
said on 3/Jan/15
Hi Rob, my eye is a half inch when opened up a bit, how many inches would you say your eye is in this picture, since your eye looks more opened up (I'm doing measurements with photos).
[Editor Rob: definitely no more than about 0.5 inches]
kid140
said on 2/Jan/15
Doesn't he look more around 5'9.5 than 5'10, or is it because he's not standing as straight as you.
[Editor Rob: he didn't seem under 5ft 10]
birdman
said on 14/Dec/14
What shoe size would you say he is, Rob?
[Editor Rob: really no idea on that!]
mystery
said on 14/Dec/14
Rob, how long is your face in inches?
[Editor Rob: my head is around 9.5 inch and from my hairline to chin is 8 inch]
james
said on 7/Dec/14
What saught of shoes wass he wearing, Rob?
[Editor Rob: just a basic 'around an inch' style shoe, I'm in 0.9in sneakers this event.]
Copnovelist195
said on 9/Nov/12
John Landis directed a film called Burke & Hare in which I appeared as an extra. He referred to me as the 'nice, tall guy' (I'm 6ft5) which was extremely flattering becaue he spent most of his time bawling at people he didn't like which was nearly everyone. It was all a bit of an act really, and you came to realise it was all done tongue-in-cheek. I can see what you are saying from the photo, but I would put him a little taller at 6ft0 and he was big with it.
leonari
said on 14/Sep/12
Landis was about 2 inches taller than Michael Jackson. So 5'9" for MJ is correct and so is Landis height on here.
ANDREA[ITA]
said on 12/Sep/12
Rob, last question, you agree that Prince Albert is shorter than your old 6' listing?
Click Here
Here's with Robert Knepper and a video
Click Here
Maybe 5'11 is closer than 6' :)
[Editor Rob: I probably won't bring him back although he could be 5ft 11 morning! ]
ANDREA[ITA]
said on 12/Sep/12
Who? Albert or Greggio? There are many pics of Greggio and Landis and Greggio never looks taller than Landis, unless Landis wears lifts! Why you say "could" be? I think you can rule out anything over 5'10.5 for Greggio, right?
[Editor Rob: greggio, he could be near 5ft 10, so 177-178 is a possibility]
ANDREA[ITA]
said on 12/Sep/12
Rob, knowing his height, how tall would you guess Ezio Greggio is?
Click Here
he's the guy in the middle (they have same shoes so it's easier)
Click Here
Click Here
Click Here
Click Here
I always thought 5'11.5 because with Prince Albert he looks about the same, maybe a bit shorter and mainly because in the tv programme he presents he's always taller than all the girls (even those who claim 5'7-5'8) in big heels! But, as i said, they aren't the height they claim! (Maybe Prince Albert is more 5'11 than 6'?) Thanks
[Editor Rob: he could be close to 5ft 10 in those photos]
maio
said on 4/Dec/11
5 ft 10.5 in/179 cm at his peak! nowadays he's 5 ft 9.5 in/177 cm.
Godred
said on 26/Aug/11
@Omer - no way in hell has Landis ever seen 6`0 or 6`1 - Maybe peak 5`11,looks a flat 5`10 max now.
Twilight Zone victim
said on 27/Jun/11
Yep, he's the same height of Clooney, and yeahh he's a criminal, and had he gotten what he deserved, we would have been spared of Michael Jackson's bullzhit too.
Dmeyer
said on 17/Jun/11
Looks 176,5 cm in thé pics but 2 cm is alwais mistakable so tops 178 178.5 i think people should apear no more than 2 cm over or under theyr height if shoes are similar ,
ACG
said on 29/Mar/11
He actually does look just about what Rob has him listed as, but he belongs behind bars for that deplorable Twilight Zone incident....even if it meant there would never be any Thriller.
omer
said on 23/Mar/11
When John Landis as Working With The King Michael Jackson In The 80s
John Was Taller Than He Is Now , At That Time He Was Like 6'0" - 6'1"
And MJ Was 5'11"
John Is Now Shorter
Rampage(-_-_-)Clover
said on 23/Mar/11
Nothing over 5ft10 for this guy...
He looks 175-176cm in the pic
leonari
said on 22/Mar/11
Yes and Michael looked close to his height. An inch smaller max.
songoku211
said on 17/Mar/11
Hey isn't he the one who directed Michael Jackson's famous music video thriller?
Dean
said on 12/Mar/11
People who think this is what 3cm difference doesnt know height! I do however think 5cm is as far as Id go..for me hes probably around completely flat on 5'10 177.8 at night..178cm is more fair..179 looks a push
d wade
said on 10/Mar/11
when i compare this photo with robs picture with Mike tyson then i see that he atleast 1 inch smaller than tyson or more look at shoulders height and tyson isnt even standing straight and has no hair so when rob is 173 this guy is 176 and tyson 179 cm.
T.J.
said on 10/Mar/11
Dosent look 5'10.5" to me at all...maybe 5'10"?
James
said on 9/Mar/11
Hmmmm maybe Johns hair is adding more height?
Rampage(-_-_-)Clover
said on 8/Mar/11
Looks 176cm
Why Rob
said on 7/Mar/11
Rob why not you write About Thriller ? MJ's Thriller was Directed By John !
BTW Nice Photo Rob
[Editor Rob: I can't list everything people do ;)]
Sasha
said on 6/Mar/11
There are 30-35 pixels between John and Rob. Rob's head contains near 185 pixels by height. The height of Rob's head is at most 25 cm. (Is it true, Rob?) That's why John has less than 5 cm over Rob. So he is at most 178 cm (5'10"). Or did he wear lower shoes than yours, Rob?
[Editor Rob: he had a slight advantage, but nothing worth mentioning]
yakov
said on 5/Mar/11
Do you have an impeccable posture Rob? Or why I see only 3-4cm?
Danimal
said on 4/Mar/11
Was probably at least 5'11" in his younger days..
Dave
said on 4/Mar/11
Looks like a jewish mason to me:))) and 5'10'5" is right