Barry Bostwick's Height
6ft 2 (188 cm)
Peak height was 6ft 3 ½ (191.8 cm)
American actor, best known for playing Brad in The Rocky Horror Picture Show and The Mayor in Spin City. In a March 1987 Sun Sentinel article he mentioned his height: "Nobody knows I'm:
Taller than I appear on screen. I'm 6 feet 4
". In this convention photo I'm wearing
Converse
thin, whilst Barry is in a shoe giving him a footwear advantage of about 0.4 inches over me.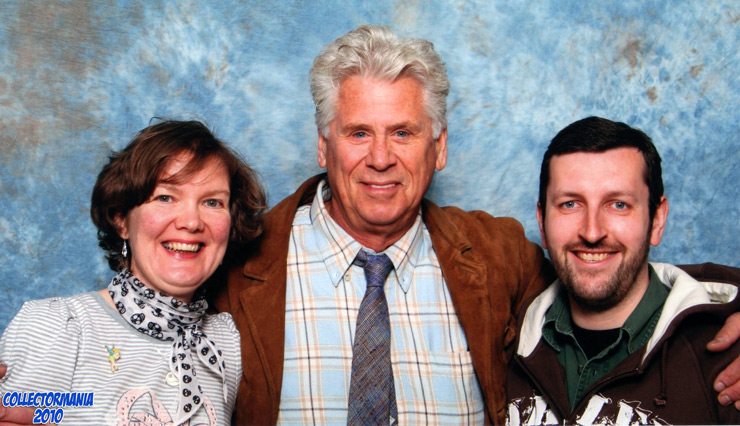 5ft 8 Jenny, Barry, 5ft 8 Rob @ Collectormania 2010
You May Be Interested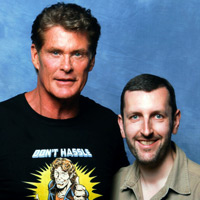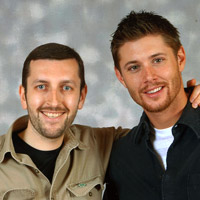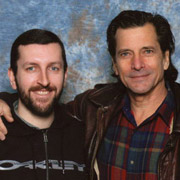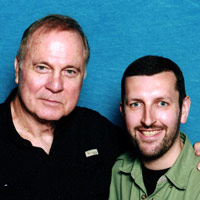 Add a Comment
51 comments
Average Guess (15 Votes)
Peak: 6ft 3.68in (192.2cm)
Current: 6ft 2.07in (188.1cm)
Heitor sivla olviera
said on 29/Oct/19
Rob Paul, I'm just talking arm length,, not the wingspan, because to measure the wingspan you have to measure the shoulders too and the shoulders make a lot of difference

Editor Rob
Arm length,maybe not
Heitor sivla olviera
said on 25/Oct/19
Rob Paul, it is true that when we get older we shrink in height, but the arm length also decreases when we get older or just the height?

Editor Rob
I am not sure about armspan decreasing - our discs can certainly lose height, but wingspan - never actually thought much about that or whether bone density decrease would change much.
Junior Hernandez 1990
said on 11/Jan/19
He look very tall in those 80s movie i wouldn't guess under 6'3 1/4. But now he look barely 6'0 1/2 with Rob and Jenny in picture. Like Rampage say hidden a 4cm slouch maybe..
Rampage(-_-_-)Clover
said on 13/Jul/18
He looks 184-185cm w/h Rob and Jenny but there's easily a hidden 4cm in that slouch. Roughly 6ft2 now
Junior Hernandez 1990
said on 8/May/18
6'0 with Rob and Jenny. Stretch up straight maybe 6'1.5" a low.
Arch Stanton
said on 25/Jan/18
Watching a film from the early 90s he looks the same height and build on screen as James Brolin did in his prime. I guessed 6'3 range then. 6'4 seems too high. What's with the new email thing. Seems a bit much or is it for security?

Editor Rob
It helps me manage comments easier, reduce spam and help keep duplicate names to a minimum.
Rampage(-_-_-)Clover
said on 29/Nov/17
187cm is the lowest I'd argue today. Again like Rob said he could still measure taller than we think
Christian-6'5 3/8
said on 22/Nov/17
Even if he stood at his tallest, I still can't see a solid 6'2" here. Might be 187cm
Editor Rob: he certainly is miles from 6ft 4 in person, but how much he could stretch up if asked to be measured is hard to say.
Canson
said on 21/Nov/17
6'3.5? Peak Hard to tell, but buy his current being probably a weaker 6'2 tho
Danimal
said on 30/Oct/17
He was right around that 6'4" mark in his youth. Today, he seems to be hunched over and compressed. 6'2" today, even though he can look about 6'1" at times today. He would have TOWERED over Rob in the 70's right up to the 90's.
Rampage(-_-_-)Clover
said on 8/Jun/17
He looks 6ft0½ w/h Rob but is losing at least 1in. Could still be around 6ft2 today
World Citizen
said on 29/May/17
Looks 182/183 in the photo.
Rampage(-_-_-)Clover
said on 28/Apr/17
Opinions change, Christian
Christian-196.5cm (6ft5 3/8)
said on 28/Apr/17
Rampage(-_-_-)Clover said on 20/Feb/17
Around 6ft1-2 today, Rob?
I do think he was near 6ft4 in the 70's-80's. Looked very tall in Rocky Horror Picture Show
------
But you said he was 6'3 1/4" in your previous comment. I'm confused.
Rampage(-_-_-)Clover
said on 20/Feb/17
Around 6ft1-2 today, Rob?
I do think he was near 6ft4 in the 70's-80's. Looked very tall in Rocky Horror Picture Show
berta
said on 7/Feb/17
makes me a little said to see a guy not older look that frail and shrunken
berta
said on 14/Oct/16
i actually think he could have been a full 6 foot 4 at peak , havent he have cancer? he probably lost a lot of height with cancer treatment because it breaks down your bones. 193 peak and at best 188 now
Rampage(-_-_-)Clover
said on 1/Jan/16
"Peak height was 6ft 3¼in (191.14cm)"
"Barry Bostwick's height is 6ft 1⅞in (187.58cm)"
He looks like a guy who would more likely measure a little under 6ft2 than over today. But definitely a strong 6ft3 peak.
S.J.H
said on 22/Nov/15
Like my grandpa who measure 5'11 but stand like a weak 5'10 and could look 5'10 instantly impression to others. I believe in person he could be 6'2 but he claim 6'4 that was too much. He pass 6'3 for american actors
Emil 182-183 cm
said on 8/Aug/15
@Rob
He looks 184-185 cm in the photo!
I guess he looked 188 in person, though?
[Editor Rob: I'm giving him a benefit of doubt. I think the way he walked about he seemed like he might be a guy who walks/stands a bit more shorter than he can measure.]
Triplescrew
said on 30/Jul/15
Lol he and Big Al look the same height. 6'1" and change at best now IMO.
Rampage(-_-_-)Clover
said on 25/Jul/15
Looks 186-187cm w/h Rob & Jenny.
I think he can clear 6ft2 standing straight.
Looks near 6ft4 in Rocky Horror Picture Show
Sam
said on 24/Jul/15
Lol he looks 184cm. Maybe he appears taller than he does in photos as well?
NBAer
said on 28/Jun/15
184 or 6'0.5
Kreyzig 6ft 3
said on 16/May/15
Even if he straightens up..6ft 1.5 max
Rampage(-_-_-)Clover
said on 4/Apr/15
Rob, are you convinced that he was near 6ft4 peak?
[Editor Rob: between 6ft 3 and 4, today more 6ft 2]
ZTL
said on 24/Mar/15
Wow, he really lost alot of height
Stew
said on 21/Feb/15
If you're 5'8, he looks about 6 foot to me.
Rampage(-_-_-)Clover
said on 14/Feb/15
Rob, are you still convinced he's 189cm?
[Editor Rob: it's a generous listing for him...I'm giving him benefit that he would measure taller than he looked in person.]
Judd
said on 31/Jan/15
With rob doesn't seem taller than 6'1-1.5"
1.89m
said on 23/Nov/14
6-1" no way over 6-2"
avi
said on 14/Apr/14
6'2 tops i think
Arch Stanton
said on 13/Dec/13
Looked 6'4 next to Sarandon in Rocky Horror.
Lo sgozzatore
said on 10/Nov/13
I saw him in an episode of Supernatural and he looked pretty tall, even next to Jared Padalecki. Maybe he really is 6'2 range even if he doesnt look it in this pic!
Lorne
said on 12/Oct/13
Idk, maybe a bit too big of a benefit. Never saw him even close to 6'4, really surprised he's listed 192, but maybe he did carry himself shorter? Or maybe 188 now, 190-191 peak is better. Ya know, he doesn't look taller than legit 6'2 Julian McMahon on Nip Tuck, do it's a matter of how much he lost.
Matt 184.7-186.7cm
said on 10/Oct/13
?
[IMG]
Click Here
[/IMG]
Is he really 1/2 an inch taller than that genuine 6ft 2 guy??
[Editor Rob: I'm giving him a big benefit of doubt, in person he really doesn't look as tall as 189, but he could just carry himself shorter...]
Yaspaa
said on 19/Sep/13
He looked pretty much 1.5 inches taller than Fitz on 'Scandal' who is on this site at 6'1. 6.2.5 looks spot on.
Yaspaa
said on 6/Aug/13
He did have surgery for cancer, seems to have taken its toll.
Viper
said on 6/Aug/13
I thought this guy was like 6'5 or something. Maybe its because I always saw him with Michael J Fox on Spin City
Mathew
said on 29/Dec/12
He looks about 186 cm in the picture here. Not near 6'4".
Josh B
said on 29/Nov/12
Doesn't look much over 6'1 if that
Hob
said on 7/Aug/12
i remember see this guy as tall as 6'4 John Larroquette.
lan jiao
said on 7/Sep/11
rob, maybe barry 6ft2.5 now ?
[Editor Rob: actually that is the exact mark it's supposed to say here.

today he looks in that range rather than 6ft 3+.]
lan jiao
said on 6/Sep/11
i think barry height was underestimate here. he is not 6ft4 but was about 6ft3. rocky horor he was young and look solid 6ft3. maybe 6ft2.75 now?
Hansen
said on 22/Aug/11
on thing i knew about barry bostwick was in The Rocky Horror i watch twice he only look 189-190cm , downgrade to 6ft2 was close to it now. 6ft4 was a joke.
T.J.
said on 23/Feb/11
Still 6'4"
looked almost 6'4" next to Meat Loaf (5'11") on Glee
and looked almost 6'5" in 1975 next to Meat Loaf (6'1" cowboy boots) in RHPS
Shadow2
said on 2/Jan/11
About twenty years ago I was standing nearby Barry on a movie set, and he was a min. 6'4".
Jeff
said on 21/Apr/09
I met Barry on the set of the TV miniseries "War and Rememberance" back around 1987 and if I had to guess his height, I would have said 6'4". I'm 6' even and he was quite a bit taller than me. He was also probably the nicest celebrity I've ever met -- and I've met a few. Helluva a good guy.
Peter Mills
said on 24/Apr/08
I met him once and we both stood the same height toe to toe at 6'4". Same height as Michael Gross from Family Ties.
Mike
said on 7/Aug/07
I met him and iam 6'5 he is about the same size... 6'4 no doubt about that
He looks huge on Spin City!!
I'am 1,96 and he is 1,94 or 1,95..big fella
Editor Rob
said on 8/Sep/06
In 1984 Philly Daily News he said:
"I'm 6-foot-4. George is 6-foot-3"
speaking of a role about Washington.