John Slattery's Height
5ft 10 (177.8 cm)
American actor, best known for playing Roger Sterling in TV series Mad Men. In film he appeared in Spotlight, Iron Man 2 and Captain America: Civil War.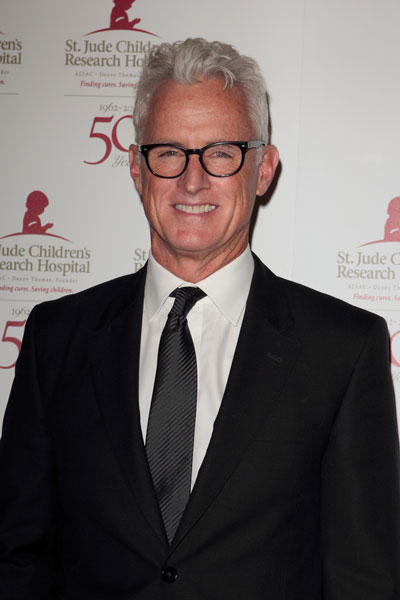 Photos by PR Photos
Add a Comment
39 comments
Average Guess (12 Votes)
5ft 9.56in (176.7cm)
Jam Cherry
said on 17/May/20
176.5 cm at 5'9.5" seems roughly accurate
Nik Ashton
said on 17/Oct/19
He's clearly above average!
Importer
said on 5/Oct/19
@Editor Rob He got a 2inch increase with that lift/footwear compare to barefoot right?

Editor Rob
He might have had about 2 inches worth (shoe+lift), but I don't know if the character wears them in the show a lot
Lamont Cranston
said on 21/May/19
At about the 2:40 mark on this video:
Click Here
You see that "Roger Stone" appears to wear lifts, as he comes down a lot more than "Don Draper" does when he takes off his shoes...it looks like around a 3 inch difference, at the minimum..

Editor Rob
That definitely was the intention, to show the character wears them.
Psychedelic Earth 187
said on 11/Jan/18
Height loss?

Editor Rob
A half inch loss for John might be getting closer.
SomeGuy
said on 10/Dec/16
Slattery with Stephen Colbert:
Click Here
Even though Slattery's posture isn't optimal it still seems like more than a fraction difference.
What do you think Rob?
Editor Rob: Colbert can look taller, but how much if both were similar posture I'm not sure.
Hypado
said on 22/Feb/15
In Mad Men tv series
John Slattery - 5ft 10in, 178 cm
Jon Hamm - 6ft 0.5in, 184 cm
Sean
said on 25/Jun/14
I just saw Slattery on 30 Rock, next to Alec Baldwin he seemed 5'10 max, more like a strong 5'9 range.
Mr. R
said on 8/May/14
I saw John last night and he is a WEAK 5-9.
Mr. R
said on 7/May/14
Saw John Slattery tonight. He is between 5-8 and 5-9.
Mr. R
said on 7/May/14
Saw John tonight at screening of his new film "God's Pocket". This was Philip Seymour Hoffman's last completed film role. John walked past me three times, and each time he was between 5-8 and 5-9. Not even close to 5-10.
Mr. R
said on 4/Jun/13
Closer to 5-9.
Oz
said on 2/Jun/13
In Mad Men he looks some inches shorter than Jon so i think he's about 175
Adamz
said on 4/Feb/13
Rob, Based on what?
MD
said on 4/Aug/11
Yeah, he's never looked 5'10", too me. Pretty great proportions, and all, but 5'10" he is not.
Mr. R
said on 3/Aug/11
Slattery is a weak 5-9.
Tom
said on 2/Aug/11
Absolutely great actor, does not look a full 5´10", maybe 5´9" - 5`9.5"?
Dman
said on 17/Dec/10
In episode 3 of season 1, there is a scene where Hamm and Slattery are about to enter the office of the company primary owner who doesn't wear shoes in the office. So before entering they both take their shoes off, and Hamm's character gives a surprising look at Slattery;s character becasue while in shoes he is about an inch shorter without them he is 2.5-3 inches shorter. Kind of an inside joke on the show I guess. So 5-9.5 seems about right.
Ed
said on 30/May/09
5'9'' in my estimation.
ivo
said on 23/Jan/09
you guys are talking about different john slattery I think..the tall one is mad men tv serie's George and Victor Lang in Desperate Housewives... I dont know the musician one... I think there's also a reporter/newsman with this name..but I am Indonesian, so I'm not sure.
MD
said on 26/Oct/08
Just saw him on SNL and he was
at least
two inches shorter than Jon Hamm, who I've seen listed at 5'11".
Nicky
said on 23/Aug/08
5'4"? That's crazy talk. 5'10" sounds about right seeing that the girl who plays Joan is 5'7" and when she's wearing heels,which look about 3-4 inches,she seems to be the same height as him. He's not short at all
Chris N.
said on 15/May/08
I met him at a guitar convention a few years ago. He looked around the 5'4"-5'5" range. Very nice guy.
Anthony
said on 24/Jun/07
He didn't look quite this short when I saw him in concert last night at The Norfolk Theatre. I'd say he looked more 5'5. His footwear may have been suspect, though.
Kevin Sean
said on 6/Apr/07
I know Rick and he's about 5'6'' but he plays likes he's 10 feet tall. Still has all of his own hair and a better human being you will never know, he'd give the shirt off his back to help someone.
Brad
said on 12/Oct/06
He worked for anybody. He and Leslie West were wasted for years much like Jack Bruce. He did a Captain Crunch 45rpm around '84. He sessioned for anything including a WWF album. Totally broke like Peter Frampton who was living in a flop house apartment in '86 in Hollywood doing sessions. Really sad seeing them go down. I think RD is a born again christian now. Sure beats playing a biker bar down the street from Coors Brewery to 28 people. Quiet Riot played the same place. 17,000 person sell-out at McNicols Arena to 87 people in a bar with moose heads on the wall in 10 years.
Glenn
said on 17/Aug/06
Its possible.he was Cyndy Laupers guitar player too.
Danimal
said on 16/Aug/06
Didn't Derringer work with Weird Al Yankovic for years?
Brad
said on 15/Aug/06
Same height as when I saw The McCoys in '66: real short. It was as almost as if his face aged and the body didn't.
Lawrence
said on 12/Jun/06
The song Derringer did for Hulk Hogan is one of my personal favorites. It's called "Real American".
Wilhelm Fink
said on 20/Apr/06
I don't think this
Guy is a tad over 5ft 3in...
Glenn
said on 14/Apr/06
Standing straight and I cant remember the footwear.
D. Ray Morton
said on 13/Apr/06
Wow, I never knew he was quite *that* compact. Is he sitting down?
He did a version of "Rock And Roll Hoochie Koo" for the WWF back in the mid-80s, I think with Mean Gene Okerlund.
"Guitars And Women" is a great one from the 70s. Derringer rules.
Glenn
said on 13/Apr/06
Yeah,your right SF,hes starting to look 5-2 to me! thanks for the WWE info.
sf
said on 11/Apr/06
Derringer did do some song for Hulk Hogan, I believe, that's featured a lot on the WWE. Man, the more I look at that photo, I'm having a hard time believing Rick's even 5'4"!
Glenn
said on 11/Apr/06
I do know he put out a couple of wicked pure heavy metal albums in the mid 70s.SWEET EVIL is one.I highly recommend to any metal heads out there.you can hear early megadeth in one song! I swear!
Glenn
said on 11/Apr/06
Did he do WWE music? can anyone answer that?
sf
said on 10/Apr/06
Had no idea he was that short. I'd say no more than 5'4" from that picture.
[Editor Rob: I guess glenn has a lean, some of these old musicians, there's a lot shorter guys out there, some they make glenn look tall!]
WWE
said on 9/Apr/06
he's the WWE music guy isn't he?