English actor, best known for playing Det. Insp. Jedediah Shine in Ripper Street, Benjen Stark in Game of Thrones and for roles in films such as Abraham Lincoln: Vampire Hunter, Half of a Yellow Sun, In the Heart of the Sea and The Cold Light of Day. Joseph had his height listed as 5ft 10 in the Spotlight directory, although in
2019
he said
"Dear @IMDb @Wikipedia and all other outlets of pro information I am not 5' 10 I am 5' 11 ( it's not a tall deal but it's my height ) so please correct it. Thank You 😊#Facts #Truth"
.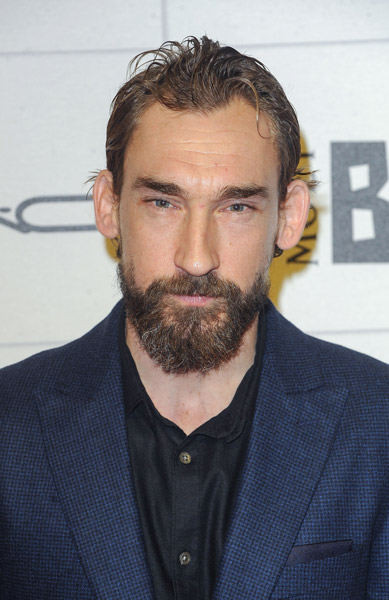 Photos by PR Photos
Theorm
said on 28/Aug/18
Thought he looked taller than Sean Bean in GOT in that one scene they had together. I thought about 181 - 182 cm, what do you think Rob?

Editor Rob
I can't remember that scene, though he did look shorter than someone like Matthew Lewis in Ripper Street.

He has a longish head that wouldn't look out of place on a 6ft 3 man.
Sandy Cowell
said on 12/Jul/18
I just watched Joseph in a very enjoyable episode of the third series of 'The Street'. He plays a racist chef, who treats the people who work for him with contempt, openly admitting that he doesn't like Polish or black people.
Then one day he sees a little girl in a burning house, but is too afraid to go in. Another man does save the 7-year-old Polish girl, but passes the child to Joseph, who plays Keiran, saying, "You did this! I'm on Invalidity (benefit)!"
The hero is worried that he will be found fit for work, but when Keiran is hailed a hero and his social status goes up a notch, the guy on benefits is jealous. He is even more resentful when he befriends the attractive mother of the girl, and puts her up because she cannot return home!
I have never seen Joseph act before, but I didn't half think that he resembled John Cusack, though that isn't the case in the picture above so much. Probably as a consequence of this, I thought he was quite a bit taller than his actual 5ft10 or so. He does look quite a bit taller than the other cast members, but many aren't tall anyway. (Stephen Graham, Anna Friel, the child!)
I am going with the average vote of 5ft10.25.