Julie Goodyear's Height
5ft 3 ½ (161.3 cm)
English actress, best known for playing Bet Lynch in ITV soap Coronation Street. She used to give her official height as 5 feet 4 inches in the Spotlight Directory.
You May Be Interested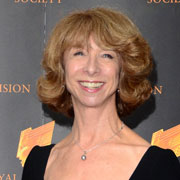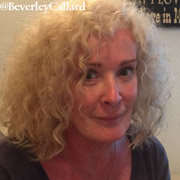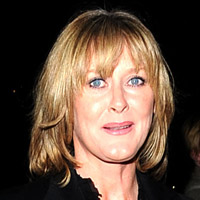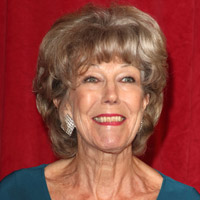 Add a Comment
15 comments
Average Guess (10 Votes)
5ft 3.58in (161.5cm)
Miss Sandy Cowell
said on 22/Jan/20
Bet's lorry-driving boyfriend is very tall indeed. He's even taller than that huge bun she wears, and that's saying something! It always threw me of the scent that she wasn't, in fact, very tall at all!
5ft3.75. 😁💐
Miss Sandy Cowell
said on 6/Nov/19
Ha ha! In the other day's 'Classic Coronation Street', Bet made sure that her niece, played by Chloe Newsome, 5ft3, and described by herself as a 'pocket-sized redhead', saw the New Year (1994) in with nothing stronger than Alka Seltzer, as she'd been on the lash too often of late!
Bet gets 5ft3.75, but always looked taller when she starred as Barmaid Bet! 😁👍🍺
Miss Sandy Cowell
said on 24/Oct/19
⭐ I still like her though! She needed to feel wanted again, and two lonely people....❤️💐❤️
Miss Sandy Cowell
said on 24/Oct/19
Oooh! I spoke too soon for today, 'Classic Coronation Street' ended with Bet leading Ivy's husband through 'for afters'!
Well, it serves her husband right! 😝
Miss Sandy Cowell
said on 23/Oct/19
Ah! Today's Classic Coronation Street ended with Julie in tears because her fat rat of a husband is playing away. SHE'S the one with the good looks, but she has good morals as well and her husband, played by the late Roy Barraclough, a comedian in real life I believe, doesn't know the meaning of the word. 👅
It wouldn't half be nice if Julie's Bet came back to the Street one day!
Miss Sandy Cowell
said on 22/Oct/19
I always knew I liked Bet but yesterday's episode of the Classic version made her go up in my estimation. Eva Pope has started and being very nasty and sarcastic about Raquel's modelling ambitions. Bet stood up for her!
Julie always looked her best in the programme and would have been modelling material herself at one time, had she had the height.
5ft3.75. 👱‍♀️👍
Paul Wood
said on 20/Sep/19
Over the years I've seen her listed anywhere between 5ft 2in and 5ft 5in. On Coronation Street, I always thought she was a bit shorter than 5ft 5in Beverley Callard, even allowing for the complicating factor that they would both nearly always be in high heels.
Nik
said on 26/Mar/19
@ Sandy Cowell - Sonetimes things like this don't occur to you, thankfully I spotted that her name contains every vowel and I pounced on it!
Here's another one: D-a-n-n-i-i M-i-n-o-g-u-e!
Miss Sandy Cowell
said on 26/Mar/19
@ Nik - Another incident of good observation! I hadn't noticed that she had every vowel in her name at all!
Nik
said on 25/Mar/19
@ Sandy Cowell - Her name contains every vowel!
@ Rob - Would Julie's peak height have been as high as 5'4"?

Editor Rob
I suppose she might have been near it.
Miss Sandy Cowell
said on 21/Mar/19
Hooray! Thanks to Julie's 'Coronation Street' character Bet, we have two fellas called Des starring in the programme at the same time! It is Christmas Day 1991 in 'Classic Coronation Street' and she has a friend round called Des and, coupled with Des Barnes, that makes two chaps with the same name, which has to be a first for a Soap!
I can't see him sticking around for long though. He stays for Christmas dinner and then has the cheek to try it on, and when she says "No!" he slaps her and she chucks him out!
Bet always looks so attractive, which I something I didn't take in when I watched it before. Each and every day, she makes the most of herself, and I think I have only seen her shoeless just one time. No wonder I expected to find at least 5ft5 for her.
I'd love to see Julie return to the Street. One thing's for sure: she'll still be as gorgeous as ever!
Julie gets a top quality 5ft3.75.
😊👍🏅
Sandy Cowell
said on 7/Sep/18
It is Easter Monday 1990 in 'Classic Coronation Street' and Bet is looking as elegant as always, with a gleaming smile! The girls - of all ages, I might add - are having a get-together, so they are all sitting down, but I did notice that as Bet left the Rovers Return, she didn't look like a petite woman of just over 5ft3! The trouble is, one can never get a glimpse of her heel height. All we can be certain of is that, yes, she does wear them; you can hear her clomping around, even when she's at home, but I did once see her first thing in the morning, as it were, wrapped in her dressing gown and make-up free, with husband Alec Gilroy, and she IS shorter than him! That's the only evidence I have, so I will go with 5ft3.5 again. I tried to find out the height of Roy Barraclough*, who plays Alec, and though I don't remember the exact figure, I know he was taller than Julie Goodyear, even at her Spotlight listing of 5ft4! I WAS surprised!!!
Julie gets 5ft3.5 again.
* The spelling is dodgy!
Sandy Cowell
said on 9/Mar/18
🙉 I am currently watching an episode of 'Classic Coronation Street' and Bet is giving her husband ear-ache!
She is ticking him off about not accompanying him on her up-and-coming holiday and what one can't help but notice is that SHE IS LOOKING DOWN AT HIM!
No doubt she's wearing high-heels, but when doesn't she? She also has a big, bouncing hair advantage, but although that all creates to the illusion, the eyes never lie!
My conclusion is that Bet's husband is slightly - but only slightly - shorter, probably by no more than half-an-inch barefooted, but if he does think he's up to marrying an 80's power-woman, who appears a good three inches taller in my eyes through tricks a-plenty, I grant you, then he should at least FALL IN LINE....
... or prepare to cover his ears and get henpecked! 🐁🐔
Bet (sorry, Julie) gets the same 5ft3.5 as last time!
lee168cm
said on 5/Jan/18
Is 5'3.5 her peak height Rob? I've seen listings of 5'5"
Editor Rob: she always had her height as 5ft 4 in the spotlight directory, going back to earlier in her career.
Sandy Cowell
said on 24/Oct/17
That is just so amazing! Julie came over looking much taller, fearsome at times and a typical 80's power-dresser! Was she never out of high heels?
You see, she is one of the stars I am avidly watching in the afternoons on ITV3, and should I miss the double-showing, it's repeated in the morning on the same Channel at 6am! She truly looks quite forbidding all dressed up with her big hair, affording her many more inches, and shoulder-padded jackets, giving her a domineering presence! Then comes her "Don't you dare mess with me!" voice, which sounds like it might belong to a 6- foot Amazonian woman!
To find out tonight that she is a petite 5ft3 or so is more than a little shocking! Just think - she could have legitimately bought her clothes in the 'petite' department! Over 30 years later, it isn't likely that Julie would look so fearsomely forceful and so going to the petite department might suit her now - but no way those days!
Julie gets 5ft3 and a half! Her entry of 5ft4 in the 'Spot light Directory' still seems a trifle low, but that extra inch would have been enough to stop her being officially petite! That bun of hers has a lot to answer for!
Editor Rob: I think by the time she was in Big Brother, Julie looked like she lost height, maybe 2 inches or close to it...I suppose her hairstyle always added height to how she looked on Corrie.