Juliet Landau's Height
5ft 6 (167.6 cm)
American Actress best known for playing Drusilla on hit tv series Buffy the Vampire Slayer. In film she had memorable appearances in Toolbox Murders and Ed Wood. I met her in 2006 (Collectormania) and she had about 1.25 inch advantage over my sneakers, and in 2007 (photo by Starfury Conventions Decalogy) she has near 2 inch advantage in footwear over Jenny and myself. On twitter she once mentioned her height, saying she was
"5'7"
.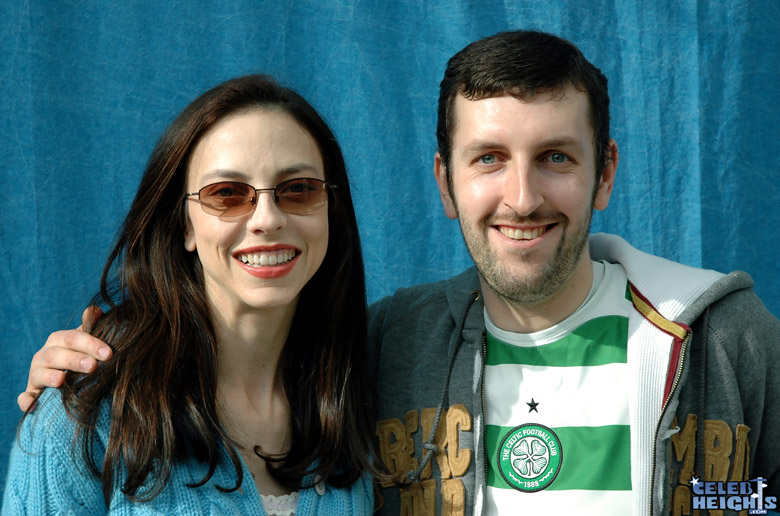 5ft 8 Rob and Juliet
5ft 8 Jenny and Juliet
You May Be Interested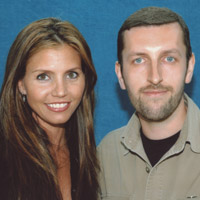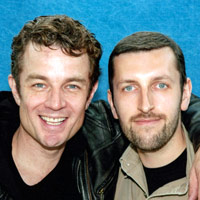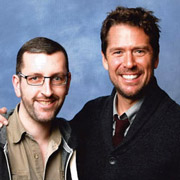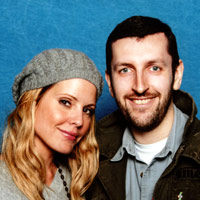 Add a Comment
28 comments
Average Guess (3 Votes)
5ft 6.17in (168.1cm)
Christian 6'5 3/8"
said on 22/Apr/20
167cm
Bobby 178cm
said on 8/Mar/19
A tiny fraction shorter than Jenny in the bottom picture, maybe like 5'7.5 there? Or was Jenny still a decent 5'8 there? If so, she may be 5'7.75 there. It's so hard to see but you can tell Jenny is a little taller than her.

Editor Rob
12 years ago, she'd have been in solid 5ft 8 range yes. I would have said watching her photo, juliet was quite close in height, enough that it was difficult to tell if either was taller.
Hc
said on 3/Oct/18
If she is listed as 5'6 then Charisma Carpenter should be upgraded to at least 5'6. Also, if you look up a pic of Charisma with Seth green in the BTVS graduation episode you can see she is taller by at Seth green by 3 inches and she was wearing sneakers.
Nik
said on 11/Jun/18
Looks 5'6" in the photo with Jenny!
Danimal
said on 22/Mar/18
She's in her 50's. It's possible she was 5'7" in her 20's.

Editor Rob
In these photos Juliet was age 40 and 41. I'd be surprised if she had lost any noticeable height by that age. She might have lost some height by age 52 though.
even
said on 27/Jul/17
5 foot 6 and her wight is one hundred pounds
fact?
said on 28/Nov/16
the photo looks like its from 1986 on the left
NBAer
said on 17/Apr/15
She's 5'5-5'6,probably 5'5.75(167cm)would be the best estimate.Also,she has a rather small head and that's probably why she gives a taller impression.
ricky
said on 17/Feb/15
Like Charisma Carpenter she always seemed a bit taller say about 5-7 but who can tell on screen.
jtm
said on 13/Nov/13
rob do you think 5'5.5 is possible?
[Editor Rob: it's not impossible]
jess
said on 11/Nov/13
Then she'd be 5' 6½", not 5' 6".
Len
said on 8/Mar/13
5'6" seems right. She looked sort of tall on Buffy, but that was largely because most of the other actresses on that show are gol-dang short, so as not to tower over tiny Sarah Michelle Gellar.
She also couldn't be too tall or she'd look wrong next to the amazing but-not-very-tall James Marsters (Spike), her love interest.
marla singer
said on 2/Dec/12
Was she listed 5'7 before?
[Editor Rob: in 2005-6 I think so, then i saw her 2006 and she looked shorter than 5ft 7.]
lorne
said on 17/Sep/11
Rob visit this page on a web browser.Mel Gibson appears on the "popular Articles" section on the right, instead of Justin Bieber.Not that I mind, Gibsons height is way more interesting then that damn beaver-bieber, but why does Gibson appear on THIS PAGE specifically, as well as a few others, like Elvis's page :)
[Editor Rob: when a new comment gets approved the page refreshes. So unless I refresh them all regularly the side panels won't always be the same.]
J.Lee
said on 2/Mar/09
but then how come Jenny thought you are exact same height as her. How come she didn't think she is taller?
[Editor Rob: Jenny does have 1/4 inch higher eyelevel than mine so sometimes she of course will appear from her eyelevel to be 1/2 inch taller. Telling 1/4-1/2 inch difference...that's not much really.]
J.Lee
said on 1/Mar/09
yah, guys have bigger heads! but rob, if your eye level is taller than someone but overall your shorter, than doesn't it still feel like you are taller? In other words, isn't it almost the same as being taller if your looking downwards?
[Editor Rob: yes, a girl might have say 4.25, and a guy could have like 4.75 and they might measure the same height but the girl will 'feel' taller due to the higher eyelevel.]
J.Lee
said on 24/Feb/09
Im saying when a girl puts on heels and is an actual inch taller than you can it look like 2 inches because of body structure? her head might be smaller so it gives the illusion?
[Editor Rob: maybe if she has a shorter eye-head length and just a shorter head. Some people seem to get fooled and can't account for how much hair is really there.

Also men can have a little bit longer heads compared to some ladies, so maybe that fools some people too?]
J.Lee
said on 23/Feb/09
Rob would you say sometimes when a women is an inch taller than you because of high heels, it will look like 2 inches?
[Editor Rob: I don't understand? Sometimes can you think 1 inch difference is 2 inches?]
RFS
said on 22/Feb/09
I hate how Sarah Michelle Gellar makes everyone look tall!!
I thought this woman was 5'8"!
J.Lee
said on 21/Feb/09
Would you say five six is a decent tall height for a women?
[Editor Rob: a little above average. Some ladies might feel a bit tall if they have a circle of friends 5ft -5ft 6 range.]
J.Lee
said on 21/Feb/09
I knew you were taller still rob. most people would have first thought she was. but then you look closer at the head. Her eyes seem higher though so are you suggesting its cuz you have bigger heads?
[Editor Rob: some people have smaller eyelevels than others. Or they lower/raise their eyelevel a bit making it look longer/smaller etc.]
Yaspaa
said on 19/Feb/09
Yaspaaaaaaaaaaaaa!!! please sire me.....but not in the crayon coat..... she loves those specs....brown.....Great pics guys!
eliza
said on 6/Mar/08
but she was so little in buffy!
Donn P.
said on 7/Jul/07
See my photo with her on
Click Here
, the bottom gallery "HauntX Convention 06". I'm the slob on the right. I'm 5' 11" and my shoes add 1" so I'm 6' in this photo. She is wearing medium heels and is still 3" to 4" shorter than me. Subtract her heels and 5' 6" sounds about right.
Hannah_Dru
said on 29/Jun/07
I definitely think she's 5 ft 7. I've met her a few times and she's the same height as I am.
lisa b
said on 10/Feb/07
I think she's 5 foot 7. Like rawr said, she's always wearing flats on Buffy, and she's nearly the same height as him, just a bit shorter. I don't think she's 5 foot 8 or 9, but she's definetly kind of tall. Just under 5 foot 6 is a bit ridiculous in my opinion.
Twilight-Ghost
said on 11/May/06
So, are you saying Juliet is taller or smaller?
rawr
said on 2/May/06
how can she be five seven? on buffy she is standing close to a 5"10 james marsters who is wearing big boots that have to add at least an inch - juliet landau was wearing flat-2 inch shoes and was the same height!