Justin Chon's Height
5ft 5 ¾ (167 cm)
American actor best known for playing Eric Yorkie in the Twilight Saga. He has also made appearances in the films 21 & Over, Crossing Over, Innocent Blood and Detention of the Dead. These photos are from Massive Events Twilight Conventions. In the top photos he had about 0.3 inch less sneaker than us.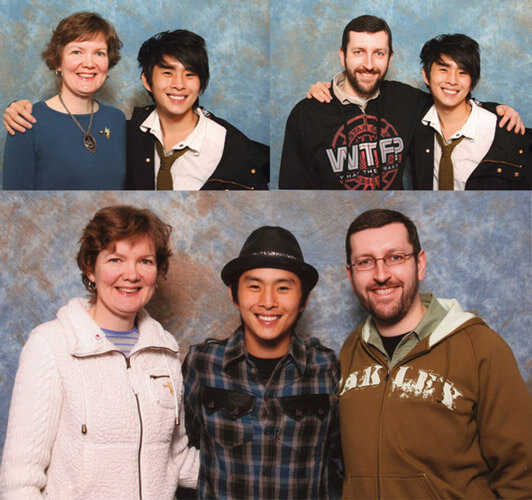 5ft 8 Rob, 5ft 8 Jenny and Justin
You May Be Interested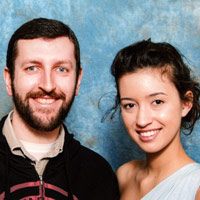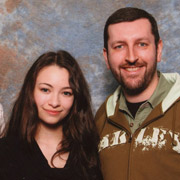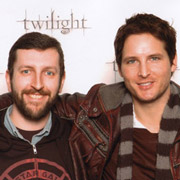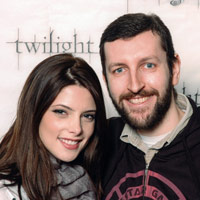 Add a Comment
53 comments
Average Guess (7 Votes)
5ft 5.61in (166.6cm)
Nik
said on 22/Feb/20
T-hat hat can be deceptive!
CD
said on 30/Dec/19
Rob, is a modest 5'5.5" possible or did he seem a fraction taller in person than the photos suggest?

Editor Rob
5.5 would be lowest I'd have guessed, generally from seeing him on a few occasions I put him somewhere between 5.5 to 6 range.
Christian
said on 6/Sep/19
I think according to the pictures that he looks only '5.5.25'.
Junior Hernandez 1990
said on 31/Dec/18
5'5 1/2 would be his low.
Nik
said on 12/Nov/18
He looks to be no less than 5'5.75"!
Zucka
said on 28/Apr/18
Rob, Did you measure his height by yourself?

Editor Rob
All heights are guesses. In person I'd have guessed Justin close to 5ft 6
rob.with.graditude
said on 17/Jul/17
nigahiga isn't 5'9. more like 5'7
S.J.H
said on 29/Jan/16
166cm at worse. He was listed 5'6 and 5'7 somewhere
OneNamePlease
said on 26/Jun/15
Yeah, 67 is fine
Emil 182.5 cm
said on 7/Aug/14
Lol what in the world did I believe Miles was 6'2 for? Rob, do you get drugged from this website? (feel the joke and keep making this great page rolling!)
linke
said on 25/May/14
Rob would you consider adding Skylar Astin? He can look between 5'7 to 5'9. I guess 5'8 is a good shout for him.
Emil
said on 30/Sep/13
Astin easily looks 4 inches taller than Chon. Teller looks to be 6'2
Emil
said on 29/Sep/13
I do believe Astin is close to 5'10. He looks 4 inches taller than Chon. Teller looks more like 6'2 to me
gee
said on 7/Aug/13
if you watch the movie 21 and over skyler astin andmiles teller are barefoot in the almost naked scene where they are held by the sorority....he has 5 inches over skylar astin
gee
said on 26/Jul/13
he's 5-6 or a little less
watched the movie 21 and I don't get how they put skylar astin at 5-10 because miles teller who's 6-0 towered over him...he was 5 inches short...at least 4 inches shorter..he's 5-8 at the most
richkid123
said on 26/Feb/13
He had sneaker disadvantage so it makes sense. He looks around this height in this new movie trailer that I keep seeing him in. 167cm
Mikey T
said on 22/Feb/13
He's not even 5'7.75 with his hair. If he was 5'7.75 it would be close than that like you would only be slightly taller than his hair
LeBron6
said on 7/Dec/12
Rob, if you factor in his hair, he can't be over 5'5.5"
runt
said on 29/Nov/12
He don't look no 5-3 LOL
[Editor Rob: I've seen him at a couple of events, and he definitely is not under 5ft 5 or anything like that, I will try to find a double shot I have]
Anonamous
said on 21/Oct/12
i wtched him in Just Jordan 4 years ago and i thought he was 5'7", but in these picture with jenny and rob he looks 5'3"?!!
mofo
said on 20/Oct/12
@Jeff
LOL ageed!
This guy is creepy looking! He looks very short!
5ft4.5 no more!
[Editor Rob: nah, no chance he's that short]
jeff
said on 23/Jan/12
if you flatten his hair with a ruler, he'd be 5'4.5
Zachary
said on 15/Nov/11
he looks frozen in the same pose
A
said on 29/Aug/11
But Rob, look at how much volume his hair has, it's giving him more height.
A
said on 26/Aug/11
This guy is also a Youtube star. I'd say he's 5'5".
[Editor Rob: I don't think he appeared that short, near 5ft 6 I believe.]
Mathew
said on 23/May/11
He's looking 5'5" - 5'5.5", not 5'6"ish.
SoccerBoy92
said on 22/Apr/11
This dude is hilarious, he has been hanging around with YouTube's number one YouTuber Ryan NigaHiga and KevJumba
I thought he was bit taller.
Shaun
said on 22/Apr/11
I think in the UK average height is creeping up to 5'11
Really? Then why is it I often feeling like a giant walking through Cardiff at a weak 6'2"?
son
said on 10/Mar/11
i agree with Ken. This isnt how a guy thats is 5'6 and 5'8 would look like standing together. not at all.
he seems 5'4.
Ken
said on 13/Feb/11
ROB... how can you call this kid 5'5-5'6. thats crazy dont you think? thats a goooood 3 inches at least. his hair is just poofy. 5'5 is MAX. but probly 5'4-5'4.5
com'on rob. this is not how a 5'6 guy and a 5'8 guy look together.. seriously.
ROBBBBBB
Buzz
said on 5/Nov/10
He's below average height for a Korean. I've been to South Korea before and at 5'9 I felt dead on average. Even in Tokyo I felt closer to average than tall. Asians seem to be getting taller but they're still behind us in the west. I think in the UK average height is creeping up to 5'11. In about 30 years time it could be a full 6' here.
McLovin
said on 19/Jun/09
Yup its true that Koreans are generally the taller asians... I'm a filipino and i think filipinos are one of the smallest in asian ethnicity.
Joe
said on 8/Jun/09
hey rob! i like your hoody in this pic. It's a cool design. do you mind if i ask you where you got it from?
J.J.
said on 7/Jun/09
OMG that means Robert Pattinson is the same height as Justin Timberlake 5'11.75"/6'0" nothing more. Because Taylor Lautner in that picture looks 5'7.5"-5'8"
Guru12
said on 1/Jun/09
This would mean that Taylor Lautner is definitely not 5'10 .. hmmm ..
Click Here
Lina
said on 11/May/09
Edward, you're right. I've searched the average South Korean males' height through Google, and it is 5'8". Hmm. I wonder the average height of Chinese and Japanese men. And for 5 ft 3.8, yes, as far as I know, Japanese girls are quite short. Asian women are generally not very tall, at least for now.
5 ft 3.8
said on 22/Apr/09
He's Korean? Sorry, my bad. Anyways, then I guess he really IS tiny for a guy. He's super cute though. Not hot...just really cute.
Edward
said on 18/Apr/09
@5 ft 3.8, Justin Chon is Korean, and Koreans are actually known to be one of the taller, if not tallest of Asians. Average Australian and North American heights are around 176cm 5'9, whereas average South Korean Height is 175cm 5'8.
lita
said on 15/Apr/09
saw him at abdc!!
in the crowddd! he seems kinda short! hehe
hey.
said on 14/Apr/09
He's so cute! This means that Kristen Stewart has got to be under 5'4" though.
5 ft 3.8
said on 7/Apr/09
Chinese guys are almost always short. Asians in general are, actually. When I went to Japan, I was almost always the tallest girl in the shops and I'm not even 5 ft 4!
Dani
said on 28/Mar/09
looks 165cm honestly. No more than 165cm.
J.Lee
said on 25/Mar/09
well when girls put on heels and are 1 inch taller than me, it seems like more of a difference than with the 2.5 inch difference with jenny and justin chon. Then again it's probably eye level and head size right Rob?
[Editor Rob: I think justin has about same sized head as jenny - 8.5 inch - and decent sized hairdo.]
J.Lee
said on 25/Mar/09
rob is jenny bending? you seem taller than him than she does.
[Editor Rob: I went first that time but waited and watched him/jenny taking their pic from behind the photographer and they were both standing fine. I know he is losing posture with me and hence I bend my back/head down a bit to try to match up.]
Amanda 2000
said on 22/Mar/09
He needs to straighten up. When you are that short posture is always very key, and every inch counts.
Dude
said on 20/Mar/09
That's 3 inches??!? Man it's really tough to tell lol...
5'10 Guy
said on 20/Mar/09
I Think he is 5'5 max in the pic, no more i guess.
jack
said on 20/Mar/09
no way 5'4"
Donatello
said on 20/Mar/09
With his hair I can see him scraping 5'6", with out it probably like 5'5" 1/2.
miko
said on 20/Mar/09
Great photos Rob. Seems a weak 5"6.
Did you get Taylor Lautner at the convention? His height is listed from 5"4 to 6"0!
LOMJkE
said on 20/Mar/09
looks 165 cm
adam
said on 20/Mar/09
Rob has about three inches on him and Jenny slightly more, I`d say.
Amok
said on 20/Mar/09
He looks a lot shorter than 5'6" in those pics.