Kai Greene's Height
5ft 7 (170.2 cm)
American bodybuilder and actor.
I'm 5' 8". I competed with the WNBF at different bodyweights. As a teenager I competed at 212 for my first outing at the World Championships. Five months later I was able to come back at 220 and win the Pro US Cup. The next year I was able to come back considerably heavier. Ultimately the heaviest I've peaked at is 230-232.
-- Kai in 1999
You May Be Interested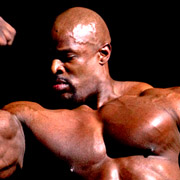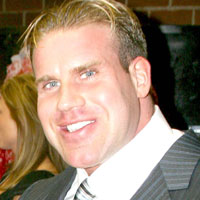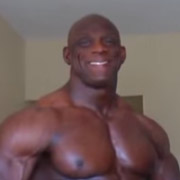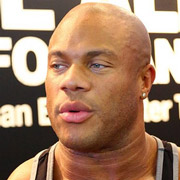 Add a Comment
26 comments
Average Guess (30 Votes)
5ft 6.93in (170cm)
Jkiller
said on 17/Jan/20
No chance he's 5'7, 5'6 and a half max.
truthteller25
said on 14/Dec/19
He looks 5'5 but could be 5'6 most of these bodybuilders are 1 inch shorter than listed heights.
andre oliveira
said on 19/Nov/19
Full 168cm or a weak 169cm barefoot at night
jay cutler is a full 170cm barefoot at night
Matrix
said on 24/Oct/19
Can you do one of flex Lewis please I think it's pretty much up there with the celebs now
Luffy
said on 26/Feb/19
Add jeremy buendia height please
Myself
said on 19/Feb/19
Rob, in that link you posted here 1 year ago, it seems like average people get more low back pain than lifters, but the latter group had thinner disks? So disk thinning is not as much related to pain as it is to the pressure it's forced to absorb?
Reptile
said on 22/Oct/18
Rob, please add the height of Jeremy Buendia
andre oliveira
said on 28/Sep/18
168cm at night barefoot
andre oliveira
said on 10/Aug/18
5ft6 barefoot
Nicky179
said on 10/Mar/18
Rob will be ready a Jeff Seid page?
johnnyboy69
said on 27/Feb/18
go make a jeff seid page! he's definitely 5'10
tom
said on 15/Jan/18
1.5" shorter than phil
andre oliveira
said on 14/Jan/18
kai greene is not 171cm barefoot please !!! 168cm at beast at night he was towered by indians when he visited india and indians are no taller then 167cm with shoes , kai maby about a max 168cm barefoot at night no more no less
Im 171CM
said on 9/Jan/18
That's my favorite guy king kai definetly looks around 5'7" flat...
Easterwood 6'3
said on 7/Jan/18
It's certainly a possibility, but that could simply be attributed to the fact that it's very rare to find an experienced lifter that's never had a back injury. So, whether it's the act of lifting weights itself, or simply the increased risk of injury associated with it, is very hard to say. And when you're on gear, you're pushing your body beyond its natural limits. Further increasing the risk of injury, or simply just excasterbating the effects of a natural lifter's wear and tear. It's a lot harder to train your bones to handle a heavy load than it is to train your muscles, is what I'm saying.
Anonymous
said on 7/Jan/18
Kai Greene looks 5'6 range next to Jeff Seid who's about 5'10-5'11 (although he claims 6'0). You should make a page for Jeff Seid, he's one of the biggest figures in the fitness industry and claims to be 6'0 although people who have met him estimate him to be closer to 5'10.
Heightlover
said on 7/Jan/18
@QLDer
I knew it! He always lookes a strong 5'9 guy close to 5'10.
QLDer
said on 7/Jan/18
@5'9 morning and Heightlover
I met Jeff Seid at a convention and he's definitely 177cm range
Easterwood 6'3
said on 6/Jan/18
Injuries can certainly make peopl lose height, but I don't think there's a whole lot of evidence to support the idea that weightlifting makes you shorter. It will compress your spine, but that's literally fixed overnight with a few hours of sleep. Strengthening the muscles in your back and core, you could actually become taller, as your posture is bound to improve.
Editor Rob:
the full paper would cost money to read
click here
, but in that abstract, the line "A significant decrease in disk height was found among the lifters" shows there may be increased risk long-term of heavy lifting on your discs.
Davis
said on 6/Jan/18
I think he is 5'7.5 at most cause he looks a bit more than 1 inch shorter than 5'8.75 phil heath
andre
said on 6/Jan/18
he awakes at 171cm or 172cm with shoes in the morning
he is about 168cm barefoot at night
Heightlover
said on 6/Jan/18
To 5'9morning said on 5/Jan/18
That would be pretty interesting. Rob will you list Jeff Seid? I also believe he is 5'10
:)
said on 5/Jan/18
Can people lose height from putting weights on your back like squats?
Editor Rob: with some heavy lifters, it certainly increases the risks.
5'9morning
said on 5/Jan/18
Yes. Perfect listing he is 5'7.
Hi Rob could you add Jeff Seid to this page? He is the most popular in the Fitness Industry. Arnold was in bodybuilding and Jeff Seid started doing well in the Fitness Industry. It would be great because he has a big ego claiming he is 6 foot several times to his fans but he is not over 5'10. I think he is adding his shoes and his hair. Thank you
Jacob
said on 5/Jan/18
Wow... shocked he always looked shorter significantly and I found out the hard way I wasn't 166 cms either man one day in class I noticed one kid who claimed 5'5" I'm like in flats still but we wherent much off in height though and I. Go home and get 164 cms and confirm pretty much and the doctors I was 64 flat at 17 and now I'm 18 I'm mostly like done but intresting he actually is 5'7"..
Tonyx
said on 5/Jan/18
5ft7in sounds about right.
All natural.
Not.