Kai Owen's Height
5ft 10 ½ (179.1 cm)
British Actor best known for playing Rhys Williams in bbc tv series Torchwood. This was a photo from "The Hub" - a Torchwood event in 2008, Northampton. Jenny had about 0.3 inch less sneakers than me and Kai.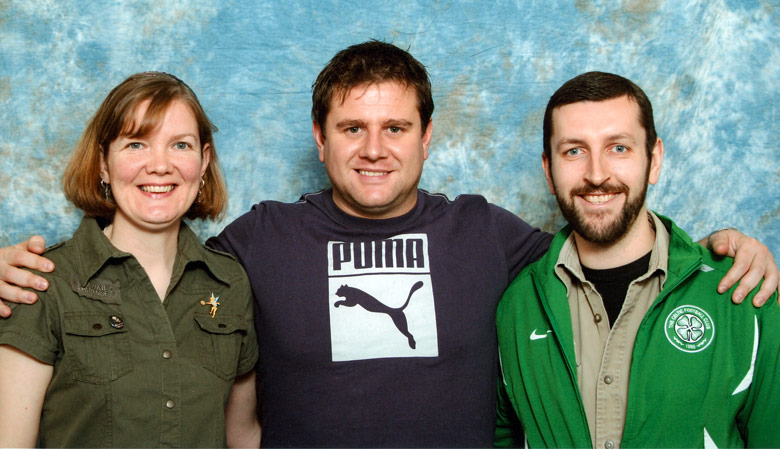 5ft 8 Rob, 5ft 8 Jenny and Kai
You May Be Interested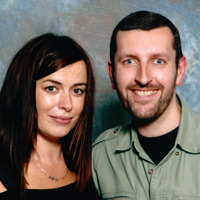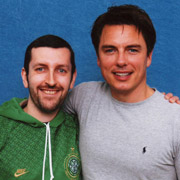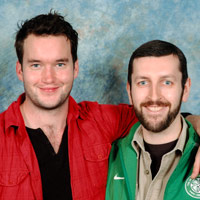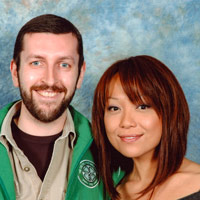 Add a Comment
36 comments
Average Guess (28 Votes)
5ft 10.17in (178.2cm)
Nik Ashton
said on 9/Feb/20
5'10.5" is fine, in Northampton!
Paul Wood
said on 9/Jul/18
Looks more like 5ft 9.5in in that photo.
Faza
said on 6/Dec/17
5 ft 10 minimum 5ft10.5 max prob somewhere in the middle for kai i reckon
Bobby
said on 20/Oct/17
Rob is dropping height here, as Jenny looks taller and only two inches shorter than Kai. Maybe she's 5'8.5 here.
Editor Rob:
"Jenny Looks taller" -
Click Here
.
nice try 👍
though she is 1-2 inches nearer, as she was in 90% of double shots since I am taking photos for celebheights 👌
World Citizen
said on 31/May/17
Looks more 5 ft 9.25 here.
Pierre
said on 28/Mar/17
About 5"9.75' imo
Pierre
said on 8/Aug/16
Around 5"10' imo,nice picture
ray
said on 13/Jan/15
his height is deceptive
Rampage(-_-_-)Clover
said on 19/Dec/14
Comes in at about 177-178cm in the above photo
5ft10 flat, Rob?
[Editor Rob: not sure he'd just be 5ft 10 flat, but 179 I think is still possible.]
Rampage(-_-_-)Clover
said on 25/Oct/14
No less than 178cm if he has less shoe
Judd
said on 23/Sep/14
5'10" from the pic
176,2Tunman
said on 27/Mar/14
Looks close to 179,178 at worst,is Jenny a little closer to the camera?she looks exactly the same as you despite footwear disadvantage.
[Editor Rob: I don't think in the one above (see Kristanna Loken for a good example of being several inches nearer adding a bit of height)...slight posture differences or camera positions always alter height - I am taking photos for celebheights, Jenny is a fan of the shows/actors etc, she last visited the site about 4 years ago.

I am always wanting the best pic I can manage to get and at times will adjust my posture or try to get a certain pose to recover a photo if I think it would turn out better. The odd salute, back to back or hand shake (a kind of holding pose) is done because I thought it might give a better pic!]
KevIn
said on 19/Sep/13
I'm 178.5 cm so i'm 5'10
Clevelord
said on 21/May/13
Lol im 5ft9 and im suprised he is inch and half taller than me, figured he was around my height, lol guess i was dead wrong.
truth178cm
said on 15/Feb/13
looks more 5ft9-10 than 5ft10-11.
Fred
said on 25/Jan/13
5'9.5-5'9.75 in the picture.
LG69
said on 14/Nov/12
5'10.5" seems spot on.
Larc-186.7cm-188.6cm
said on 5/Sep/12
In this pic, this guy looks like a fat Jim Carrey...ahah
nice guy
said on 10/Jan/12
weak 5'10 in sneakers
ChiasmataX
said on 21/Nov/11
177cm with bad posture here. Around 178-179cm up-straight
ahmet
said on 8/Sep/11
ı think 5'10-5'10.25
James
said on 27/May/11
i suppouse though he might look shorter than he is in pic cuase jenny and rob are closer to the camera.
Rampage(-_-_-)Clover
said on 23/Mar/11
5ft10 or 178cm. Most likely 179cm out of bed
James
said on 24/Feb/11
Yep legit 179cm
Greg
said on 13/Jan/11
Look at his shoulder level. He is 1.79 spot on
Matt
said on 26/Nov/10
5ft 10in flat
Anonymous
said on 16/Nov/10
He's 5'9.5
Mathew
said on 27/Jun/09
Looks 5'10".
Haze
said on 18/Jan/09
looks 5'9 ish to me
Josh
said on 16/Jan/09
He is under 5'10 he looks 5'9.25 (176cm)
Hugh
said on 13/Jan/09
Looks 5ft10 flat in that picture. I suppose if he stood up straight he's be closer to 5ft11.
The Horse of FUNK
said on 13/Jan/09
Lol, what a difference from the first 3 comments.
Anonymous
said on 8/Dec/08
Kai Owen - who's real name is matthew - comes from my town in North Wales. He is somwhere in the 5'9" to 5'10" region.
JSinNJ
said on 23/Aug/07
Met him at the Vinny - accustomed to 6'3"+ in guys I date - Vince is a good 6' 2" - and one heck of a nice guy, too.
SD
said on 19/Jan/07
I met Vince backstage at a concert, even had my picture taken with him. I'm 6'0" even, and he was only an inch, if that, taller. I'd say his height is no more than 6'1".
TR
said on 15/Aug/06
I have stood next to Vince as a volunteer at local celebrity
golf tournaments. I am 5'11" and was looking up at him. He
is a solid 6'2".