Gareth David Lloyd's Height
5ft 11 (180.3 cm)
Welsh actor, best known for playing Ianto Jones on BBC series Torchwood. He has also appeared in Red Faction: Origins and Sherlock Holmes. On his agency he was listed
"Height: 6ft"
.
5ft 8 Rob and Gareth @ Collectormania Glasgow, 2007
You May Be Interested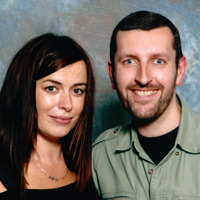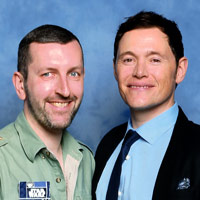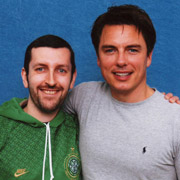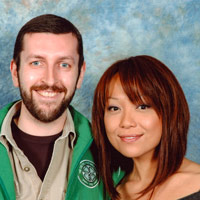 Add a Comment
76 comments
Average Guess (44 Votes)
5ft 11.13in (180.7cm)
Nik Ashton
said on 9/May/20
The hat may not be a very good guide but his eye level and shoulder level sure are!
OriginalAnon
said on 1/May/20
He looks around 5'11''. He could be slightly under or over.
Nik Ashton
said on 5/Feb/20
I'm not surprised the average guess exceeds 5'11"!
Nik Ashton
said on 8/Dec/19
@ Oneiroi - He could be!
Nik Ashton
said on 26/Aug/19
He's at least 5'11"!
Yang (5 footer 8, 172-173)
said on 25/Aug/19
Perfect listing. That's how I look like when standing with my neighbor Daniel whose 5ft 11 tall dude...
K.A 188
said on 4/Apr/19
Rob the blue shirt matches perfectly the colour of your eyes,between why does this guy look taller than 180 at first glance he looks 6foot maybe his cap makes him appear taller

Editor Rob
I don't think he looks over 5ft 11 there...certainly in person he was shorter than john barrowman when they were talking together..
Oneiroi
said on 25/Mar/19
Strong 5'11
Bwk
said on 21/Jan/19
I'm not seeing a full 5'11'' for him. He looks like he might fall a hair or so under it in this picture. I'd say 5'10 7/8ths'' would be a better listing.
Zampo
said on 29/Apr/18
Now this is how a 3 inch height difference should look. 5'11 is spot on here based on this photo.
Bobby
said on 28/Dec/17
The hat adds nothing, I've worn hats like that before, baseball caps fit onto a person's head, it's like wearing a skin over your head. So, this guy looks 3 inches taller than Rob. Actually, I'd even give him 182cm.
Junior
said on 14/Aug/17
Close enough at 5'11
Nik
said on 26/Jun/17
He could even be taller!
Jordan87
said on 21/Jun/17
5'11 or a hair under.
Greg
said on 6/May/17
Not exactly sure because of the hat adding a slight fraction, but he does look near 5'11. I say great listing.
Jack
said on 28/Jul/16
I thought u had him at 1.82 cm?
Editor Rob: he's been this height for ages.
Odinson
said on 27/Jul/16
Very solid built dude, Does he look solid to you celebheights? Also not sure if ive been answered but where would a 5'2 person come up on him?
Editor Rob: if you are on a phone, click the image and mugshot lines appear...5ft 2 might be just above his chin.
Aza
said on 4/May/16
He looks as tall with Rob as does John Barrowman.
pablo77bar(184cm)
said on 22/Aug/15
This guy had any footwear advantage ? Because I'm sure that in the pics he looks only 5ft 11.More like 5ft 11.5
[Editor Rob: roughly same, in person I believe right around 5ft 11 is what he looks, you can see him with
6ft 2 women
, who used to have a t-shirt at cons. She's always in sneakers, and not standing as tall as she could...]
Modeus
said on 19/Aug/15
G was and still is really a funny guy when it come to height Rofl
Andrea
said on 19/May/15
Well, Rob, remember he looked taller than 5'11.5 Saveus, so maybe ferris is not that wrong :)
So, he basically looks more 179 in these photos? I would have said he was near enough 5'11 to be fair... Do you think he'd be similar to a Misha Collins if measured? And Michael Rosenbaum would edge them out?
[Editor Rob: well around 5ft 11 is ok for him as that is typically what he looked in Torchwood.
I believe Michael could look a solid enough 5ft 11, both I think have reasonably above average heads.
Guys like Jon Bernthal, Chris Barrie looked typical 5ft 11 to me, gareth didn't look more than that.
But I guess until you measure someone you can't say anything as a certainty, there is always a chance of being above/below a listing, so we can't dismiss possibilities.

Well apart from G being under 5ft 7, that's a certainty...although he is now claiming people see him as taller like he is 5ft 9 or even 10 to people...
]
mr.rashid
said on 17/May/15
@EditorRob,
hey Rob, since u upgraded Burn Gorman up to 5'9". I think Gareth looks more than just 2 inches taller than Burn. he looks 181 in those pics next to u and jenny. he looks the same height as Michael Rosenbaum in those pics with u. so if Michael Rosenbaum gets a 181 listing, then why not Gareth? could 181 b possible 4 him?
[Editor Rob: He looked roughly 5ft 11 the times I seen him.
in any case...for a comparison:
Click Here
Jenny on stadiometer base in thin slippers so is basically 5ft 8.
I reversed the bar so I'm standing on other side with head touching 5ft 11.
Gareth's hair looked to me close to an inch in thickness (you can see beside the flatter style it is at least a half inch thicker, and the flatter style still gives a good 0.3 inch).]
Mike
said on 3/Dec/14
Actually looks like he'd be taller than John.
Rampage(-_-_-)Clover
said on 25/Oct/14
He looks similar range to John Barrowman...
NECULAIE
said on 9/Sep/14
Legit 5'11"
Adamz
said on 18/Jul/14
Wish i was 180cm like GDL & BAG but im same as Rob at 173/4cm.
MetalKid
said on 28/Dec/13
Legit 5'11". I used to be 5'11", and Gareth definitely looks it. I'm 5 ft 11.75 now, or a weak 6 ft.
Hypado 180
said on 30/Sep/13
yes, he is a legit 5'11"
The Exorcist
said on 20/Sep/13
Now that's what 5'11" looks like next to a 5'8" guy! Great listing!
Stephen
said on 8/Jan/13
definitely 181 mid day and at least 180 at night
Aragorn 5'11
said on 2/Jan/13
5'10.5 or 5'10.75. Maybe a weak 5'11 in the morning.
Maximus Meridius
said on 31/Dec/12
Rob is there a chance he could be 5ft 11.25in he is clearly a strong 5ft 11in guy nothing under that.
[Editor Rob: I don't know if he'd measure 181 range, well maybe if it was a bit earlier in the day.]
thc-182
said on 14/Dec/12
yes, he is a legit 5'11"
Josh B
said on 4/Dec/12
Rob, do you think he'd be close to 6 foot when waking?
[Editor Rob: if you shrink 2cm then yes]
random
said on 28/Sep/12
Something about him makes him appear well over 180 cm! I´d say he´s closer to around 182 cm.
Shaun
said on 27/Sep/12
What the heck I thought this was the late Steven Gately from Boyzone, and to my knowledge he was 5'5-5'6"! Do you agree Rob that he looks like him?
Larc-186.7cm-188.6cm
said on 25/Sep/12
Solid 5'11.
Mastro
said on 19/Sep/12
5'11" is good- I stood right next to him at Gallfrey One Con in LA.
Johnnyfive
said on 14/Sep/12
5'11 on the dot. As listed.
Jake: 1.82 m--1.83 m--1.84 m
said on 6/Jun/12
180-181 cm.
barney
said on 7/Feb/12
cause he looks taller from BAG if you compare the photos....i still think BAG is a good 5-11...
barney
said on 2/Feb/12
rob,he looked taller than brian austin green?
[Editor Rob: they both look near 5ft 11 in person]
peyman
said on 14/Jan/12
he is a hair under 5'11" . definitely this is not the height of a legit 5'11" guy
Hannah M
said on 6/Jan/12
I'm 5ft 10 and when I has a picture with him was definitely taller than me :)
Jack
said on 1/Jan/12
gives 182 cm guy illusion for some reason...
ChiasmataX
said on 21/Dec/11
A real 180cm would look a bit taller than this, he's probably 5'10.5".
Viel Eingepuller
said on 20/Sep/11
@ryan
Yep.
ryan atwood
said on 4/Sep/11
178 is the perfect height for a male
thorterr
said on 23/Aug/11
hes was just short of 6ft barrowman ,why did they kill him off on torchwood?its just not the same without him
rob89
said on 15/Jul/11
More like 5'10" - 5'10.5" in these pics IMO, doesn't look a legit 5'11" at all.
James
said on 9/Jun/11
Actually 179cm isn't impossible
Rampage(-_-_-)Clover
said on 29/May/11
5ft10.5 or 5ft10.75
rafa
said on 19/Apr/11
Rob you could list yourself as 5' 8 and three eights don't you think so?
[Editor Rob: not when I can be 5ft 8 and 1/8th by lunchtime half the time!]
James
said on 11/Apr/11
for sure 180cm
Milky
said on 6/Apr/11
strong 5'10" 179cm
Josh B
said on 25/Mar/11
His eye level is most definately not 5ft 6
Matt
said on 6/Mar/11
his eye level is like 5ft 6, so 5ft 11 is most probably
James
said on 24/Feb/11
181cm is not impossible
James
said on 16/Feb/11
With the hairstlye looks 182cm.
Mas
said on 14/Feb/11
I met him at a SciFi convention- I'm 6'2" had a few inches on him (don't remember the footwear) 5'11" sounds right.
James
said on 15/Jan/11
he looks between 5'11-6'0 in the pics and if he had the same footware could even look 6ft?
Could it be though he has hair advantag? Anyway he looks taller than 180cm in these pictures.
would you agree rob?
[Editor Rob: I think he is 5ft 11 and has a bit more thickness to his hairstyle than mine.]
Matt
said on 27/Nov/10
either 179cm or 180cm
John
said on 30/Jun/09
Why does Rob wear a celtic jumper or jacket so often?
[Editor Rob: maybe I got the hoodies for free?]
Soj
said on 28/Jan/09
Aha, it's not Gareth's face that's blocked out...
Len
said on 12/Sep/08
Why block out Gareth's face? If you do not wish to reveal the identity of someone, have that person wear a mask, or glasses with thick eye brows and moustache.
Umar
said on 11/Sep/08
Finally there's a good estimate! When I looked in the picture, I thought people are going to write foolish heights like 6"5, which is definitely not Gareth. Do you guys even know how tall 6"5 is? That's like a giant! If you see anyone like 6"5, you will be like, OH MY GOD! LOOK AT THAT HUGE GUY! On this site, many people put 5"11-type heights like 6"5.
Rob, I'm not talking about you, because you're excellent at measuring heights. I don't know how you do it...
Anonymous
said on 10/Sep/08
looks only 5'10.75"
Lego
said on 10/Sep/08
legit 5'11
Jose
said on 9/Sep/08
he looks near to 6'0. easily 5'11. does anyone think he kind of looks like stephen gately from boyzone in this photo?
Alex
said on 8/Sep/08
Looks about 5'11 there. maybe 5'10.75.
lorana
said on 13/Mar/08
Actually, if we're taking John Barrowman as the standard (has it been confirmed that he's 6'0"?), Gareth David-Lloyd is slightly shorter. Maybe less than an inch. In this screenshot --
Click Here
-- you can see that Barrowman is a wee bit taller, and he's not even standing up straight.
So either Barrowman is around 6'1", or Lloyd is around 5'11".
[Editor Rob: Lloyd does look around 180cm in person, at least the 2 times I seen him I thought that...]
Bird
said on 11/Mar/08
At the Telford Convention Q&A, GDL said he was exactly 6 feet tall. When he stands next to John Barrowman, you can see that the two are extremely close in height.
Or take this screencap (you can't get much closer than this):
Click Here
The tops of their heads are level.
s
said on 9/Mar/08
But he looks Taller Than Jack, Or The Same Height, Who's 6'0 !!
wr
said on 31/Dec/06
She? He's a man!
guru
said on 5/Jun/06
she was taller than adam sandler in billy maddison
Ady
said on 20/Feb/06
I met her and I think that height is right.