Katharine Isabelle's Height
5ft 5 (165.1 cm)
Canadian Actress best known for starring in Ginger Snaps, American Mary and Freddy vs Jason. On TV she appeared in Hannibal and Being Human (USA)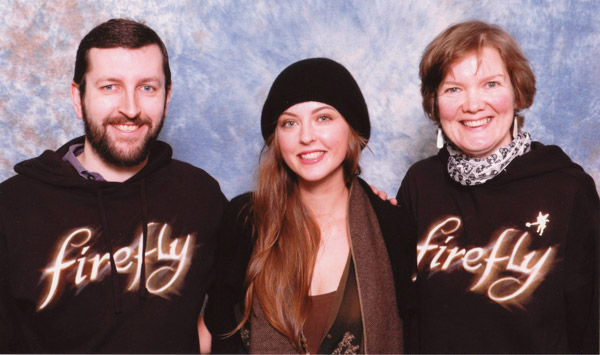 5ft 8 Rob, 5ft 8 Jenny and Katherine @ Collectormania London 2010
You May Be Interested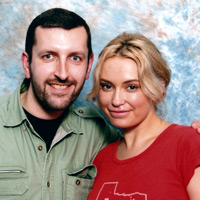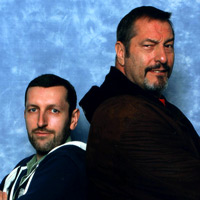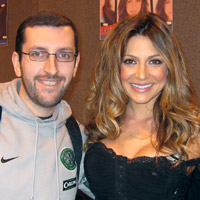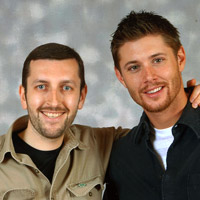 Add a Comment
30 comments
Average Guess (13 Votes)
5ft 4.98in (165.1cm)
Miss Sandy Cowell
said on 28/Feb/20
When my boyfriend and I were spending a day out in Brighton, he asks me if I'd seen 'Ginger Snaps' while we were in a charity shop looking at DVDs. I said "Of course I have! I love Katherine Isabelle!"
I bought him the copy they were selling and should have suggested that he keeps an eye out for 'American Mary'. Well, I didn't have to because we saw it on the TV the following Christmas!
5ft5.
Miss Sandy Cowell
said on 1/Feb/20
@ Littlelee - Hey! So do I! I was watching it in the early hours one morning and it WOKE ME RIGHT UP!
There aren't many films that can do that! Did you rate her in 'Hannibal'?
5ft5 for Katherine. 😁💐👍
Nik
said on 12/Jul/19
T-hat beret probably dosen't add much height!
R-A-N-D-O-M C-E-L-E-B!
Littlelee168cm
said on 12/Feb/19
Love American mary one of my favourite horror films she does wear some incredibly high heels in that film so can look pretty tall easily 5ft 10 and often towers over co star Tristan risk who is listed as 5ft 4 and always wears very high heels too. Maybe Tristan is closer to 5ft 2 than 5ft 4?

Editor Rob
tristan claimed to be 5ft 4 barefoot, but I can't remember how they compared.
Christian 6'5 3/8"
said on 23/Nov/18
5'5" is ok
Nik
said on 8/Nov/18
5'5", with or without her beret!
Nik
said on 27/Jan/18
Katherine Isabelle is a convincing 5 ft 5 er! The picture above is nice, i also like the shirts and hat!
lee168cm
said on 26/Jan/18
I wondered that jamss he's listed five six so that's what is guess for Kris lemche
Jamss
said on 25/Jan/18
I wonder how tall Kris Lemche is. Hes worked with Katherine a couple times and looks pretty close to her height.
Sandy Cowell
said on 25/Nov/17
How grand to see Katharine Isabelle come up as a 'Random Celeb'! She deserves a visit, for sure! She never fails to amaze me with her raw nerve, playing parts that I simply love to watch to scare myself silly!
I most admire her for joining the cast of 'Hannibal', playing the unfortunate sister to another of my favourites, Michael Pitt! Of her movies, I recommend 'American Mary', which is terrific fun and woke me right up when I first saw it after a long day! Many a film wouldn't have been powerful enough to do that after such an arduous day - but 'American Mary' damn well managed it!
Katharine gets 5ft5 - just the same as last time!
World Citizen
said on 5/Jun/17
Good listing.
Sandy Cowell
said on 5/Oct/16
This is just the sort of height I would have estimated for her. Another example of a none-too-tall actress acting in some truly plucky parts! I loved her in Hannibal! She's braver than I would be given the chance!
Sam
said on 5/Oct/15
Could you add Hannibal to her credits please Rob?
Josh
said on 27/Sep/14
She does look 5'5 and very cute
SaveUsY2J
said on 26/Aug/14
Rob, did the cameraman's position favour you at all? Katherine does look 5'5 next to Jenny in this photo, but she looks considerably shorter when compared to you.
[Editor Rob: I think he's right in the middle there, probably just fraction better posture.]
Sam
said on 19/Aug/14
Seemed a little taller on Hannibal, wearing good sized heels though I think.
lvn
said on 20/Apr/14
I think she's taller. Some webpage write her height is 169 cm.
gd
said on 5/Jul/13
In this photo she seems to be 5'3". Maybe 5'4" max.
I think 5'5" is generous.
truth178cm
said on 6/Feb/13
165cm is spot on.
J.Lee
said on 27/Jul/12
rob you look taller than jenny here. Are you and Jenny the exact same height now? It says 5 ft 8 jenny and rob
[Editor Rob: from the time most photos are taken we'd be within a mm or 2 of each other. I've not measured her for a long while and probably will just keep a track every year for research on our heights and any change over the coming years.]
Steven Roberts
said on 22/Oct/11
Some time ago, someone made a point about her height by measuring her against a static item of a known height - a Volvo 240 Wagon (in Last Casino I think), and the height came out as 5' 4''
From the picture here, I would say they're wrong, as the guy is obviously leaning in, and not standing straight up, and even then, the difference looks more than 3 inches.
RSW
said on 1/Sep/11
Emily Perkins is barely 5ft tall in reality. Katharine Isabelle is 5ft 4 inches tall. Look at her in Endgame wearing 6 inch heels and she's still not as tall as shawn Doyle who's just 6 feet tall.
Emily
said on 1/Jun/11
Good things come in small packages! Great Celeb and photo.
jtm
said on 28/Dec/10
i remember having a girlfriend in high school that looked just like her.
MeganJune
said on 27/Dec/10
she looks way taller next to Emily Perkins !
bob
said on 4/Nov/07
But they probably made up a height for that photo, probably guest the closest height too.
RentGirl
said on 22/Jun/07
In an episode of Supernatural a missing photo of her described her at being 5'5.
Ashcroft
said on 22/Mar/06
Nar he's a lot taller than 5'10 man howay. He's the closest to being Dennis' height in the house.
I say 6'4-6'5 its about right.
William Forrester
said on 14/Feb/06
After watching BB I can really say that he doesn't look 6ft5 at all. He is crippled, his posture is awful and so I would have thought he was 5ft10 max.
Really I am surprised, he just doesn't look that tall does he?
Rodders
said on 13/Jan/06
Theres a goldie lookin chain video where theyre standing infront of a police lineup with the height scale in the background. He was definitely atleast 6'4 if not taller. If he says 6'5 it seems realistic