Keeley Hawes Height
5ft 8 ½ (174 cm)
British actress best known for roles in tv series Ashes to Ashes, Spooks and Upstairs, Downstairs. In film she has appeared in The Bank Job and Death at a Funeral (2007). She said in an interview on playing Diana Dors in Blonde Bombshell that
"I'm five foot eight and with heels on, I'm towering. I was bigger than all the guys in the film. There was something quite nice in that"
. She has also been quoted saying she was 5ft 10. I had about 0.4 inch thicker sneaker than her footwear this day, at The London Film Con in 2009.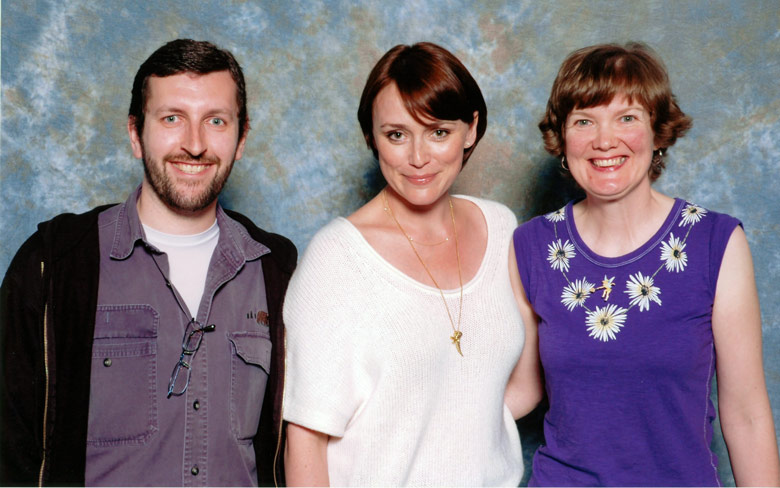 5ft 8 Rob, Keeley, 5ft 8 Jenny
You May Be Interested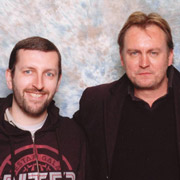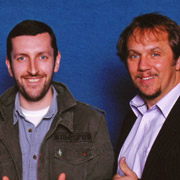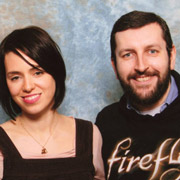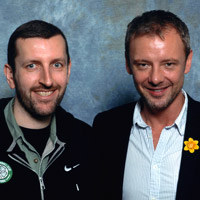 Add a Comment
26 comments
Average Guess (14 Votes)
5ft 8.32in (173.5cm)
Rampage(-_-_-)Clover
said on 9/Jan/21
VERY attractive lady
Nik Ashton
said on 27/Apr/20
She's bigger than a lot of the guys who weren't in the film!
Christian 6'5 3/8"
said on 17/Apr/20
Same as Rob at 5'8 1/8".
JohnMoore-162cm
said on 22/Mar/20
I see 5ft8 1/4"
Nik
said on 9/Feb/20
@ Rob - What level of footwear did Jenny have?

Editor Rob
Both had some adidas about 0.9 inch that weekend.
mark thompson
said on 21/Jan/20
the durrells is really weird when it comes to height perspective. keeley hawes is almost always wearing flats, and can make 5'11 alexis georgoulis look 5'8-9, and can also make 6'1-2 daniel lapaine look 5'10-5'11. even crazier is that she can make 5'9-ish callum woodhouse look 5'10-5'11.
Nik
said on 11/Aug/19
It's interesting that she has claimed to be 5'8"!
ali merbal
said on 4/Jun/19
Line of Duty S2E3 mugshot.she looks 6ft tall.
Click Here
Nik
said on 21/May/19
There's nowt wrong with her being bigger than all of the guys in the film! She is bigger than a lot of guys when she doesn't have anything on her feet!
khaled taban
said on 18/May/19
Nothing over 5'8".
afzal
said on 10/Apr/19
Ur head big from her nothing over 173
Lit
said on 7/Apr/19
Hi Rob, she is never 5ft 8 ½ tall. Look at her pictures with Richard Madden (5'9''). They are almost the same height and she has even heels on.

Editor Rob
In person Madden is taller, though it's not a huge amount really.

I saw Keeley again claim 5ft 10 for her height this year...it's outrageous!
Nik
said on 19/Aug/18
Not 5'10", but at least said height!
khaled taban
said on 18/Aug/18
5'8" looking good
Avon_
said on 12/May/18
I'm impressed with how so many actors and actresses lie about their height. I think that your site has become a bit of a Nemesis for these people.

Editor Rob
I still think there is a healthy chunk who are claiming true height...but an equally healthy chunk who seem to be inflating.

A much smaller chunk by comparison who are deflating their height.
Nik
said on 9/May/17
Yes I think that 5'8.5" is right for her!
Johno
said on 5/Feb/16
Pretty lady, i doubt she would be taller then you Rob even with equal footwear.
5'8
ricky
said on 23/Feb/15
It had been advertised in the IMD that she was 5'10.
David
said on 7/Apr/13
I loved the tv show ashes to ashes 3 years ago. I would agree she looks 5ft 8 maybe abit over say half an inch. She can give the impression though that she is 5ft 10 on tv. Looks the same height as Rob and Jenny in the photo above. The last thing i would like to say is what a really pretty girl Keeley is.
SAK
said on 21/Feb/11
a 5ft8 is tall but i doubt she was towering all the men per se, being slightly taller does not mean towering
DrJJ
said on 20/Feb/11
5'8". Bang on. 5'10" only in her imagination.
Helen B
said on 7/Sep/08
Worked with her. She was very tall - about 5 10. However, I think she had heels on. If she says she's 5 8, it's probably right. Not many people underestimate their own height.
Lucy
said on 26/Mar/08
I'd say she was a bit taller, even though she herself said she was five foot eight. Maybe add an extra inch or so onto her, because she looks taller to me.
[Editor Rob: yes, maybe 1/2 inch I shall add. I have met the 2 'lesser' cops from that ashes to ashes show, the curly haired one and his buddy.]
hs2008
said on 10/Mar/08
Deffo 5'8" and hot too.
al
said on 21/Feb/08
Yeh, looks 5ft8 good looking bird.
G-MANN
said on 21/Feb/08
In a new Radio Times interview she described herself as 5'10". But I wouldn't take that too seriously because some tallish women like to exaggerate their height, and since in her new TV series Ashes to Ashes I think she wears heels all the time, and that would make her 6 foot, and if she was that tall you'd notice. Look at this picture, just by her body proportions alone she doesn't look 5'10"
Click Here