Philip Glenister's Height
5ft 11 ½ (181.6 cm)
British actor best known for playing Gene Hunt on bbc tv series Life on Mars and Ashes to Ashes. He has also appeared in Mad Dogs, Calendar Girls and Kingdom of Heaven. In this photo Phil had 0.2 inch more shoe than us.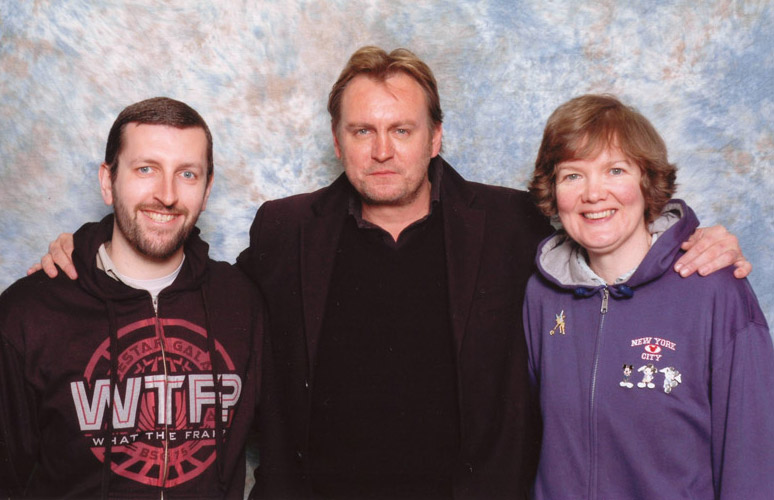 5ft 8 Rob, Philip, Jenny
You May Be Interested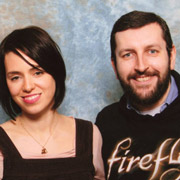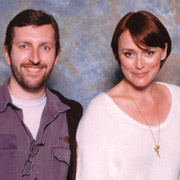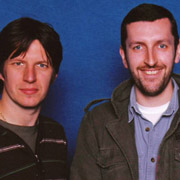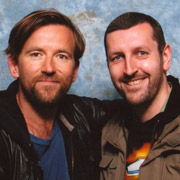 Add a Comment
56 comments
Average Guess (25 Votes)
5ft 11.65in (182cm)
Vincent Caleb
said on 24/Oct/20
This listing looks fine, 6'2" is an abysmal guess, no offense.
Matt Evans
said on 13/Sep/20
5'11.5-6'0 for me. Nowhere near 6'2 and looks clearly below 6'1 but also clearly above 5'11.
Dr JJ
said on 24/Jun/20
Rob, just watched the film ID.....how tall do you think (unlisted) Reece Dinsdale is? Glenister is significantly taller than his cast mates such as Dinsdale and Perry Fenwick...

Editor Rob
He used to be in Spotlight at 5ft 10, but I can't remember much about heights in that film. That would have been back in late 90's when I could watch films and not even think of height 🧐
Christian 6'5 3/8"
said on 28/Apr/20
Bobby3342 of all people is saying he's 6'0"? Lol
user101
said on 5/Aug/19
he looks 5'10 1/2 in the photo, and even if he stood better, you said he has slightly thicker shoes. so i think he's below 5'11, maybe 5'10 3/4
JD1996
said on 7/Apr/19
Could be 6'0" if he stood a bit better
Christian 6'5 3/8"
said on 1/Mar/19
Bobby's 6'2" estimate for him is laughable. No offense to him though.
Christian 6'5 3/8"
said on 28/Feb/19
I don't know why some people here say he's 6'0". He's not anything more than this listing. In fact he looks a bit under it.
Terence Perring
said on 6/Sep/18
Life on Mars made him look very tall. Deliberately, I'm sure. He had relatively short co-stars and the camera angles made him look at least 6'2''-3''. Hard to believe he is under six feet though.
Nik
said on 30/Jul/18
@ Bobby
You must be joking on that one! 5'11.25" - 5'11.5" for me!
PoorKid
said on 21/Apr/18
Good 8cm on rob, even with shoe advantage, so 181,6 easily. And he is slightly further on this photo.
Psychedelic Earth 187
said on 28/Dec/17
i wouldent hesitate to 182cm this guy.
King of the hill 91
said on 17/Oct/17
I think lost some height 183cm peak maybe nearly
World Citizen
said on 26/May/17
Looks 180 cm.
Bobby
said on 18/May/17
5'11.5? This guy looks 6'2!
Canson
said on 23/Jul/16
Yea he looks like he can be 6' even
Lmeister
said on 1/Mar/16
I think he is bang on 6ft when he stands tall. Actually he might even be 184cm. He has a very poor posture.
Aza
said on 28/Feb/16
This is a great listing Rob.
bobby3342
said on 3/Jan/16
if he stands tall I say 6
Judd
said on 27/Jan/15
5'11.5"-11..75" with rob, but with a small shoes advantage, i think 5'11.5" is fair!
goher
said on 16/Aug/14
loved that show ashes to ashes.
5'11.5 max
josh b
said on 8/Oct/13
Rob, any ideas on his brother? Would have guessed around 180cm from watching Hustle.
[Editor Rob: might be nearer 5ft 10 than 11]
Stephen
said on 8/Jan/13
181 nothing more.
jake
said on 2/Sep/11
Yeah he looks 6' here.
Rampage(-_-_-)Clover
said on 29/Apr/11
Would look 183cm(6"0) with better posture
Ken
said on 15/Mar/11
I am 6ft 1 inches tall. Stood next t him on set and he was just shorter than me. 5ft 11.5 is about right
dmeyer
said on 10/Mar/11
could be 5 ft 11.25 since he has 0.25 in more shoes could even be 5 ft 11
Adam
said on 24/Jan/11
Rob how tall do you think his brother is from 'Hustle'?
[Editor Rob: he always looked a few inches shorter than Adrian Lester]
James
said on 15/Jan/11
i think he does look 182cm in the pic.
Dean
said on 20/Nov/10
no lower than 179 no taller than 181 for me. solid 5'11 seems fair.
Jessica
said on 4/Jul/09
I've been reading all these posts about height, and I want to add that Keeley is 5'10" ( she said it in an interview), and she always has on heels in A2A, which puts her around 6'0 -6'1" in her heels. Phil is taller than her in all episodes, although this could be attributed to camera angles. Personally, I think 6'0 is about right.
James
said on 20/Jun/09
rob if you say he's not even 3 inches over you then why not downgrade him to 5'10.5 (179cm). Oh yeah I forgot he's slouching in the pic.
Genny
said on 19/Jun/09
After having seen a photo of someone of 6ft at the same event who says that he was taller than her, it's puzzling. A friend over six feet tall also says that Phil G was taller than him.PG is hunched over a bit in this photo. Probably accounts for the 5ft 11.
James
said on 17/Jun/09
He defnintly doesn't look a legit 6ft
no
said on 17/Jun/09
i dont get this
jenny is listed as 5'8.25 (thought she was 5'8.5 before), has 1/4" less footwear than you but still looks taller than you??
[Editor Rob: just think of us both same height...]
rob89
said on 17/Jun/09
Looks 5'11 to me
filmfan
said on 17/Jun/09
Looks taller than this on Ashes to Ashes. At least 6ft. Maybe it's a small cast.
Joe
said on 16/Jun/09
he does look 6'0 here. Rob, how tall do you think he is?
J.Lee
said on 15/Jun/09
U look taller than jenny in this photo. we always thought u were half inch shorter than her rob. if u are 5 8.25 somedays, does that mean that you and jenny are exact same height? did she shrink half inch? u said she was 5 8.5
[Editor Rob: she did have 1/4 inch less sneakers that event as I mentioned. When you measure each other 100 times you do get a good sense of the height you are ;) which is usually pretty close.]
Lmeister
said on 15/Jun/09
You both look taller than John Simm next to Philip ;)
James
said on 15/Jun/09
Rob didn't you originally think he was 184cm?
[Editor Rob: with his cowboy heel on ashes he does look easy 6 foot.]
Lozzer
said on 15/Jun/09
I would have said 5'11"
Haze
said on 15/Jun/09
easily seems his listed height.
miko
said on 15/Jun/09
I'm not quite sure if he's that tall. He might be a little shorter than listed.
Sam Troy
said on 6/Apr/08
In "Ashes to Ashes." Phillip Glenister wears boots which put at least two inches on him making him 6'2", so Keeley Hawes, even with 4 inch heels, she would be two inches smaller.
G-MANN
said on 21/Feb/08
"In life on mars he looks really tall."
Or rather it's just that John Simm is bit short.
Genny
said on 20/Feb/08
Have just checked your list and yes, Keeley Hawes is 5 ft 8. So with 2 inch heels on she's 5ft 10. She looks more than 2 inches shorter than Philip Glenister even though he's wearing heeled boots.
[Editor Rob: they look a few inches apart, but he is wearing cowboy shoe, decent size I think. In previous episode of ashes to ashes I think there was a closeup of it.]
Genny
said on 20/Feb/08
He does, look taller than 6ft...How tall is Keeley Hawes..plus she wears high heels. I reckon she's 5 7 or 5 8 without heels ?
Anonymous
said on 7/Feb/08
There is no way Simm is 5'10.He is the shortest looking 5'10 ive ever seen!.Closer to 5'8.5 if you ask me.
Al capone
said on 14/Feb/07
in some scenes in life on mars, he looks 3.5 in taller then john simm(5ft10) sometimes a solid 2 to 2.5 in taller. hes either 6ft-6ft1.5.Rob, why dont you list him 6ft0.75?
[Editor Rob: I think the 6ft was from agency, but yes, he could be more 184, and simm possibly more 177...I think on life he actually wears a slightly larger heel if I'm not mistaken]
Joe
said on 7/Jul/06
I'd say 6'0 exactly.
anono
said on 6/Jul/06
editor, how tall is robert glenister?seems shorter then his brother philip.
[Editor Rob: yeah, shorter...could be 5ft 10]
anonoymous
said on 24/Jun/06
Are u going to add a height page for his brother, Robert glenister?
anon
said on 23/Jun/06
Seems to have 3 inches on john simm(5 10)6"1?
edward j. leavy
said on 25/Apr/06
6'2 is what i thought too. In life on mars he looks really tall.
Carole
said on 8/Apr/06
He looks taller. I would havesaid 6. 2.