Keri Russell's Height
5ft 4 (162.6 cm)
American actress best known to tv audiences for her starring role on Felicity. In film she can be seen in such movies like Waitress, August Rush and Mission Impossible 3. In a Blackfilm.com interview (05/04/07) she mentioned her height, saying
"I'm like 5'4""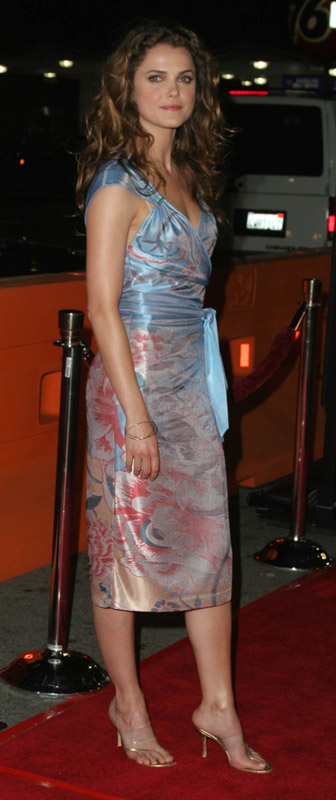 Photo by PR Photos
Add a Comment
35 comments
Average Guess (7 Votes)
5ft 3.82in (162.1cm)
Miss Sandy Cowell
said on 30/Apr/20
I'm watching the movie 'Dark Skies' and it's a really good mystery/horror film, with birds careering off course and flying - dead - into people's windows, and there is the threat that their could be an alien invasion looming.
Keri stars with 'American Horror Story' actor Josh Hamilton who, at 5ft10.5, looks a convincing 6.5" taller than Keri.
Urgh! People are losing track of time in this and doing untoward things which they can't remember! Creepy....👻
5ft4. 😁👍💐
Nik Ashton
said on 26/Mar/20
@ Sandy Cowell - Yes, some people are always saying it and the word "like" seems to have developed another meaning! Anyway, Rob thinks she looks 5'4" and he will have had a good honest look at the full length photograph of her! I think she looks 5'4" too!
Miss Sandy Cowell
said on 23/Mar/20
💐🎂🎈🎉 Happy Birthday Keri! 🎉🎈🎂💐
Many Happy Returns to Keri Russell, who turns all the fours, 4️⃣4️⃣, today!
5ft4. 😄👍
💐🎂🎈🎉💐🎂🎈🎉💐🎂🎈🎉💐🎂🎈🎉
Miss Sandy Cowell
said on 1/Dec/19
@ Nik - Some people, Nik, wear the word 'like' out, I find!
Keri can have 5ft4. I was going to give her 5ft3.75 to match up with the rest of the votes, but having had a good, honest look at her, I can't go lower than 5ft4. Penalising her for her liking for the word 'like' would be, like, stupid! 🤪
Nik
said on 1/Sep/19
I love her comment where she mentioned her height, saying "I'm like 5'4""
ana
said on 6/May/18
she is sooo pretty! I think 162-163 cms seems about right, definitely not 164 and more than 161 cms
Morris
said on 17/Jul/17
156-164cm max barefoot
Reuben
said on 5/Jul/17
This page hasn't been commented on for a long while. But indeed, Keri Russell does look 5 ft 4 in to me. Also, The Americans should probably be added to her credits on this page.
Greg Lehmann
said on 27/Jun/14
Keri is 5'3",yet like petite women in general,very pretty. I especially like Keri's message about whooping cough and actually talking to some whooping cough victims.Although all the whooping cough victims Keri talked to were women,she pointed out in the video whooping cough is difficult to diagnose,since it mimics other diseases with the main symptom coughing. Yet Keri is a very pretty 5'3" and the dress she wears in this picture doesn't smother her down,like what often occurs when petite women like Keri try wearing bold prints and bright colors. Yet Keri looks and feels just as nice wearing jeans. She's 5'3".
jtm
said on 8/Apr/14
i just watched we were soldiers and she was 4 inches shorter than stowe. she is not the height she claims.
Jack
said on 3/Apr/14
I always thought she was 5 foot 6, funny
sam
said on 9/Mar/14
funny that you think she looks tall. i think she looks very small, especially after seeing her on jimmy fallon a couple nights ago. she seemed around the same height as amy jo johnson on felicity, and i'm pretty sure amy jo is no taller than 5'1...
Arch Stanton
said on 1/Jun/13
Rob the Freddie Highmore page looks dead in the water, not updated since 2006, I doubt he's 5'0 now. Can you update it or delete that page it looks ancient!
[Editor Rob: yeah the page was retired, I intended to add him again which I will do now he's done growing]
Arch Stanton
said on 1/Jun/13
Rob,
Click Here
do you see what I mean about her seeming quite a tall looking lady, I suppose she's thin but 5'4" rarely looks that long!
[Editor Rob: maybe some thin frames can give taller impressions, although I've never really thought she looked more than her claim]
Arch Stanton
said on 1/Jun/13
Surprising, I thought she seemed taller in August Rush. like 5 ft 7 or 8. Very attractive lady.
Gregory lehmann
said on 12/May/11
Actually,Keri's 5'3." Nice message Keri has dealing with whooping cough,which,sadly,blasted 5'Cathy Rigby hard as a child,but I think Keri had whooping cough as a child,too.
calvin warrfield
said on 15/Apr/11
a tall drink of water to refresh your thirst.
one of the lords finest.
jtm
said on 16/Dec/10
that's funny i thought she was 5'2 or 5'3.
Anonymous
said on 1/Oct/08
my friend (5'3) saw her today in Brooklyn, stood in line right behind her and said she was just a bit smaller than she
Josephine
said on 12/Jul/08
I met her in NYC when they were shooting a scene for Felicity in Washington Square Park in Spring 2000. I was a big fan of her show so I approached her to say hello and what not. She was exactly my height, we were both wearing sneakers. And I am 5'4" btw!
J-man
said on 1/May/08
I met her at a cabaret show in New York City about a year ago and I would guesstimate she is 5'5. Very pretty and slender in person. And very nice, friendly and normal.
andy
said on 12/Jan/08
I was in the Phoenix airport and I missed my flight. Thank God I did because lo and behold....Keri Russell and her family (husband and child, who by the way is adooooorable) where at the ticket counter. My father noticed her first and pointed her out to my sister and I. She is gorgeous in person and quite petite. She was about my mother's height (5 ft. 3 in.)or an inch more, so 5'4 sounds quite right. I wanted to take a picture with her, but her baby was with her and I didn't want to impose. She is the second film actress I've seen (the first being Patricia Arquette), and I've got to say...these people look GOOD. :)
abby
said on 22/Dec/07
i thought she was around 5'4 as well but these new photos with her walking next to 5'7 or 5'8 jennifer garner make her seem 5'6 to 5'7! (notice keri is in sneakers and i'm guessing jennifer is as well). she seems to have really long legs! i thought she was tiny! i guess not.
Click Here
becky Shuman
said on 18/Nov/07
at first i thought she was 5'6" now i know she isn't taller than me that's a fact
Asimov42
said on 28/Apr/07
On Scrubs she is referred to as 5'4"
scrubs-adict
said on 28/Apr/07
She was just on Scrubs and looked about 2" shorter than Sarah Chalke.
Brad
said on 2/Nov/06
I asked somebody who went to high school with her here in Denver and she said 5' 5".
venus
said on 10/Oct/06
In Keri's imdb, they said she was 5'6. In the pic with her and Holly Hunter, Keri was wearing flat gladiator sandals. She is a beautiful woman.
anonymous
said on 4/Jun/06
here's a picture of Keri with Rachel Leigh Cook (5'2). Keri looks a perfect 2 inches taller, putting her at 5'4. >>>>
Click Here
Tim
said on 2/May/06
I am watching MTV TRL right now... Tom Cruise has been standing next to Keri Russel for 5 minutes straight and is no more than 1" maybe 1 1/2" taller than her... and according to this website she is only 5' 4".... plus Tom is probably wearing his monster shoes.... he is clearly 5 5 or 5 6 at most
anonymous
said on 2/Nov/05
That's strange. He says she's short but guesses that she is round 5'5. 5'5 isn't short for a woman.
CelebHeights Editor
said on 25/Aug/05

Spoke to an actor who worked several months with Keri who tells me that yes, she's short but guessed her as being '5ft 5'.
CelebHeights Editor
said on 23/Aug/05

Jump Magazine 1999 had 'felicity facts with
"Height: 5 feet and 3 inches"
People Magazine, 1999
"flawless skin and a 5'3" body"
Seventeen Magazine,
"5ft 4"
CelebHeights Editor
said on 23/Aug/05

From Gawker,
"I almost bumped into Keri Russell...was surprisingly taller than I expected (aren't all celebs supposed to be shorter than you'd think?)."
Kat
said on 9/Jul/05
I heard somewhere that she was 5 foot 2. That seems more accurate to me.