Daisy Ridley's Height
5ft 6 ¾ (169.5 cm)
English actress best known for playing Rey in Star Wars: The Force Awakens. Her agency listed her height as being 170cm tall with Weight as 9 stones (126 pounds).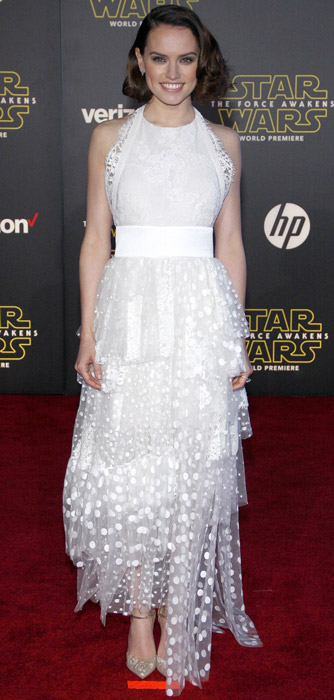 Photos by PR Photos
You May Be Interested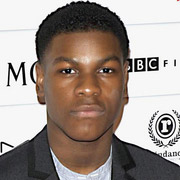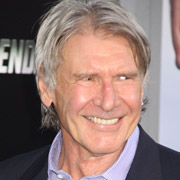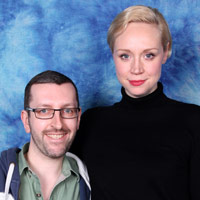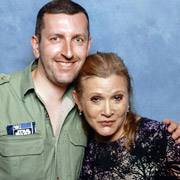 Add a Comment
74 comments
Average Guess (94 Votes)
5ft 6.77in (169.6cm)
Jam Cherry
said on 4/Jun/20
Perhaps full 5'7" at 170.5 cm
gimli's erection
said on 27/Apr/20
I think 170cm
The hamburger
said on 24/Feb/20
Rob would you consider her like " tallish " ?

Editor Rob
Above average for sure, but maybe she is in that range upper average heading to low tall.
Panchsfhool
said on 16/Feb/20
1.69cm
Axel Lextor
said on 15/Feb/20
I see her quite tall. 5'7 is right for her.
Sharanya
said on 11/Feb/20
Hi Rob. Which is more likely for her, 5'6.25 or 5'6.5"? I personally think 5'6.5. She did look really tall in that Lilly Singh show.

Editor Rob
I think 5ft 6.5
TheBat
said on 24/Dec/19
Listed as I expected. A bit below 5'7".
Nik Ashton
said on 1/Nov/19
@ Iman Ahmad - Interesting!
Nik Ashton
said on 1/Nov/19
@ Joshua - I-N-T-E-R-E-S-T-I-N-G!
Sharanya
said on 1/Nov/19
Looks more like a 5ft6 to me.
Jackson
said on 22/Oct/19
She has on large heels and is an inch taller then Jon Boyega with them on... hard for me to see her over 5'6"
Click Here
5ft7 Sith Lord
said on 7/Jul/19
Adorable 5'7 gal. I wish she will go to Star Wars Celebration Anaheim 2020.
Michael, 5'10" 178 cm
said on 26/Nov/18
She looked 5'7" to me in TFA and TLJ. She was a little bit taller than Mark Hamill, even he has lost height and is probably somewhere around the range of 5'6" today. John Boyega and Oscar Isaacs also looked at max an inch taller than her. She also wasn't that much shorter than Adam Driver. Daisy is definitely a tall girl and she gives off a tall impression in the movies, 5'7" for her.
Ryuu
said on 21/Oct/18
Interesting to note that Star Wars Databank lists her character Rey's height as 1.7m, or just a bit under 5'7".
khaled taban
said on 3/Sep/18
A little below 5'7"
MAD SAM
said on 10/Aug/18
I would say easy 5'7" at 170 cm
Ryuu
said on 4/May/18
@6footTom She does somehow look stocky, which is odd because she is very slim and has proportionally very long legs, which both usually make a person look taller. My friend theorized that it's because her head/neck/shoulders have a kind of scrunched look to them and that's where the eye is drawn.
Nik
said on 24/Apr/18
Daisy Ridley is as listed!
haxxx
said on 24/Apr/18
I think that 170 cm measurement was earlier in the day. Around afternoon I think she wouldnt measure over 5'6.75
Powerhouse
said on 26/Feb/18
I'd say closer to a flat 5'6 not nearly 5'7.
6footTom
said on 25/Feb/18
@Ryuu I think she just has a stocky build. From the Force Awakens, I honestly guessed her at 5'5".
Ryuu
said on 15/Feb/18
Out of curiosity, what do we think it is about her proportions that makes her look so short on screen?
MJKoP
said on 10/Feb/18
Mia said on 4/Feb/18
Still, she still has a body.
Most people do.
Mia
said on 4/Feb/18
I say 5'6" in the night. She's tall but not 5'7". Still, she still has a body.
MAD SAM
said on 31/Jan/18
She should be upgraded Rob this woman is a proper 5'7"
Revisionist
said on 25/Jan/18
I doubt that Hamill actually stands the full 170cm these days. Ridley never looked the full 170cm to me but more of a strong 5'6," not quite 169.5 at night.
Marc
said on 19/Jan/18
Watched the newest star wars movie and she never looked a full 5'7 to me. But no less than 5'6 either. Something in between so robs listening is perfect! Beautiful and very natural girl!
5'10 lad
said on 6/Jan/18
I could see the downgrade coming. Boyega had a comfortable 2 inches on her
andre
said on 2/Jan/18
167cm barefoot
Klapperschlangensindgeil21
said on 30/Dec/17
I think she is still a full 5' 7." Mark Hamill looked the same height as her, maybe only a fraction taller, and Mark Hammill could be 5' 7 1/4."
Bobby
said on 25/Dec/17
@Cameron, really? In The Last Jedi she looked the same height as him, actually, looked taller with her footwear advantage. I would see John being 2 inches taller than her of course, but like always, he's claimed 5'9 which is really being quite honest, so even if Daisy herself says 5'7, neither would look bad for their claims because they're exactly two inches apart.
Cameron
said on 24/Dec/17
@Bobby Mark Hamill definitely edged her out even with less footwear. I think this downgrade is justified. John Boyega also looks a solid 2" taller than her.
Bobby
said on 23/Dec/17
Why the downgrade Rob? She looks perfectly 5'7 to me.
Editor Rob: from all I've seen now, I think she is just in that almost 5ft 7 zone.
Guest66
said on 23/Dec/17
Under 5'7" by a bit. Mark Hamill was taller than her.
Heightist
said on 17/Dec/17
Saw her in Star Wars: The Last Jedi tonight. She's a dead ringer for Felicity Jones, who seems pretty petite. Ridley looked 5'3"-5'4" in The Last Jedi. But in pics next to other people, she looks kind of tall. She must have a build that makes her look shorter - in The Last Jedi, at least. I think she's 5'5"-5'6". She seems to have the same plastic surgeon who did Keira Knightly's nose.
Quoter86
said on 16/Dec/17
5'6.5". No more no less. Doesn't quite pull off 5'7.
Natalie
said on 10/Dec/17
Stood next to Mark Hamill at TLJ premiere, I assume she had 4-5 inch heels and she was 1-2 inches taller than him, Mark had around 1 inch on his shoes? Since they are the same height then she should've been a lot taller than him in heels. She looks tall but I'm thinking she maybe be shorter than 5ft 7.
Jordan87
said on 5/Dec/17
Joshua,
" 5'8 " .
No.
Bobby
said on 30/Nov/17
Looks exactly as listed, when I saw The Force Awakens in theatres, she looked 5'8 to me, wouldn't be surprised if she measured over 5'7.
Jani
said on 14/Oct/17
Yeah, I think that 170cm sharp is pretty accurate for her.
Allie
said on 6/Oct/17
Funny, Swedish model Frida G whose 6'1 auditioned for the role of Rey and according to her, Disney was the one who called her agent. That would have been very funny looking at her and the shorter cast. But I though Daisy was like 5'4 haha. I guess she looks 5'6-7.
MisterManletMick
said on 20/Sep/17
Rey is basically a Female Luke Skywalker so its not surprising that she happens to be the same height as him.
Cameron
said on 31/Aug/17
Weak 5'7" maybe. Seemed to wear flat shoes on tfa.
Ted
said on 10/Jul/17
Definitely not. Seen her in person. 5' 5'.5'' at best.
hal
said on 31/Mar/17
5'7" sounds right. She might be a bit shorter. But I highly doubt she's shorter than 5'6".
Sarah
said on 27/Dec/16
5'6.75 or 5'7.
Realist
said on 12/Nov/16
She's around 169cms and 120 lbs.
Greg
said on 7/Nov/16
Looks no more than 0.5" taller than Lupita N'yongo when in similar heels... she's clearly no more than 5'5"
josh jeffords
said on 9/Oct/16
She looked tall in the Force Awakens but we already established all of the classic cast was short but two.
She did look short next to the odd new villain guy but he had like 6 inches of hair.
Wait till shes a star and shell say she 5 8 wont be the first time.
SS
said on 26/Sep/16
It could be less , you should meet her ??
Rheem
said on 8/Jul/16
Do you think she is nearer to 5'7.5 (1.71m) or more like 5'6.5 (1.69m)?
Editor Rob: I'd say more chance of 5ft 6.5 than 7.5...I think anywhere in 5ft 6.5-7 is arguable.
dee
said on 4/May/16
Loads of people comparing her to john and oscar. did anyone consider both men wearing concealed shoe lifts? I mean it is actually quite common in hollywood. so until rob is able to stand beside her or either man in photo session it is gonna be hard to gauge her real height.
Lis
said on 30/Apr/16
I agree with you Alex T., I always though she looked much more 5'6 than 57.
Alex T.
said on 23/Apr/16
It seems to me that she is 5'6, does anybody think that her agency is exaggerating her height?
@2222wasabi
said on 21/Apr/16
Yes, she's clearly taller than ellen. But if daisy is 5'7, why is she that tall standing next to 5'7 Ellen?. Rob, she is 5'8-5'9 range
Editor Rob: without shoes and ellen in a basic sneaker, I really don't think there was much difference, but certainly Ellen herself with other guests generally can look under 5ft 7.
@2222wasabi
said on 21/Apr/16
Ellen is like 5'7
Jay
said on 19/Apr/16
Clearly with Jeb077's pic shows, she's taller than ellen barefoot, making her at least 5'7.
Wasabi 2187
said on 10/Apr/16
If she's 5'6.25, why is she almost the same height as 5'9 John, rob, she's 5'7.5 or even 5'8-5'9.
Josh
said on 9/Apr/16
She's probably around 5'6-5'6.25
jeb077
said on 27/Mar/16
Rob,
If you've established Ellen as 5'7" Daisy is at least 5'7.5" maybe 5'8"
They stood next to each other on her show and were identical. Except Daisy was barefoot and Ellen in basic 1" high sneakers. Look for the video on youtube or see pic below
Click Here
Editor Rob: ellen at 5ft 6.5, her sneakers I don't know what they are though.
Eric
said on 24/Mar/16
Her agency is exaggerating I think. She doesn't look the same height as a true 5'7 like Tom cruise. She looks like 5'4.
Oscar
said on 21/Jan/16
Rob you have her listed at 5'7 and you have Oscar Isaac listed at 5'7.5 but Daisy and Oscar look the same height when she's wearing 3 inch heals. Either Oscar is really closer to 5'8.25, or Daisy is way shorter than you have her here. I'm gonna go with the former.
Editor Rob: from what I've seen, in heels she looks taller.

But 169cm for her is not impossible.
Hong Kong
said on 3/Jan/16
If she's 5'7 she's the shortest 5'7 I've ever seen. On Star Wars she looked about 5'3-5'4 when standing alone and not next to anyone else. Might just be legs / overall proportions that belies her height. Doesn't matter what height she is though, she's still so so pretty! =)
James
said on 30/Dec/15
Here she is on the ellen show stabding wearing flats next to 5'6-5'7 ellen and Oscar around 5'8 and John around 5'9
Click Here
Mel
said on 30/Dec/15
She's considerably shorter than that. Standing in heels next to Lupita, same model shoes and they seen the same height, and even in heels she doesn't seem taller than John who's 5'8. My guess is she's 5'5:
Click Here
Click Here
wilder
said on 29/Dec/15
im with @calvin on this one. i never post on sites like these but i thought this was necessary. i saw her at urth caffe in beverly hills few weeks ago and she was 5'9 tall. i am 5'8.5-5'9 in shoes and she was taller than me.
Emma
said on 28/Dec/15
I thought she looked about 1.60 in the movie. Also in the premiere photographs, she is the same height as John Boyega and Oscar Isaac with at least 5-6 inches heels. Based on your video about how heels work, counting her next to John at 1.75 (or 5.8) and then removing the four inches she would get by her heels, we go to 5,4 ot even 5.5...
Bob
said on 22/Dec/15
Is the same height, perhaps an inch taller than, Lupita N'yongo in all Star Wars promotional events. 'Lupita' is listed at 5'3.5" here. Methinks her agency is exaggerating a fair bit. She also seems fairly petite in the long shots in the film itself too. She is probably 5'4.5"
Logan Hedlund
said on 21/Dec/15
Miss Ridley stands solid 170cm. I saw SW VII (excellent performance) and comparing to mr. Ford and and mr. Boyega, she's no less than 5ft 7in as Rob posted.
Calvin
said on 19/Dec/15
This is one of the biggest lies on this site. 5-7 is crazy low for Daisy and I'm not just a fan saying this. She works out at the same gym as me and I see her there every day (putting in work for her body). She has some crazy long legs and in her workout tights looks super tall, this is supported by standing next to her, where she honestly makes me look foolish. I've never spoken to her but I've stood behind her in the smoothie line and she was considerably taller than my 5-5 self, 5-9 at the lowest is my guess. She talked to the woman standing behind me in the line (also very tall) and they spoke clear over my head, I wasn't even a disruption.
John
said on 17/Dec/15
Your one of the pretiest girls i Ever seen
Unknown
said on 17/Dec/15
I don't believe she's quite that tall. There are many pictures of her standing next to John Boyega and Oscar Isaac. She is wearing high heels that make her at least 3 inches taller and yet she looks the same height as Isaac (who is around 5'8'' and wearing maybe 1 inch shoes). So I would say she is not more than 5'6''. You can see the photos on John Boyega's height page.
Sean73
said on 26/Nov/15
I can't wait for The Force Awakens! She does look a solid 5'7" to me. If a Martina Hingis biopic were to be made, Daisey could play her for sure. Plus there both the same height.
Pedro
said on 17/Apr/15
Here she is next to John Boyega and Oscar Isaac:
Click Here