Laird Hamilton's Height
6ft 2 (188 cm)
American Surfer, from documentary Riding Giants. Says on his website,
"His size - six-foot-three, 215 pounds"
. Has said he's 6ft2.5 though.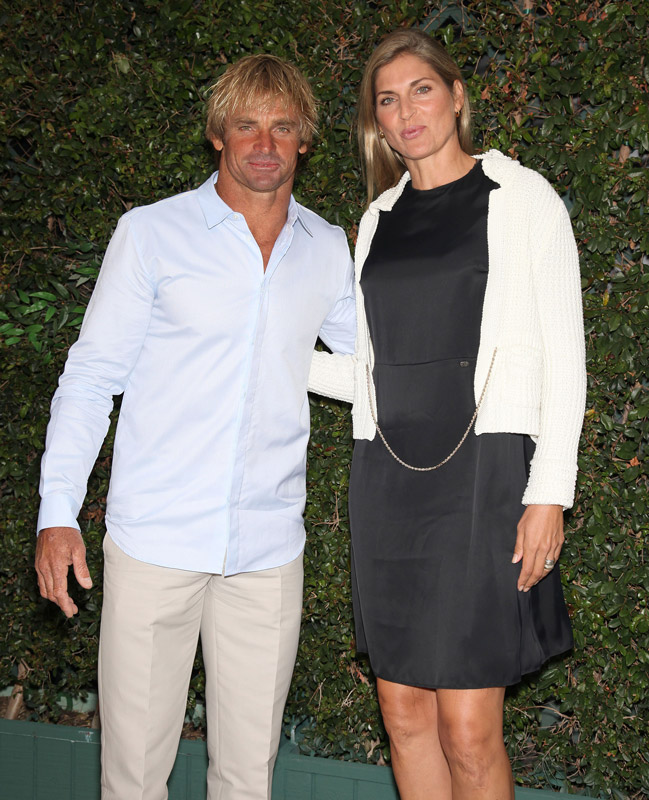 Add a Comment
45 comments
Average Guess (12 Votes)
6ft 2.02in (188cm)
Animus
said on 23/Jul/20
@Arch Stanton
Statistically speaking, the mean of their male offspring would be 6'5. You have to take into consideration that regression to the mean will offset Reece's tremendous height *considerably* in the genetic recombination scheme. Regression to the mean is an exceedingly powerful mechanism, pervasive in all of nature.
Now, they could get a 6'8 son. The likelihood of them getting one is obviously astronomically higher than a 5'10 man and his 5'4 wife. So, I'm not really answering the question: "What height will any given son they have, have?", which you seem to be attempting to answer. (I realize my phrasing in my previous post might have been confusing.) I'm saying that the mean of their male offspring would be 6'5, and furthermore, in all probability, any given son of theirs will likely be around 6'5.
It's impressive that one of his daughters supposedly is taller than him. I've seen a photo, where one of his daughters stand taller than him but with no visible footwear. Perhaps Reece's height genes are especially well-transmitted to daughters; to be taller than Laird, a daughter of theirs would need to be at least one standard deviation taller than expected, which of course happens all the time.
Arch Stanton
said on 19/Jul/20
Animus said on 10/Jun/20
If he had a son with his wife, Gabrielle Reece, he'd likely be 6'5. The mean height of their daughters should be around 5'11.
I'd argue his son would be taller than 6'5. Laird said one of his daughters is taller than him. A guy with a mother pushing 6'3 is often basketball player material, if they had a son I'd guess he could end up 6 ft 8 or 6 ft 9 actually.
Nik Ashton
said on 3/Jul/20
It's cool that he is shorter than his wife! 👌🏻
Animus
said on 10/Jun/20
If he had a son with his wife, Gabrielle Reece, he'd likely be 6'5. The mean height of their daughters should be around 5'11.
Chris Junior Hernandez 1990
said on 22/May/20
Positive side he might be 6'2 peak and 6'1 1/2 now. More chance 6'3 Sacha downplaying 1/4. Gabrielle Reece the very most could be 6'2 1/2 peak and closer to 6'2 now.
ladeez
said on 28/Apr/20
Looks close to his height claim of 6' 3
Rampage(-_-_-)Clover
said on 29/Feb/20
No way is he only 6ft1
Yang (5 footer 8, 173)
said on 19/Jan/20
Like I said right now, he was preumably 6ft 1 half range approx way back on May 7, 2002 (Tue) along with Tall American Volleyball player Gabrielle Reece.... Of course May 2002 his height was indeed his peak height in his 30s.
@Chris Jr, totallly agreed with you. Its possible that he is now loosing his height as he will be older than 55 within next couple months. So weak 6ft 1 can be his lowest at least.
Chris Junior Hernandez 1990
said on 15/Nov/19
6'1 1/2 really not more. Any soon he might be going down to 6'1 soon as he is 55 now.
Chris Junior Hernandez 1990
said on 9/Oct/19
Click Here
Click Here
Picture like this prove 6'3 Sacha Cohen look 2" on Hamilton. But i know they had like 1/2" footwear difference. 6'1 1/2 is really the best for Laird and his wife is probably 6'2 as i remember shes use to be listed 6'3 and Laird at 6'2 1/2. There is only 1/2" between them when Laird standing straight.
Rampage(-_-_-)Clover
said on 15/Jul/19
Rob, really as low as 187cm?
I'm not sure I can see it. Really thought generally he's ooked a decent 6ft2, sometimes his claim even.
Then again, he's looking shorter than Brosnan in that link Arch posted!

Editor Rob
No doubt he can look 187, but then half the time he is in flip-flops
Andrea
said on 9/Jul/19
Can you lower him to at least 6'1.5, Rob???
There's certainly enough to say that he is NOT over that mark, and that's me being generous about it, considering that he can actually struggle to look even 6'1 with people like 5'8 listed Sean Penn
Click Here
and 5'11-5'11.5 listed Alec Baldwin:
Click Here
(in addition to the already mentioned Sacha Baron Cohen
Click Here
and that 6'10.5 MEASURED, possibly not even at his low, basketball player
Click Here
Click Here
).

Editor Rob
6ft 1.5 would be the lowest I think I'd go, maybe he is weak 6ft 2
Chris Junior Hernandez 1990
said on 4/Jul/19
@Arch
Click Here
Click Here
- Laird with 0.5" less footwear he look a full 2" shorter than solid 6'3 Sacha, i would go with 6'1 1/2 at most besides that his wife Gabrielle look more strong 6'2 just .25" over. They're not as tall as people think. Geoff Stults edge them both and he is only 6'2 1/2.
Arch Stanton
said on 22/May/19
Click Here
With Pierce.
Arch Stanton
said on 22/May/19
Laird is in flip flops though and in some of the others with Sacha looks taller. I think nearer 6'2 flat, maybe 6'2.25 would work for now.
Arch Stanton
said on 22/May/19
I think he'd probably measure something very similar to Andy Murray on the stadio.
Arch Stanton
said on 22/May/19
Rob I'm not sure he is as high as 6'2.5, see him with Baron Cohen
Click Here
From what I've seen if anything he can look 187. If Gabby Reece is 190 he can look 188 but not sure he'd be as high as 189.2.

Editor Rob
Yeah it's probably likely he wasn't over 6ft 2.
Junior Hernandez 1990
said on 2/Apr/19
He claim 6'3 but not even looking 6'2 with 6'2 1/2 Geoff Stults. I remember Laird look at best 6'1 1/2 with a 6'10 1/2 NBA player. 6'1 3/4 max and maybe peak 6'2. His wife most likely just 6'2 claim 6'3.
MAD SAM
said on 11/Jul/18
Yea 189.5 cm or 6'2.5" seems right, he's 1/2 inch shorter to his wife
Cynan
said on 22/Apr/18
I'd say he's just shy of 6'2". In pics where both are barefoot, he looks a bit more than an inch shorter than his wife.
Rampage(-_-_-)Clover
said on 6/Nov/14
Doesn't look shorter than Reece
176,2Tunman
said on 3/Mar/14
Arch,Noah was actually listed at 209 in french team and his draftexpress measurement was 6'10.5.If mirra is only 5'9 then perhaps Laird is a flat 6'2 considering Mirra is leaning.Must still say that pic is a little deceiving,Noah looks almost a full head taller and he's leaning down
Arch Stanton
said on 22/Feb/14
Interesting's Joakim Noah's parents were 6'4" and 5'9". You'd have expected him to be probably 6'6" but he's pushing 7 ft I think. I'd guess that both his parents probably have even taller siblings and that he had a strong dose of very tall genes on both sides. He's half Swedish half black. Funnily though his grandfather, Cameroonian footballer Zacharie Noah as only 5'9 range.
Arch Stanton
said on 22/Feb/14
The height difference between Laird and Jakim though is even greater than it looked between Clint Eastwood and Richard Kiel in Pale Rider.
Arch Stanton
said on 22/Feb/14
Rob how tall do you think he looks here?
Click Here
Basketball player is listed at 6'11". Keep in mind Dave Mirra on the right is listed at 5'9". I suspect that his height listing is accurate and Dave Mirra is under 5'9" and the Noah bloke is nearer the 7 ft mark?
[Editor Rob: the big guy does make him look no more than 6ft 2 there]
Arch Stanton
said on 31/Dec/12
Yeah if they had a son he'd be short changed at under 6 ft 6 put it that way!!
Arch Stanton
said on 31/Dec/12
6'3" woman is like a 6'8" man. Add the fact Laird is near 6'3" himself, potentially they could have a son 6'10" range.
Candyman
said on 11/Sep/11
Yeah his wife is huge. They have a daughter but I'd like to see how big a son in this gene pool might get. Any kid would be guaranteed to be a top athlete or model with these genes.
toby
said on 22/May/11
his wife is 6'3
do they have any kids? if so there going to grow to be huge
Shaun
said on 5/Feb/11
Yeah I completely agree Pete. If you didn't know you'd guess 5'11" range.
Click Here
Doesn't exactly look anywhere near as tall as somebody like Sacha Baron Cohen now does he? I think its because he is very stocky built makes him look a lot shorter perhaps.
pete
said on 16/Nov/10
whta? his wife is 6`3?? oh my god. He looks smaller, I thought hes 5`11 or something liek that. In Big Surfing History, hes the KIng out there!, theres no one who comes close to his abilitys
Doug
said on 14/Apr/09
Fitness freak you aint kidding. Hamilton is one of the best living role models I use him and Bruce Lee as inspiration and motivation:
Heres a typical week for Laird:
Monday: Circuit training with weights. He works the entire body in about 1.5 to 2 hours. He chooses 20 different exercises and does enough sets per exercise to get 105 reps (this is a rough workout, by the way).
Tuesday: Rides a mountain bike for 2 hours, followed by "sand training" (lunges, push-ups, log pull, sand dune sprints), and ends with "water activity" (surfing, wind surfing, kite surfing, etc.)
Wednesday: Circuit training
Doug
said on 14/Apr/09
No Gabs is a little taller than Laird. She is the full 6'3" and Laird is half an inch shorter at 6'2.5". Laird could certainly claim 6'3" though as he obviously is over this in shoes anyway.
Midget
said on 24/Mar/09
I met him in person and spoke briefly with him at a conference in Honolulu in Novemeber of last year and he stated he was just under 6'3" then. I have pics as well but having trouble finding them.He looks every bit of 6'2.5" in person though and still pretty solid build.Really nice guy, very approachable and down to earth. Crazy big wave surfer and mad keen fitness freak.
Mr Nobody
said on 20/Jan/09
It seems that Gabby is wearing heals, but 6'2.5 sounds right
C
said on 8/Jan/09
They were just on the Today show about 20 minutes ago, giving Natalie exercise advice. They were both barefoot, yet Gabby is clearly at least an inch taller than Laird.
Rhiannon
said on 20/Jan/08
Laird and Gabby are both the same height, 6'3.
Anonymous
said on 14/May/07
Did Gabby have a little heel going there? She looks considerably taller than Laird not just 2 cms, though he's leaning. I can't measure his height from that picture, yeah 6'2.5 seems his height.
Glenn
said on 7/Feb/07
You should add the photo here too Rob.thanks.
[Editor Rob: yeah, I done that now]
Terry
said on 6/Feb/07
Im just 1/4 inch shy of 6 ft, and he Towered over me when I stood next to him. I'd say 6'3 to 6'4. Some people don't ever really know their height exactly.
Y
said on 24/Apr/06
Woww with parents both 6-3, imagine how tall their daughter's gonna be..
Johnny G
said on 31/Mar/06
1.5 inches shorter then Tom Selleck, I say Laird is 6 feet 1 inches tall and not an 1/2 more
CelebHeights Editor
said on 16/Feb/06
Found he said on SurferMag.com
"I'm six-two and a half"
cantstop25
said on 1/Feb/06
his wife gabrielle is very tall and hot
http://www.tallpeople.org/photos/showphoto.php/photo/47930/cat/3034
she is probably wearing heels in that pic though. They are both the same height
J-Dog
said on 10/Dec/05
He looks it. Here he is beside 6'3" Gabrielle Reece http://sportsillustrated.cnn.com/swimsuit/collection/issues/2000/00_greece_01.html