Laura Vandervoort's Height
5ft 6 (167.6 cm)
Canadian Actress best known for her role of Kara (Supergirl) on TV series Smallville, Lisa in V and Elena Michaels in Bitten. She has also appeared in films Ted and This Means War. On her twitter she mentioned her height, saying she was
"About 5'6 ;)"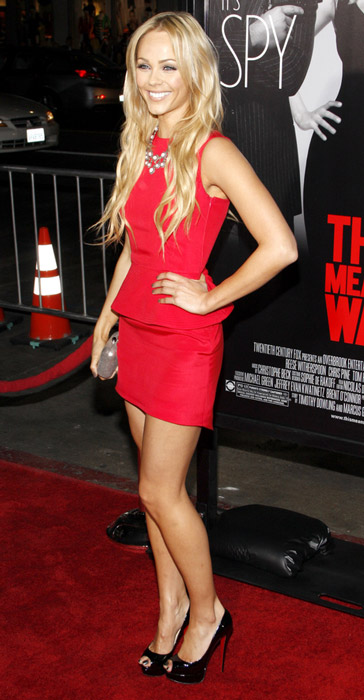 Photos by PR Photos
You May Be Interested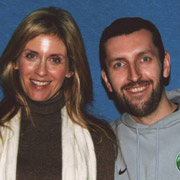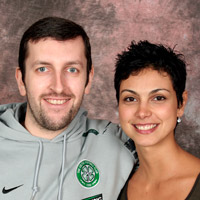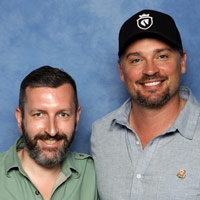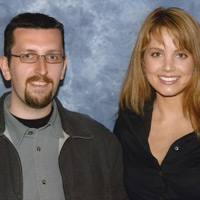 Add a Comment
61 comments
Average Guess (11 Votes)
5ft 5.7in (166.9cm)
Christian 6'5 3/8"
said on 18/Feb/19
@Rob
Their arms and legs look too awkward to be real. I use a tablet so the resolution isn't as clear as a computer's.
Christian 6'5 3/8
said on 16/Feb/19
@Rob
You have a pretty good eye. At first glace, most people would be tricked into thinking that it was a genuine pic.

Editor Rob
On a mobile I'm sure it probably looks more realistic, though I usually browse on a desktop computer.
Andrea
said on 16/Feb/19
Is it? 😳 I generally quickly recognize photoshopped photos, but that one totally fooled me! Having a better look at it, it actually looks that way.
Anyway, she is clearly shorter than Erica (albeit in less footwear and a bit further away from the camera in that pic). 5'5-5'6 is possible, but I doubt she's any less than that...

Editor Rob
I would say it looked a bit 'off'. You can see her with this guy
Here
who I mentioned in person looks over 5ft 9, I believe she has a normal heel that event.
Andrea
said on 15/Feb/19
Yeah, more chance she's say 5'5.5-5'6 than 5'6-5'6.5, though she can pull off looking a decent 5'6 with the other Smallville girls here:
Click Here

Editor Rob
I would have said that photo seemed like a kind of photshop, but laura does look
Shorter than erica
.
With someone like Morena
In some shots
she might seem close, but others can look
shorter
.
Andrea
said on 31/Mar/18
She doesn't seem so sure about her height...
Click Here

Editor Rob
I don't think She is over 5ft 6...you can see her (
Wearing heels
) with this bloke -
Click Here
who any time I seen him in a queue he was in 5ft 9-9.5 range.
Intevel
said on 18/Dec/17
Rob how tall would you say She is in the heels in your pic? 5 ft 10? Or just under
Editor Rob: if you go with her own 5ft 6 claim, then 5ft 9.5-9.75 range might be possible.
Intevel
said on 6/Dec/17
Rob how tall would she measure in these
Click Here
Editor Rob: a solid 5ft 11 range
Justine
said on 24/Dec/16
Google "Laura Vandervoort, Debby Ryan", and you will be in for a surprise... 5'5 Debby owns here by 1 inch. Laura has this slim body type that gives the illusion of her being taller than she is. 163cm for Laura
Andrea
said on 21/Apr/15
Very honest claim, she does look near 5'6...
Rob, how much difference you see here?
Click Here
She says his 15 years old cousin is 6'7... If you assume they've got the same footwear, does he look a big 6'7 guy? He certainly doesn't look under 6'5 to me, but she could easily have more shoes...
[Editor Rob: if in same footwear I wouldn't have said 6ft 7, how big his head is harder to tell, it looks big compared to hers but it could be the photo.]
Lorne???
said on 13/Mar/15
Have you not gotten the chance to meet her? I notice you have Greyston Holt, from that new(ish) show of hers.
Len
said on 23/Mar/13
She looks more like 5'5", especially on V, where 5'7" Morena Baccarin usually looked significantly taller than her.
5' 5 1/2", tops.
Andi
said on 15/Mar/11
I met her a couple of weeks ago and stood right next to her, she was wearing flats and I had heels on, I'm 5'1" and she was 2 1/2 - 3 inches taller than me, my heels gave me 2" advantage, so I'd say 5'6" is pretty close to the mark. She's a nice girl and bloody skinny, man I wish I was as slim as this chick. And she is a nice looking girl off the camera too.
Zoso
said on 31/Oct/10
I don't know his exact height but I do know he was turned down for a part in Terminator 2 because he was too tall. He must be taller than Arnie who's 6ft 1in.
Sammie
said on 26/Feb/09
I LOVE this site! Whenever I have a bad/dull day you guys always give me such a giggle! To read grown men squabbling like teenage girls over quarter inches is a real revelation let me tell you, lol. Dont suppose it has occurred to any of you that there are much more important things to worry about? Politics/World Affairs/Poverty...anyone? No? Oh, ok.... back to bitching about height then LMAO!
Blackie Fan
said on 4/Sep/08
Blackie is 6.4ft not 6.3ft...
glenn
said on 1/May/08
im a huge ratt and prefer them over all the 80s l.a. bands possibly.rough cutt up there as well,maybe not no.2 though.crosby was very rude to me and fans.arrogant and would ignore us.now im sure,or i hope he wasnt like that all the time.pearcy(5-9) i love.but he is such a fukin dick too.and hated by many.he was rude with me in 1990 and 2002.nothing changed with him.and i hear similar stories all the time.i had all his side projects and solo cds,japanese,imports,expensive items,and he had the nerve to ask me if i was gonna sell it on ebay in a loud snotty voice.i wanted to smack him.what a moron.how would i make any money on ebay when i spent top dollar on the cds?s real smart of him.i had stuff only a true fan would have.then any multiple copies i had on vinyl of any ratt album he wouldnt sign.i hope he reads this.moron.warren(5-11),who shares my april 10th birthday was always a class act sweetheart.blotzer(5-11) is great to fans.but might be difficult to work with i hear.jaun(5-6) is sweet.but has issues.
Kris
said on 30/Apr/08
Glenn, why didn't you like Robin Crosby? Just out of curiosity. I did like a some Ratt songs, particularly Round and Round, but I never liked Pearcy much.
glenn
said on 28/Apr/08
thats what chris told me and he looked it.people seem to forget pictures can be decieving.
Dave
said on 27/Apr/08
hahaha, thanks glenn :P..... and im glad im none of those things!.... you said holmes was 6'6, right man?
Nothin
said on 27/Apr/08
looks 6 foot 2
glenn
said on 27/Apr/08
listen to dave.he isnt deaf,dumb or blind.lol.
Dave
said on 26/Apr/08
glenn has already said a number of times, (for those who are blind.... whether that be selective or not) that glenn was wearing boots, and blackie was wearing flats..... now, i myself have met blackie twice and i can say hes an easy 6'4.... we were both wearing trainers on the second meeting, and he towered me by some inches, and im 6'1 barefoot..... NO WAY as low as 6'2.... its just unfortunate that he was wearing flats in the pic with glenn.... and chris holmes is bigger again, the guy must be 6'6-6'7.... a giant. 6'4 is just about right for blackie at peak, maybe 6'3.5 at LOWEST today.
venus
said on 26/Apr/08
Looks 6'2 to me.
Josh
said on 26/Apr/08
He doesn
glenn
said on 25/Apr/08
my point is more blackies boots were flat.like slippers.
glenn
said on 25/Apr/08
not that chunky.but a little more than my usual inch or so.so a little more than an inch.
Bj25492008
said on 25/Apr/08
Glenn how chunky were you're shoes exactly to help us understand better? You look 5'10" in this picture, and I've never seen you look that tall.
Gary
said on 25/Apr/08
Im 6'3 and a half with shoes on, 5-8 comes right to my lips
glenn
said on 24/Apr/08
pics are decieving indeed,but he is 6-4.
ed
said on 24/Apr/08
that is no 6-4, 6-2 maybe
Ras
said on 23/Apr/08
I'd give him 6'2.75. 6'4 looks quite an overestimate, more than an inch (considering Glenn had chunky footwear and Blackie is using flats like classic converse, even then weak 6'3 still looks like overestimate). Pics can be decieving indeed.
Yaspaa
said on 22/Apr/08
He's really leaning forward guys,6'4 I can believe.
RisingForceYJM
said on 22/Apr/08
I am a Ratt fan too Glenn and no need to apologize for not liking Robben. If he was a dick then he was a dick.
Mattiew_-
said on 22/Apr/08
Doesn't look 6'4 to me in this pic
Yaspaa
said on 22/Apr/08
Oh,lol.
glenn
said on 22/Apr/08
i apoligize for not liking crosby.not ratt.
Yaspaa
said on 21/Apr/08
Don't apologise for liking 'Ratt' Glenn,'Round and Round' baby.
Gonzalo
said on 21/Apr/08
All these pics are funny. I am around 1`74 and I met a cousin of mine who is 1`94. I barely reached his chin. However Glenn reaches this guy`s mouth. Well, pics can be decieving
glenn
said on 21/Apr/08
crosby was 6-5.and a dick.i love ratt.forgive me for saying so.holmes had horrendous posture and was hunched over.when i asked "hey,arent you like 6-6?" he then straightened out next to 6-2 and plus men around him,and at 2am he was impressively much taller next to them.indeed 6-6.
glenn
said on 21/Apr/08
he did look 6-2ish a bit.but he had those boots on with the fur on top and completely flat soles.like slippers.he looked 6-4 in the early 90s when i saw him.he lost the main villain part in terminator 2 due to being 6-4.they wanted someone more average in height to blend in with the crowd in the street.arnold allegedly wanted him.
RisingForceYJM
said on 20/Apr/08
I knew Chris Holmes was tall. Glenn what time of the day did you measure Chris? Isn't Robben Crosby of Ratt a similar height too? I heard 6'5" or 6'6" for Robben.
Bj25492008
said on 20/Apr/08
glenn says on 19/Apr/08
he is 6-4.he has flats.i had chunky shoes.
Oh, okay. I was going to say. I'm 5'9" Glen and 6'4 & up people look like they are twice my size. I still don't know if that's what a 8-inch height difference looks like though. Even with the shoe advantage. You still look pretty tall next to him, and that usually isn't the case. Maybe he has lost some height. Looks more 6'3".
Yaspaa
said on 20/Apr/08
Yeah, from the 'picture' he does look 6'2,it's just 1 photo though.
Viper
said on 20/Apr/08
"However I am pretty sure he had a minor league baseball career and baseball players are often around 6'4"."
There havnt been many legit 6-4 baseball players in the history of the sport.
glenn
said on 20/Apr/08
after a concert in 2003 for a band called animal with chris and randy piper,i had chris stand next to 6-2 and 6-3 guys.and he towered them by 3,4 inches.in skippies.
Anonymous
said on 20/Apr/08
looks 6'2
OutBenchThis
said on 19/Apr/08
You measured Chris Holmes Glenn? What's the story behind that? You have an interesting time don't you!
Charliemoto
said on 19/Apr/08
OMG! i didnt even recognize him his face changed completely since the hey days...
excellent singer and i love W.A.S.P.
hmm looks about 6'4ish (with boots/shoes on)....he mightve lost something, he did look 6'5 on stage most of the time, i think he is 6'3.5 barefoot now.
great image.
glenn
said on 19/Apr/08
wow,im surprised you didnt know.i never knew about his baseball past or interest now.i just found out my friends spot him at mickey mantles in nyc often.
Jake Is Back
said on 19/Apr/08
Well, if not 6'4" he is still well over 6'.
Jake Is Back
said on 19/Apr/08
Baseball players tend to be well under 6'4", I think in the majors their heights are inflated big time and still only average about 6'0" - 6'1". Although pictchers are on average billed at 6'2" - 6'3". Considering the reported footwear this guy looks 6'4".
RisingForceYJM
said on 19/Apr/08
Never thought he was this tall. However I am pretty sure he had a minor league baseball career and baseball players are often around 6'4". I've always been a big fan. Cool to see him added
glenn
said on 19/Apr/08
he is 6-4.he has flats.i had chunky shoes.
lillo thomas
said on 19/Apr/08
In the pic above he don't look 6-4 at all maybe 6-2 tops . Sometimes pics aren't a very accurate way to estimate height . Glenn do you have more pics with him?
Mark D.
said on 19/Apr/08
Thorgrim, that's so funny. I get that reaction a lot. I'll tell someone, who I
thought was shorter in person, how they are taller than I thought and they, in
response will exclaim 'look at you'! I saw Lawless in person, a few years ago,
I'm 6'4.5" and I would say he was an inch to a half inch shorter than me then.
"Mean Mother" was my favorite WASP song. He sings his ass off on it and it is
just one great tune for such a metal group that makes no apologies. Rock on!!
glenn
said on 18/Oct/07
i have a sitting down photo with blackie.
aja
said on 16/Oct/07
i am completely in love with blackie, and i have met him 2 times, whether he is 6'4 or 4'6 he is the best metal vocalist, and it finally shines on heavens hung in black. love ya blackie
Franco
said on 22/Aug/07
doesnt look 193cm anymore.
glenn
said on 14/Jun/07
blackie is 6-4.chris holmes is a legit 6-6.i measured him.
Thorgrim "steve"
said on 13/Jun/07
Im 6'11 and im from norway, im a HUGE metal fan,.... all the proper old thrash and heavy metal. I honestly thought blackie was REALLY small for some reason, and when i met him, i was like "oh my god!, you are huge!"... to which he replied "what the hell are you talking about!!!!, look at yourself!" lol.... nah, he was a real nice guy, and an easy 6'3-6'4 maybe more.
Franco
said on 15/Apr/07
they didnt choose him in TERMINATOR 2 because of his height ....
looked 6'4 on stage when he took off his boots.
i think today he lost something though and gained weight.
today Blackie is 190cm