Lauren Bowles Height
5ft 4 ¾ (164.5 cm)
American Actress best known for playing Holly Clearly on HBO's tv series True Blood. In film she has had memorable roles in Hall Pass and Dance Flick. She had over 3 inch more footwear than me that weekend.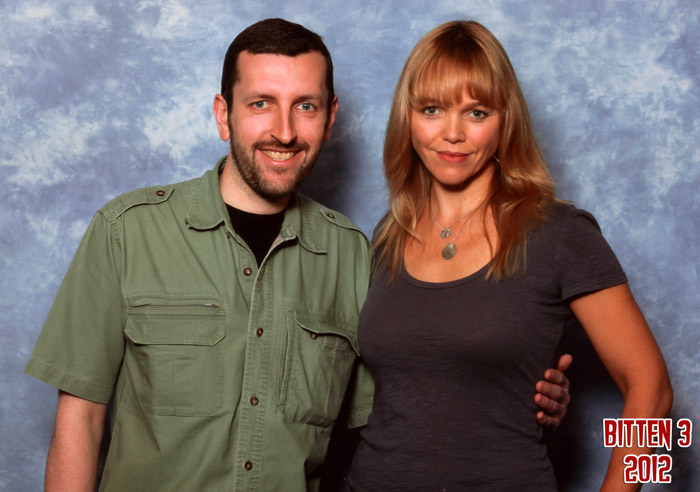 5ft 8 Rob and Lauren @ Bitten 3, 2012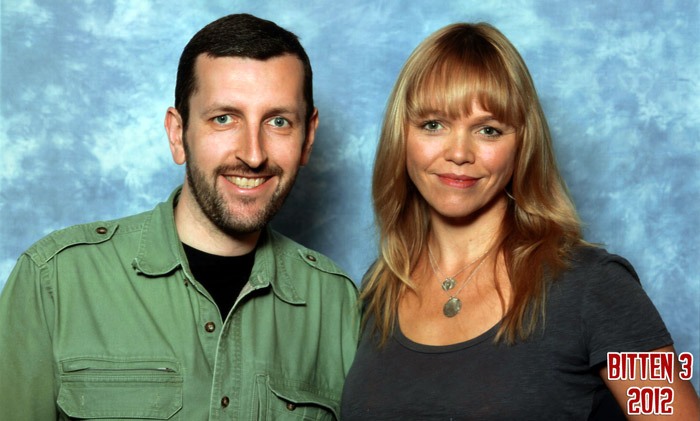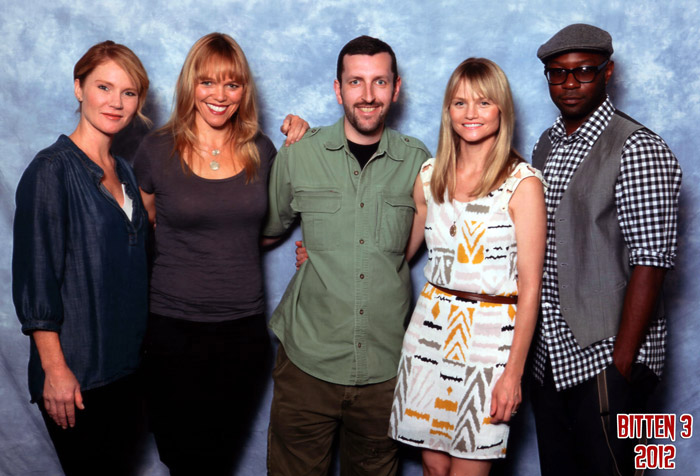 You May Be Interested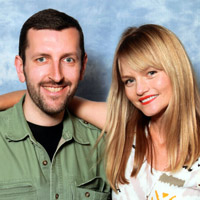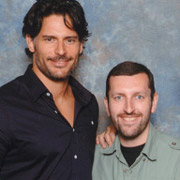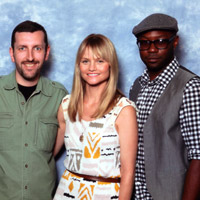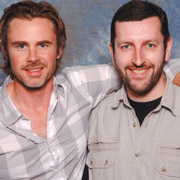 Add a Comment
33 comments
Average Guess (5 Votes)
5ft 5.15in (165.5cm)
Nik
said on 24/Aug/18
The average vote does seem too high!

Editor Rob
There was only 1 other guess, but she certainly had a big heel that weekend,
Click Here
, 0.7 inch range for me and those give a good 4 inch of actual height.
Dan
said on 12/Feb/15
I'm 6' and about an inch taller than Edgar and 2" taller than Johnny. Oh, 6" taller than Rick.
jesse
said on 7/Mar/11
she is 5ft. same as America ferrera. She is always in high heels and is barelllyyy taller than America.
Daniel
said on 15/Oct/07
Thanks, Glenn. Anyway, it would be good to have this photograph posted someday.
glenn
said on 15/Oct/07
thank you daniel.but sf has a habit of this and thinks im always trying to rule over him and the site.i dont need to be silent when music comes up just cause his name was there.anyway i hope to move on.glad you understood i was trying to dig for something deep there.all week on the site ive been discussing music with a passion.anyway i have a bad pic of me and johnny somewhere.his posture is so horrendous that i thought he was closer to my height! he was actually bent over.so,maybe 6ft prime.
Daniel
said on 15/Oct/07
Well, friends (that is to you Glenn and sf), we don't have to get angry here. Let's just accept the facts -at least as I see them. Number one, played out or not, "Frankenstein" is a good song. Fortunately for me, here in my country this song (as is the case for Winter's brothers) is almost unknown for 99% of the population (I'm not exaggerating), so I can surely say that for me this song hasn't been played to the nausea, as seems to have been there in the US. Maybe I'm lucky at least at this point. In the second place, Glenn is right when criticizes the fact that most people (influenced by the media or radio stations) doesn't take the time to listen and learn about the repertoire of a musical artist. They usually don't even know a complete LP and have the nerve to call themselves "fans"! So, you guys, have a point each one, and don't need to get into a fight of arguments about it. Let's not forget this forum is about heights, isn't it? So, let's discuss Johnny Winter height here, if you don't mind. At least until Rob have the kindness of givin him his own page at this forum. To start, I'd say Johnny was at least 6ft in his prime. Any other opinion?
glenn
said on 14/Oct/07
sf-whatever you say.i said i didnt want to argue.but your still at it.maybe your more intelligent than i thought.maybe i was infering to your cattle tastes.but again you ignored i said nothing personal.your amazing artist and probably amazing at other things.but probably not music and comprehension.lets give it a rest please.you have a chip on your shoulder from the past.thats all.i knew it mightve been better to be quite when i saw your name cause i knew you argue back,but when the subject of music comes up,i cant resist but to open discussion.but you take it personal.i understand.i understand it well.i knew you better than you think.cause we have similar qualities that arent to be proud of,but such is life.we make the best of it and perservere.take care sf.be safe and not so angry at life.
sf
said on 14/Oct/07
You're so funny Glenn - always off base. Nothing goes over my head you say. I'll match wits with you any day... No, I just don't "bow down" to you because of your influence on this board. You did criticize what a couple of us said by going on about cattle thinking public, or whatever. You inferred that I , we, were part of those "one-dimensional" thinkers, or whatever. Even over-played songs can still be cool, worthy of merit, and worthy of mentioning...
Again, Glenn, as always, you make your little comment, then if someone comments back, well they are the dummy. Hilarious...sadly, it goes over your head, my friend...
glenn
said on 13/Oct/07
only you sf.i voiced my opinions elsewhere on the site and nobody had a problem.you get defensive as usual and thats how the arguments start.this week alone i had alot to say musically and people understood.even your friend who likes frankenstein.it usually goes over your head too.not the first time.my intentions werent about taste or liking songs.others understood.it was to make knowledge of albums and album tracks.sticking to the hits ruined alot of facets in the existance of a band.no new albums,boring concerts repeating the same damn songs over and over again for 20,30 years.buts thats one dimensional thinking of most so called fans.
sf
said on 13/Oct/07
All right - fair enough, but hard to read between the lines, when the "lines", themselves, seem to be putting down someone's musical tastes. Edgar Winter's cool, and most people won't know anything by them except Frankenstein and Free Ride, so I commented about a cool rock instrumental, that's all.
glenn
said on 13/Oct/07
that wasnt my intentions sf.reread between the lines.i also said not to be a dick.and to excuse my tangent.i dont like to argue.
sf
said on 13/Oct/07
Sorry, Glenn, if I don't like the same music you do in the same way you do. I like Frankenstein - one of my favorite rock instrumentals. The Beatles have been played to death, but I still love Daytripper, Revolution, Norwegian Wood, etc...no need to put down anyone's tastes...
Daniel
said on 12/Oct/07
I like it too, but I prefer the live version with Johnny, Tommy Shannon and Red Turner
glenn
said on 12/Oct/07
im glad you like it.figued that would be your response.
sf
said on 11/Oct/07
Played out or not, I like the song!!!
glenn
said on 11/Oct/07
the only thing i could do since you heard me out and didnt argue back.disagreeing is fine.you didnt do either.thanks.
Daniel
said on 10/Oct/07
Very kind of you, Glenn! Thanks
glenn
said on 10/Oct/07
thanks for understanding daniel.didnt mean to be so strong.i own 10,000 cds and 10,000 lps.im an album man.not a singles man.hell,i couldnt even name you album tracks most of the time.i would love to meet and talk music with you too.my email is celebink@yahoo.com.you can chat with me there.talk to you soon.
Daniel
said on 10/Oct/07
Alright, Glenn, I agree with you. I hate the fact that the people usually want to hear the same hits again and again, and radio is a bad place to listen the best material. And listening to the same commercial stuff usually makes me sick! I just wanted to make a comment about a song mentioned by the sf guy that I consider a good one (Frankenstein), especially the live version with Johnny Winter. For the record, I'm very passionate about music, and I'm a serious fan of Johnny Winter. I also like very much early Iron Maiden albums, just to mention a couple of bands. This is the reason I came into this forum, to ask and know the heights of my music idols, and that is why I usually ask about classic rock musicians more than anything else, if you remember. I'd like to meet you and talk about rock music and records, but unfortunately I'm thousands of miles away the U.S. (I'm from Peru). Anyway, I'm happy to be able to enter this forum from time to time and see what's in store. Best regards
glenn
said on 9/Oct/07
hate to sound like a dick, but frankenstein is played out.yes,i have second winter on deluxe cd and the original vinyl.both artists have their metal moments to me.frankenstein is without a doubt metal and was covered by metal bands.i just dont need to hear it again as with most zeppelin songs the public and radio has killed with their one dimensional thinking.most radio hits and or singles suck.albums tracks are so much better.but cattle thinking public wants to hear enter sandman,paranoid or number of the beast when they attend concerts.now,those songs are good,exception sandman,but does one really need to hear it? thats society for you.not really music lovers but lovers of what is thrown in there face by radio or mtv.this one dimensional thinking and downloading is also what destroyed bands wanting to make new albums.8 years and no ac-dc lp.9 years and no kiss cd.6 years until we got a bryan adams,and 7 years until we have a rolling stones lp.the wait or no show is ludicrous.go listen to frankenstein for the 500th time.bands dont want to make new music cause it being stolen and people only want to hear hits.nothing personal but im passionate about music more than anything else and usually go off on a tangent when brought up.
Daniel
said on 8/Oct/07
Me too, sf! And just to be accurate, the drummer of Johnny's Band by the time was "Uncle" JOHN Turner, not JOE, as I erroneously mentioned before. Other great albums by Johnny are -just to say a couple- "Johnny Winter And" (with Rick Derringer) and "Still Alive And Well"
sf
said on 8/Oct/07
Yes the synthesizer lead in the middle is cool, with the drum parts. I've just always liked this song.
Daniel
said on 7/Oct/07
Frankenstein by Edgar Winter band is a very cool progressive song, especially the part when the synthesizer takes the lead and the solo drum. But if you want to listen to a previous (and much hard rocker) version, take a listen to Johnny Winter's "Second Winter" Legacy Edition Double CD. "Frankenstein" is on the CD2, which is a bonus concert with the same band, from 1969 or 1970. That song is performed with two drummers in some parts, as Edgard makes a terrific counterpoint against Uncle Joe Turner. By the way, have you listened to this, Glenn? I strongly recommend it! 5 stars for that record! And I mean it
sf
said on 5/Oct/07
Coolest guitar riff ever - Frankenstein...
glenn
said on 4/Oct/07
i agree.i prefer his johnnys music too.
Daniel
said on 2/Oct/07
Rob, don't you think Johnny Winter deserves his own page too?
Daniel
said on 23/Aug/07
please, will you have Johhny Winter's height posted some day? And don't tell me he's 5'8 or 5'10. He obviously is a tall man, I guess no less than 6ft
Glenn
said on 4/Mar/06
johnny does look 5-8.slouched.
rwfender
said on 26/Feb/06
now a days Johnny is still 5'10? wow, i would have never guessed that. would have thought under 5'8
Glenn
said on 4/Feb/06
johnny might be 5-10 ish.but again horrible posture.
sf
said on 2/Feb/06
I look at that picture and think nearer 6 feet, too. At least 5'11".
RW
said on 2/Feb/06
Is Edgar wearing cowboy boots? If so, 5'10 id say, if not probably 6 foot. How tall is his brother Johnny? Ive seen Johnny Winter a couple times and now a days he looks 5'7ish but he has horrible posture and has had health problems which im sure has affected his height.
Glenn
said on 1/Feb/06
id say 6 feet.