Liam Cunningham's Height
5ft 11 (180.3 cm)
Peak height was 5ft 11 ½ (181.6 cm)
Irish actor best known for roles in Dog Soldiers, The Guardian, Centurion, The Wind that Shakes the Barley, Safe House, Hunger, War Horse and Clash of the Titans. On TV he is known for playing Davos Seaworth in Game of Thrones. In the 1990's, he listed his height in Spotlight as
"6 feet"
tall. In this convention photo I had near 1/4 inch more sneaker than him.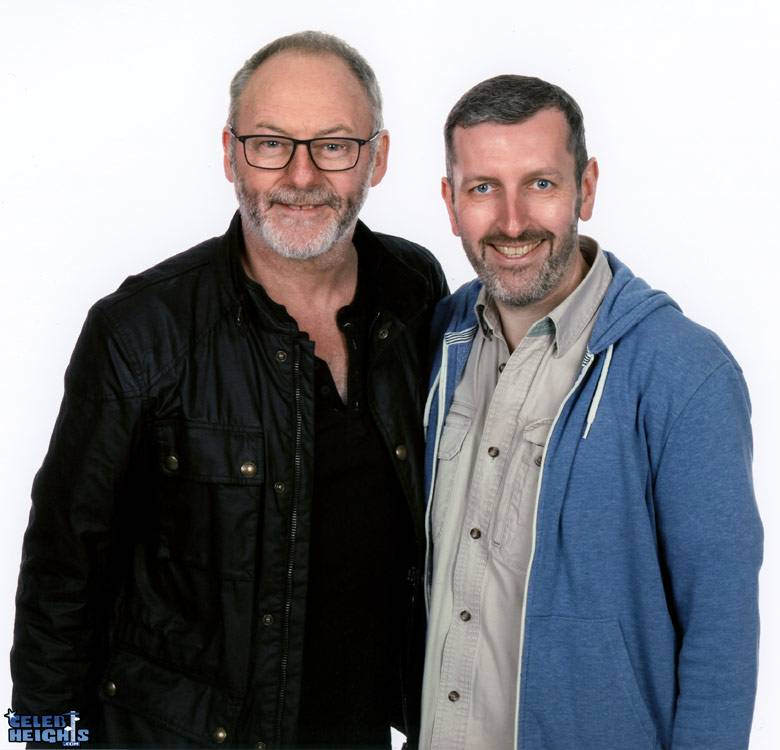 5ft 8 Rob and Liam @ WCC 2019
You May Be Interested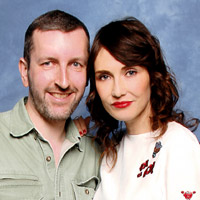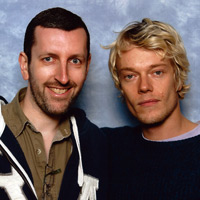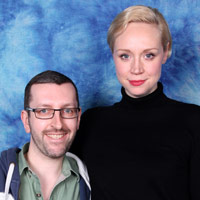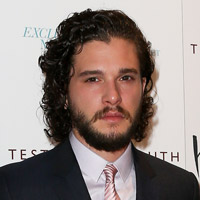 Add a Comment
48 comments
Average Guess (36 Votes)
Peak: 5ft 11.89in (182.6cm)
Current: 5ft 11.06in (180.5cm)
Rampage(-_-_-)Clover
said on 8/Aug/20
I don't think he measures under 5ft11 and might still get passed it by a fraction if measured. Peak he could definitely pass for a 6ft guy and I wouldn't rule it out
Jkiller
said on 8/Apr/20
Peak 6'0 (183cm), currently 181cm
Chris Junior Hernandez 1990
said on 18/Nov/19
Rob, is it possible Issac hit 6'0 now?
Click Here

Editor Rob
No, but he has better posture in person than Liam.

Basically Liam is a flat 5ft 11 guy nowadays if measured and walks/looks like a 5ft 10.5 guy half the time.
VitoCheng
said on 18/Nov/19
Peak: 6-f-o-o-t (182.9cm)
Current: 5ft 11.25in (181cm)
Rampage(-_-_-)Clover
said on 25/Oct/19
Rob, how likely is it that he was 6ft peak and lost an inch?

Editor Rob
I don't know if he's a guy who lost a full inch, but some loss is likely.
Jordan87
said on 7/Jun/19
He's 100 percent under 5'11" as per his picture here.
5ft7 Sith Lord
said on 24/May/19
How much did this photo cost Rob?

Editor Rob
£53.74, which is a lot of money when you think about it!
He was announced for an MCM Comic Con at £25 3 years ago, but cancelled that one.
MCM have went into fairy land with prices the last year or so:
Click Here
.
When guys like Misha Collins are priced at £90 and David Ramsay at £84, I'm glad I didn't start this website nowadays! 😵 😆
Bobby 5'10 (178)
said on 14/May/19
Might be a chance for a weak 5'11 too, like 5'10.75.
Nik
said on 14/May/19
5'11" is absolutely fine for Liam Cunningham!
Greg
said on 9/May/19
I'm seeing 5'10.75" but 5'11 could be true too he's definitely lost height from his peak.
Paul NS (6ft 0.5)
said on 7/May/19
He looks a solid 5'10" here.
Miss Sandy Cowell
said on 7/May/19
Oh, nice! A fresh, new picture from 2019, the first one I've actually noticed with this year's date on it! It goes to show my observational skills, doesn't it? 😂😝😂
5ft11 nowadays and half-an-inch more for Liam's peak. Just as well I read Rob's reply to Andrea and found out that he was wearing a tiddly bit more sneaker that day. It all counts!
Andrea
said on 6/May/19
And you met Ser Davos too... Nice! 😃
If you list him at 5'11 flat, then I guess that's (not surprisingly) the most he could be today? Even taking into account his footwear disadvantage, he looks barely 179 with you...

Editor Rob
In person, from seeing Liam a few times over that weekend, I felt he looked between the 5ft 10.5-11 zone (really, he looked almost an inch smaller than someone like 'big adam' does up close)...but as I say I had a fraction more sneaker, so I would estimate today somewhere around 5ft 11.

The day of this photo was the worst convention day I ever experienced out of the 100+ events I've done 🥴, mainly to the fact a lot of queuing up was outside, in a damn storm. But, I suppose there's not much the organiser's could have done, they got unlucky with terrible weather that day. If the weather is decent though, I would recommend it to people.
World Citizen
said on 6/May/19
Looks 179 here.
Alex65
said on 26/Aug/18
Hard to guess. Looks 182cm here but I think he's 181 nowadays, see the pics with Tom Wlaschiha. At least 5'11.
Animus
said on 26/Dec/17
To my eye he looks just about exactly between 5'11 and 6'0. He's got a greater chance of 182cm than 181cm, in my view.
Rampage(-_-_-)Clover
said on 29/Aug/17
He could look near 6ft in the past
Andrea
said on 14/Aug/17
Rob, I know you said he has bad posture at times but do you really think he would measure near 6'?
In the last episode of GoT there is a scene with that Joe Dempsie guy you have met where he really doesn't look much over 5'10. Even with Kit... He generally doesn't look that much taller than him on the show, certainly not as much as about 5 inches! Maybe, standing tall for a measurement, somewhere in 5'11 range is not impossible but the current listing is a bit too high, IMO! I'd shave off at least a quarter!

Editor Rob
it is very possible he was 5ft 11.5 range and starting to look not much over 5ft 11 today.
Giorgi
said on 7/Feb/17
Whenever I see this guy I think of Dog Soldiers. The werewolf he became in the movie was much taller than this :)))
Rampage(-_-_-)Clover
said on 9/Dec/16
Agreed...maybe Cunningham by a hair. He has bad posture though. He still looks this mark on Game Of Thrones. Alec looks 5ft11 at most today
Rampage(-_-_-)Clover
said on 5/Dec/16
Rob, who do you think would measure taller at peak Alec Baldwin or Liam Cunningham?

Editor Rob
Rampage, it's hard to pick between them. Both fella's could look a weak 6ft, but maybe also pull off 6ft in the past.
Rampage(-_-_-)Clover
said on 21/Nov/16
I think he's claimed 6ft1
Josh Jeffords
said on 19/Nov/16
Good actor thought he was a brit looks 6 ft with average posture.
Maybe a hair over in younger days don't see 6 1.
Really enjoying UK cinema lately very fresh style.
Velasco
said on 2/Sep/16
Hey Rob, have you noticed that he tends to crane his head and neck downwards on Game of Thrones?

Editor Rob
yes, it is a general habit.

I'm surprised how my own back/neck hasn't been damaged much, I don't have the best computer/ergonomic setup and spend a lot of time on the computer.

Jenny spends a lot of time bent over her craft table making stuff and her posture has definitely been effected, I can already see upper back/neck curvature, which is how she's lost nearly a cm.
Morgul
said on 14/Aug/16
Here's a picture of him next to Stephane Dillane (listed 6ft) in Game of Thrones :
Click Here
. Looks a lot shorter than him

Editor Rob
he can look 179cm there.
TJE
said on 19/Jun/16
I can see 5'11.5 but it's hard to argue now since Sophie Turner's a weak 5'9 on here.
Jake: 1.84 m- 1.85 m
said on 19/Oct/15
Rob, maybe 5ft 11.5in?? 181-182 cm perhaps.

Editor Rob
that's the kind of mark he can look, at times his posture does look a bit loose and he seems to look barely 5ft 11 on occasions.
Balrog
said on 11/Sep/15
Rob, Liam was at Conan at honestly didn't even look 5'11" next to him. He doesn't stand tall but I think he lost height and is right now shorter than this.

Editor Rob
he can look around 5ft 11 a lot of time.
Sam
said on 22/Jun/15
Rob, could you add The Wind That Shakes the Barley, Safe House, War Horse, Hunger, and Game of Thrones to his credits?
guk
said on 19/Jun/15
Tom Wlaschiha is more than 3/4 of an inch taller. At least 2 inches difference. Either Liam is smaller than listed or Tom is taller. What do you think Rob?

Editor Rob
maybe at times Liam doesn't stand as tall as Tom.
Jack
said on 19/Jun/15
Look at this.
Click Here
6 foot ? Are you serious? Tom Wlaschiha is listed at 184 cm and Liam looks no more than 5'10" to me.

Editor Rob
Liam's on 182cm here, but look at his stance - he's a guy with poorer posture and a bit less shoe.
Rampage(-_-_-)Clover
said on 15/Nov/14
He could be 6ft
Rampage(-_-_-)Clover
said on 13/Oct/13
I thought he was at least 6ft1, originally.
Sam
said on 22/Jul/13
He looks like 5'11" here with Nicholas Hoult. LOL, at beginning repeatedly celebrity photo-bombed...
Click Here
little sue
said on 6/Dec/12
He looks around the same height as Fassbender in Centurioun
MOF
said on 14/Sep/12
No more than 5'11". He had a walking scene with Powers Boothe in Attila (2001). At least 3 inches lower, they walked side by side on even ground. I doubt Powers Boothe is 6'2", always seemed closer to 6'1".
Rampage(-_-_-)Clover
said on 25/Aug/12
Maybe not quite 6"1. But surely not under 6"0, Rob?

Editor Rob
I believe he's around 182 range
Rampage(-_-_-)Clover
said on 25/Jul/12
Is he really this low, Rob?

Editor Rob
from the stuff I've seen I think he's in that range.
M.P.
said on 7/May/08
You mean the Philadelphia *rapper* Cassidy. 5'6"? No way! Ii can't believe it, even if it's true!
MD
said on 26/Mar/07
I see maybe a half-inch difference between the two there, at most, and it's not the best to tell heights from. I think this shows what I've been saying, though, that Juelz is not 5'8".
Anonymous
said on 25/Mar/07
I agree with wat. Cassidy is taller than Juelz.
wat
said on 13/Nov/06
yea cassidy iz 5'9 cuz he taller than juelz santana listed in this site as 5'8 check it 4 yourselfs
Click Here
Ball-A-Hallic
said on 30/Jul/06
i always pictured him 5'9 but 5'6 sounds right
2row
said on 10/Apr/06
Yeah, I think he's about 5'6". MD, once you have a picture of you and him standing next to eachother, then you could say he's shorter than that or not.
J.
said on 19/Jan/06
The XXL artictle that describes him as 5'6": http://xxlmag.com/Features/2004/0304.cassidy/
J.
said on 19/Jan/06
He's said that he's 5'6" before. Plus a XXL magazine profile on him as also stated this height.

Editor Rob
I can take him down an inch...maybe his posture isn't as bad as I think...
MD
said on 18/Jan/06
Nope, I'd say even shorter than 5'6". The guy is really small.
Anonymous
said on 17/Jan/06
i read in a hiphop source magazine he was labeled as a 5-6 rapper...