Alfie Allen's Height
5ft 7 (170.2 cm)
English actor best known for playing Theon Greyjoy in Game of Thrones and for appearing in films John Wick and The Predator. In this photo I had near 1in
Nike Arraw
, whilst Alfie had
Air Max 90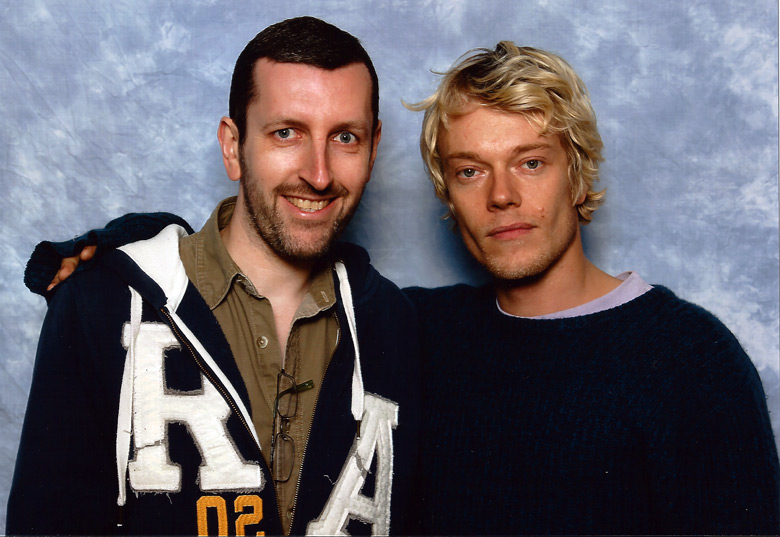 5ft 8 Rob and Alfie @ Collectormania 2013
You May Be Interested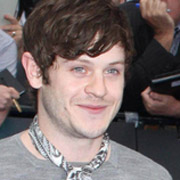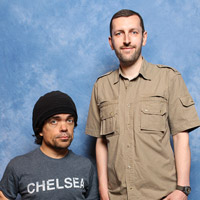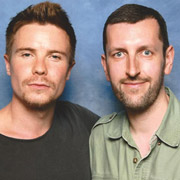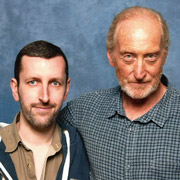 Add a Comment
118 comments
Average Guess (91 Votes)
5ft 6.59in (169.1cm)
David Tang
said on 7/Jul/21
rob i have a tip for you to help better measure height. the eye line is exactly in the middle of the persons head, use that to determine their height without hair being a problem.
slim 6'1
said on 22/Jan/21
He wouldn't edge lane garrison
slim 6'1
said on 11/Jan/21
The hair is tricky, I take back my last comment he's 169cm at best
Slim 6'1"
said on 2/Oct/20
169 is lowballing him, 170 is fine
Slim 6'1"
said on 20/Sep/20
Got heights are interesting, the hair does the trick tho
Slim 6'1"
said on 20/Sep/20
Spot on listing, he's definitely not a lift wearer
Chris Junior Hernandez 1990
said on 1/Sep/20
If Alfie is only 5'6.5" then Sam Rockwell would be 5'7.
RubenSolooo
said on 31/Aug/20
I think he is 5'6.5 (169cm) looks like that in game of thrones and interviews and I also think he might be a candidate to wear thick sneakers occasionally. Great actor IMO
Jkiller
said on 23/Jul/20
I see him being between 5'6.5 and 5'6.75
bernno
said on 24/Jun/20
Looks like a 1.5 inch difference to me. Considering he has a a slight footwear advantage and rob being a smidge over 5ft 8in, makes him 5ft 6,5in.
Paul Wood
said on 23/Dec/19
I think he could be a half inch to a quarter of an inch under 5ft 7in as there looks more than an inch height difference there, especially as he has more heel height on his Nikes.
Mickie
said on 12/Sep/19
Doesn't really quite look 5'7" imo.
Yang (5 footer 8, 172-173)
said on 25/Aug/19
5ft 6 half..
berta
said on 19/May/19
he does look at best the listed height in the photo, but if i would have guessed his height from john wick then i would have thought maybe 171-171,5 range
Eric W Tam
said on 10/Feb/19
LOL, 5'9 on Google apparently, can't wait until I'm famous and satirically have them list me as somewhere between 5'11 to 6'3, and watch the internet lose their minds for days over something so trivial, when they should probably be paying more attention to how their cabinet members are faring.
Sandy Cowell
said on 24/Nov/18
I actually saw Alfie today for the very first time in a film role. He played a cruel hoodlum with a powerful father, who picks on a bereaved man (Keanu Reeves) and in the process of pinching his car, and kicking the cr@p out of him with his mates, he thinks it's big to kill the man's little dog, the last gift he has from his late wife, given to him to afford him some company and love while he mourns her.
I knew that Alfie was starring in this film, 'John Wick', and it was down to his blond locks and lower-than-average height that I could easily spot him. It seemed to me that he was the shortest cast member, so I don't say below average without good reason.
His acting was impressive; it's just his part that I loathed! Alfie also spoke Italian fluently, which is much to his credit.
I agree from what I've taken in of him today, he could easily be nearer the average vote of 5ft6.5, so I will compromise between the two heights and go for 5ft6.75.
Sandy Cowell
said on 14/Oct/18
Alfie, at 5ft7, is exactly the same male height as his 5ft2 sister, Lily! How's that for making good, biological sense? You'd think that coincidences like that would be extremely common, but there aren't any hard-and-fast rules - not with height! I can never get over the fact that Scarlett Johansson is around a foot shorter than her TWIN brother...
5ft7 it is then.
Sacred
said on 11/Aug/18
170 cm, not 175 cm in gooogle...
MAD SAM
said on 3/Jul/18
169 cm guy at 5'6.5"
Dar
said on 22/Jun/18
Looking at their photos, there can't be more than half an inch difference between him and Kit Harrington...any this difference is basically the hairline...Richard Madden is no more than 2 inches taller than both of them
Nik
said on 1/Jun/18
He is under 5'7" IMHO!
MJKoP
said on 30/May/18
ALEXANDRE ALVES BR said on 23/Dec/17
He always seems to be smaller than 5'7 ... he has pretty bad proportions
Maybe...but going by his head/face alone, you'd expect a 6'5" Nordic warrior!
Bri
said on 30/Apr/18
I see almost 4cm between you guys
Anonymous
said on 30/Dec/17
No, not Theon! Reek!
ALEXANDRE ALVES BR
said on 23/Dec/17
He always seems to be smaller than 5'7 ... he has pretty bad proportions
ALEXANDREBR
said on 18/Dec/17
Dont look 5´7
Bobby
said on 25/Nov/17
Is he dropping height? The height chart as him at 5'6, but he looks max... 1.5 inches shorter I think. This would place him at 5'6.5. Not a terrible listing but I struggle to see 5'7 for him in this picture.
ALEXANDRE ALVES BR
said on 24/Nov/17
he does not look 5'7
ALEXANDRE ALVES BR
said on 22/Nov/17
I do know a think he is above 5'7 not is like 5'7 guys like james macvoy which gives an impression of bit average
Slim 185
said on 17/Nov/17
Sorry rob, he's 169.5 tops, he shouldn't be listed any higher than 5'6.75".
Anonymous
said on 17/Nov/17
Looks 5ft6 tops
Sacred
said on 6/Nov/17
5'7" for him, he is not 175 cm
Frost
said on 8/Oct/17
he's clearly over 5'6 and if the combination of a head tilt and poor posture adds up to a half inch loss then it's perfectly plausible.
5'7
KH
said on 18/Sep/17
Lets not argue quarter inches again. He is dropping a little height with a head tilt. He is very very close to 5'7. I don't see anything less then 5'6.75 and if Rob, who has met him, wants to give him 5'7 I won't argue Im sure Rob knows what an inch a change shorter then he is looks like.
Slim
said on 12/Sep/17
Guys, I trust rob this man is a flat 5'7". It just goes to show how diminutive 170 really is, wether as 171-173 resembles average More tbh.
I'm talking about the everyday world not Hollywood where actors are 5'10-5'11 on average.
Slim
said on 10/Sep/17
Hi rob, I used to think the French guy was
troll
ing 24/7, but he does have a point, there is most certainly 1.5-2 inches between you guys. Please take a quarter inch as it is somewhat closer to the truth.

Editor Rob
he might look under 5ft 7 in this photo, but I wasn't convinced he was.
Christian-6'5 3/8
said on 8/Sep/17
Definitely looks shorter than 170.2cm. Judging from the photo he looks 5'6.25", but Rob felt he was 5'6.75"-7"

Editor Rob
yeah, he looks taller I feel than this photo, I really think he'd measure close to 5ft 7.
Slim
said on 6/Sep/17
5'6.5" max.
Adamz
said on 31/Aug/17
I am seeing more than a 1 inch difference Rob.
Why is this guy getting the full 170?

Editor Rob
he did seem close to it in person. I wasn't as certain he was 5ft 6.5-6.75, but more 5ft 6.75-7 I felt.
Pierre
said on 27/Aug/17
By considering Rob is slouching more i give him max 5"6'.For me Rob is clearly 2 good inches taller than him.His hairs give him height.
lactose
said on 2/Aug/17
closer to 5'7 than 5'6 - I agree
closer to 5'7 than 5'6.5 - I disagree.
he looks about 1/8th inch above 5'6.5 in the photo. But I think he's dropping a bit.
Leo2001
said on 27/Jul/17
157,5+11,5=169cm
169 guy
Peter175
said on 5/Jul/17
he looks shorter than big G in this photo
errybodyshutup
said on 5/Jun/17
any chance of 5'6.75?

Editor Rob
there could be, but 5ft 6.5 I didn't think he looked that short, more closer to 5ft 7 than 6.5.
World Citizen
said on 2/Jun/17
I will change my mind, he is lucky if he is the same height as big G.

Editor Rob
I really didn't see Alfie as short as 5ft 6 and 1/4 😏

j/k, we all know Glenn is 5ft 7 on normal days when hydrated and not under stress 🤝 👍
World Citizen
said on 26/May/17
169,5 - 170 cm
James
said on 19/Apr/17
Richard Madden 5'8.5" (Not 5'11")
Kit Harington 5'6.5" (Not 5'8")
Alfie Allen 5'6" (Not 5'7")
Iwan Rheon 5'6.5" (Not 5'8")
The exaggeration amongst these actors is ridiculous
Sandy Cowell
said on 15/Apr/17
@ 123 - Very funny! 😂😂😂
Alfie didn't exactly have it in his genes to grow unduly tall. 5ft7 from me this time round - again, so I haven't exactly changed my mind since 22nd February!
123
said on 15/Apr/17
ko said on 31/Jul/16
what about 1/32th of an inch lower than 5'7?
---------------------------------------------------------------------------------------------------------------------------------------------
LOL oh my god you really do have to see it to believe it, yes 5'6 31/32nds, what next were arguing over one sixety fourths of a inch?! sadely thats the way its going on this site I can just imagine it now "LOL now way Justin biever is 5'7! he is 5'6 63/64ths! mayby 5'6 127/128ths MAX but 5'7 is
troll
ing and is impossible screw you!
John
said on 25/Mar/17
He looks like Edge from WWE. The listing is accurate.
berta
said on 27/Feb/17
hm maybe more chase of being 169 range?
Ultimate
said on 23/Feb/17
He is 169cm, believe me.
Sandy Cowell
said on 22/Feb/17
@ Rojina - Hello! With regard to Lily Allen, bless her, I've only ever read that she's 5ft2!
Sandy Cowell
said on 20/Feb/17
How delightful to know that Keith's son/Lily's brother is an actor! I didn't know that, yet I have heard of Alfie. He's following in his father's footsteps then, and he won't go far wrong if he's on par with his Dad.
Oh, and he tops him by an inch with his 5ft7!
He has youth and good looks on his side to boot!
Rojina
said on 6/Jan/17
He's Lily Allen's younger brother. And she's around 5"2 or 3.....
Rachmaninoffguy
said on 18/Nov/16
I had no idea he was this height. Always thought he was like 5'10"in GOT.
S.J.H
said on 8/Nov/16
Up here with rob he didn't look over 5'6 and rob did not stand straight
Peter175
said on 14/Oct/16
Rob who do you think would be taller, Alfie or Kit Harington?

Editor Rob
I actually thought Allen had more chance of 5ft 7 than a guy like Big G who falls to 5ft 6.5, he certainly seemed taller up close...but then, I was talking to a 5ft 7 girl the other day and she gave a taller impression than Allen!

But this was an eyelevel thing - hers was 4.1-4.2, so she seemed closer to my height, in reality wasn't.

anyway, I would say it might be a toss up for allen or harington as to who could edge each other out.
MD
said on 28/Aug/16
Okay, @Rojina. Now you can move on.
Rojina
said on 24/Aug/16
I ve said it before and I ll say it again.......he is handsome...........
ko
said on 31/Jul/16
what about 1/32th of an inch lower than 5'7?
Guts
said on 31/Jul/16
I Do feel like even if he was standing tall he wouldn't reach 5'7.
5'6.5 for me.
Pierre
said on 29/Jul/16
Considering the postures,the difference eye to eye is around 1.5 inch imo. Alfie has a little shorter forehead than Rob imo:he's about 5"6' imo.
Rojina
said on 28/Jul/16
Handsome lad.........................
white
said on 25/Jul/16
when you mean near enough at the mark, do you mean like 1/8 to 1/16th inch below 5'7?
white
said on 25/Jul/16
REALITY 5'6.75
Johnnyboy
said on 21/Jul/16
The 5'7" line is touching his hair. How is he marked 5'7"? I agree a downgrade is necessary.
teet
said on 17/Jun/16
alfie ALIEN hair that makes it seem like 5;7 when in REALITY 5'6.75
james
said on 6/Jun/16
More like 5'6.25" - 5'6.5" in that picture if you remove his hair. He's 169 cm in a good day.
Aaron Zamora
said on 31/May/16
You look 2 inches taller than him. It's time to downgrade him. 5'6 would be a better fit.
Greg
said on 25/Feb/16
Honestly that 5 ft 7 prediction is all hair, unless he has a head like an alien.
TJE
said on 21/Jan/16
@JV
Since his mother's English, he could have Norman blood. Distant Scottish is possible too. Normans and Scots descended from Scandinavians.
JV
said on 8/Oct/15
I wonder if he has any Scandinavian ancestry. I knew a Norwegian guy who looked exactly like him.
Drev
said on 27/Sep/15
He seems about Big G range
andre
said on 24/Sep/15
5ft6.5 barefoot change it
Spach
said on 30/Apr/15
Looks 5 ft 6
rea
said on 16/Jan/15
Rob, really now he is no taller than 169 cm in this photo, pretty much impossible. Did you have a footwear advantage on him? because if you didn't he might be as low as 168 cm. Anyway everything over 169 cm doesn't make any sense.

Editor Rob
no footwear difference.
Moke
said on 10/Dec/14
Wow that's strange. I really thought he was a least 5'9'' and I'm not new to the height business.
Writer
said on 11/Nov/14
Don't know if what I tried just work?
Is it possible you could look on my Twitter?
Me and Alfie
Me and Noel
Similar height difference between the both through my eyes?

Editor Rob
yes those links work fine. Alfie I think has a good stance with you, and can appear a decent 5ft 7, Noel is a taller guy in person than Alfie, how much, could be anywhere from 1 to 1.5 inches, big Josh also just posted a photo with Noel...

from watching Noel as I said, I thought that guy would stand loose at times, which is why I asked the back to back to try to get him as tall as possible.
Writer
said on 10/Nov/14
I think you're right about the sneaker. Looking back on the photo, I'm leaning a bit, and have my head slightly lowered with his raised. There's more of a gap between us than there was between me and Noel as well. So yeah, probably just thick sneaker.
Got to say, he was a fantastic guy to talk to though!

Editor Rob
why not upload it...always worth seeing another perspective...
Writer
said on 9/Nov/14
Had my photo taken with Alfie in Cardiff Comic Con, and despite me being 169cm (barefoot, but 5"7 in shoes), he looked like he had an inch on me! Where as 5"8 Noel Clarke had barely anything over me. He looked shorter before the photo shoot as well, so possible lift wearer do you think Rob?

Editor Rob
Clarke's posture goes up and down which is why I had asked him to do a back to back for one photo...I do think alfie looked at least an inch shorter from the time I seen him, I doubt he'd wear lifts though, but a thick sneaker might just boost someone up a cm more than usual.
Jared
said on 2/Nov/14
He looks shorter compared to you to the 5'6 1/2 girl contest where she looked almost as tall as you, showing 1 inch difference is almost invisible
TJE
said on 5/Sep/14
Rob, would ALfie be a weak 5'7 or a regular one?

Editor Rob
he can look a weak 5ft 7 but I think would measure near enough the mark.
Realists
said on 29/Jul/14
Kinda looks like Hunter Parrish.
mila
said on 7/Jul/14
he seems to be taller than kit harrington
The Horse of FUNK
said on 26/Jun/14
Going by Rob's pic, 5'7" is generous.
The Exorcist
said on 15/May/14
Five-seven seems about right. You can definitely tell he's related to Lily and Keith - he looks just like them!
averagegiant
said on 5/Sep/13
this looks closer to a 2 inch difference rob, is the angle funny?

Editor Rob
that's how tall he looked that moment, but I think he was a fraction taller when looking and greeting him...but as I've said sometimes, we can get fooled if someone raises their eyelevel up, a difference can seem only 1 inch, but it might be a bit more!
Newboy
said on 26/Aug/13
Surprised this guy was just 5'7 (though he look shorter), glad they have average size guys on the show too
TNTinCA
said on 24/Jul/13
Wow! This height took me off guard. He didn't appear that short on Game of Thrones. Does he wear lifts in the show?
Arsenalforever
said on 22/Jul/13
Rob - you have an inch and a half over him here, at least. What was the footwear situation?

Editor Rob
his were a couple mm thicker
Dr JJ
said on 21/Jul/13
That's 5' 6" that is!
Rhonda
said on 17/Jul/13
Is 5ft7 the beginning of being short for a man? 5ft8 Rob looks so much bigger than him. I read 5ft6 is the world average for a man.
rkc_cat
said on 17/Jul/13
@Sam: Allen and Harington are pretty much the same height, so yeah, 5'6.5"-5'7" range for both is quite accurate. Judging by how they look next to Finn Jones (Loras Tyrell in GoT), who is supposedly about 6'(and looks like he's close enough to that, certainly not under 5'11.5"), they're both a bit under his eye level, which should be about 5'7"-5'7.5", so yeah, it's 99% sure they're both a bit under 5'7". But Madden looks a bit more than 2" taller than them to me. The 5'9.5" height he's listed at here looks pretty accurate to me.
Sam
said on 16/Jul/13
Since Allen's in the 5'6.5"-5'7" range, then Kit Harington is probably an even 5'7" and Richard Madden no more than 5'9". The near a foot size difference with co-star Clive Russell makes me think Russell could carry around Alfie, Hodor-style, if he so chose.
Ali
said on 16/Jul/13
The difference is obviously more than one inch
Leung
said on 12/Jul/13
Damn this guy is shorter than I expected. He's even struggling to look 5'7" next to Rob.
lalala
said on 11/Jul/13
looks exactly 5'6.5...Rob is tilting his head more
Bradi
said on 10/Jul/13
Definitely seems shorter than 5'7''. Looks a lil bit shorter than G thats for sure at least in this pic.
1.85 m, 83 kg
said on 9/Jul/13
Thanks Rob, I believe there's a 4 cm difference here.
paul
said on 9/Jul/13
169 nothing more. short guy
Balrog
said on 9/Jul/13
Rob did he had less footwear than you? He's looking 169 cm on the pic but in GOT he looked pretty much same height that Kit Harington.
avi
said on 8/Jul/13
too high. he is 5'6.5
1.85 m, 83 kg
said on 8/Jul/13
Rob
Can I ask, footwear? And where do you think his crown is?

Editor Rob
he had a little bit more, but not much and his hair looks between 0.5-0.75 range.
Emily
said on 8/Jul/13
Wasn't he like 5'7.5 here before? I could have sworn. Did you two have similar footwear? I also think that it looks like a little more than 1 inch difference in the photo.

Editor Rob
his were like a tiny bit thicker, I first put him that, but after seeing him thought he wasn't over 5ft 7.
cole
said on 8/Jul/13
In this photo he looks nothing over 169 cm, maybe even 168.
little sue
said on 6/Jul/13
He looks more 5ft 6 to me

Editor Rob
no shorter than G in person, well the version of G who didn't lie in the volvo for 3 hours.
teej
said on 5/Jul/13
Defo 2 inches shorter than rob. 5ft6
Terilien
said on 5/Jul/13
yeah he always struck me as having pretty short legs.
Jeremy
said on 5/Jul/13
Looks between 5'6.5-5'7 here
Byron T.
said on 4/Jul/13
Looks 5'6'' to me.
bulgvar
said on 4/Jul/13
He's not quite hitting 5'7. Looks 5'6-5'6.5 tall
Alex
said on 4/Jul/13
He doesn't look shorter than you only by a inch, Rob. Is 5'6''-5'6.5'' possible for him?

Editor Rob
I thought he was about 5ft 7
otep90
said on 3/Jul/13
solid 5'6'' (1.68m)
miko
said on 2/Jul/13
Unless he's got a big footwear disadvantage I'm seeing 5'6.5 tops here.
JohnGB
said on 2/Jul/13
He really looks 5'6" in this photo
Sam
said on 2/Jul/13
Wow, he's a lot shorter than I initially thought. However, he and Kit Harington look pretty close in height in pictures.
Click Here