English actor best known for roles in TV shows Skins (as Chris Miles) and HBO's Game of Thrones (as Gendry). He said
"I am only 5ft 8in"
. In this photo I'm wearing ¾ inch Skechers, whilst his shoes were around 1/3rd inch more thicker.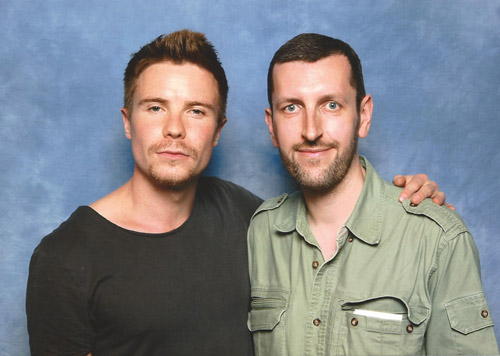 5ft 8 Rob and Joe @ LFCC 2013
Dferraro
said on 26/Sep/23
Same exact size as you
5'7 and a fraction
said on 10/Sep/23
Legit 5'7 1/2.
Cooper Clarke
said on 10/Jan/23
Looks 5'7.75 to 5'8 here imo.
Yang (5 footer 8, 173, Aries)
said on 5/Jun/20
5ft 7 IMO...
JohnMoore-162cm
said on 5/Apr/20
@MD- I agree.
khaled taban
said on 17/Jun/19
5ft7 1/2 exactly
Nik
said on 3/May/19
He is NOT overlisted!

Editor Rob
You can see Joe with short hair near
Alastair Petrie
.
You can also see why I estimate Petrie as a big 6ft 3 range guy, mark strong also in that photo.
MD
said on 22/Apr/19
BTW, looking a bit shorter than 5'7.5" Jack O'Connell even considering Jack's trying to gain height.
Click Here
Click Here
MD
said on 22/Apr/19
Looks like as recently as last month he's claiming 5'8", unless that quote above is from this interview:
Click Here
Tunman
said on 8/Jan/19
Same as Rob when not considering 0.5" hair advantage and 1/3"shoe advantage.Legit 171 and quite handsome looks.
Nik
said on 12/Nov/18
I think he can pull off 5'7.5"!
Nik
said on 1/Jun/18
On the money Rob!
Dylsn
said on 14/May/18
He is shorter than Jack O'Connell in photos of them together and yet Dempie's average guess is higher. Either Jack is 172 or Dempsie is 170, if not less.
Bri
said on 30/Apr/18
Rob is 1.5 cm taller
Bobby
said on 25/Nov/17
Looks the same height as Rob when factoring in the footwear advantage, but then the eye levels are different, so you know that Rob is naturally taller.
Slim
said on 13/Sep/17
Right on the money!
Berric
said on 22/Aug/17
5'7.25" for Gendry, 5'6.5" for Jon, how on earth did i think they were both 5'10" in the first episodes.
Growtallerguru
said on 25/Jun/17
But Rob you're 5'8.5. And I don't see an inch of difference, I would put him at 5'8" even.

Editor Rob
I'd be right around 5ft 8 1/8th there. He looked under 5ft 8 and with me having a bit less sneaker, I think 7.5 is a reasonable estimate.

Fractions can get lost easy, just having the camera in front of Joe (as seen by his eyes looking straight ahead and mine at an angle), or my head being an inch further...easy to lose a cm this way!

Vince
said on 11/Jun/17
Yeah 5'7"-5'7.5" range, why do they all look so tall on GoT!?
Mik
said on 28/May/17
why are they saying his 5'9
World Citizen
said on 26/May/17
171 cm as listed
Sandy Cowell
said on 21/May/17
I've just been watching him in the mini series 'Southcliffe', and though Joe looks below average height, he plays the part of a 'no one gets the better of me!' army hero. He is stockily built, which gives him that certain edge, but I didn't half notice that he wasn't very tall when I saw him with Sean Harris, who I reckon now to be a minimum of 5ft11.5, and 6ft out of bed!
I will agree with Joe's 5ft7.5. I thought he could even be slightly less - a quarter to half an inch! His girlfriend in this, though relatively petite, doesn't even have to go on tiptoe to kiss him!
Lovely friendly picture of him, but you can't help but notice the spiky hair!
Balrog
said on 28/Jan/17
Looking same height but with more footwear. So listing is fine, could buy a smidge more for him.
169 is
said on 20/Jul/16
he could only say that at that specific moment in time where he has 1/3rd inch thicker shoes
Guest
said on 7/Feb/16
He is kinda honest about his height since he's only rounding up an inch
Johno
said on 5/Feb/16
Yeh 5'7.5.
plus
said on 4/Jan/16
He looks 172 with that advantage in shoes
Sam
said on 3/Jun/15
I found this quote from Joe about his height:
"Joe, who still has family living in Crosby and south Liverpool, admitted to being nervous. He said: "The fans are rabid waiting for this and they know exactly how they want their characters to look. Gendry is described as being tall and muscled, with thick black hair. I am hoping I can live up to two of those because I am only 5ft 8in! I am not really a gym person, but this has certainly got me going more often."
Click Here

Editor Rob
ok thanks, I will just put in that 5ft 8 part.
TJE
said on 21/Jul/14
Looked exactly as listed on GoT.
Sam
said on 17/Mar/14
Like Kat Harington and Alfie Allen, he looks shorter and slighter here than he does on screen.
Chris
said on 10/Mar/14
Is his head around 9,25 inches? That's not exactly small, but why does his head look so small in this video?
Click Here

Editor Rob
probably about 9 inches my German friend, he has about 3cm of hairdo before you'd hit his skull.
Chris
said on 10/Mar/14
Is it just me or does he have tiny ears?
katarina
said on 9/Jan/14
looks 5'8
Thierry from Belgium
said on 23/Sep/13
He look short, but very strong, particulary in GoT.