Lynda Carter's Height
5ft 9 (175.3 cm)
Peak height was 5ft 9 ½ (176.5 cm)
American Actress best known for playing starring in the tv series Wonder Woman. In a 1977 TV Mirror interview she says
"I remember when I was growing up ... I was so tall and skinny. I'm 5' 8 1/2" tall, but I was almost that tall in high school"
. In 2007 she has said
"I'm not little -- I'm 5-10."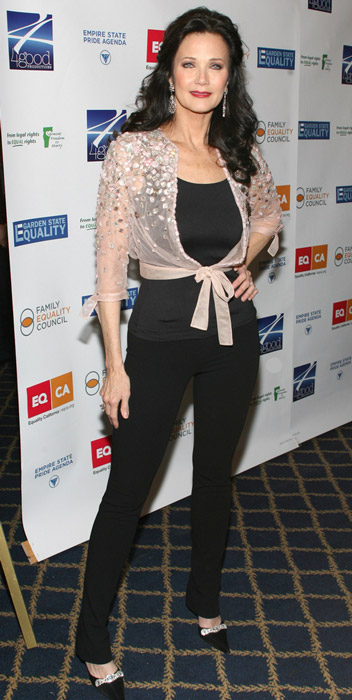 Photos by PR Photos
I've been called an Amazon....I'm only 5 feet 8 ¾. They said tall girls couldn't make it, that Miss World-USA girls couldn't make it.
Right now, I'm at 133, but would dearly love to get down to 127. I haven't found the perfect formula to lose weight It's just a question of staying away from fattening foods and exercising continually.
-- 1982
You May Be Interested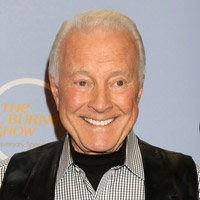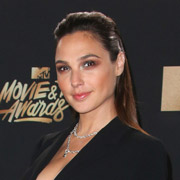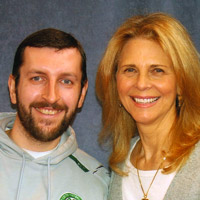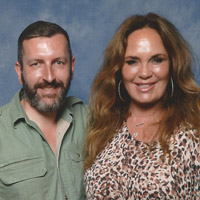 Add a Comment
43 comments
Average Guess (15 Votes)
Peak: 5ft 9.82in (177.3cm)
Current: 5ft 8.87in (174.9cm)
Nik Ashton
said on 19/Oct/19
It's amazing that she claimed to be 5'8.5" in 1977!
Miss Sandy Cowell
said on 24/Jul/19
Ha ha! I used to read 5ft11 for Lynda Carter! Well, I'm going for 5ft9.75 for her peak and 5ft8.75 now. Then there's the added matter that it's Lynda's Birthday, so:
🎉🎂🎈 Happy Birthday Lynda! 🎈🎂🎉
Have a wonderful day!
🎁🍰🕯️👙🎁🍰🕯️👙🎁🍰🕯️👙🎁🍰🕯️👙
Joshua
said on 18/Nov/17
She's still tall today
Mimi
said on 10/Aug/17
I think she's a weak 5ft8 now or close to it. In heels she isn't much taller than Gal Gadot wearing flat sandals
Sandy Cowell
said on 23/Jul/17
@ Doug - How very sweet of you! I'm sure it will make her day when she reads your comment! 👍
I had a boyfriend 8 years my senior and he was quite crazy about her!
He will have been watching what I now sometimes catch on the 'Horror Channel', and was too young to watch when it first went out, but I do understand that she is very nice for guys to watch and she seems like she would make a great and supportive female friend, which is always high on the agenda for us women when we are choosing which actresses to be fans of!
I thought Lynda's optimum height was always 5ft11 so that is what I'll put and she can have 5ft9.5 for her today's height.
Nice to chat to you Doug!
Doug
said on 23/Jul/17
Hello Linda , just a note to say that you're beautiful .
berta
said on 17/Mar/17
she doenst look like somewhone who have lost 3 cm in height. tyhe looks in good shape and bakc looking good.i think she was 177 at peak and today 176.
Mouse22
said on 13/Nov/16
I've got a book on the complete history of Wonder Woman the cartoon character in which WW 'herself' is listed as 5'9". It's not true that actresses have to be particularly tall to be her, maybe just not a 5'5" one, but not at least 5'10" either. It seems the guess on Lynda's real height here as nearly everywhere else is a rather accurate one.
TNTinFL
said on 17/Nov/15
My guess is she was an easy 5'10" in her prime. Wonder Woman in the comics was an Amazon and I think her comic book height was 6 foot. So my guess is they wouldn't have cast someone shorter than 5'10" to portray her.
Harry
said on 16/Aug/15
Probably 5'10" in peak, now with 64 years a little less.
indy
said on 24/Apr/15
Hi
another pic here.
Click Here
I think Lucy is taller (although she appears a bit shorter on the pic, due to her posture + Linda slight shoe advantage). I know for sure Lucy is close to 5'10, met her a few times.
Andrew
said on 16/Apr/15
She looked slightly shorter next to 5'9.5 listed Lucy Lawless, when the two met recently (footwear wasn't pictured).
Hypado
said on 30/Mar/14
She looked very tall in Two and a half men.
5'9 today.
avi
said on 3/Jan/14
5'9 but a strong one..
luvtooo
said on 2/Jun/13
WOW a truly beautiful and gorgeous lady.....
Eanrua1
said on 17/Jan/12
dmeyer: It could because she is somewhat insecure about her height.
Dwain
said on 7/Jun/11
Met Lynda at her CD signing on June 6,2011. She was impressively tall and still very beautiful. I'd guess 5'9 or 5'10" She was even more beautiful in person and seemed to be very nice!
dmeyer
said on 2/Jun/11
5 ft 10 peak 5 ft 9 now seems right but whi does she claim 174cm
Myopinion
said on 27/May/11
She is 1.75 and was 1.76max
Keddy
said on 28/Nov/08
Agree mcfan! what ever it is, people knows shes a tall lady.
mcfan
said on 19/Nov/08
Having just looked at her videos on youtube, I think it's reasonable to say she is 5'9 barefoot and about 6ft in heels. If she was 5'10 then I think the photos where she is wearing 3.5 inch heels then she would be over 6ft tall and I don't see that. She's still a tall woman.
Chi Che Soong
said on 27/Jun/08
Lyle was chosen in part to play her sidekick because both in her boots (low heels of about two inches) and her military oxfords (2.5 inches) he was still quite a bit taller. I think the television show encouraged her to be an "Amazon" at 5'10. She certainly is taller than most of the women in the cast of the pilot episode when she is wearing slippers. . .NOT the platform sandal scenes
mcfan
said on 20/Jun/08
Lots of women don't get their heights correct. My sister to this day states she is 5'5 because that is what she was measured at in sixth or seventh grade. I measured her probably over 15 years ago and she was slightly over 5'6. It's most likely a combination of not caring about their heights, not having as much pressure to be taller as men, and not being into numbers as much as guys.
M.P.
said on 7/May/08
I find it hard to believe she could be 5'10". At the time she was in her prime, that would make her taller than about 75% of most men. I can't say she's any taller than 5'8 1/2" in flat shoes. Probably shorter now that she's older.
Kevin
said on 6/Mar/08
Lynda was go the Tonight Show with Joan Rivers guest hosting and she said she was just under 5"9" was doing a Bob Hope show and in the dressing room with her was Brooke Shields, Christie Brinkley and Cheryl Tiegs and she looked like a dwarf next to them.
diana
said on 9/Feb/08
lol this woman likes to brag that she's 5'10
but is she really that height?
supes78
said on 5/Nov/07
There's no question that Lynda is tall. But not 5'10". In an episode of Wonder Woman, there was a widely reported 5'10" actress/sportscaster named Jayne Kennedy who guest-starred in an episode. She looked to have a good inch or two on Lynda who was in her full Wonder Woman outfit. I wish I could upload that part of the video to Youtube where they meet.
Adder
said on 5/Nov/07
The Ru Plip has been taken off youtube, but when I saw it she said how tiny she felt stood next to Ru.I think in the late 70s at her peak she appeared so tall because other mainstream actresses at the time were all so short. Farrah 5'5'', Raquel 5'4''ish, Barbara Bach 5'6'',Victoria Principal 5'6'',Cheryl Ladd 5'3''the list goes on.
In todays climate next to Uma,Geena Davis,Brenda Strong,Nicole Kidman,Signourey etc, she would be a shorty.
glenn
said on 4/Nov/07
i have a a photo with her from 1991.she towered me in heels,but not enough to be 5-10.but who knows? maybe.she was just here this week.had no time to get her again.
supes78
said on 2/Nov/07
I'm a big Lynda Carter fan but 5'10" is a slight exaggeration on her part. She really is closer to the 5'8.5" she usually claims. This 1978 clip from the 'Battle of the Network Stars' TV special clearly refers to Lynda as being 5'8.25" tall at the 40 second mark;
Click Here
And as stated before, in a 1997 interview with RuPaul, she gave her height as 5'9". I think the 5'10" claim is exaggerated to emphasize the fact that she is tall for a woman.
Keddy
said on 20/Jul/07
I watched her in Miss World 1973 video recently and the commentators said "Shes tall, she stand 5'10'" but personaly I think shes 5'9 1/2.
supes78
said on 6/Apr/07
Anywhere between 5'8" to 5'9" is very reasonable so Rob's listing for her seems right on the money.
Editor Rob
said on 2/Mar/07
In hello magazine 2005, she said "I'm 5ft 10in".
keddy
said on 31/Jan/07
ya, infact i saw that already. But it wasn't Lynda herself who said she's 5'8 1/4. It was that lady presenter and she gave that finger meaning shes not sure!
Anonymous
said on 26/Jan/07
Click Here
This clip from "Battle of the Network Stars" says 5'8 1/4" about 43 sec. in
Keddy
said on 27/Sep/06
I think 5'9 will be the most reasonable height for her cos she said she's 5'9 half on the Rupaul show and there's no doubt shes atleast 5'9.
MyKat
said on 21/Sep/06
Back in 1973, Biloxi, MS, she kissed me and though I felt 10' tall, I'd guess she was 5' 10" - 5' 11" in her heels.
HeyBaby
said on 24/Jul/06
I remember once watching a TV show about the 1970s and on one part they were talking about Wonder Woman and quoted she was 'a big girl at 5'10.'
Bill
said on 22/Mar/06
There are tricks used in the miss world competition, a couple of years ago miss France was disqualifed for temporarily stretching her spine 1-1/2" to meet the minimun height.
phillyflash
said on 25/Nov/05
When she first became a star, lazy reporters called her 6 ft. tall. Later on there were more accurate reports of 5'8 1/2" & even one of 5'8 3/4"
mcfan
said on 19/Aug/05
Lynda Carter was never 5'10! She would have struggled to hit 5'9.
CelebHeights Editor
said on 7/Aug/05
"I'm 5'9 but most people think I'm 6 foot...it's because I have very long legs."
- from an old DC Comic book.
anon
said on 27/Jun/05
She once quoted'People assume I'm 6 ft and are surprised when they meet me that I'm only just over 5'8''.I say I'm 5'9'' to round it up'.