Mark McGrath's Height
6ft 0 (182.9 cm)
American Singer, from Sugar Ray. He said in OK Magazine regarding his height:
"I'm 6'0, 6'1/2, but I think people think I'm shorter than I am because I'm not the most muscular cat in the world"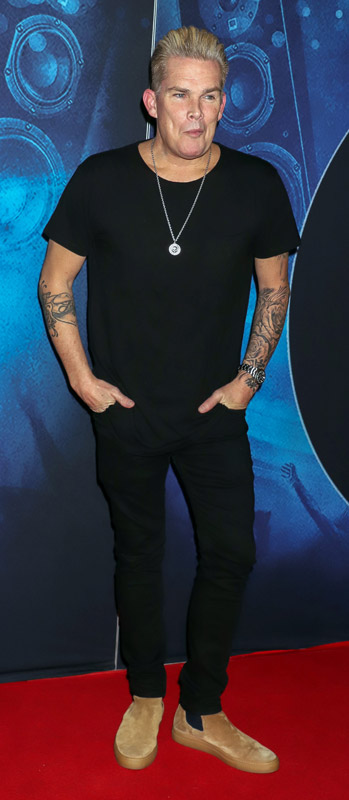 Photos by PR Photos
Add a Comment
40 comments
Average Guess (3 Votes)
6ft 0.08in (183.1cm)
Nearly 180cm guy
said on 20/Nov/19
Since he said 6'0" and then 6'0.5" he definitely confessed to 6'0.25". He really needs a 1/4 inch upgrade.
Rampage(-_-_-)Clover
said on 22/Feb/19
Rob, how likely is his claim?
Sounds like he may have legit got it at some point in the day...

Editor Rob
Well he gave the 2 figures, so maybe he has been measured in the past somewhere in that range?
CDS
said on 1/Mar/18
Marlow claimed 6'2" on the show btw. And I'm thinking yeah right lol. But it got me thinking just how tall is Mark. Which led me here to see he's only 6 ft. I thought he was actually taller. And btw maslow looked barely taller than Mark. Again 6'2" yeah right lol
CDS
said on 27/Feb/18
On the recent celebrity edition of the USA "big brother" , he and James maslow both looked noticeably taller than Ross "the intern" Matthews. Who on "celebrity fit club" on vh1 about ten yrs ago was listed as 6 ft
. I don't see a page for Ross so wondering if he's another 5'10" guy who claims 6'?? Any thoughts?

Editor Rob
Ross did claim 5ft 10 once, so I think he probably isn't far from it.
Rampage(-_-_-)Clover
said on 9/Dec/16
Rob, could he be a fraction over 6ft?
That claim is pretty precise
Editor Rob: Rampage, 6ft 0.25 is maybe the figure he means.
Fray
said on 6/Aug/15
@new Mexico. then it must have not been Mark. He is a legit 6-footer.
winston
said on 26/Aug/14
no way this guy is 5'7, he's got to be at least 5'11-6'0, no more no less
new mexico
said on 7/Jan/13
i saw mark at a del taco in albuquerque new mexico a couple of years ago. walked into the bathroom and he was at a urinal, im 5-10 and i had a couple inches on him at least. i say 5-7 5-8 tops
Derek
said on 25/Oct/12
Seen Sugar Ray in concert in summer of 2001. Was surprised at how tall he looked compared to when I see him on TV. I was only 14 going on 15 in October that year and was 5'9" at the time and am now 6'0" as an adult. From what I can remember, he seems about the same height that I am today, so 6'0" is about right.
f
said on 27/May/11
actually he looks about an inch shorter than nick
downgrade to 5-11
f
said on 27/May/11
he looks the same height as nick carter...nick is 6-0
Jay
said on 27/Mar/11
What bunch of liars a some of you are. He can't be below 6 ft.
A.smity
said on 15/Mar/11
Met him at a party .... He's WAY shorter prolly 5'8" in heels....lol
Tammy
said on 7/Mar/11
I've met Mark McGrath and he is shorty than me. i'm 5'10"
Matt
said on 8/Feb/11
Definitely could be closer to 6' 1''. He never appeared too tall in videos cause the other members of Sugar Ray, with the exception of the DJ guy who was shorter, were all 5' 11''-6'.
Yelmer
said on 8/Nov/10
I'm watching That Lyrics Show with him & Blake Lewis Right now maybe it's shoes but if Blake is really 5'7" then Mark needs an upgrade because he is like a head taller than him
The dude
said on 11/Dec/08
I'd say 5'11.5-6' is an accurate height for him. Google "Mark McGrath and Kevin Sorbo pic". The 6'3 Sorbo looks no more than 3-3.5 inches taller than McGrath in that pic.
Brad
said on 21/Jul/08
5' 11.5" is crazy. That makes Glenn 5' 9". Glenn is 5' 7" and both wear the chunky footwear.
justin
said on 27/Dec/07
when was this photo taken?
how old is he here?
and how old is he now?
tom
said on 12/Dec/07
Look at the shoulders. Marks like 2 1/2 inches higher up than glenn's
ras
said on 30/Sep/07
I also agree, that extra half an inch can be too much for him, I'd give him 5 ft 11 and more like 5 ft 10.
sara
said on 4/Jul/07
if he wasnt slouching he would probably be at least 5 11 at the most
Aayon
said on 24/Jun/07
He is no taller than 5 10 my cousin met him and he was at least 5 inches (My cousin is 6 3) shorter than my cousin.
Kim
said on 1/Jun/07
Mark Mcgrath is 6'1 I have met him in person and that is how tall he is!
Derek
said on 10/Apr/07
If he stands straight, he'd be a solid 5'11".
TNTinCA
said on 18/Oct/06
Agreed. He is slouching and if he extended himself, he'd be 5'11". And I know Rob disagrees with me, but he don't have that extra 1/2 inch. ;-)
Glenn
said on 28/Jul/06
Your blind if your going to be cocky to say you dont care what people say.he is CLEARLY slouching.5-11.
Bawlgaime
said on 27/Jul/06
He is no taller than 5'9". Just look at that picture above. If Glenn is 5'8", then McGrath is no taller than 5'9" (his hair is three inches). Besides, as you can read below, I have stood right next to him. I am 6'1" and he was dwarfed by me. That is a fact and I don't care what anyone says. Period.
TNTinCA
said on 18/Jun/06
Rob,
Consensus seems to be 5'11" from virtually everybody. I think it is time for a downgrade.
[Editor Rob: I'm still thinking of 1/2 inch...]
TNTinCA
said on 17/Jun/06
Hey Rob. 5'11" seems to be the general consensus. I think its time for a downgrade.
Glenn
said on 14/Apr/06
He is 5-11.
Dee
said on 13/Apr/06
My husband and I saw Sugar Ray prefomr live years ago and he is definitely not 6ft. My husband is 5'11 and when he stood next to Mark he was at least 2 inches taller than him. I would say that 5'8- 5'9 is more accurate.
Bawlgaime
said on 22/Feb/06
All NBA players are listed about 2" above their actual height (and I would imagine the WNBA handicaps their players even more). Also, if you look at the picture, Mark's hair give him about two more inches (her hair is pulled back and flat). I have stood right next to him at an LA sushi restaurant. I am 6'1" and he was - at the very minimum - 2-3" shorter than me. I am not embelishing my height and/or have no reason to lie about my encounter. He is 5'9 - 10" tops.
Glenn
said on 1/Feb/06
my guess was 5-11.
Viper652
said on 1/Feb/06
Looks 5-9 to me in the pic.
TNTinCA
said on 1/Feb/06
I saw Sugar Ray in concert a few years back. They were part of the opening act. I was close to the stage and seeing McGrath, I put him around the 5'10" to 5'11" range. He just doesn't strike me as that tall a fellow.
Anonymous
said on 31/Jan/06
I'd always guessed 5'10"-5'10.5" and this photo proves that, I think.
SangWithHim
said on 16/Jan/06
Hey, I have sang with Mark McGrath on stage twice and have met him in person once. I am 5'9 without shoes and I am one of the many few who do not lie about their height. Who gives a damn how tall you are. Anyways I was standing right next to the acclaimed 6'1" rockstar expecting him to tower over me, otherhand he was barely taller than me. I put him at 5'10.5" at TOPS! I cant wait to become famous, because then i can automatically be 6'0!!!
Bawlgaime
said on 4/Oct/05
I sat right next to him and the lead guitarist for Megadeath at a sushi place on Sunset Blvd about 2 yrs. ago. When he got up to leave I stood up and he was nowhere near as tall as me (I'm 6'1"). I was actually really surprised how short he was. I would put him closer to 5'9" give or take.
Bigg
said on 25/Sep/05
what no way! he doesn't look that tall! I really don't know how tall he is but he looks just about average