Mary Tyler Moore's Height
5ft 7 (170.2 cm)
American actress, best remembered for The Mary Tyler Moore show. In film she has appeared in Thoroughly Modern Millie, Ordinary People and Change of Habit. In a 1988 Miami Herald interview, talking about the movie Lincoln, Moore said:
"Mrs. Lincoln was plump and only 5 feet tall. I'm 5-foot-7 so I wore flats"
.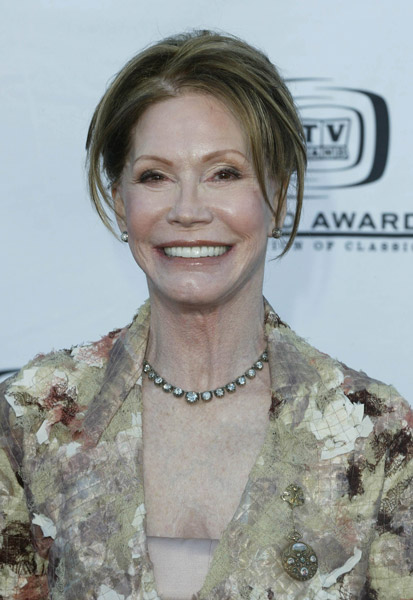 Photos by PR Photos
Add a Comment
14 comments
Average Guess (2 Votes)
5ft 7.25in (170.8cm)
anyonmious
said on 27/Jan/17
Mary tyler moore was about 5'7" or 5'7.5". It is sad to see her go
Michael
said on 25/Jan/17
RIP Mary Tyler Moore. You will be truly missed.
Arch Stanton
said on 17/Dec/15
She looked taller than Julie Andrews in Thoroughly Modern Minnie I thought, she looked around 5 ft 8 in it.
richinkle
said on 9/Jun/15
This seems about right. All of the actresses I thought were 5'-8" ten plus years ago, are turning out to be only 5'-7", including Mary Tyler Moore, Lucille Ball and Julie Andrews.
Throughout a 1979 episode of "The Mary Tyler Moore Hour" with 67-year old guest starring Lucille Ball, 42-year old Moore looks nearly 1" taller. But, a quick glimpse at Moore's shoes shows about a 1" advantage.
At the end of the show, when the two are dancing side by side in the same shoes, they are identical in height, even given Ball's advanced age.
Jeremy
said on 6/May/14
In Thoroughly Modern Millie, Mary and Julie Andrews looked very similar height range.
jasperwazap
said on 1/Jan/12
Hulk still believes Sly Stallone is really a 5'6''-5'7'' man. he said this in a recent Interview with 'the Voice' a K-1 commentor. this goes back to his first encounter with Sly on the set of rocky 3. He did say sly was a really fit guy but not bigger than 5'7''. but does hogan forget he was wearing boots.
dicksock
said on 7/Oct/11
She's more like 5'6". Funny how Hulk Hogan claims he's 6'5" now, yet he's listed at 6'3.5" here. But somehow the validity of Mary Tyler Moore's claim goes unquestioned...
richinkle
said on 5/May/11
In the posting below, it was Lucille Ball who was Mary Tyler Moore's guest on her show, at the age of 67 or 68. They were almost exactly the same height.
richinkle
said on 29/Apr/11
I always thought Mary Tyler Moore was about 5'-8". But, now I believe 5'-7" is more accurate.
I just watched a 1979 episode of the ill-fated Mary Tyler Moore Hour. A 67-year old guest starred with 42 year old Mary Tyler Moore. Throughout, they look very close to the same height, with Moore about an inch taller. But, then I noticed that Moore's heel was at least an inch higher.
At the end of the show they do a song and dance, side by side, and wearing the same heel. 68 year old Ball and 42 year old Moore appeared to be exactly the same height.
Lucie Arnaz insists her mother was 5'-7 1/2", which Ball states in her autobiography. This shows she was at least 5'-7" at the age of 67.
In lower heels, with about a 1" heel advantage, Moore stood about the same height as costars Ron Riflkin and Michael Keaton, perhaps a hair under. In the same heels, she also stood about the same height as co-star Joyce Van Patten, who stood about the same height as Ball in "Mame".
Mary Tyler Moore, Lucille Ball and Joyce Van Patten were all about 5'-7" in 1979.
Michael Keaton and Ron Rifkin both stood about 5'-8 1/2".
me
said on 1/Feb/11
Dick Van Dyle was not 6.1. He was only a few inches taller than MTM. 5.10 the most. Elvis seems much taller than MTM and dick van dyke ever was wearing only canvas shoes in the movie "change of habit".
Mr. R
said on 6/Aug/08
This was probably Mary's peak height.
Frank2
said on 8/Mar/06
Mary was 5'7" in her youth. That's what TV Guide said back then. I went and watched the old Dick Van Dyke show filmed at Desilu Cahuenga and noticed she was about 5'7". Van Dyke was about 6'1". Back then they had a jazz group playing in between camera setups and they filmed the entire show in less than an hour which compared to today's unfunny sitcoms is in record time. Those were the days!
mcfan
said on 26/Sep/05
Mary Tyler Moore wasn't taller than 5'8 on the Dick Van Dyke show, so I don't think she was ever 5'9. Here she is next to Elvis when she was in her 20s. He's 4 inches taller than her.
http://www.imdb.com/gallery/mptv/1026/Mptv/1026/818-95.jpg?path=pgallery&path_key=Moore,%20Mary%20Tyler
Anonymous
said on 19/Jul/05
Here's a pic of her with Elvis in 1969 - Elvis is in Chucks, so no large heel:
http://www.kki.pl/elvisal/filmy/31c.jpg
Elvis looks to be as much as 5 inches taller, so I think 5'9 is pushing it for Mary Tyler Moore. Elvis was either 6 foot or half an inch below that, so I'd put her no taller than 5'8 even in her 20s.