Matthew Bellamy's Height
5ft 7 (170.2 cm)
British singer from the band Muse.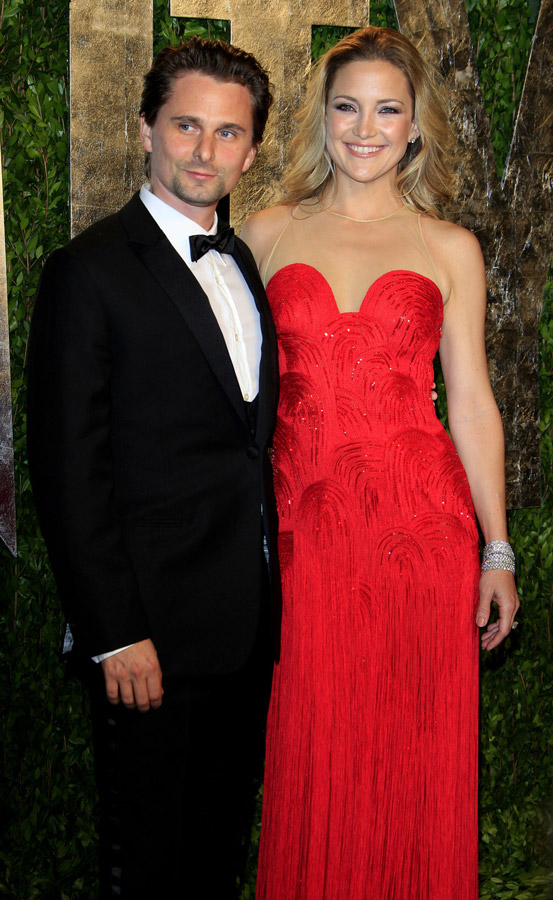 Photos by PR Photos
Add a Comment
36 comments
Average Guess (7 Votes)
5ft 6.39in (168.6cm)
MuseFan23
said on 11/Jul/20
So I've actually met Bellamy a few times (as you may be able to tell from my name, I'm a fan haha), and I am 6' 5" - he stood easily a good foot smaller. He was of equal height to my 5' 5"-dead girlfriend and they were both wearing flat sneakers, every time I met him. So he must be 5' 5" at best. I also bumped into him in Devon once and he was clearly wearing lifts - either that or I shrunk an inch or two and I am in my twenties, haha.
Also weight wise, during his Showbiz/OoS era, he was actually 95 pounds. He even made a remark in an interview once when asked what advice he'd give his younger self, he said "...eat more." Now he's around 125/130lbs.
Shell
said on 29/Jun/20
He always looked shorter than Kate Hudson. 5'5.
Angico211
said on 17/Jan/18
A legit 5"7.
James B
said on 29/Sep/16
Any guess on his weight rob? He looks rake thin too me
Editor Rob: 130 pounds maybe
Musedoom
said on 8/Aug/15
I think he is 5'6. He is maybe 1-2cm taller than Kate Hudson and she claims to be a strong 5'6 but that's something I doubt cos she is almost always using heels and I think she is more a 5'4-5 flat.
Mrs Puff
said on 7/May/13
I've seen him in the flesh and I could see clean over the top of his head. I'd say he was around the five six or five seven mark, absolutely no taller.
Kate Hudson is apparently five six. In this photo, they both have on shoes with about a one inch heel and they look about the same height;
Click Here
Ian-Ray
said on 2/Sep/12
Alex, Matt's posture isn't straight enough to call him a 5'6. I do strongly suggest he is 5'7. Plus I don't think Dom is 5'8, more of a 5'9 or 5'9.5 considering Chris is 6 feet or 6'1 with a not-straight posture.
Voiceless Dental Fricative
said on 29/Aug/12
Alex: look at how much height Bellamy's losing by stretching his leg out in front.
Alex
said on 31/Jul/12
Rob, I think it's time for a serious downgrade, please take a look a this pic:
Click Here
Roger Daltrey, whose height is estimated to be 5 ft 5.5, here looks the same height as him if not even a fraction taller, but that could be because of the heels he is wearing.
Also, Matthew looks 2 inches shorter than Dom, whose height is estimated to be 5`8
I think he is a genuine 5`6 (167 cm)
Shaun
said on 16/Jun/12
Exactly what I would have guessed. Quite short.
Saffron
said on 24/Jan/12
5'7 seems right, he's stated this a few times in magazine interviews and when he's stood next to Kate Hudson (who is listed as 5'6) he does look about an inch taller when she's in flats. Why do people keeping saying it's really small?? He might not be tall but he's just 2inches short of the average height for a male. For me, really small for a guy would be 5'5 or under.
Godred
said on 24/Oct/11
I`d say 5`6 or 5`7 for Matt,5`8 for Dom and either 6ft or 6`1 for Chris.
Lenad
said on 26/Apr/11
I'd say 5'7-ish. Looks like 2-3cm taller than his 5'6-ish girlfriend Kate Hudson
Godred
said on 13/Apr/11
Is Chris 6ft or 6`1?
musedoom
said on 18/Mar/11
museee...Matt is not as taller as dom in that pic...matt is "in front of" dom in that pic and it looks like as taller as dom but its a trick...he is slightly shorter. I'm agree matt is surely 5.6...sometimes looks a bit taller but everybody knows he uses heels
Jenna
said on 6/May/09
Nah, Matt's shorter than 5ft 10. Besides, he did say he was 5ft 6 in an interview. And he doesn't wear heels, their high shoes.
Theres nothing feminine about Matt Bellamy.
John Mortley
said on 2/Mar/09
I thought he was about 5 FT 10 but thats the height of Chris I think.
Anonymous
said on 30/Jan/09
He's 168 cm. Looks a bit taller with the shoes he wears.
Cassy
said on 30/Oct/08
He's DEFINITELY shorter than 5'7. Met him twice. He wears heels nowadays, too.
Molly
said on 13/Sep/08
:'(
I always dreaded the day I'd be taller than him... it rins the fantasy, you know? Life is so unfair *cry*
Anonymous
said on 6/Sep/08
he's actually 173
he said it in an interview
Anonymous
said on 8/Jul/08
6'1? Ha ha!
Hooch
said on 28/Apr/08
I always thought he's something like 6'1. He's been clearly photoed from good angles if it makes him look that much taller.
Sid
said on 15/Apr/08
If I wasnt a height expert I would believe if he said 5'9 or even 5'10. Has good body proportions, but yes is solid 5'6 cos roger daltrey of the who (5'7) was standing with him while i was with both, and although daltrey looks shorter, was in fact taller.
Anonymous
said on 6/Apr/08
Wow, only 5'6? Another example of how being skinny and having the right proportions can make you look taller. I always thought he was in the 5'10-11 range.
neo
said on 18/Mar/08
he's 5'6 glen. He said it in an interview.
o1wyn
said on 20/Feb/08
no way, chris couldn't be 5'10/5'11, he's much taller then me (i'm 5'9, as dom). i believe wolstenholme must be 6'1 or something like that. and what about matt? i think 5'6-7.
CheeseTime
said on 21/Nov/07
From group pictures I would have said Dom is an inch taller than Matt at best but then they always go for those arty shots where they're behind each other. I reckon Chris is about 5'10/5'11. He looks huge because the other 2 are a little below average.
Museinmyself
said on 7/Nov/07
when i had went to the reading/leeds festival i had meet the band and matthew stood next to me and my friend and mat had been about 5'7 coz hes an inch smaller then my friend and about 6 inches bigger then me as i m only 5'1 dom is about 5'5-5'8 and chris is about 5'6-6'0 i was grateful to see the band but felt slightly intermidated by them and my friend as they are all taller then me by the way it was great listening to them play feeling good as its one of my fave.
Chris
said on 15/Sep/07
I just met him on August 5th at MSG when I won some backstage thing from the local radio station, I'm only like 5'8", so I'd say that 5'6"-5'7" is accurate.
don
said on 3/Sep/07
Matthew Bellamy is 5'6, said so himself in an interview. nuff said
msn87
said on 9/May/07
???since when has he been added. i've checked this lastname many times...oh well. to me he looks between 5'5.5-5'7. but i wonder how tall chris is; he seems like i giant with with the other two.
Moose
said on 8/May/07
Matt is 5'6 at the very max. Met him in 2000 and it felt like i was dwarfing him and i'm only 5'9!
He appears taller recently cos he wears thick treads. Dom is my height and Matt often appears taller than him on photos but really he's dinky!
kramer
said on 26/Apr/06
Getting boring now. Saw him on TV with 6ft 2" Chris Evans, and no discernable difference. Upsize Suggs!!
[Editor Rob: I saw some more of him, I'll throw another 1/2 inch and keep an eye out for him on tv...used to watch his ch5 singing show back in the 90's but he never seemed like as tall as 6ft 1...looks same as Mike Reid in fact]
kramer
said on 17/Apr/06
Click Here
I struggled to find a pic of hiwm with another celeb on here, but here he is with a 5ft6 gwen steffani. As you can see he is kinda leaning forward to get to her level and still towers over her. So at least 6ft as i said.
kramer
said on 15/Apr/06
Taller! conservative 6ft. They did the nutty train in order of height, he's second on the train!I think Mike barson was 6ft2 and Suggs slightly smaller.