Matthew Davis Height
6ft 0 (182.9 cm)
American Actor known for roles in films such as Legally Blonde, Below and Pearl Harbor. On TV he is well known for playing Alaric on The Vampire Diaries. Matt claimed in a Kidult.com interview that he was
"not a small guy, I'm like 6'2""
. This photo is from a Vampire Diaries convention in 2013.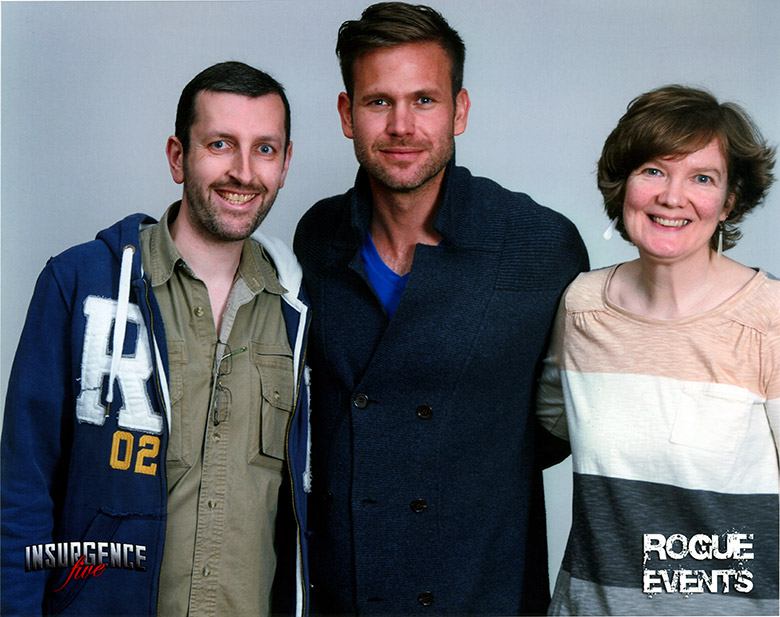 5ft 8 Rob, Matt, 5ft 8 Jenny
Add a Comment
95 comments
Average Guess (44 Votes)
6ft 0.03in (183cm)
Ronaldo 185.5cm
said on 13/Jun/20
@Wilkashi If he was 6'2, he would appear obviously taller in this photo than he is so he is certainly not 6'2".. he is 6'0 like in this photo.
Nik Ashton
said on 5/May/20
@ aidan 5'10 1/4" - 😂😂😂😂😂😂!
K.A 188.4!
said on 25/Mar/20
@AIDAN 5Ft10 1/4
LOL..
aidan 5'10 1/4"
said on 20/Mar/20
6'2 my ass
W Schab
said on 25/Feb/20
When I saw the hallmark movie (Christmas wishes and mistletoe kisses ) Matthew looked a lot taller than he did in Blue Crush.
Gib
said on 22/Feb/20
He is most likely to be over 6 ft.
Nik
said on 20/Feb/20
@ Greg - You are probably right, also he does look 6'0" when you compare him to Jenny and the average guess is 6'0" (40 votes!)!
👍
Rampage(-_-_-)Clover
said on 26/Oct/19
I think he could maybe squeeze out a bit more if measured
Greg
said on 13/Oct/19
@Nik he could be around 6'0 but he's leaning a lot and losing height.
Nik
said on 6/Oct/19
He looks way shorter than 6'0"!
Jacky Huynh
said on 2/Sep/19
6ft is spot on!
Christian 6'5 3/8"
said on 28/Aug/19
Looks nowhere near 6'0", this is insane.
berta
said on 23/Jul/19
i think at worst 6 foot if he got measured. maybe 183,5 range. But his claim is extreme. no one would ever believe he is 188. he could look 184-185 on the vampire diareies but in reality he clearly isnt
TheBat
said on 26/Jun/19
6'0" is perfect. His 5'11" listing on Google is false, but his 6'2" claim is also hard to believe.
Wilkashi
said on 10/Dec/18
he is actually 6"2....in the show Vampire Diaries, he was referred to as 6"2 by Damon. He is not 5"11 or 6"0, he is well over that
Boob
said on 2/Jun/18
He's listed everywhere as 5'11" I don't think they would make him shorter than he actually is. So I think he's 5'11" which is a great height for a man.

Editor Rob
He's taller than 5ft 11, though his own 6ft 2 claim is a bit much.
Bobby
said on 7/Jan/18
Why does Jenny appear 2 inches shorter on here?
Editor Rob: you can appear taller or shorter depending on posture, camera angles.
Criss
said on 2/Jan/18
Rob, do you think this guy is only 6ft?
I'm just looking at What bout Brian and he towers over the cast. For example Barry Watson and Raoul Bova (who you have here at 181cm).
With Raoul Bova being shorter than Barry Watson (on the net 184)
Editor Rob: in person he looks similar to six footers rather than 6ft 1 men.
Psychedelic Earth 187
said on 30/Dec/17
6' on the nose or very close to it like 182.5.
john
said on 12/Dec/17
prob like 6-1
John
said on 3/Nov/17
It could be one of those cases where he just gets a wrong height from his doctor, or something, and never verifies it with another measurement. It could be that he measured on carpet, or used a measuring tape that has improper markings. There are a lot of explanations that don't involve a blatant lie, but it is hard to imagine he could be so utterly mistaken about his own height. He's also using the word "like", as in, he doesn't know how tall he is, but this is his best guess. It's often something liars do to leave themselves some wiggle room.
Editor Rob: sometimes it is best looking for the more positive reason than always saying an actor is lying.

I've said it myself, sometimes people genuinely give height in shoes and don't think anything of it...the fact that when Jenny went to our hospital and the nurse said just leave sneakers on is testament to this kind of thing occuring.
mohammad188cm
said on 6/Sep/17
Hi. Bob. Ithink when you are 3 inches shorter than someone , your eye line is in the same direction with their lips line. And in here he seems 5feet11inch
even
said on 17/Jul/17
hes exactly right about his height hes a legit 6'2" but you will have to subtract 2 inches from 6'2" otherwise you'll get wrong results .
Johan
said on 8/Jul/17
My wife has been watching the vampire show and this guy was the tallest on the show and is only 5'11.5"???
He makes the other guys look 5'8.5"-5'9".
Peter 179cm
said on 28/Apr/17
He doesn't even look 180 here and Rob is slouching himself.Lol at 6'2 not even close.To me he looks a typical 181 man.
berta
said on 19/Apr/17
he look 182-183 in the photo and everybody stands about the same. well jenny looks short in the photo like 169-170 camera angels are strange :P i think 6 foot is fair for this guy. i thought he was 184-185 when i saw him on vampire diaries.
Giorgi
said on 14/Jan/17
Does look a strong 6 ft unless he had bigger shoes but 6'2" claim is just shameless ;))
Editor Rob: I'd have guessed he could pass for 6ft and change back in something like the film Below, but up close, looked shorter than expected.

Possibly 5ft 11.75.
Tiago
said on 6/Jan/17
He is 1,81 or 1,82 no more.
Andy
said on 22/Dec/16
Thanks for replying Rob! It's amazing how little camera tricks and different angles can make you appear taller on TV. For example Ian and Paul look massive on screen but I was surprised to find out they're both shorter than me. Not to mention Ian wears FRYE moto boots with 2 inch heels which emphasises the illusion.
Editor Rob: Andy, I think Ian is a height-aware guy. I mean he seems a kind and friendly man, but I think he likes to look a bit taller too.

No harm in that, maybe I'll give him an exclusive Celeb Discount for Dons.
Andy
said on 3/Dec/16
To be honest, he looks taller than 6ft. Maybe 6'1 and a bit.
Editor Rob: in person Andy, he looks shorter than he can look on the telly.

Zero chance he's 6ft 1 for me.
Starling
said on 16/Aug/16
I've only recently started watching The Vampire Diaries, but I just saw an episode where they referred to Alaric as being about 6'2".
Brad
said on 10/Jul/16
Rob, I have a question. I see him listed on ***** at 5'11". So, I do not think that he would be more, because why would an actor be listed smaller than his actual height? Is it not like that?
Editor Rob: not quite sure the relevance of a random website, he does look taller than 5ft 11 in person for sure.
Andrea
said on 4/Dec/15
Rob, he claimed to be 6'2 on Twitter too... And that's crazy, considering he can look 3 inches under that with you! I can't believe he really thinks to be as tall as that!
Editor Rob: there's certainly a few guys I've met who have claimed 6ft 2 and been nearer 6ft, then guys like Ritchson would show these men up. Heck, Coleman is a solid 6ft 2 and is comfortably at least 2 inches bigger up close than guys like Davis
S.J.H
said on 24/Sep/15
He look as tall as Bill Paxton with rob. He maybe 5'11.5 in real. 6'0 is too high
OneNamePlease
said on 23/Jun/15
5'11.5 its more lickely
Hypado
said on 13/Feb/15
In the movie Finding Bliss, Matthew Davis looks 6ft 0in (183 cm) next to 5ft 10.25in (178 cm) LeeLee Sobieski.
Rampage(-_-_-)Clover
said on 3/Feb/15
"Matthew Davis's height is 6ft 0¼in (184cm)"
Andrea
said on 3/Nov/14
Rob, if you wanna be extremely objective, how tall would you say he looks here? I'd say not much over 5'11 range, he looks easily 1.5 inches shorter than the 6'0.5 guy... I can believe he's somewhere around 182, though...
[Editor Rob: I'd expect 5ft 11.5 at most beside me, but 6ft range beside jenny...]
ray
said on 29/Oct/14
If he was even 5'11.5 legit he could claim 6'0 but 6'2 is way too much did he measure in 2 Inch boots?
Jared
said on 27/Oct/14
He looks 6 to me, exactly 4 inches taller than Rob. All you people claiming "he is not so tall because he isn't a lot taller than Rob" do you have any idea how little 4 inches is? 10cm, take a tape and measure it. Of course a person 4 inches taller than another one isn't going to look extremely taller, it's just 10cm, it's very little, the distance between your chin and your nose. People start to look very "taller" when the person next to them is 8 inches shorter at least.
Josh
said on 25/Oct/14
He looks 5'11.5 (182cm)
Lee
said on 12/Oct/14
Lol claiming 6'2 when you are barely 6ft takes balls haha...yeah I agree with the others, with a good posture he might scratch the 6ft mark
nick kanellakis
said on 12/Oct/14
id say hes about 6ft or 5'11 1/2 lol its almost about the same usally getting measured without shoes counts more and shoes should add about a 1 exactely :)
Jake: 1.84 m- 1.85 m
said on 11/Oct/14
Davis looked around 6ft 0.75in (or solid 185cm) in 'Below'.
Concerned 181 cm
said on 11/Oct/14
Looks 5'11.5
Alex 6'0
said on 9/Oct/14
Davis and Ackles could both measure 5'11.5-5'11 5/8. Weak 6'0 range
Alex 6'0
said on 9/Oct/14
Comparing Davis to Ackles. Davis has a longer forehead lower eye level while Ackles is average range. Davis I think looks 5'11.5 and Ackles prob the the same.
Andrea
said on 7/Oct/14
Triple, you're good at estimating heights (i saw you were always pretty close to the real height in the HC) but i have hard time seeing Jensen at only 180... I can totally buy 182 range, 5'11.5 is the lowest i'd argue but to be fair i wouldn't list him under 5'11.75. On Supernatural he can look a solid 183-184 in many scenes to be fair, but when you see him outside the Supernatural set, next to Jared Padalecki, he can look near Jared's eyelevel a lot, like a solid 4.5 inches difference... And he's clearly taller than Misha Collins, who doens't look much far off his listing... The fact is Rob said Jared didn't look over 6'4, so it's really really hard to believe there's just 4 inches between them! In any case, i wouldn't bet on Jensen being a 180 flat. If he turned out to be that "short", Rob would disappoint me a lot xD I don't think he'd put a 5'11 guy at 6', he's usually pretty precise with people he meets...
Triplescrew
said on 6/Oct/14
Andrea I have a feeling that Davis might edge Ackles barefoot. I've seen Supernatural several times over; the only times Ackles looks a good 6'0" is when in boots; out of them he comes off as 180cm. This is especially apparent during the rare times he's with Jared during shoe-less scenes.
Andrea
said on 5/Oct/14
Rob, who do you think would be taller between him and Jensen Ackles? Jensen is a weak 6', like around 182 evening (he looks around Jared's eyelevel too many times in photos to be a solid 183)... You think this guy is another 182 guy or he's really near 6'? In this picture, of course, he's not a big 6', like Alex...
[Editor Rob: jensen looked taller in person because he had a healthy sized boot (although on stage that day with guys like justin hartley and alan ritchson he was a good 2 inches shorter).]
Rampage(-_-_-)Clover
said on 5/Oct/14
Now, this is tricky. I'm not suggesting that he is 6ft2. But, if you watch Legally Blonde he had more height over Reese Witherspoon than 5ft11½ listed Luke Wilson.
5'10man
said on 5/Oct/14
I'm not seeing more than 1.82. Doesn't look that much taller than I do at 1.78 against a 5 foot 8 guy.
Alex 6'0
said on 4/Oct/14
This guy has a long forehead and lower eye level. HIs eye level I'm sure is 5-5.25 inches from top of head. It can throws things off a bit but looking at top of Rob's head its a good 3 inches maybe a bit more
Emil 183 cm
said on 28/Sep/14
He describes himself as "not a small guy" so I don't think he's trying to make us think he's a tall man. He probably just doesn't know how tall 6'2 is.
[Editor Rob: to be fair to him, he did come up with that quote and estimate of his own height, just minutes after meeting this well known 5ft 8 man from New York...]
horacle
said on 28/Sep/14
he looked at least 6'1 in vampire diaries
1.79 cm guy
said on 27/Sep/14
6'2'' my ass!
John
said on 27/Sep/14
He is looking only arround 3 inches taller than Rob
Alex 6'0
said on 26/Sep/14
Rob, his forehead is long and his eye level is low. Eye level 5-5.25 range? If he is very near 6'0 it makes sense with a long forehead/low eye level.
kyuss
said on 26/Sep/14
Biggest lie on here!!!!!
Alex 6'0
said on 26/Sep/14
Rob, you said sometimes cameras can add or knock off a fraction of height. Do you think that's the case here maybe because looking at this pic I don't see more than 3-3.25 inches difference
[Editor Rob: I thought he stood decent and I leant in a bit there, although it doesn't effect things much...my first thought was he near 6ft. I didn't think he was only 181 range so would say a good cm has gone awol with the camera]
french guy
said on 26/Sep/14
he is even not 182 cm with rob.
Andrea
said on 25/Sep/14
Well, yeah, he doesn't look 6' with Rob, but i would be surprised if he were only 5'11.25 and Rob kept him at 6'! I mean, i dont think he'd give that much of "benefit of doubt". I know he does that with many people he met but 0.75 is too much...
Alex 6'0
said on 24/Sep/14
I really do see 3 inches or slightly more. 5'11.5 for this guy seems fair but 5'11.25 may be closer to the truth.
Alex 6'0
said on 24/Sep/14
Rob def. comes up more on this guy than he did with me but this guy has a lower eye level and longer forehead so in reality he may only be 1/2 inch shorter than me
Triplescrew
said on 23/Sep/14
More food for thought. 5.10.5" Faramir (normally 5'10" but Rob said he had a .5" footwear advantage) next to Davis.
Click Here
Andrea
said on 23/Sep/14
Rob, why he looks taller next to Jenny? You think he's a big 6' as Alex in person?
[Editor Rob: probably still adjusting into position as the photographer snapped (I say hi and stand left, she walks round to get onto the other side) - they were too fast at times at this event though...

I think he can be near it, although 182 isn't impossible]
Triplescrew
said on 23/Sep/14
One more time for the editing powers. This one is better. Clearly shorter than weak 6'0" Benedict Cumberbatch.
Click Here
Triplescrew
said on 23/Sep/14
I went ahead and pulled out my old "Height Challenge" editing skills and put this dude next to David Tennant (6'1") and Matt Smith (5'11.5"). I give him a strong 5'11"...he's clearly shorter than Tennant and struggles to keep up with Smith's super long head/hair-do. It's not a perfect edit but I think it demonstrates that this guy is a weak weak weak 6'0" if he is at all (remember that David Tennant is more like a strong 6'0" himself).
Click Here
Alex 6'0
said on 22/Sep/14
Dmeyer, this guy has a long forehead too. His eye level Id say measures 5 inches from top of his head but still I only see 3 inches or so between him and Rob. No more than 5'11.5 for him. Him claiming 6'2 is crazy lol
SAK
said on 21/Sep/14
181/182cm here.
kyuss
said on 21/Sep/14
The Arnie syndrome lol.......
Tommo
said on 21/Sep/14
Struggles to look 6 foot.
PathfinderCC
said on 21/Sep/14
Shoe Advantage Rob? much higher than Jenny
josh b
said on 21/Sep/14
Rob, guessing you we're quite surprised by his stature upon meeting him then? New contender for worst 6'2 claim, taking over from Gil Birmingham?
[Editor Rob: well both are actually good guys from meeting and listening to them, but their height claims I have to raise an eyebrow at :)]
Elvest
said on 21/Sep/14
While on Vampire Diaries he typically looks around the 6 feet mark, in this photo he only looks about 3 inches taller than Rob or 4 inches taller than Jenny. Contrast Matthew and Benjamin Ayres, both say they are 6 feet 2.
[Editor Rob: actually this is true...Ben in person is near his claim, Matthew on the other hand is nearer 5ft 11 than 6ft 2:
A disgrace to real 6ft 2 men
.]
Triplescrew
said on 21/Sep/14
Looks about right...if David Tennant is actually 6'1" he has about an inch on Davis when comparing pics.
Dmeyer
said on 20/Sep/14
Looks solid 5'11 in the pic no more , of could he could be 6'0 rob your head top is 5cm over his eye level
Alex 6'0
said on 20/Sep/14
I see 5'11.5
Jake: 1.84 m- 1.85 m
said on 20/Sep/14
6ft 0.5? I think he'd measure near 184
Nils
said on 19/Sep/14
How come he looks 5'11~ with u rob? u got shoe advantage?
James B
said on 19/Sep/14
Looks 5ft10 1/2 with rob
Sam
said on 19/Sep/14
Wow, didn't expect him to be only six foot...he really gave a 6'1" impression in Legally Blonde, towered over Reese Witherspoon, also when he was on SVU and with a bunch of character actors in Below.
miko
said on 19/Sep/14
6'2 claim?? He might not even be 6'0!
Andrea
said on 19/Sep/14
Lol, does he really claim 6'2? He struggles to look 6' with you and, reading your comments, you even thought he might be 6'1.5? :O
Judd
said on 19/Sep/14
perfect example of 6'0" guy, next to rob!
WhiteWolf809 1.83 6.0
said on 13/Feb/14
This guy is a real 6.1 and a half because i Recently finish the vampire diary all 4 seasons on netflix and he look about 4 to 5 inches more taller than ian somerhalde who is about 5.10 or 5.9 guy and ian on the serie he was allways wearing lift on his shoes
[Editor Rob: he's nearer 6ft than 6ft 1.5 from what I've seen of him.]
da_truth
said on 15/May/13
just saw Blue Crush...this dude did not tower over 5'3"-5'4" Kate Bosworth on the surf board and on the beach like a 6'1" dude. I would say 5'10"-5'11". Plus some sites do have him listed at 5'11". I would say he is that give or take a few cm's.
Siddharth
said on 24/Jul/12
Rob... i think 6'2" is right for him... he really does tower over somerhalder and wesley despite thier high heeled boots... shoudnt 6'1.5" be more like it??
[Editor Rob: 1.5 could be possible I'll have a look, I watched some VD but not for a while.]
Nomester
said on 9/Aug/11
6'2 is correct. He's said so on his twitter @ErnestoRiley. And on The VRO interview.
peter cohen
said on 30/Apr/11
this dude is tall i believe his 6'2 claim maybe a weak 6'2 he looked really tall as klaus on the ending of episode 17 and seemed to dwarf weak 5'7 Nina Dobrev
jed
said on 15/Apr/11
In the 'The Last Dance' - an episode of the Vampire Diaries - he walks through a crowd at a dance and towers everyone. I'd say 6'1.
austrianguy
said on 3/Apr/11
He is the tallest cast member of VD by a long shot. May very well have 3 inches on Somerhalder and Wesley, who tend to wear pretty big boots as we know.
Kaylene
said on 18/Dec/10
I thought he was more like 6'0. I believe 6'1. But 6'2?! But why he would lie. 6'1 is already tall enough for a man.
Anonymous
said on 4/Jan/09
yes, in what about brian he looks about 6.2
sam
said on 26/Apr/06
He looks about an inch (or maybe two) taller than Barry Watson on What About Brian.