Michael Stipe's Height
5ft 9 (175.3 cm)
American singer from R.E.M. He did say he was 5ft 9, but it could be a rumor...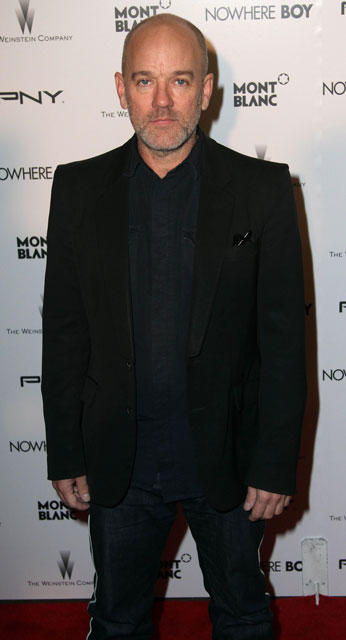 Photos by PR Photos
Add a Comment
71 comments
Average Guess (13 Votes)
5ft 8.65in (174.4cm)
Norbert
said on 30/May/19
He is shorter. I am 5.7, around 172 cm. During their last tour, Michael came down to the crowd during some songs, standing in front of the barrier. I was in the third row, trying to touch him. The point is that he had exactly the same height as I have. Our eyes were at the same range. So he is 172-173cm.
Sandy Cowell
said on 5/Feb/19
I have reason to believe that one of my cats has urinated on my copy of 'The Best of REM'.
Am I amused? Not in anyway whatsoever.
😹👟.......👟
My Michael gets 5ft9.
What a sexy geezer!
Nik
said on 20/Oct/18
@ Sandy Cowell - I like each of your short sentences that made up your comment from the 18th August, I also think it was great that each sentence ended in an exclamation mark. Your apology to Bobby is good too!!
Michael Stipe is average in height so I can offer him 5'9"!
Sandy Cowell
said on 18/Oct/18
@ Nik - The orange being crushed refers to the title of one of REM's songs, 'Orange Crush'.
I go for 5ft9, having recently seen a couple of DVD's, certainly no less. He could pass for taller.
Nik
said on 18/Oct/18
@ Sandy Cowell - I love your comment from the 18/Aug/18!
alabamafr
said on 17/Oct/18
What's weird about Stipe is that he has a pretty masculine looking face but at the same time his shoulders and overall build always looked quite narrow to me. Kinda like his voice which sounds strong and vulnerable at the same time. By looking at his head alone, you'd expect a much bigger looking guy.
Sandy Cowell
said on 18/Aug/18
Oh no! This man is just so good! There's nothing quite like listening to him! I'll be back! He has my orange well and truly crushed! OMG!
Sorry about that Bobby!
Alex Italy
said on 3/Apr/18
I have been to many concerts, he is slender and not tall but also not short. 175 is a good esimate.
Paul
said on 4/Nov/17
Peter Buck recently made a guest appearance at a concert with Coldplay and looked a bit taller than Chris Martin, so I'd say he's a weak 6'2 today. Maybe this means he was never 6'2, but some height loss by 60 is plausible.
In R.E.M.'s hayday, Stipe and Mills usually came up to around his eyeballs, which seems consistent for a 6'2er if they're 5'9
Paul
said on 8/May/17
Here's my opinion on the heights of the R.E.M. members:
Peter Buck: 6'2. This is commonly what he's listed as and it seems plausible, he is clearly a big dude. Might have lost some height now that he's 60.
Michael Stipe: 5'9. I agree with this listing. His proportions seem average and he only occasionally looks short. If he really was 5'7 or so he would look much shorter than 6' Edward Norton, and he really doesn't -
Click Here
Mike Mills: 5'8.5. IMDB has him at 5'11 which is baloney. He never looks taller than Stipe, and in recent years Stipe edges him out a little:
Click Here
. 5'11 would imply he stacks up with Buck, which he clearly does not -
Click Here
Bill Berry: 5'7. This is IMDB's listing for him and it's probably accurate. He has a pretty small build and consistently looks under average, with Mills, despite his average height, usually appearing noticeably taller even with poor posture -
Click Here
. When R.E.M. were inducted into the Rock and Roll Hall of Fame by 5'6.5 Eddie Vedder, Berry looked mostly the same height as him.
Sandy Cowell
said on 13/Jan/17
I adore this talented singer/songwriter whatever his height! I used to have a video of REM in concert and his performance was mesmerizing!
He is very lean, which will made him appear taller, certainly to my eyes! I considered his height to be 5ft10-11, no less!
truth
said on 15/Jun/16
I agree, he is a decent 5'9".
eb7
said on 15/Dec/15
nearly 5'10, you cannot judge someone's height by looking at a photo, there are short people who have lanky proportions, im one of them. Michael stipe is rumored to be 5'7 or 5'8
Kurtxo
said on 25/Sep/15
I met him in a bar in Denver around 1994-95 and he was shorter than me and I am 174 cm without shoes. I don't think he is taller than 170-171cm. He was really skinny and seemed quite small to me
Nearly 5 10
said on 25/Aug/15
Michael Stipe IS 5' 9", guys! Compare him with Joaquin Phoenix (5' 8"), The Edge (estimated at 5' 8" by most) - in many OTHER photos, Elton John (5' 6.5"), Thom Yorke (5' 5.5"), Jon Bon Jovi (5' 9"), Gwyneth Paltrow (5' 9"), Morrissey (5' 10"). I could go on...
an anonymous peach
said on 9/Aug/15
5ft 9? Lol... he barely looks 5ft 8.
Hollis
said on 27/Oct/14
He really isn't any more than 5'7 . Maybe one cm or so over 170 cm but that's all.
Vibram
said on 27/Oct/14
A bit taller than 5ft7.5 Beck Hansen. I think 5ft8 to 5ft8.5 for Stipe.
christy
said on 4/Feb/14
M Stipe is actually around 5'7" without shoes on.
You really should reduce two inches from his height here, then it would be much more true to his actual height.
Paul177
said on 28/Dec/13
I do think he'd measure closer to 175 cm than 173 cm.
Paul177
said on 28/Dec/13
Rob, here is his exact quote (please excuse the nature of it):
"I'm 5 foot 9 and a half inches tall [in the morning], I don't do yoga, and I can ***".
[Editor Rob: it's best leaving the last part off :)]
Paul177
said on 28/Dec/13
He looks closer to 5' 9" next to Joaquin Phoenix in that photo.
Jori
said on 27/Dec/13
Michael is between 5'7 and 5'8. He could be closer to 5'8, or about 172 cm at his tallest. But I think he's 5'7.5 or about 171 cm most of the time.
He's always been just slightly over 5'7.
MD
said on 26/Dec/13
Jori,
How do you figure with the pics I posted? Do you estimate Joaquin Phoenix and The Edge at around 5'7", too? Genuinely curious.
Jori
said on 24/Dec/13
I don't think he's even 5'8. He is probably closer to 173 cm in the mornings but maybe 171 cm most of the time. So over 5'7 but not very much.
MD
said on 24/Dec/13
Rob,
With 5'8" Joaquin Phoenix:
Click Here
With The Edge of U2, which no seems to think is over 5'8":
Click Here
Click Here
And, Stipe even has a slight footwear advantage in those shots. Really, this guy is much closer to a flat 5'8" than he is anywhere in the vicinity of 5'9".
MD
said on 23/Dec/13
I've always thought 5'9" was jus a bit of an overlisting for him.
Jori
said on 22/Dec/13
He has never even looked over 5'8! Slightly over 5'7 is his REAL height and that's the way it is.
Thom Yorke is 5'4 - 5'5 and Michael is 5'7 - 5'8.
Jori
said on 22/Dec/13
Like I said he has always been only 5'7 or just slightly over 5'7. About 5'7.5 but not more than that.
Paul177
said on 21/Dec/13
How sure are you on Thom Yorke's height, Rob? He does look at least 3 inches taller than Yorke, sometimes a tad more. Maybe he's between 5' 8" and 5' 9", like 174 cm range? Either that or he's a lift-wearer...
[Editor Rob: Stipe can look anywhere 5ft 8 to 9]
Paul177
said on 21/Dec/13
Rob, this is what I mean. Have a look at this!
Click Here
With Flea, who's a typical 5' 6" guy. Stipe looks 5' 7.5" maximum!
Paul177
said on 21/Dec/13
He claimed: "I'm 5 foot 9 and a half in the morning and I don't do yoga".
Rob, this is confusing me as much as Mo Farah's height! Both are generally listed 5' 9" and can even appear a smidge taller on the odd occasion. But then a random photo will appear with someone of a 'verified height' and they can appear a good bit shorter than their listing.
Ages ago, we proved that he's the same height as Gwyneth Paltrow. I'm gonna look into this one. I love R.E.M., I'm intrigued...
George
said on 26/Nov/13
5'7-5'8 in my opinion.
Jori
said on 26/Sep/13
He's always been just about 5'7...or between 5´7 and 5´8 but definitely no more than that.
Rebecca
said on 22/Sep/13
I'm 5'6'' and I've stood next to him and he's obviously and visually taller than I am.
Sue
said on 20/Aug/13
It's true that being very thin can make someone look taller, but the picture with 5'5 Thom Yorke shows the truth perfectly. Michael is only 2 inches taller which means he's just a little over 5'7. Anyone who claims he's 5'9 must be joking or blind.
Sue
said on 20/Aug/13
He's only about 2 inches taller than Thom Yorke in alex's picture, so if Thom Yorke is 166 cm then Michael is around 172 cm.
He is 5'8 NOT 5'9, I think that's very obvious to see.
Sue
said on 20/Aug/13
No way is he as tall as 5'9! He is obviously about 171-173 cm or 5'8 at most.
About 5'8 or 172 cm IS correct not 5'9.
truth179cm
said on 12/Jul/13
176-177cm in the morning means 174-175cm in the evening but yeah close enough to 175cm. Weak 5ft9.
Craig 177
said on 3/Jul/13
He claimed: "I'm 5 foot 9 and a half in the morning and I don't do yoga". So yeah, 175 cm is correct.
alex
said on 27/Sep/12
it seems right that stipe is around 175 and yorke around 166
Click Here
alex
said on 17/Aug/12
i think he is thin but he is not that short, 175 sounds right.
Dan
said on 16/Aug/12
Definatley smaller than 5'9"....looks more like 5'7" to me....that's from watching the Losing My Religion music video, and seeing pictures of him with Bono (who's roughly 5"6, maybe 0.5" taller) and he looked barely taller than him.
Anomymous
said on 22/Mar/11
The DJ on XM Radio Channel 44 said he was 4'2" That can't be right
Elis
said on 3/Jan/11
And I really don't think that he's 5-10.
Click Here
Click Here
Click Here
Adam Clayton is 5-10 MAX and looks taller than Stipe next to Bono. If Patti Smith is really 172 cm is the next question, most people think she's smaller.
Elis
said on 2/Jan/11
Dont't get me wrong, I have no problem with this listing, he looked only a little bit smaller.
If he's a full 5-9 guy then he's one of the few celebs that don't round up and still this same honest height now with 50.
And don't forget that Glenn had him at 5-9 (so minus 1 inch is arguable).
Random Person
said on 12/Apr/09
5'9 seems about right, probs a tad bit more in the morning
R
said on 28/Nov/08
You tube has some good clips from Letterman appearances. Letterman is a solid 6' 2", so it puts things in perspective.
glenn
said on 28/Nov/08
he isnt always a great guy.but im not here to spoil experiences.just to state one or 2 encounters arent always enough.in fact in the 90s he was more difficult to spot than michael jackson.
Hugh
said on 27/Nov/08
He's a great guy, Elle. They all are. Peter and other Mike also. But I wouldn't say Mike has lost height. He isn't quite 50 yet. But his posture isn't great at times. Glenn has point, he can look 5ft10 at times. I think he may even be 176cm on a good day. They were just a great pleasure to meet!
Elle
said on 16/Nov/08
Hugh - I love the way you called him Mike :P haha. Love it. Umm he does look about 5ft 9ish. But he is getting so old so maybe he was once taller. He seems lovely like!
glenn
said on 13/Nov/08
can look 5-10 too.
Hugh
said on 11/Nov/08
Mike is 5ft9 without a question. Saw the guys play in Dublin live about a year ago. Got a backstage pass and got to meet the guys also. Peter Buck is 6ft2ish, Mike Mills is 5ft11-6ft. Possibly the nicest guys in showbiz out there.
Evanna
said on 18/Sep/07
I found this great video on youtube, REM performing Radio Free Europe on David Letterman, it was their first ever tv appearance in 1983.
Click Here
When the song's over, Letterman comes to greet them, and looks some 5-6 in. taller than Stipe. I'm not sure about the shoes though. 5'9" seems reasonable for Stipe.
Anonymous
said on 6/Jul/07
I see him every week here in Athens. I would put him at around 5'9"
Anonymous
said on 4/Jun/07
Wow, looks much taller than patti smith there. About 5'10-5'9.5. But if he says he's 5'9 then there's no doubt that's his height.
circus envy
said on 15/May/07
1 inch taller than 5 ft 8 in Patti Smith
Click Here
circus envy
said on 15/May/07
I' ve seen some pictures of him with some friends of mine (i' m a R.E.M. fan)
I must say 5.9 is accurate, he looks shorter because he is skinny.
The Sidewinder
said on 22/Feb/07
If you see the cover of "the best of rem the i.r.s. years, and i feel fine..." he looks shorter than 1,60 in fact. see it, if you can
yabo
said on 9/Oct/06
i'm 5'9 barefoot, approx 5'10 in shoes. I walked by michael stipe in tribeca in nyc. he was wearing filpflops. he is not real short. about 5'9.5 seems about right. definately no shorter than 5'9
Anonymous
said on 10/Sep/06
I'm 5'8" and I met him and Chris Carraba of Dashboard Confessional and we were all in trainers and they were a bit shorter than me. Carraba was about 5'5' and Stipe was 57" max.
Glenn
said on 27/Aug/06
Good point Viper.they couldnt fill MSG that early in the career.
Viper652
said on 26/Aug/06
REM played Shea stadium in 83? Must have been some kind of rock festival.
Brad
said on 26/Aug/06
5' 9" at Shea Stadium in '83
Stipe mistress
said on 23/Aug/06
Trust me he is 5'9". He weighs 122 pounds and has a scar on his abdomen. Anything else I can help you with?
Mr. T
said on 8/May/06
I really don't buy 5'9". He just doesn't have the frame of a 5'9" guy at all. Plus if you look at the picture of him with the band in the inserts for Automatic For The People, he looks like a somewhat small guy. Even if the other guys in the band are big (I'm not sure if they are), and considering he's in the back, he seems has too small a frame for a 5'9" guy (short torso and stubby legs--I'd buy the 5'7" claims).
Betel
said on 29/Nov/05
I'm not sure of the seriousness of the quote but if he says he is 5.9.5 in the morning he probably means 176cm. He would lose up to another 2cm during the day. That is what happens to me. His average would be 175 in this case but to be honest I don't know if this site is measuring the lowest or highest height of the day.
Sticks
said on 22/Aug/05
http://www.eonline.com/Celebs/Sightings/0,1086,584,00.html
I see a Bald man from the corner of my eye and realized that it was Michael Stipe from REM! He noticed me staring and we made eye contact, exchanged smiles and went on our way. Then about 10 min. later I saw him again and we smiled once again. I didn't want to be an annoying fan, so left him alone. He is much shorter than I expected, like 5'5.
CelebHeights Editor
said on 21/Aug/05
From gossip newsgroup:
"Michael Stipe & Mike Mills from R.E.M.--both about 5'7" or so (the first time I ever met the former, I was so surprised that he was shorter than I expected that I was literally left speechless for perhaps the only time in my life. :-)"
Anonymous
said on 19/Mar/05
A quote from Michael: "Squelch or confirm (or start) a rumor about yourself.
I'm 5 foot 9 and a half inches tall (in the morning), I don't do yoga"
J.
said on 18/Mar/05
He insists he's 5'9". A friend of mine who is a hardcore R.E.M. fan has met Stipe on a few ocassions and says 5'9" is pretty accurate. Yet ... he just seems shorter to me. Anyone agree?