Malaysian born actress best known for roles in Crouching Tiger Hidden Dragon, Tomorrow Never Dies and Sunshine. She said on the Howard Stern show that she is
"5'4"
although in another interview in Shockya.com she was quoted saying
"I'm 5'6"
.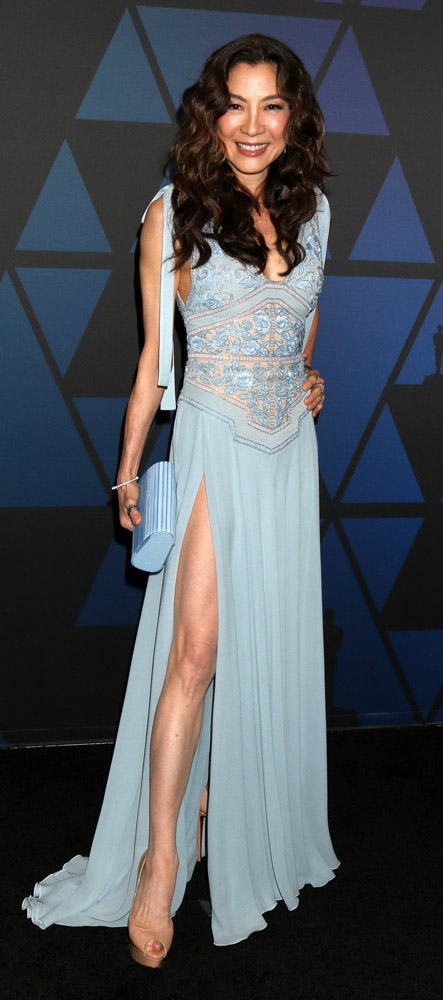 Photo by kathclick/BigStock.com
FE 4
said on 10/May/23
@Editor Rob,
Is she legit for the "Martial Artists" category?
Malcolm Oliver
said on 19/Mar/23
Solid listing for the Oscar winner!!
Nik Ashton
said on 6/Jan/23
@ Jackie Lee - I bet it's quite common (all genders)!
Jackie Lee
said on 24/Mar/22
Kristen Stewart also claimed 5'6 at 5'3.5! 3 inch inflation is just silly...
FE
said on 7/Oct/21
@Editor Rob,
Is Michelle, Andy Lau, Yun Fat Chow & Ziyi Zhang legit for a "Martial Artists" Category too?
They've all been in a lot of M.A films.
Anonnymous
said on 20/Jul/21
Jet Li has at least an inch advantage over her(of course when she is barefoot). Also she never gets close to Jackie Chan, even with a pretty good heel advantage. I'd say a weak 5'4".
HARRI
said on 1/Oct/20
I'd say that's right around 5'4 because I'm taller than her at 5'8.5
Nik Ashton
said on 1/Jul/20
@ Christian 6'5 3/8" - I've known people of her height make very similar claims!
Christian 6'5 3/8"
said on 29/Apr/20
5'4" is an okay claim, but 5'6" is just awful.
Nik Ashton
said on 28/Apr/20
It's amazing that she claimed to be 5'6"! 😀👌
I like her name!
Nik J Ashton
said on 9/Dec/19
She looks like she could be at least 5'4"!
Nik
said on 8/Sep/18
@ Serene - I'm shrinking as I am writing this!
John
said on 27/Sep/16
5ft 3 lol, no where near 5ft 4
K\'mon
said on 10/Apr/13
Even at her age, she is still amazingly beautiful.
Arch Stanton
said on 29/Nov/12
Looked 5'5" range in Tomorrow Never Dies I thought.
Doug
said on 1/Apr/09
Mmm I thought she looked 5'6"ish in Tomorrow Never Dies next to 6'1.5" Brosnan.
Rocky
said on 24/Apr/08
lol Serene...people don't normally shrink at an early age unless they put a lot of weight on their joints e.g. trying to lift too much, or carrying too much fat.
Felix
said on 19/Nov/07
Her Chinese name Yang Zi Qiong, about 160cm, Zhang Zi Yi is 165.
Serene
said on 28/Sep/06
Haha..
Well.. my agist comment was not by fact but i have seen in many woman around me.
all of my aunts and relatives who are in their 40s.. they seem to be shrinking.. just a bit.
And I am afraid that Michelle has that too..
I'm not talking about every woman in their 40s.. only the ones in my family.. I have seen and I am commenting it..
Its not offensive..
But I don't think that Michelle is shrinking..
She does look a little on 5'3.5"
johnny5
said on 29/May/06
Noemie Lenoir is 5ft10 and she is about 7 or 8 inch taller than Michelle.gettyimages
magicalDame
said on 6/May/06
In response to Serene saying that"she is in her 40's and could be shrinking" I had to laugh. I am a 42 year old female and have been 5'9 for many years now. What is up with that agist comment?
Serene
said on 16/Apr/06
If michelle is 5'3.5", Zi Yi would look shorter too..don't you think?
sing
said on 11/Apr/06
see my comments on zhang ziyi page, she's absolutely not 5-3, a friend of mine met her in Asia and said she's really short, more like 5 feet or 5-1. i have very little doubt that's her true height.
Serene
said on 11/Apr/06
she is in her 40s..she could be shrinking??
anonymous
said on 7/Mar/06
No she's below 5ft4, she's inches shorter than Zhang Ziyi who is maximum 5ft5...
ice
said on 12/Oct/05
I completely agree. Finally someone that is honest about thier height.