Nikki Blonsky's Height
4ft 10 (147.3 cm)
American Actress from movie Hairspray. Said in la daily news
"I'm only 4'10"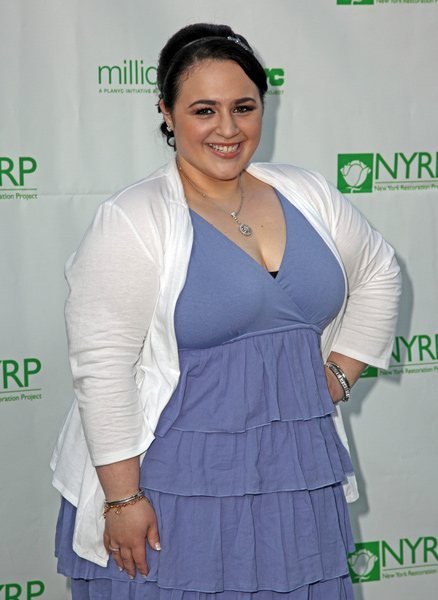 Photo by PR Photos
Add a Comment
36 comments
Average Guess (5 Votes)
4ft 10.8in (149.4cm)
Charlene Rafferty
said on 5/Aug/18
Nikki blonsky is under 5 ft and she weighs 71 kg over 11 St yeah she is overweight for height but honestly I've seen bigger if she was taller u wouldn't see it but she a beautiful person inside and out
Sandy Cowell
said on 17/May/17
Ms Blonsky could be so much prettier if she lost weight. Maybe by now she has, but in this particular picture, she looks totally unhealthsky!
I reckon the same as Mike - 5ft. It's easier to brush away a weight problem the shorter you are, and easier the tinier you are to become chubbsky!
Mike
said on 15/May/17
There's no way she's 4'10", she's 5'0" and she looks very tiny. Five feet tall is pretty short for a lady. I'd say 5'1 1/2 and 5'2" exact is a nice size for a lady. It would have been nice for that lady up here.
John
said on 16/Jul/11
Liz - That girl is NOT healthy! AT ALL!! She needs to lose weight, a lot of weight!
And Saying ''you shouldn't judge someone because of their appearance and then say ''look in the mirror before you judge others'' is just as bas as judging Nikki!
Liz
said on 25/Mar/11
You shouldn't judge someone because of their appearence, if they are happy and healthy that's all that matters, look in the mirror before you judge others.
aram x
said on 29/May/09
Yeah, but I was 5,8" even at the start of HS, and I only grew 1 1/2" to my current height by grade 12. Even when I entered HS at 5,8", she was barely at my shoulder--if that. She was fairly normally proportioned, except a little chubby. I suppose she weighed around 120 lb (which was actually I did when I was only 5,8"!)
mkbreath
said on 26/May/09
I'm 6'00" and have always been intrigued by very short women, and have even fantasized about being with a woman under 5' tall. Aram x stated he used to have a high school teacher who was about 4'10". I remember in 8th grade I had a teacher shorter than me. She taught English, we as students as Miss Vauk, and I'm sure she stood no more than 4'08" tall,IN HER HEELS YET! She was the first teacher who was shorter than I was (me being 13 and no more than 4'11" at that time). After seeing the pictures of Nikki Blonsky, I would agree with everyone's assessment to her height.
aram x
said on 22/Apr/09
How do you are actually 4,10"? Well I use to have a female high school teacher who's only about 4,10" (I never actually asked how tall she was but I am pretty competent at guessing height). 4,10" is well below average height that's for sure, but it's still pretty common to see ppl (esp women) who are only that height compared to legit 7 footers.
Fazi
said on 1/Apr/09
I am also 4'10 and I think it's good when there are actresses out there to shine for us petite girls. I'm also excited because on America's Next Top Model, they are having the first petite cycle. They are only taking girls 5'7" and under. YAY SHORT GIRLS!!!!!!!
aram x
said on 1/Mar/09
well i am only 5,9 1/2 at best but Nikki is only 4,10" and not even at my shoulder height (I haven't met many adults lower than my shoulder level but I have relatively 'high' square shoulders though meaning my shoulder height is greater than most people my height).
Scott
said on 1/Mar/09
4'10 is extremely short. I dated a girl who was 4'9 and it was really awkward. Plus, she hated tall girls because they would look at her funny....she was very insecure with it which didn't help me accept it too well considering I was 15 inches taller....lol
princess
said on 17/Nov/08
omg in the 3rd pic she looked shorter than 4'10
Lego
said on 15/Oct/08
another 4'10 lol nice image, and she's also beautiful, short girls are incredibly hot for me and i'm 5'11, love anything below 5'4.
hard to judge this image though, she probably is 4'10.
glenn
said on 13/Oct/08
thank you janice.im bending alot as you can see.
janice
said on 13/Oct/08
4'10 it is. Very nice picture.
Anonymous
said on 13/Oct/08
Who agrees with me?? that is very short, but hella awesome and even though I am like 1 5'8 or 9 girl myself and I love it, if I was Nikki I wouldn't want to be any taller.
glenn
said on 12/Oct/08
she was very friendly.
FiveOne
said on 27/Sep/08
I'm glad that she's not ashamed to reveal her real height. Hollywood seems prejudice against petite people. She is a better actress than most in Hollywood and she sings well too.
Jessamyn
said on 21/Apr/08
No heels in hairspray - see pictures.
Click Here
Click Here
Uncertain in this one, maybe some cute little heels.
Click Here
Gosh, I love Nikki Blonsky.
francesca
said on 11/Apr/08
good on her for telling her actual height im only 11 and im that tall
good on you girl
Emma
said on 22/Feb/08
Yay!! Finally, an actress who is the same height as me!! (I'm 17, nearly 18 and I am 146cm. So not really 147cm, but you get the point...)
Athena
said on 10/Feb/08
I believe on her website, she states she's 4'11"...she's really a shorty...but a cute shorty no doubt.
tracy
said on 28/Oct/07
wow i thougth that i was short, but i am 5ft 1 and to see that there are people out there that r shorter than me its hard to believe, but even tho nikki is 4ft 10 she is a great actress and i love to meet her some day and i hope to see her many more movie, and zac efron i think he is so hot, what a hottie. well done to the both of them
Lori (this is not my real name but i use it for proection)
said on 26/Oct/07
Hey I'm 5ft 2 I'm about a head tallet than all of my friends, that dosen't stop them for being awesome!!! My point is Nikki is Awesome and a great actress! I wish to be like her someday ( i love to act and want to be in movie musials and or on broadway) Keep up the Good work NIKKI!~!!!
rochelle
said on 3/Oct/07
i thought she was short because zac (the cutie) is not that tall. and when seeing the movie i relised that she must be litle. wow that is quite short,as i am 163cm. she looks great though i agree 100% with that.
Nati
said on 12/Sep/07
I think she´s grat, I don´t mind her heigh or her weight she´s very cool and pretty. Her talent is the important thing, I think that is stupid talk about her height or her weight.
Laurie
said on 4/Sep/07
Makes Sense Cause It Made Zac Efron Look Really Short But He's Actaully Quite Short For A Guy..
ally
said on 1/Sep/07
i am only 5 ft so its gud that they had someone short
priscilla
said on 8/Aug/07
that's ok tho. they needed someone short for the movie. in the end, the movie was a hit!!(to me)..anyhow.
ana
said on 6/Aug/07
wow im 5'0
well at least she didnt lie about her height
Jordan
said on 5/Aug/07
I thought 5'0 as well, and I heard they made her gain about 30lbs for the role which def. made her appear shorter.
anonymous
said on 2/Aug/07
I give her credit for being completely honest with her height.
Chip
said on 2/Aug/07
Well, she looks about a foot shorter than Amanda Bynes, who is about 5'9", so 4'10" is probably right.
Anonymous
said on 2/Aug/07
I totally believe 4'10." She looked so short in Hairspray.
Jess
said on 2/Aug/07
WOW! I would've thought at least 5'0 to 5'2. So she's been wearing heels in hairspray?
Anthony
said on 31/Jul/07
Wow, I would've thought she was at least 5'.