Pete Sampras Height
6ft ½ in (184.2 cm)
American former professional tennis player who won 14 grand slam titles. He once said
"My wife's five-nine, I'm six-one"
.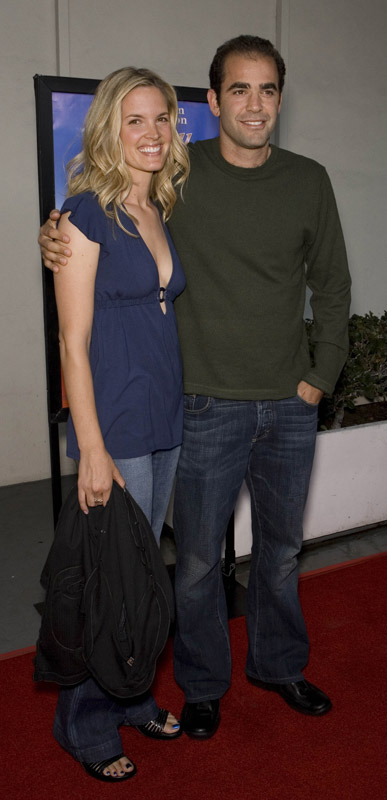 Pete and
Bridgette Wilson
Photos by PR Photos
You May Be Interested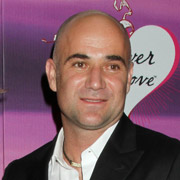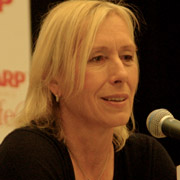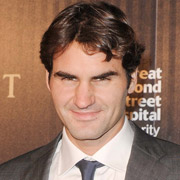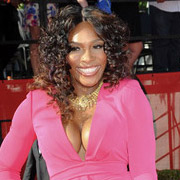 Add a Comment
25 comments
Average Guess (16 Votes)
6ft 0.7in (184.7cm)
Domi
said on 11/Jan/21
Pete is taller than Nadal but shorter than Federer (who is 6'0.75 IMO) .
6'0.5 sounds about right.
Nik
said on 7/Oct/19
Rob's on the 🎾!
MK
said on 21/Jun/19
I have looked multiple pics standing on the floor side by side..The difference between Fed and Sampras is around half an inch.
Rampage(-_-_-)Clover
said on 19/Dec/18
He does look a solid 6ft1 w/h Boris. You could argue that for him peak and still 184-185cm today
I think currently he'd be right between Federer/Henman and Nadal
Hendoooo
said on 8/Dec/18
I am convinced Pete has already lost height, like he's lost a lot of hair :)
With 6'2 1/4 Boris Becker. He is slouching so much and still looks only about a inch shorter. These are in his prime days.
Looks 6'1.25 then and 184CM now.
Click Here

Editor Rob
There is an argument he could have lost a 1/4 to 1/3rd since 90's and been nearer 185
Hendoooo
said on 8/Dec/18
He looks more than 184CM in this image rob?
This was taken with them doing the same posture on even ground and Pete looks 2.5 inches taller
putting him at 186cm in his playing days
And 184cm now because of the continued bad posture.
Click Here
Rampage(-_-_-)Clover
said on 2/Oct/18
This is the lowest I'd argue for Sampras. Generally looks close enough to 6ft1
dicky curtis
said on 1/Aug/18
I think he is very close to 6ft1
Ccc
said on 4/May/18
I completely agree with noelegally. Pete can't be over 6 feet. Rob is being rather charitable at listing him at 6ft 1/2 inch. A half inch difference between Fed and Sampras would be barely noticeable but there is a clear height difference between them. Plus Murray is listed at 6ft 1 and 3/4 inch. If Murray is less than 6ft 2, how can Sampras be at 6ft 1/2 inch. There is easily a 2 inch difference between them
noelgally
said on 29/Apr/18
Plus if Federer is 184.7cm at night then no way is Sampras only half a cm lower at night
noelgally
said on 29/Apr/18
No way Sampras is 6'1 if Federer is 6' 3/4 to 6'1. Sampras is 6'1 in tennis shoes
Ccc
said on 6/Apr/18
So Rob if Pete is 6ft 1/2 inch, that would be only half inch an shorter than Federer. That is a negligible difference and in most pics i see a bigger difference than that.What do you think is the height difference between the two all time greats?

Editor Rob
From all I've seen I wouldn't say there was an inch between them, but half inch is very likely.
Ccc
said on 31/Mar/18
Rob Pete needs to be downgraded. You have him as taller than Nadal. In the 2014 Australian Open trophy ceremony, Pete looks slightly shorter than Nadal. Pete is 6 ft max. Even in his earlier playing days, Pete was listed at 183 cm and then magically he grew an inch. The difference between Fed and Pete is certainly more than 1/4 inch

Editor Rob
Pete at 6ft 1/2 inch is quite possible but 6ft flat? I'm not sure he looked that low.
hambubger
said on 25/Mar/18
On second thoughts after looking at him with Agassi, Federer, Nadal etc. I'm actually going to say strong 6'. He's even not a 6'1" guy, weak or otherwise.
hambubger
said on 25/Mar/18
Weak 6'1", with a slight shoulder hunch at that making him look a 6 footer at times next to solid/strong 6'1" players like Federer and Rafter.
Big Al of Bondi
said on 23/Mar/18
He's likely 6'1 during his career, but could look a bit shorter because of his bad posture.
Rampage(-_-_-)Clover
said on 19/Feb/18
Not as solid a 6ft1 as Henman but not far off...
Ccc
said on 7/Feb/18
He can't be 6'1 . Fed is clearly an inch taller than him in pretty much all the pictures I have seen. Also when he stood next to Rafter and Henman who are both listed as 6'1, Sampras definitely looked shorter
Joe Joe
said on 3/Feb/18
He was listed a just 6ft through a lot of his career but I always thought he scanned like a weak 6'1
noelgally
said on 27/Jan/18
Nah, no way sampras is 6'1 barefoot. That'd mean he was the same as federer, half an inch shorter than djokovic and less than an inch shorter than murray. I'd guess 6'1 in tennis shoes
heightchecker34
said on 27/Jan/18
Finally Rob.... you added the GOAT of tennis and the epitome of what tennis was in my childhood, (before Federer arrived.) Yeah, Sampras does slouch A LOT, so sometimes he can look barely 6 ft. But when he stands upright, he is pretty close to 6'1. He doesn't hold the 6'1 the entire day like Federer though, so a weak 185 cm seems right. He did seem shorter than 6'2 Andy Roddick, similar in height to another tennis rival, 6'1 Pat Rafter, and a couple inches taller than his greatest rival, Andre Agassi who to me is a classic 179 cm guy or 5'10.5. Do you think 6'0.5 is too low Rob?

Editor Rob
It's not impossible 6ft ½ but that would be the lowest I think I'd have guessed.
Rampage(-_-_-)Clover
said on 27/Jan/18
Agreed but at least 5ft8 though

Editor Rob
Yes, somewhere in 5ft 8 range. Sampras with poor posture can look barely 6ft, but when he stands well seems close to 6ft 1...I'd still say someone like Federer was a more classic 6ft 1.
Rampage(-_-_-)Clover
said on 26/Jan/18
Rob, does his wife look 5ft9?

Editor Rob
Overall I wouldn't think she was afull 5ft 9
Rampage(-_-_-)Clover
said on 26/Jan/18
I requested this guy ages ago. He did look about 6ft1 in his playing days
Redwing
said on 26/Jan/18
He rob that looks like 3 inches between them then?

Editor Rob
I think sometimes he looks at least 4 or 4.5 inches taller than his wife.