Rob Terry's Height
6ft 4 (193 cm)
British Wrestler/Bodybuilder. He says he's 6ft 5 and about 290 pounds.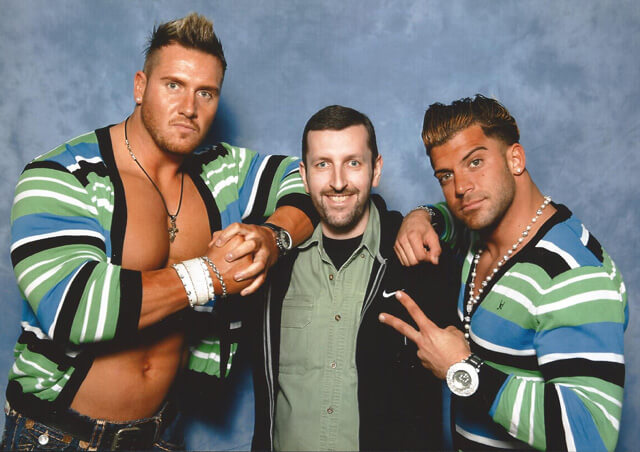 Rob Terry, 5ft 8 Rob, Robbie E
You May Be Interested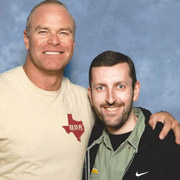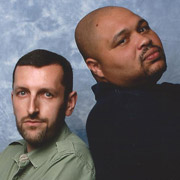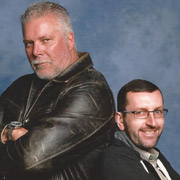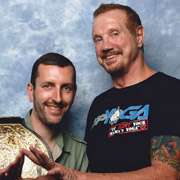 Add a Comment
63 comments
Average Guess (39 Votes)
6ft 3.53in (191.9cm)
Sotiris Gravas
said on 1/May/19
W/ Aaron Reed who claims 6'7"...
Click Here
Peter 180cm
said on 9/Feb/19
He might be just 191cm if he's rising his leg up and the other guy maybe 175cm.
Jordan87
said on 27/Dec/18
@ Even,
He is below 300 pounds. He said he is 290. You think he is underlisting his weight. Don't be silly.
Mickie
said on 7/Dec/18
6'3.5" if standing straight seems fair. Ali Baba had him at 6'3" at best, which tells you something.
Christian 6'5 3/8"
said on 30/Oct/18
Robbie E could be around 5'9" range.
Canson
said on 28/Oct/18
6'3.5-.75
Nik
said on 12/Oct/18
@ Ben - That is a very interesting comment!
@ 184guy2 - 👍
184guy2
said on 8/Oct/18
Haha everybody in UK seems to be Rob
kraj76
said on 28/Aug/18
6'5" is a favorite height to claim for 6'3" and 6'4" people
Nik
said on 22/May/18
6'4"!
Ben
said on 3/Feb/18
Rob, Rob and Rob.
Cool! 3 Robs' in one pic!
Ricky
said on 2/Dec/17
Rob Terry is not a bit shorter than 6'4".
In that picture he's leaning.
Editor Rob: he is leaning, but also rising up on one foot too.
Sean
said on 30/Aug/17
Hi Rob, can you add the stadiometer here with Rob Terry? I'm guessing 6'3.5" in your pic above.
Christian-6'5 3/8
said on 23/Jul/17
6'3.5"
even
said on 22/Jul/17
hes 6 foot 4 , but nothing under 300 pounds .
Mark(5'9.5
said on 11/Jul/17
Holy *BEEP* his weight and muscles looks ridiculously monstrous! 😱😱😱Don't mind my language!
John
said on 10/Apr/17
Looks bigger than 290.
Christian-196.2cm (6ft5.25)
said on 13/Dec/16
Rob Terry doesn't quite look 6ft4 compared to when Billy Gunn stood beside Rob Paul. I would give him 6ft3.5 or 6ft3 5/8".
James B
said on 9/Jul/16
He looks just like the bouncer at my local bar lol. A lot taller than her bouncer though
Sammy Derrick
said on 6/Dec/15
Rob?Quick question are most pro-wrestlers good looking?
Rob Terry-6'4
Robbie E-5'9
Editor Rob: I'm a wrong guy to ask about whether men are good looking.
Sammy Derrick
said on 22/Nov/15
Rob?How tall is Robbie E?Considering his hairstyle and all???
Editor Rob: I thought he could have been 5ft 9
joe @@
said on 1/Nov/15
6'3.25 - 6'3
James B
said on 14/Oct/15
Rob 6'3.5 possible for Terry?
[Editor Rob: it's a mark I wouldn't rule out, terry walks like a 6ft 3 man, but he can stretch up taller to look more 6ft 4 than 6ft 3]
joe
said on 27/Aug/15
6'3 with ali baba
HeightcrazyRed6ft
said on 9/Jan/15
Click Here
3:10 onwards... that´s the best we got so far.
If Billy Gunn is 194cm Rob is 192cm max.
If Billy Gunn is 193cm Rob is 191cm max.
If Billy Gunn is 192cm Rob is 190cm max.
Anything below or higher is pretty unrealistic.
Andrea
said on 2/Nov/14
Rob, you think he might be 6'3 or you rule it out? Ali seems convinced he's not over it... Did he look similar to legit 6'4 guys like J. Padalecki or Colin Salmon in person?
[Editor Rob: Salmon/Pad look more of a 6ft 4 but I believe Terry has the compressed back problem which big weight lifters might get, I seen him in Glasgow in the summer up close and though - this guy can look 6ft 3 a lot...but just feel he can stretch up for a measurement over 6ft 3.]
marcus
said on 4/Sep/14
here is an interesting picture of rob terry with arnold, this one is from a distance and a little blurry but still fairly acceptable. if rob is 6'4, arnold does look a weaker 6'0.
Click Here
Clay
said on 29/Aug/14
Gunn's all of 6'4''..
heshr
said on 12/Aug/14
taking into account both rob terry and robbie e are slouching, and rob said himself rob terry looked 177cm in person:
rob terry 6'3, looks taller with build and spiky hair
robbie e 5'9.5, maybe looks 5'10 to 5'11 in wrestling boots and with spiky hair
James B
said on 5/May/14
6'4 seems right
Mathew
said on 7/Jan/14
Ali Baba says on 14/May/13
I still feel Ferrigno is very close to 6'2" and Terry is 6'3" at the most, and probably lower. I dropped some height with Terry. Don't know why I would do that if I went through the trouble of wearing lifts. Pretty ignorant.
---
I think Terry is a solid 6'3", and Billy Gunn is just fractionally taller. Neither a legit 6'4". I agree with Ferrigno at about 6'2" today. 6'2.5" absolute max.
The Ben
said on 30/May/13
5'11 Arnie 6'3 Rob Terry
mj says on 27/May/13
interesting pic...terry with arnold.....i think he is 3 inches taller than arnold(assuming slight fotwear advantage) Click Here
mj
said on 27/May/13
interesting pic...terry with arnold.....i think he is 3 inches taller than arnold(assuming slight fotwear advantage)
Click Here
Ali Baba
said on 14/May/13
I still feel Ferrigno is very close to 6'2" and Terry is 6'3" at the most, and probably lower. I dropped some height with Terry. Don't know why I would do that if I went through the trouble of wearing lifts. Pretty ignorant.
jimmy
said on 13/May/13
@Ali Baba Ferrigno looks a couple of inches than Terry does in the pics(He actually looks only 6'1" next to you).Did he look that shorter in person of may be a posture matter?
johno
said on 13/May/13
LOL@Josh, these lifts comments make me laugh. Seriously, some people are deluded. Why would a very tall man (eitherway) feel the need to own lifts/elevator shoes? Why would he go out of way to find a celebrity (lucky to run into one) take a picture with, the only purpose to make them look shorter? that would be incredibly sad especially for a grey haired man with children. I am pretty sure he has other things to do in his life.
Ali baba has the proportions of a very tall man. I believe he is being slightly generous with his height estimations just to be kind to some of you fanboys
Gosh, now i know why some of the picture contributors to this site ie alex, previously mamun, the main himself rob are a bit careful with what they say, there are derranged fanboys out there ready to launch personal attacks.
Ali baba, ignore the professional fanboys and keep the pictures coming.
Ali Baba
said on 12/May/13
And out of no where Ronster comes back and posts as Josh. Give it up.
Josh
said on 10/May/13
Ali Baba has put his usual lifts with Rob to make him look shorter
Ras
said on 28/Apr/13
Ali Baba says on 14/Feb/13
Interesting video that recently popped up Click Here
Morgan looks about 4 inches taller than Terry at most (he actually looks the same height as you with Terry). IMO Terry 6'2.75-6'3 (but he's usually got a bad slouch), Morgan 6'6.75, Matt Bloom 6'6 (uses thicker than standard wrestling shoes, that's why he appears taller), Taker 6'8 peak 6'6.5 nowadays and I think Robbie E is 5'8 but looks taller next to Terry due to Terry's slouch.
Arch Stanton
said on 14/Apr/13
You can tell that Ali Baba is a genuine barefoot 6'6" guy. He just has 6'6" proportions, the typical long head and torso. He could actually pass for 6'7" in a few of the photos.
Johno
said on 12/Apr/13
6'3.25 looks spot on
miko
said on 19/Feb/13
Matt Morgan at 6'7 would put Big Show at 6'9.
Big Show is at least 6'11 in reality. Morgan 6'8.5/6'9 range.
Ali Baba
said on 19/Feb/13
There are but basketball stats can be as bad as stats from wrestling sometimes and I don't take them at face value.
The Ben
said on 18/Feb/13
Morgan I'd put at a strong 6'8, maybe even 6'9.
Abyss around 6'5, could be a little over that.
I wouldn't put Morgan as low as 6'6, I have a friend who I see a lot who's 6'7.5 barefoot and Morgan was taller than him. I'm sure there'll be some basket ball stats with Morgans height out there.
Ali Baba
said on 18/Feb/13
Actually my name is just a stupid name I pulled out of my rear end since originally I didn't plan on posting on here more than one time. Although I know there are people in Asia who are 6'10" or taller, I'm actually just north of Austin, Texas. If you look at the top of the page there's a link to a pic of Terry and I. I don't want to make people shorter, I just don't like lying about height.
James
said on 17/Feb/13
Ali Baba Morgan seems to be taller than Kane whos about 6 ft 9.I think he is at least 6'10,And Abyss is probably at least 6 ft 5.Dont know why u want make them much shorter.Its also interesting how u say u look up to people where u are probably from Asia(from seeing ur name).So i dont think people there touch the 6 ft 10.
Ali Baba
said on 15/Feb/13
I figure the advantage that Abyss has in the video might give him an inch. Never can be sure though. With Rob Terry being tops 6'3" it puts Abyss around 6'4" and Morgan 6'7" tops (considering Terry and Morgan were more side by side than Terry was with Abyss). Disclaimer: these are only the opinions of the author and are only intended for intertainment use. :) I've seen Abyss billed at 6'8". Didn't know they tried to say 7'. They do try to pass off Morgan as 7'. I've said it before, so I know this falls on mostly deaf ears, I was within two feet of Morgan in his wrestling boots. Myself and another guy whom I had never met, and who claimed 6'8", both agreed Morgan was 6'6" without the boots (at first the other guy said 6'7" util I pointed out the thick boots). I have been friends with guys taller than me (6'10" being the tallest) so have a very good idea of what those heights look like compared to myself. I know most will never change their mind just because some shlub on the internet says something, but these were guys I hung out with on a very regular basis. It wasn't just an "I met a guy once..." kind of thing. 6'8" and up is a very noticeable difference to me since looking up at people is not something I'm used to. Even 6'4" and up starts to feel weird.
The Ben
said on 15/Feb/13
Good Videos Ali Baba.
I've stood next to Terry and met Abyss a few times.
I think the camera angle here favors Rob Terry a little.
I'd put Abyss at a solid 6'5, I can't believe TNA tries to pass him off as 7 foot, A 7 inch-ish stretch.. Madness!
Ali Baba
said on 14/Feb/13
And another interesting video
Click Here
Ali Baba
said on 14/Feb/13
Interesting video that recently popped up
Click Here
DanMan
said on 27/Jan/13
Yea, his hair makes him looks taller, as well as his hugeness.
Mathew
said on 20/Dec/12
Ali Baba says on 3/Dec/12
There's not a chance he's 6'4".
---
Yeah I think his listing really needs to be changed.
Mathew
said on 16/Dec/12
Shorter than Billy Gunn, so I can't see how he can be 6'4".
BEASTMAN
said on 14/Nov/12
Billy Gunn (also listed at 6'4) looks taller in their match. Either Terry should get a downgrade or Gunn should get an upgrade.
Click Here
(3:16)
James
said on 30/Oct/12
Looks 6'3 on tna
Rampage(-_-_-)Clover
said on 28/Oct/12
Looks 6ft2.5-6ft3 with Baba
Ajax
said on 10/Oct/12
The three Robs! Just thought I'd mention!
linke
said on 9/Oct/12
Rob, just out of curiosity, are you a fan of TNA? I though Eckos was 5'9 and terry 6'4.
[Editor Rob: I don't watch much wrestling, mainly just to see heights]
Vegas
said on 9/Oct/12
thats a quick effort, terrys coming out about 6'2.5 even with that lean
Click Here
James
said on 8/Oct/12
Rob Ali baba looks way more than 2 inches taller than rob terry
Ali Baba
said on 8/Oct/12
Vegas, most people's eyes are the 4" mark from the top of their head (so I've heard). Mine is my eyebrows, so there is about an extra half an inch there. With my stance I lost a good 2 inches. Normally my chin is about 2 inches above where my shoulders and neck meet (similar to Alex in his pic with rob. I overestimated Terry's slouch and tried to mirror it for some stupid reason. I think Terry looks like he slouches more than he actually does because of his built up shoulder and neck muscles. Either way, I put this up more for everyone to see what Terry looks like next to someone who we (at least I know) their true height.
In the video with Bully and Abyss if you pause it at 2:41 there looks to be about an inch or so between them
_________
there is nothing to suggest a 2 inch slouch in that photo, your head is straight enough, as are your shoulders, its difficult to lose 2 inches unless you bend your knees or bend your head/neck down
thats 2min 41secs Click Here this video ray and abyss stand close together at 2min 57secs and its clearly more than an inch difference Click Here
looking at terry and ray in-ring alone i would be surprised if terry was not taller than ray barefoot
________________________________________________________________________________
I agree that 2:57 is much better to judge height from.
If you look at my pic with Terry my head is dropped toward the camera and slightly to my left (the viewer's right). My chin is not even with my neck/shoulder intersect when I stand straight.
Jack
said on 8/Oct/12
Robbie E is listed at 5'11"(180 cm) and looks nowhere near that mark...
[Editor Rob: he looked near 177cm.]