Robert Kazinsky's Height
6ft 0 (182.9 cm)
British actor best known for roles in Pacific Rim, True Blood and Eastenders. On his resume he described his height as 6'0, although on twitter claimed to be taller:
So apparently I stand on my tiptoes a lot. I'm 6"1' I shouldn't have to do that. Maybe I'm secretly 5'10 but don't know it.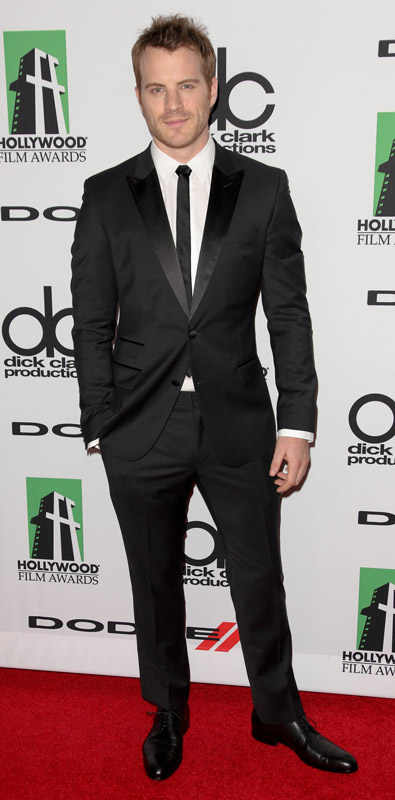 Photos by PR Photos
I'm six foot tall, 200 pounds and I've won a sexiest male award or two over the course of my younger years.
Add a Comment
62 comments
Average Guess (19 Votes)
6ft 0.01in (182.9cm)
TheBat
said on 6/Mar/20
Yeah 6'0" seems legit for Robert.
Junior Hernandez 1990
said on 17/Jun/19
If he is solid 6'0 then 5'11.75" Daniel Wu is not under 6'0.
saltyfish177cm
said on 5/Jun/19
well big rob has seen him in person and said he is a strong 6 feet
Junior Hernandez 1990
said on 2/Jun/19
@saltyfish177cm Solid 182cm i mean to be more like a 5'11 7/8 guy (182.6) it isn't impossible. That is how he often look in his work.
saltyfish177cm
said on 23/May/19
plus charlie is clearly a good bit closer then robert, yet barely looks taller. if anything robert is taller
saltyfish177cm
said on 23/May/19
@Junior Hernandex 1990, there are alot of pictures with charlie and robert, in most rob looks a little taller. i think they are similar heights but rob is no way in hell less then a solid 6 feet
Junior Hernandez 1990
said on 21/May/19
Click Here
Charlie Hunnam could be more 6'0 than Kazinsky look. I suspect for a long time that Kazinsky is more like solid 182cm guy.
saltyfish177cm
said on 3/May/19
Big Rob I have 2 clips showing Scott Maslen And Rob Kazinsky together, decades apart. What would your verdict be on Scotts height based on these clips?
rob/scott 2019:
Click Here
rob/scott 2008:
Click Here

Editor Rob
It's tricky as in the recent scene Robert might be a bit nearer and look taller than he is...there still could be about 1.5 inches between them though.
ASDAPIX .
said on 29/Apr/19
I think he is 6ft1, thats if Scott maslen is 5ft11. There seemed to be a 2 inch gap between them on Eastenders today.
Littlelee5ft6
said on 27/Apr/19
Yeah Sandy he's only 35 only 2 years older than me can't see him losing any height still the strapping 6 foot
Miss Sandy Cowell
said on 25/Apr/19
Robert IS coming back to 'EastEnders'; he is on the cover of next week TV Guide. It'll be a great chance to see how he's fairing in the height department. I can't see him having lost anything from his original 6ft.
Sandy Cowell
said on 11/Mar/19
I've heard that Robert may be returning to 'EastEnders'. It was great to see Linda Davidson, as Mary the Punk, return with her grown-up daughter, and Lofty Holloway, played by Tom Watt, turn up - as predicted by the same source - to pay their respects to dear old Dr Legg, and it would be equally nice if Robert Kazinsky returned to the Soap.
I think his Mum and his sister might be needing him...😿
Robert gets 6ft.
Rampage(-_-_-)Clover
said on 7/Mar/19
Rob, can give a taller than 6ft impression at times
Rampage(-_-_-)Clover
said on 7/Mar/19
The ground might be a little uneven since it's on the beach and the taller guy may have a slight advantage but a solid 6ft3 is believable
James Brett 172cm
said on 6/Mar/19
Robert did wear Timbs in eastenders so the guy in the scene I posted could be a solid 6ft3.5
James Brett 172cm
said on 4/Mar/19
Rob how tall would you say the fella is who fights Robert in this scene?
Click Here

Editor Rob
He looked in 6ft 3 range
saltyfish177cm
said on 7/Feb/19
Big Rob what can you put Scott Maslen at next to Kazinsky in the pic linked below?
Click Here
And also what can you put Matt di Angelo at next to him? I always thought Robert had near 2 inches in him
Click Here

Editor Rob
Close to 5ft 11 there for Scott.
James Brett
said on 1/Feb/19
You saw kazinsky in person rob?

Editor Rob
Yes I saw him a few times and he was a typical guy near six foot, but not 6ft 1 though!
James Brett
said on 30/Jan/19
Rob google photos of rob kazinsky and 5'11 listed Ian Harding..... there's hardly a difference between them.

Editor Rob
There's not a great deal. In person someone like Rob looks about 6ft.
Sandy Cowell
said on 30/Jan/19
I've heard that Robert might be coming back to 'EastEnders'. Then we can really have a good look at him!
Until his part in the aforementioned Soap, I haven't seen him act, and I'd have loved seeing him starring with Jack Huston, who I simply adore after his performance in 'Boardwalk Empire'.
Robert gets 6ft.
Junior Hernandez 1990
said on 28/Jan/19
Daniel Wu did not look half inch shorter than him, they were the same or within small fraction. Most probably Rob has underlisted Daniel by 0.25".
Nik
said on 21/Jan/19
It's no secret that he's 6'0"!
Junior Hernandez 1990
said on 10/Nov/18
Jack Huston look a taller 6'0 than Kazinsky.
James B 172cm
said on 21/Oct/18
Strange thing is rob Danny dyer can look 2 inches taller than Matt on eastenders

Editor Rob
I'm sure at times he has looked 1 up to 2 inches taller.
James B 172cm
said on 18/Oct/18
Struggling with 6ft next too 5ft10 Matt Di Angelo.
Your opinions rob?
Click Here

Editor Rob
Matt looks nearer the 5ft 11 mark there, though I think 5ft 10.5 would be a limit of how tall he could look on Eastenders.
Junior Hernandez 1990
said on 4/Sep/18
6'0 claim 6'1 and look 190lbs.
James B 170.8cm
said on 11/Feb/18
Any gusses on his weight rob?

Editor Rob
Seems 200 pounder.
MD
said on 6/Apr/17
@Rob,
Here he is with 5'11.75" Travis Fimmel, and Fimmel even has a footwear disadvantage:
Click Here
Click Here
That's Travis Fimmel, right?
Editor Rob: MD, I wouldn't say Robert's sneakers were much thicker, they could be a 0.6.-0.7 style from what it looks. I would be more surprised Robert measuring under six foot, than being an honest 6 footer.
S.J.H
said on 4/Apr/17
5'10.75 don't look any near 6'0
James B
said on 24/Feb/17
Rob he Didn't look quite 6ft if Zachary Levi is just 6'3
Editor Rob: I think 6ft is fine for Robert.
King of the hill 91
said on 21/Jan/17
Pages have him 183 cm to 185cm maybe 184cm rob or 183 .5 cm maybe rob and how do you think he is weight mark rob
Sandy Cowell
said on 9/Jan/17
I didn't know Robert Kazinsky starred in 'True Blood'! How interesting! I remember him as one of the rather more attractive pieces of beefcake from 'EastEnders' who actually wasn't gay!
So he's 6ft - 6ft1, and he mentions that he finds he's on his tiptoes quite a lot! So am I, but with me it's a case of bleedin' having to be just to reach things! 💪
James B
said on 5/Mar/16
You might get an chance to meet this guy at a convention rob?
Editor Rob: no idea really!
MD
said on 20/Feb/16
He talked on a late January episode of American talkshow "Conan" that he put on 50lbs after his time on EastEnders. Is this true? Are there pictures of this?
James B
said on 10/Jan/16
Interesting rob someone pointed out on this page that kazinsky was 3 inches shorter than Levi with footware advantage.
You yourself think that Levi might be be just 6ft3 so maybe 5'11.75 could be possible for Robert?
Editor Rob: no, I doubt Kazinsky is under 6ft.
James B
said on 23/Sep/15
Looked taller on eastenders than many 6'1 actors on the same soap
The Actor
said on 2/Apr/15
I've worked with rob. I can tell you he's 6'1" and is 205lbs
BigMan
said on 17/Sep/14
Rob, did you watch True Blood season 6? In that he seemed to be around the same height as Jessica Clarke when both were barefoot, and barely an inch and a half taller than Stephen Moyer.
I don't think he's actually 6 foot tall.
[Editor Rob: gave up on true blood, so never watched that season ]
James B
said on 4/Aug/14
Rob do you think he could drop to 5'11.75 at night.
I
[Editor Rob: I'd leave him around 6ft, but always a possibility of a little shy of the mark...that will always be true for guessing. Nobody can say with certainty a height is right or wrong, because a measurement is the ultimate proof.

Unless it's conducted by a friend of G, then all bets are off.]
cole
said on 3/Aug/14
@Editor Rob: What do you make of this?
Click Here
Looks about 3 inches shorter than Levi, but has a footwear advantage.
[Editor Rob: yes I said a while ago about this, I wouldn't guess robert over 6ft from this set of photos.]
madman
said on 3/Jul/14
He seemed to be roughly the same height as the 5'10" Jessica Clarke during their sex scene on True Blood's 6th season.
183 cm is pushing it IMO.
James B
said on 7/Jun/14
184cm not out if the question though rob?
[Editor Rob: it is arguable although I think 183 might be the better shout]
James B
said on 6/Jun/14
Rob on eastenders I remember he looked 6'1.5. He did wear timbs and had his hairstyle all spiked up a lot. When I see 6'1 guys like Michael French on eastenders Robert did give of a taller impression on tv.
[Editor Rob: with a boot he can pull off maybe a bit over 6ft, I don't think he's a 6ft 1 guy though.]
Small dude :(
said on 27/Apr/14
he looked huge on Eastenders because the rest of the cast are/were quite short.
James
said on 30/Dec/13
In eastenders looked 187cm.
Sam
said on 10/Jul/13
He looks not more than an inch taller than 5'10.25" listed Ryan Kwanten on True Blood. However, he can look a solid six footer next to Anna Paquin. Oh no, another one of this six footish guys who can look 5'10" to 5'11" to people (see Ryan Gosling, Bradley Cooper, etc.)
Click Here
Shaun
said on 6/Dec/11
I'd out money on Kazinsky and Robert Pattinson being the exact same height. Maybe 183-184cm.
James
said on 24/Jan/11
Years back in Dream Team he just looked a flat/above average 6ft guy. In Eastenders he looked a big 6ft+ man.
Mr 5ft10.25
said on 26/Dec/10
yeah he used to wear huge boots on Eastenders which made him look taller.
James
said on 10/May/09
On Eastenders he could look like 6'2 somtimes.
frosty
said on 11/Apr/09
on eastenders he did look shorter than 6 feet sometimes, but then you see a picture of him and he looks around that height
Lyndzi
said on 2/Jul/08
I think 6ft is a good shot. He sometimes across as taller because he usually wears big boots in Eastenders, plus the fact that he plays a pretty intimidating character so he has to look down on people a lot. He's hot though :P
Domo
said on 5/Jun/08
id say hes about 6ft 0.75in cos hes jst a bit shorter than me when i met nd im 6'1
Dave
said on 2/Jun/08
He doesn't look 2 inches taller than Scott Maslen, it's about an inch. Another thing Scott is 5'11 flat when he was in the Bill so he hasn't gained half an inch overnight, that makes Kazinsky around 6'0. I am a shade under 6'0 with 182.5cm and when I saw Rob in Brighton last year he looked almost exactly the same height as me maybe 1cm shade taller at most, anyway it proves he is under 6'1.
daii
said on 1/Jun/08
i thought he looked about 6'3 but he wears them boots which as 2 inches on so hes about 6'1.
Fo
said on 27/May/08
Looks 6ft1.5 if scott maslen(who plays jack branning) is 5ft11.5
sf
said on 9/Jan/08
What about Ted Kaczinsky????
Anonymous
said on 27/Dec/07
i always thought he was about 6 foot 2 if not taller (just an impression). but then his hair is tall also, and he wears big soled boots which could add upto 2 1/2 inches
Dave
said on 24/Sep/07
He looks about 2 inches shorter than fellow Eastender star James Alexandrou (Martin) who is 1.88m (6'2) so 6'0 is about right for him, though I must say he does have a physique that looks tall for a 6 footer.
Mal
said on 9/Sep/07
He also wears Timberland boots in just about every episode while most other members of the cast wear flats or trainers.
Matt
said on 31/Aug/07
I think it just goes to show that six foot is a genuinely impressive height, and that most male stars come no way near clearing it. Hence the legitimate debate about Stallone, Damon, Pitt et al.
Although William Goldman may have exaggerated the Stallone incident (I think they have a history), interestingly he did say that he was 6'1" himself, and the ONLY two stars he had met who were taller than him were Clint Eastwood and Sean Connery.
James
said on 17/Aug/07
Thanks for posting his height Rob. Wow I am suprised he's only 6ft, it must have been his hairstlye that made him look 6ft2? Oh yeah one last thing on eastenders homepage is listed as 184 this might be slightly more accurate.
[Editor Rob: he's 6 flat, the height he gives himself.]