Rupert Graves Height
5ft 10 ¼ (178.4 cm)
English Actor best known for appearing in films like The Madness of King George, V for Vendetta, A Room With a View and Maurice. On TV he can be seen in series like BBC's Sherlock. An interview with Rupert-Graves online revelead his own height, at which he claimed to stand
"Five foot ten, and seven eighths."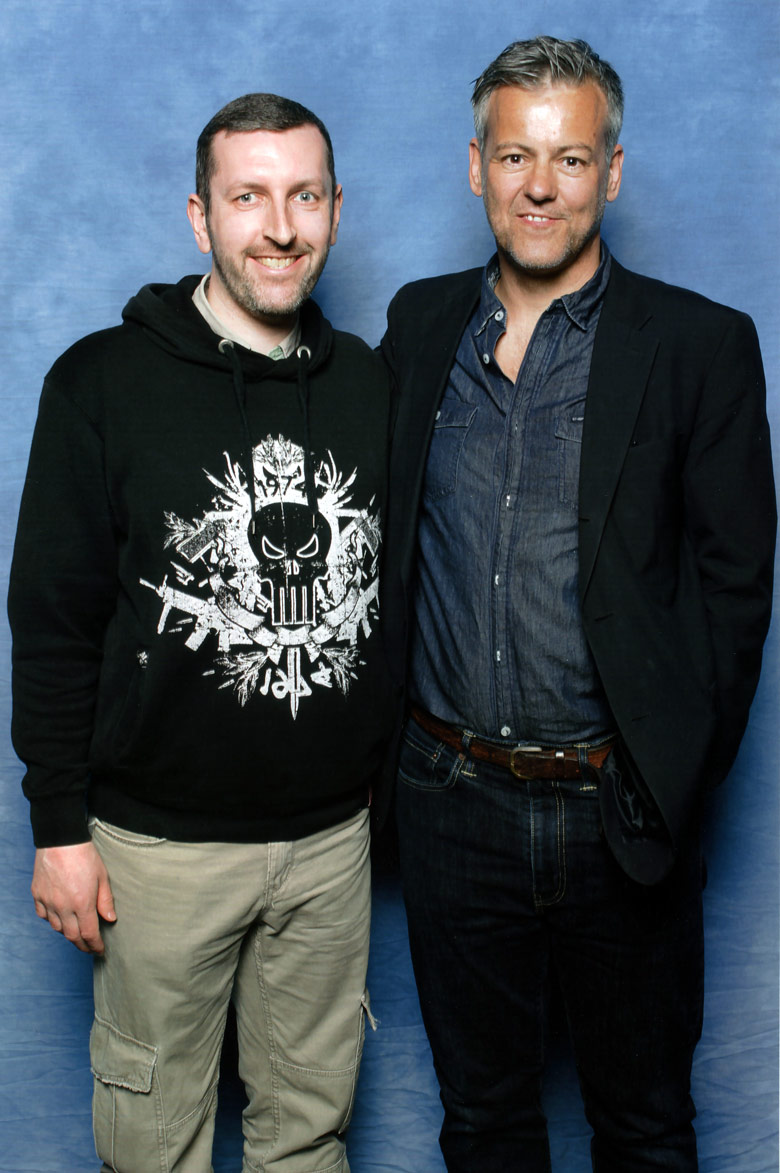 5ft 8 Rob and Rupert @ Sherlocked, 2015
You May Be Interested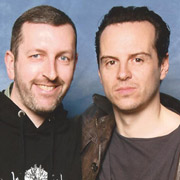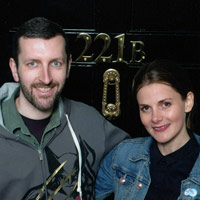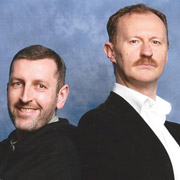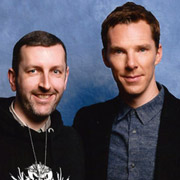 Add a Comment
45 comments
Average Guess (39 Votes)
5ft 10.83in (179.9cm)
Greg
said on 18/Jun/20
@179 guy Cumberbatch looks similar to my one friend who I speculate is in the 5'11 3/8ths-5'11.5 range and when a I saw Josh Next to Benedict they looked almost the same height but Benedict seemed to edge him but not even by an inch it seemed unless there was a footwear swing or he was standing with loose posture.
Nik Ashton
said on 17/May/20
Five foot ten, and one eighth is more likely than five foot ten, and seven eighths!
OriginalAnon
said on 15/May/20
He could be 179cm.
Christian 6'5 3/8"
said on 2/May/20
The alleged 5'10 7/8" measurement could either be right out of bed, or in shoes.
Hdh
said on 26/Sep/19
Ithink he is 179 to 180.5 cm max
179cm guy
said on 4/Feb/19
P.S. Rob you've also said that in person Cumberbatch only looked like a 5'11-5'11.5 guy rather than the weak 6'0 that you currently have him listed at.

Editor Rob
Yes he's on 5ft 11.5, but can at times seem not that much over 5ft 11...but I've stuck with the 11.5 because generally I think he's going to measure near it.
179cm guy
said on 4/Feb/19
Rob, if it was a toss-up between options A) Graves measuring at a flat 179cm in the evening or B) Cumberbatch measuring at a flat 181 cm in the evening which one would you go with? You've said in the past that when they were standing side by side that there didn't seem to be more than an inch between them and that you'd give Graves a better chance of being 179cm rather than 178cm. Even though he only looks 5'10 in this picture with Gatiss (
Click Here
) it's quite common for 5'10.5 guys to only look 5'10 next to guys that are well over the 6'0 mark (
Click Here
). Rupert looks well within a fraction of Jonathan Aris, as a matter of fact, most of the time I can't see any difference in between their heights on the show, and I think that Graves can easily hit 5'11 in regular footwear with his hair gelled up. Graves might have also lost a fraction now in his mid-fifties. What do you think Rob, if you had to choose between the two options because I think that either Graves has to be upgraded or Cumberbatch downgraded respectively.

Editor Rob
5ft 10.5 could have been believable. In person he looks the same range as guys like big josh, who you could argue at times is 5ft 10 3/8th too.
Zampo
said on 19/Oct/18
5'10.25 is a good listing based on the photo with Rob.
Bobby
said on 9/Jul/18
Is accurately reflective of 2.25 inches of difference? I mean, if we think of Rob as a 5'8.25 guy, this would be 2 inches, right?

Editor Rob
I think somewhere in 178-9 range is likelier than 179-180 range, you can see with
Gatiss
that weekend.
Bri
said on 23/Apr/18
He looks 180 here
Greg
said on 25/Jan/18
I gotcha in that case you need to downgrade Connor Trinneer or upgrade Rupert because they both look similar with you. I would have said 5'10.5-5'10.75"

Editor Rob
I think Connor has a better chance of being nearly 5ft 11 than Rupert. Graves is shorter than 5ft 11
Hugh Grant
and
With Gatiss
Greg
said on 5/Dec/17
Rob I don't understand why did you downgrade him to 5'10.25"? He looks closer to his claim and the average rating is closer to 5'11 then 10. You have the same thing with Seth Macfarlene both Men seem closer to 5'11 then 10.
Editor Rob: well in hindsight compared to all the other guests that day, a bit over 5ft 10 rather than almost 5ft 11 seemed a decent fit for him.
World Citizen
said on 22/Nov/17
Good listing.
Tunman
said on 11/Nov/17
Looks very similar compared to Casper Van Dien,except that Casper had 1"advantage with Rob,perfect listing.I wonder if the dude hasn't measured himself to come with the 7/8"claim,sounds like a morning height,though.
FE
said on 17/Oct/17
@Editor Rob,
Why the Downgrade?
I thought you said that he wasnt as low as 178? personally, i thought he wasnt far of the 5'11" mark.
Although you did say Ben looked an easy inch on him at times, so if Ben is 181-182 range then Rupert would b 178-179 technically?
Then i guess he must have claim 180 from his morning and probably drops to 178 solid at night, Am i right?
Editor Rob: I think he looked a good 2 inches over andrew scott, a more solid 5ft 10 than Mike Tyson in person, but about 2-2.5 inches shorter in person than 5ft 11 Todd Lowe.
185cmAriel
said on 17/Oct/17
5'11 with his hair like that
Paul
said on 17/Oct/17
Solid downgrade. 5'10 7/8 is probably only with the hair
Slim 6'
said on 5/Oct/17
Nothing above 5'10.5".
Sam
said on 9/Oct/16
1/4" and 1/2" aren't too difficult to spot if the height is within reasonable distance of your own, which is why it can get tricky guessing someones height to the nearest 1/4"-1/2" if they are that much taller than Rob. This guy is close enough to Rob that I can work out and say he could be nearer 5'10. If he is nearer 5'11 then at least the above quote makes more sense because the "and seven eighths" is pretty specific, even if he did measure that height earlier in the day which is possible.
Mat
said on 20/May/16
Rob is 5'10.25 the lowest you could argue ? He is 5'11 with his hair now that you added the height chart, and looks a bit over 5'10
Editor Rob: really can depend how much his hairstyle was. Anywhere between 1/4 and 1/2 range.
Eric
said on 7/May/16
179 seems legit
Rampage(-_-_-)Clover
said on 5/May/16
"Rupert Grave's Height is 5ft 10⅞in (180.022cm)"
Should really give him the benefit of the doubt...
Mat
said on 3/May/16
Rob, is 178-79 range possible for him?
Editor Rob: 179cm certainly is, 178 I don't think he's that short
Johno
said on 2/May/16
Rob's and his eyeline vary by 1.75-inches however, Robert has a larger forehead thus in all, he has around 2.25-inches on Rob.
5'10.25-5'10.5.
Michael
said on 26/Apr/16
Rob how comes with some people when they're 180cm you put them down as 5ft 11 then others 5ft 10.75?
Editor Rob: 180cm just covers that 5ft 10.75 or 11 range, but if I think someone is a weak 5ft 11 they'd get listed 10.75
Crypto139
said on 19/Apr/16
5'10.25" on here. Basically average in the United States.
Sean73
said on 19/Apr/16
Yep, 70.75" for sure. Plus it looks like someones been hitting the tanning bed.
Andrea
said on 18/Apr/16
I honestly doubt you can spot 1/8 inches just looking at a person and say, in this case, "he can't be 5'10 and 7/8, i think he's more like 5'10.75"! I really do believe even 1/4 inches are hard to spot at times, let alone 1/8!!!
I'm totally basing my estimate on this picture... I have no idea who this guy is!
What i see is two good inches at most, which would make him around 179! What you've seen in person, as always, might be another deal!
Peter 180cm
said on 17/Apr/16
Looks 178/179 to me,hard to accurately tell really.
Andrea
said on 16/Apr/16
If he really looks at least an inch shorter than Cumb, wouldn't a 5'10.5 listing be better, Rob?
Editor Rob: on the show he did, but his posture varied I think, at times he did stand taller and looked closer to 5ft 11 than say 5ft 10-10.5 range.

In person that day there really didn't seem more than a inch between them...and that's before considering me/rupert were wearing a bit less footwear than benedict.

175.7cm
said on 16/Apr/16
He's 52 years old now, which means he could've possibly lost 1/8th of an inch.
BT
said on 16/Apr/16
@Editor Rob: He doesn't look much more than 2 inches taller than you.
CD
said on 16/Apr/16
I think upon meeting him and getting a photo Rob had to decide on either 5ft 11 or 5ft 10.75 instead of 5ft 10.875. This listing makes sense for him since it doesn't look quite a 3 inch difference.
Editor Rob: on Sherlock he can look an easy inch or at times 3cm shorter than cumberbatch...

in person I guessed over 5ft 10 and under 5ft 11.
Mat
said on 16/Apr/16
@Aaron Zamora
He looks 5'10.5 in the pic, so I guess that's why Rob gave him 5'10 3/4. He obviously got measured 5'10 7/8 earlier in the day so 5'10 3/4 is the max he can be in the afternoon.
mrtguy
said on 16/Apr/16
Looks 5'10''
Aaron Zamora
said on 15/Apr/16
Why downgrade him from 5'10.875 down to 5'10.75, Rob? I doubt a 1/8th inch difference is possible to notice.
iggity
said on 15/Apr/16
Is his head longer than an average 5'11 man? Or is is just a high hairline?
Johno
said on 15/Apr/16
5'10 and 7/8ths earlier on in the day
Andrea
said on 15/Apr/16
He looks 2 good inches taller than you, Rob... I'm not sure he looks over 5'10.5 here! Maybe he got that mark early in the morning?
Mat
said on 4/Jan/16
There used to be only one comment here and it has now disappeared for unknown reasons... I remember the guy in the comment saying ''He later said 'maybe I'm 5'11' when the interviewer remarked his precision.. Solid 180 cm anyway''. Strange...
Mike
said on 31/Oct/15
Close to 5ft 11.
Jake: 1.82 m-- 1.83 m-- 1.84 m
said on 1/Sep/12
After his 5' 10.875" response, when the interviewer notes the preciseness of his response Graves does day "Maybe I'm five eleven.....". Solid 180 cm either way I guess.
Lucy
said on 25/Mar/08
I don't believe that. In Ashes To Ashes, when he stood next to Keeley Hawes who was in two/three inch heels, she towered over him. I'd say about 5'8ish.
question
said on 3/Apr/06
that precise? If human heights fluctuate even after 25, he can say 5'11".
[Editor Rob: I think maybe his tongue was in his cheek, as is mine for listing him at such a precise mark!]
CelebHeights Editor
said on 20/Feb/06
On rupert Graves online, he said:
"[I'm] Five foot ten, and seven eighths"