Sarah Rafferty's Height
5ft 8 ¾ (174.6 cm)
American actress best known for playing Donna on TV series Suits.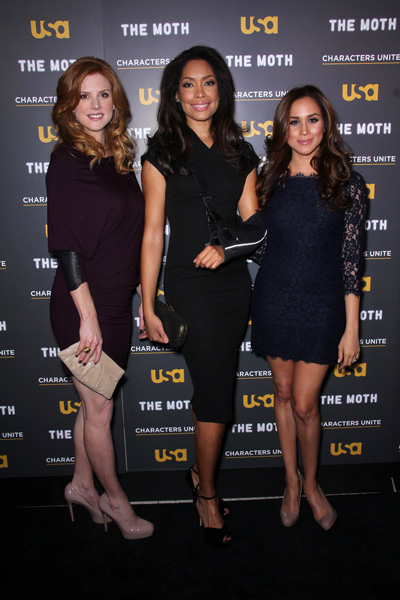 Sarah,
Gina Torres
and
Meghan Markle
Photo by PR Photos
Add a Comment
12 comments
Average Guess (16 Votes)
5ft 8.69in (174.5cm)
Iman Ahmad
said on 21/Aug/19
I Guess She Is 174,5 cm , Barefoot , She Is Lovely Woman ,
kate123
said on 4/Jul/19
1.75
175cm Mark
said on 8/Apr/19
174cm.
Nik
said on 21/Feb/19
I like her name! The above photograph is a joy to see!
cynical_estimate
said on 2/Feb/19
Meghan would wish this photo had never circulated since it ridicules those bogus 5ft6-5ft7 height claims. Gina and Sarah look like Amazons next to her and they're less than 5ft11. Imagine if Meghan stood next to Elizabeth Debicki, LOL.
Alistair_21
said on 27/May/18
This pic proves that Sarah Rafferty is just 2 inches less than Gina Torres and Meghan Markle is more than 6 inches less than Torres. Rafferty may have a slight heel advantage but Torres has the least.
Height_Estimator
said on 23/May/18
This pic proves that Meghan Markle is absolutely not 5ft 7. Why is she inflating her height so much? It's obvious that she's shorter than that because if she's 5ft 7, then Sarah Rafferty and Gina Torres are 6ft 3.
Dianne Stevens
said on 4/Apr/18
I am 5 feet 9 inches, so if I wore 4 inch heels, I would be the same height as Prince Harry. When Meghan is wearing 4 inch heels and standing next to Prince Harry,you can tell she is not 2 inches shorter than him, but much shorter..5'4" or 5'5" would be more like it.
Junior Hernandez
said on 8/Feb/18
Accurate listing here.
Omid
said on 6/Feb/18
Rob you sure about this one?
Just watched an episode of the show, Rafferty in 4 inch heels was 2 inches shorter than Macht in what appeared to be dress shoes.
Either Macht wears lifts, he is taller than the 6'0 you've listed him at or Rafferty is much closer to 5'8 than 5'9.
I'l try to screenshot that scene, it certainly didn't make any sense and as far I could see, camera wasn't at blame there.

Editor Rob
A chance...I think she could look anywhere in 5ft 8-9 zone.
Yaspaa
said on 8/Aug/13
Can't make out Gina's heel, but Sarah has a decent heel plus an inch platform.
AA
said on 30/Nov/12
Suits! Great show.
Wow, Markle looks 5' 4" tops here... looks a lot taller in the show.