Scott Steiner's Height
5ft 10 (177.8 cm)
Peak height was 5ft 11 ¼ (181 cm)
Scott Carl Rechsteiner is an American professional wrestler who was regularly billed as 6'1" during his career.
You May Be Interested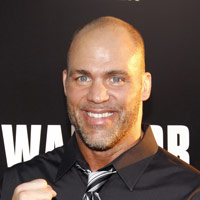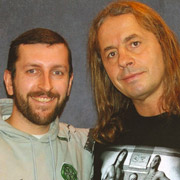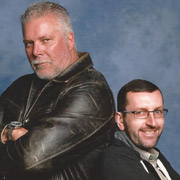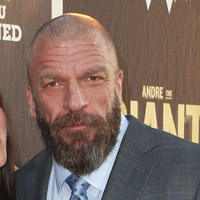 Add a Comment
22 comments
Average Guess (30 Votes)
Peak: 5ft 11.48in (181.5cm)
Current: 5ft 10.23in (178.4cm)
Annonymous
said on 28/Sep/20
Undertaker Frank do you mean Scott looked 5'8.5-5'9 in a photo you saw? indeed, shocking if true. I suspect 5'10.5 peak and 6'0.5 in wrestling boots.
6'3 Julian
said on 19/Sep/20
5'11 peak, 5'10 now. The average guesses don't lie and they spell disaster at Sacrifice!
Annonymous
said on 7/Sep/20
I'm starting to wonder if he was always 5'10.5 range and is down to 5'10 flat today. He had such a presence that people didn't question his 6'1 listing but it's becoming obvious he wasn't close to 6 feet.
Hotpots
said on 29/Aug/20
Peak 5-11. Now 5-10 or just under imo
Eric Bischoff
said on 27/Apr/20
Scott & his brother Rick Steiner standing on their toes next to Rick's son Bronson, who is supposedly 6-0ft tall.
Click Here
Click Here
(mirror)
From Scott Steiner's wife Twitter posted on March 12, 2020.
The Ben
said on 29/Jan/20
Stood next to him in 03 in Newcastle England. He was under 6ft then, also not as bulky as I expected.
UndertakerFrank
said on 11/Jan/20
A friend of mine son just took a picture with Scott Steiner he is about 5ft 10 to 5ft 10.5 and he had Scott by almost 2 inches !!!! I was pretty shocked i thought Scott was about 5ft 11
Hopping hopper
said on 30/Aug/19
Weak 5-11 peak. Now 5-10.
Dago red
said on 19/Nov/18
I stood next to him in 05 in a hotel lobby where he was very friendly with the fans. I remember he was surprisingly under his billed 6'1 . He was about 6 even in Hi Tech style tactical boots.
Annonymous
said on 16/Oct/18
I remember thinking wow he's not that tall during that true with triple h. I think Rob is spot on here with these estimates. Freaking huge man though, legitimately 245 lbs ripped up at this height in the late 90,s.
Mr.Biggs133
said on 30/Jul/18
Hey rob what would be an out of the bed measurement for a true 5'11

Editor Rob
Probably over 5ft 11.5 like 11.75
James B 171.5cm
said on 9/Jul/18
he lost alot for a 55 year old
Jayofficial
said on 7/Jul/18
I remember he was listed as 6'3 before which I find hilarious because women wrestlers like Stacy Keibler and Rhaka Khan towered over him.
RP
said on 7/Jul/18
I've met Rick Steiner ...mid 1990's...he was a solid 5'10"
just because
said on 7/Jul/18
If hes 5ft 10 his brother ric must be a tiny 5ft 8
RP
said on 5/Jul/18
Rob, do you recall back in the late 1990's when Scott Steiner & Ronnie Coleman did a quick little impromptu photo shoot together. They had 3-4 pics taken together that day, Scott was about 1.5" inches taller than Ronnie. However, you can't see their footwear. This is why I had a peak Scott Steiner @ 5'11.5" to 5'11.75"

Editor Rob
5ft 11.5 might be the most I'd go with.
RP
said on 5/Jul/18
Peak 5'11-3/4"
Current 5'10-1/2"
IMO
Zahid
said on 5/Jul/18
Peak triple h (6'2") had about 3 inches on close to peak Steiner. I would say 5'11" peak for Steiner and 5'10" now.
Click Here
Ben Bell (The Ben)
said on 5/Jul/18
Wow
Surprisingly short
I was outsie a hotel in Newcastle in 03 after the Insurexion show and out of all the guys Steiner was the most shocking. Definately under 6ft back in 03.
Jim hoppa
said on 5/Jul/18
Yeah utterly BS. Saw him next to Mr T,looked same pretty much. More hyper height BS
MD
said on 5/Jul/18
This is quite a bit of height to have lost for his age even given his job, isn't it? I'd have thought he was simply more 5'11" than anything over that at his peak and has thus only lost an inch.
Mayfield
said on 4/Jul/18
Nice to see him get a page, spot on with the current. Though do you think the 1/2 mark could be argued for his peak?

Editor Rob
There's a chance, at times he could look near Hart, but other times seemed shorter. I thin I'd rule out 6ft for Scott's peak.