Sean Patrick Flanery's Height
5ft 11 (180.3 cm)
American actor known for The Boondock Saints, Saw 3D and TV series The Young Indiana Jones Chronicles and Dexter (S8). In this photo Sean had about 1/3rd inch more boot than my sneaker. On twitter, when asked how tall he was, he said
"5-11"
, and also
gave
his weight:
"5'11" and 170#"
. On his imdbResume he had his weight as
"165 lbs"
.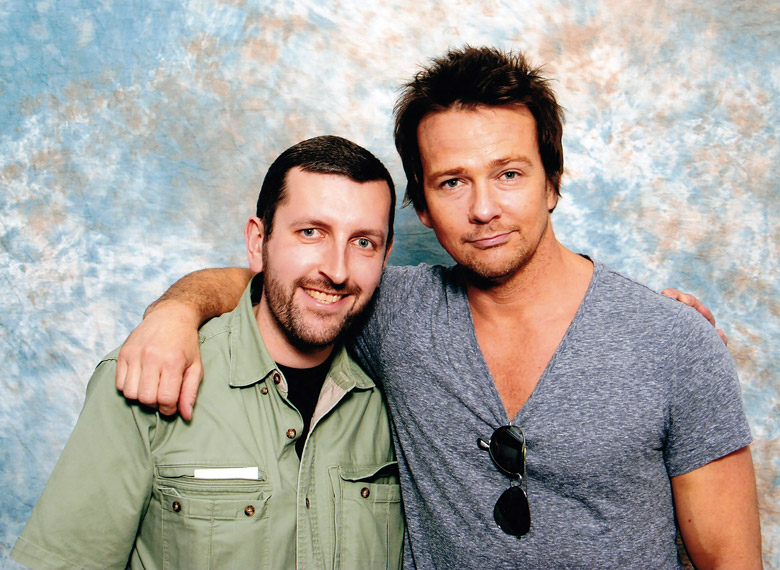 5ft 8 Rob and Sean @ Entertainment Media Show 2011
You May Be Interested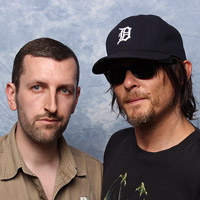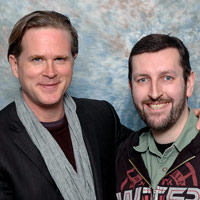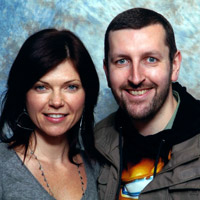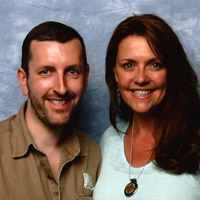 Add a Comment
58 comments
Average Guess (42 Votes)
5ft 11.01in (180.4cm)
Blanc
said on 30/Apr/20
Is 181cm possible? He looks a bit taller
Chris Junior Hernandez 1990
said on 1/Apr/20
In Powder i bet he did not weigh over 145 max.
OriginalAnon
said on 28/Mar/20
This guy was absolutely amazing in the film "Powder". If you haven't seen it, I would highly recommend it. He is also unrecognisable compared to his photo here and doesn't look very tall in the film, but he sure looks 5'11'' or at least 5'10.5" in this photo with Rob.
FE
said on 13/Mar/20
@Editor Rob,
Could u add these people to the "Martial Artists" Category?
- Sean Patrick Flanery
- Cary Tagawa
- Linden Ashby
- Chris Casamassa
- Jason Scott Lee
- Alex Meraz
- Bren Foster
- Osric Chau
- Will Yun Lee
- David Carradine (maybe?)
Junior Hernandez 1990
said on 25/Jun/19
That 3mm need to be thrown away. He is not a strong 5'11 guy let alone a full 5'11 or 11.25" guesses. 180cm is a jackpot for Flanery i feel he hit it right on it. Reedus doesn't look a full 3.8cm shorter.
Nik
said on 29/Apr/19
Lower! Rob has less sneaker and more lean!
Andrea
said on 7/Dec/18
Don't know whether it is his posture (which could be poor at times), but he gave me a shorter impression than this on Dexter, like 5'10ish, though he certainly doesn't look much less than this listing here, all things considered.
Nik
said on 4/Sep/18
I am not sure, Rob seems to lean a lot!
Junior Hernandez 1990
said on 25/May/18
Hell no way over 1.25" between his Boondock Saints brother Norman Reedus. I did give 5'10 7/8 at best for Flanery.
Bobby
said on 12/Jan/18
Is looking 5'11.5 here with the footwear advantage.
S.J.H
said on 8/Mar/17
SPF is max 5'10.5 since norman reedus true height have dipping in it at 5'9.25
Johnny
said on 10/Feb/17
Checked out a few photos of this guy on instagram....he really looks above average range and there was a photo with Quinton Aaron, he held up quite well beside that 6'8" guy, he didn't look like a shrimp. A solid 5ft 11....
Peter 179cm
said on 1/Feb/17
180cm but possibly 5'10.75 since Rob leans alot in the pic.
Johnny
said on 29/Jan/17
@Rob he also mentioned his weight as 170 pounds.
Click Here
Editor Rob: cool, I'll mention that as well.
S.J.H
said on 25/Jan/17
I never see him over 5'11 with 5'9.75 norman reedus unless norman reedus is 5'10 so no way he could be 181cm
Victor Surratt
said on 20/Jan/17
Rob, he could be a 1.81 at his peak?
Editor Rob: Victor, an honest enough 5ft 11, possibly a little over.

To be fair a guy like Cumberbatch in person is really not much taller than Patrick, given I have met both guys when they had a bit more footwear than me...certainly I'd be shocked if they were more than 1cm different when measured.

S.J.H
said on 13/Nov/16
Click Here
He look like a 176cm guy here with 5'8.25 jennifer carpenter
183cmAriel
said on 9/Nov/16
damn this guys is 50 year old he looks like he is in his mid thirties
George
said on 8/Sep/16
legit 180cm
mickey
said on 16/Feb/16
legit 5'11
Simon
said on 5/Apr/15
My favourite T.V SHow ever playing Harrison Ford's younger version.
Maor
said on 22/Aug/14
Now this is how a legit 180 cm 5'11 looks compared to a 5'8 173-174 cm tall person
lelman
said on 13/Aug/14
Have you seen Boondock Saints? He and Reedus looked near identical in height in that. Whereas in the photos with you Flannery looks about 6'0" and Reedus looks about 5'9".
[Editor Rob: don't include his 4cm of hair :)
If he had flatter hair
.
hair or not, he is what he claims, 5ft 11.]
cole
said on 4/Aug/14
That weird smile he's doing in almost every picture creeps me out!
But yeah, he's a legit and honest 180 cm guy.
Alex 6'0
said on 29/Apr/14
He actually looks a legit 5'11 even taking away the small footwear advantage.
lelman
said on 26/Jan/14
@barney I think M.C. Hall was wearing lifts that season, he looked taller in comparison to the other actors (he looked as tall as/taller than David Zayas and Desmond Harrington, despite looking shorter than them in every other season).
IMO Michael is probs a decent 5'10", no more.
dmeyer
said on 30/Nov/13
Rare honest 5'11
Mathew
said on 21/Oct/13
5'11" seems right.
Connor 184cm
said on 14/Oct/13
He might pass for 182cm in his boots in this pic with rob i agree Mathew when barefoot yeah i think he is what he claims, sean is a good example of a 5ft 11 guy.
barney
said on 1/Oct/13
i saw dexter and in the last episode he didn't look taller than michael c.hall.. i think michael is about 5-10.5 rob.. he needs a slight upgrade...have you seen the episode rob???
[Editor Rob: not seen last 2 seasons]
roberto180
said on 20/Aug/13
very solid 5'11 - 181 at night
refresh
said on 15/Jul/13
rob what is your opinion is he maybe on lifts? i dont know he realy never look more then 177-178 cm in any movie...?
[Editor Rob: a decent boot, i doubt lifts]
Mathew
said on 18/May/13
Looks 181 - 182 cm in the pic, but the 1/3 inch advantage in footware, yes 5'11".
lelman
said on 13/May/13
Damn, he looked tiny in Saw 3D! Looks like a pretty legit 5'11"
Dmeyer
said on 8/Mar/13
If he looked 181cm but has near 1cm more shoes wish mean 180cm 5' 10 7/8 -11
John420
said on 26/Feb/13
Do you think rob he is close to 5ft10...
[Editor Rob: no, he looked around 181 range that day, although he had more boot than my sneaker]
Koalized
said on 29/Jan/13
He looks taller than 180cm...
Mikey T
said on 18/Jan/13
He looked 5'9" next to 5'8" Mary Steenburgen in Powder. But she could of been wearing heels or something
Stephen
said on 8/Jan/13
181 cm is not out of the question
kevin
said on 16/Dec/12
if you downgraded reedes at 5ft9.75in than 5ft10.75in for flanery looks legit
LG69
said on 5/Nov/12
His shoes are thicker and his hair is standing up. He could pass for almost 6'0 as is, but subtracting for the shoes and hair...5'11" is about right.
Eddie
said on 20/Oct/12
Could pass for 6ft.
kevin
said on 25/Sep/12
just saw suicide kings and looks 179cm next to 6ft walken and barely 5ft11in henry thomas. i guess 5ft 10.75-10.5 is more accurate.
Larc-186.7cm-188.6cm
said on 13/Sep/12
Easily 5'11.
Shaun
said on 8/Sep/12
Pulls off the grey tee better than Megan Fox's Brian!
Hob
said on 28/Jul/12
more i watch his movie he look near 5'11. i change my mind. SPF is 5'10.5
Hob
said on 11/Jun/12
i still think previous listing was accurate than now. he look 5'11.5 in boots and 5'11 in normal footwear. so 5'10
Tyler
said on 17/Nov/11
Thanks for the upgrade Rob. He is a definite 5'11".
[Editor Rob: yeah, the times I saw him I agree that he does look 5ft 11 range]
LAN Jiao
said on 8/Nov/11
he can look 5'9.
[Editor Rob: actually I just realised I had him as 5ft 10, which was too low...he didn't look under 5ft 11.]
CaliGuy
said on 5/Aug/11
Legit 5'11". Seen him multiple times.
Tyler
said on 21/Jun/11
Definitely 5'11". He's taller than 5'10" Norman Reedus by an inch.
Tyler
said on 28/May/11
He looks 5'11" in all the movies I've seen him in.
Molly
said on 6/Mar/11
No way this guy is 5'10. I met him at emerald city comic con and he was much shorter than me, and I'm 5'9, so he's mayybe 5'7, maybe as small as 5'6. Fellow is tiny.
Anonymous
said on 23/Apr/09
looks like a little guy to me. 5 ft 10 in is pushing it. looks more like 5-7.
mclover
said on 12/May/08
When seeing simply irresistible, he seemed not all that much taller than sarah michell gellar who is only like 5 foot 1 or so. This hight seems about right.
Del Mar
said on 12/Jan/07
What's the reason of downgrading him to 5-10? I just see him listed 5-11 every other place.....
Del Mar
said on 20/Sep/06
When was he listed? I found him first now 'cause I've searched for Flanery with single "n".
[Editor Rob: at the time of comment on this page I think, not bothered checking or changing this guy, including 'n' ;-)]