Shannon Tweed's Height
5ft 10 (177.8 cm)
American Model, Play mate and Queen of the B-Movies said on Playboy.com
"I'm 6' tall and there aren't many men or women who want to stand next to me"
, and on twitter
"Gene is 6'2". I am 6'."
In a 2012 twitter post, she claimed
"Dr says my bone density is that of a 25 yr old and I grew an inch and a half?!Is that even possible?"
, with Gene replying
"Amazing. Shannon grew an inch!!! Now, 6'1". And hasn't gained a pound since 2008!!! Work out. Work out. Work out.
In a 1981 playmate datasheet, she described her height as being 5ft 10.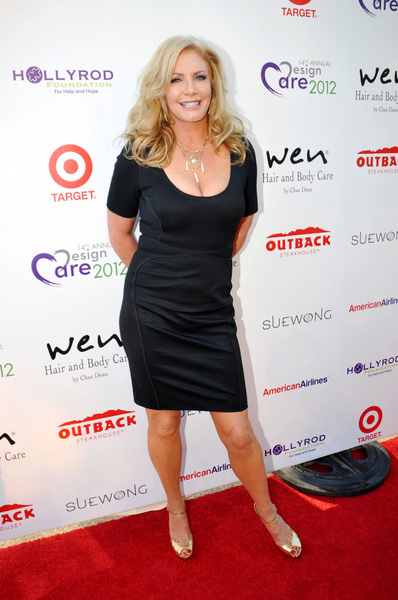 Photos by PR Photos
Add a Comment
18 comments
Average Guess (9 Votes)
5ft 10in (177.8cm)
Mimi
said on 10/Oct/19
She's not even 5ft11 but this hag claims 6ft
Nik
said on 26/Aug/19
The average guess is 5'10" (8 votes!) and she has 16 comments!
Junior Hernandez 1990
said on 14/Jun/19
Rob, Do you think Shannon Tweed son Nick Simmons is really 6'7?

Editor Rob
At times he's looked extremely tall, 6ft 6-7 range
Nik
said on 3/Sep/18
Rob would stand next to her, and then we would know!
Editor Rob
said on 2/Mar/17
She actually claimed to have gained 1.5 inches...
octsky64
said on 18/Apr/13
Well...Gene Simmons is 6'2" and their son Nick is 6'7" so either way she's tall.
Alex (London)
said on 14/Feb/13
She is definitely tall by Hollywood standards but a barefoot 6'0" woman looks HUGE when wearing high heels.
5'10" is obviously closer to the truth.
avi
said on 15/Sep/12
i think 5'9 is more accurate Gene has almost 4 inches on her and he is a strong 6'1.
hihosilver
said on 3/Aug/08
I'm on this site checkin her height, clearly she's tall. I watch the family jewels episodes..her height is obvious, low heels on occation and she's always just a few inches (5?) shorter than Gene. P.S. Sophie is almost as tall as Mom!
Groove Champion
said on 11/Feb/08
Well, bad news, all you scoffers (sp?) are wrong! I am only here because of seeing her with Kelsey Grammer on an episode of Frasier. Given his height (which I looked up and is 6'1") I got curious as to hers. She quite clearly is 5'10". She, in fact, stuck to very low heels throughout the episode. Mystery solved...don't believe me? Watch the Frasier episode called "Scratch my book". 'Nuff Said.
canadian girl
said on 29/Dec/07
i dunno if i thought shannon tweed would be taller but i'd definally say shes 5'10. genes probably is around 6-2 and the son is huge! hes litteraly gotta be 6-7 for sure. i wonder how tall the daughter is. or should i say how tall shes going to be.
girlfriend
said on 9/Sep/07
I met Andrew Stevens in person and I'm 5'9" & he was shorter than me by at least 3"-so they must have "helped him look taller" than Tweed in the movie they played together.
Sakanna
said on 4/Sep/07
Trust me... I am 5' 11" and met Gene, his son Nick, Shannon and Tracy. The only one shorter than me was Nick (who was like 3 - 5 yo at the time). I remember them being very tall. On the "Gene $immons Family Jewels when she's wearing heels she is almost as tall as Gene (who always wear boots)... she's no shorter than 5' 10" - NO WAY!!!
shannonFan
said on 30/Aug/05
Shannon tweed looks taller because in most of the movies, she has worked with actresses shorter than her. But in some of the movies like "Rowdy Girls", "Victim of Desire" she has worked with taller actresses julie strain like & in these movies shannon tweed is dwarfed by julie strain's height which clearly shows that shannon tweed is not amongst the tall actresses. Julie strain clearly towers over shannon tweed.
mcFan
said on 19/Jul/05
I think she's 5'9. Maybe she used to be 5'10. She was in a movie with Andrew Stevens in the early 90s and I don't think she was much taller than him in that. It looke obvious that they were trying to make him look taller next to her.
Anonymous
said on 26/Jun/05
5 ft 10 is probably more accurate than 6 ft. This is the height imdb has her listed in as well.
Mr. R
said on 31/May/05
Shannon has claimed this for years. She is the longtime partner of Gene Simmons from KISS who claims to be 6-2. Their 16 year old son just hit 6'7", and their daughter is starting to grow too. Maybe Shannon is lying, but those kids do have major height in their genes, and all of it is not from Simmons!
CasperUK
said on 30/May/05
Pish! A short man (around 5'6) standing next to a woman of similar height would always look around 2-3" shorter than her. I think she is flattering herself somewhat. She is around 5'9 but because she weighs some 120lb she looks alot taller. She's probably 6 with heels, if not, then she'd be 6'3 with heels and i think thats hardly likely!
[Editor Rob: I'd never checked the 'truth' of her 6ft claim, but did have a quick look just now and yes she simply does not look near this 6ft...]