Shauna Macdonald's Height
5ft 5 ¾ (167 cm)
Scottish Actress best known for playing Sarah in The Descent and its sequel. On tv she played Sam Buxton in Spooks. Once described as a 'tiny 5ft 2' by one newspaper, she listed her height as "5 feet 7 inches" on her Spotlight page. In this convention photo, she had a good 2 inches more footwear than me.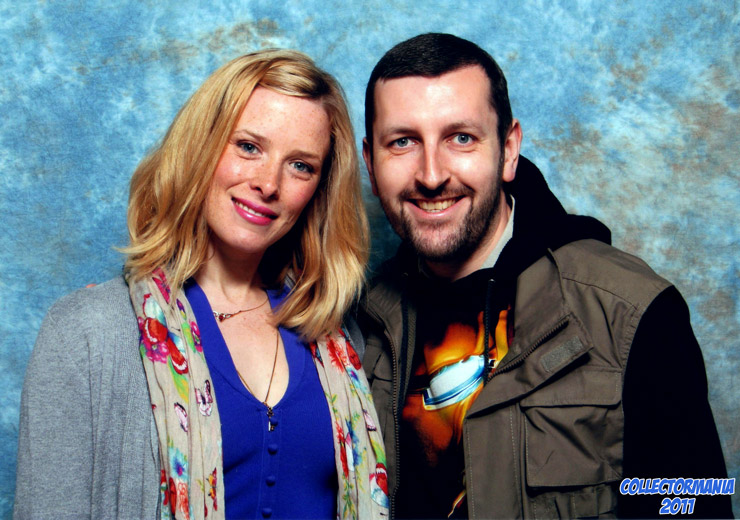 5ft 8 Rob and Shauna @ Collectormania 2011
You May Be Interested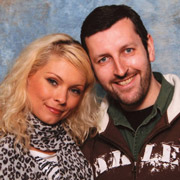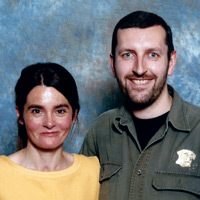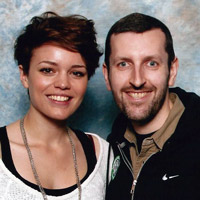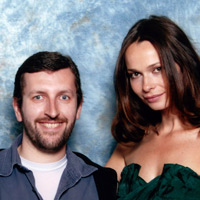 Add a Comment
13 comments
Average Guess (7 Votes)
5ft 5.54in (166.5cm)
Nik
said on 7/Jun/19
What a lovely picture of two great Scots!
Littlelee5ft6
said on 24/Mar/19
How about her descent co star Natalie mendoza Rob? She's been listed 5ft 7 and 5ft 6 the latter seems the most she can be

Editor Rob
A weak 5ft 6 is more likely than 5ft 7 from what I've seen.
Sandy Cowell
said on 12/Mar/18
💡 I wonder how many people have noticed how realistic the opening scenes of 'The Descent'
are? First you see Shauna enjoying a day out with her family and then - wham! There is a dreadful car accident wiping out all members of the family, accept for Shauna! Not perhaps, what one expects until the end of a film, but this is, after all, an unsettling horror film.
You see Shauna gaunt of face and with beautifully overgrown hair, waking up in a hospital after many months in a coma. It is the details of her hair and weight-loss that draw our attention to this fact, which speaks highly for the film.
Now Shauna, happy and smiling again at least on the surface, is going to embark on an adventure, a 'descent' into another kind of terror, with a bunch of girlfriends, but just how much can one girl stand? I think she's been through enough already!
Well, I am going to have my memory refreshed now, as I haven't seen this for a while, but my one last thought is, "I wonder if, after being for months or even years in a coma, is it likely to contribute to the hastening in later life of a person's height shrinkage?"
Well, I think she'd have to eat very sensibly after such a horrendous ordeal to minimalise this possibility, don't you? It goes to show that the healing properties of good food can step in at harsh times in one's life to restore good health physically and, of course, mentally!
Now I'll continue with the film....!
(Today I am giving Shauna MacDonald 5ft5.75!)
Sandy Cowell
said on 10/Dec/17
I mentioned in my last comment about Shauna, from 2nd April, that she appears at the end of a film about an unfortunate bunch of young women who are trying to enjoy some time out together. Well, I saw that film this week; it is called 'The Hike' and the last surviving girl knocks at a household where she is attended to by Shauna's character, Helen. It turns out that Helen is the other half of one of the murdering scumbags and she takes great exception when the traumatised girl kills her fella in self-defence - and in true horror-film queen style, she takes a golf club and kills her in an act of revenge!
I think she was in on it all along!
Shauna can have 5ft5.5 today! She is pictured in 'The Hike' with her bloke, who is almost a whole head taller than her, but he is big and strong and highly likely to be over 6ft, but uses it for all the worst things he can whereas a decent guy with that amount of brawn might want to become a fireman!
Sandy Cowell
said on 2/Apr/17
@ Rob - That MK Stadium sounds very drafty, a bit like going to see an open-air rock concert on a windy day!
It does rather impair the enjoyment!
anyonmious
said on 27/Jan/17
I say around a weak 5'5" max for her. 5'4" is more like it.
Ted
said on 6/Mar/14
5'6" or 5' 5.5" does seem right. Shauna's head tilt makes her seem shorter than she really is.
richkid123
said on 24/Jan/14
166cm
Sam
said on 11/Oct/13
She's quite good in The Descent and I think a valid 5'6".
Elijah
said on 26/Jan/13
@J.Lee: she's tilting her head remember. With her head straight they look like they would be same height.
hello1234
said on 22/Oct/12
5'5 looks more like it
J.Lee
said on 16/Oct/12
rob, how come you're taller than her if she has a 2 inch advantage?
[Editor Rob: she was a little smaller when I met her, but maybe 5ft 5.5 would be bang on.]
nyczaces
said on 12/Aug/12
If she had 2 inch advantage, at 5'6, then shouldn't she be the same height as you, rob? I think she's probably closer to 5'4 barefoot.