British actress best known for playing Jill Masterson in the Bond movie Goldfinger and for roles in films such as Ten Little Indians, The Naked Truth, Carry on Sergeant, The Million Eyes of Sumuru and Carry on Nurse. This photo was from a Memorabilia show in 2011. She was quoted in the DailyMail mentioning her height and weight:
"I have been 9st throughout my career and still am now (I'm 5ft 6in)"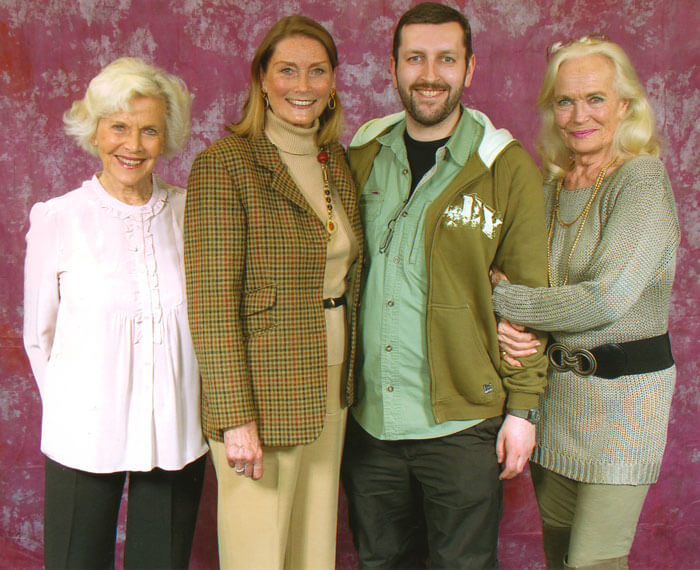 Honor Blackman
Tania Mallet, 5ft 8 Rob and Shirley Eaton
Liberty
said on 1/Apr/23
What sometimes gets lost in the credits is her appearance in the first of The Saint's episodes. She had such chemistry with Roger Moore specifically and the camera in general. A self confidence that made her standout in the field of the other actresses. Really great actress, and I like her real character that put family above fame. She is one of my favorites.
Rampage(-_-_-)Clover
said on 7/Aug/19
Rob, what were the girls like?
Bet they made you feel Connery-esque for a moment

Editor Rob
Didn't really get much chance for talking, though they were in a good mood and pleasant with everybody.

I remember this trip more because the day before we were down in Evesham picking up a 3 foot Spike Bobblehead that weighs a ton...if anybody watched a few of my videos they may have noticed these props in my living room. I sat from 2011 with this Spike staring at me from beside the doorway 😈 If that weren't bad enough, everytime I go into our bedroom we have a 5ft 9 cardboard cut out of Spike right inside the room.
Rampage(-_-_-)Clover
said on 28/Oct/17
Tania Mallet looks amazing
Arch Stanton
said on 13/Jan/17
Rob can you add The Million Eyes of Sumuru? Saw it earlier, she looked absolutely stunning in it as an evil brunette tyraness type! She could look tallish on screen for her generation, 5 ft 6 seems a good shout.
Arch Stanton
said on 28/Feb/15
I've been meaning to see How to Murder Your Wife which Terry-Thomas was in with Jack Lemmon, it was supposed to have been Thomas's favourite film role, be good to see how he looks with Lemmon. 182 was possible with Sellers, somewhere around 6 ft I thought in The Naked Truth.
Arch Stanton
said on 28/Feb/15
Rob, the DVD is only 97p here
Click Here
! Terry-Thomas was in it too.
Arch Stanton
said on 28/Feb/15
The Naked Truth is rather good, Sellers appeared in lots of different guises like police officers. It was certainly the most lively role of hers I've seen anyway!
Arch Stanton
said on 22/Feb/15
Click Here
Some earlier 50s photos here at Getty
Arch Stanton
said on 22/Feb/15
Rob can you squeeze in The Naked Truth? She was in it with Peter Sellers. Absolutely gorgeous in it, in an unusually neurotic role though, frequent tantrums, probably the most memorable role I've seen her in aside from Goldfinger.

Editor Rob
I've never seen that one yet.
Arch Stanton
said on 2/Feb/15
I also spotted her in Carry on Constable but it was a smaller role. She'd be just the sort you'd dream of treating you in a hospital!!
Arch Stanton
said on 1/Feb/15
Rob can you also add Carry On Nurse, The Naked Truth, A Weekend with Lulu and Around the World Under the Sea? Ah in a nurses outfit in Carry On Nurse, she was really stunning wasn't she!!

Editor Rob
she was very pretty in that film...
Arch Stanton
said on 22/Dec/14
@Peyman, They both still look exceptional for their age and natural looking. A lot of hot women age horrifically in Hollywood.
Arch Stanton
said on 11/Dec/13
Nice one :-]
Arch Stanton
said on 10/Dec/13
Bob Monkhouse worth adding? I thought he did look about 5'10" in Carry on Sergeant next to Eaton if she was 5'7".

Editor Rob
yeah I thought I already had him, but never did...so I'll add him.
Arch Stanton
said on 10/Dec/13
Rob she's not even close to 5'7 now though is she, probably nearer 5'4.5"=5'5" now? I'd say at her age (76) she's probably lost near 2 inches.

Editor Rob
yeah she's lost height, I'd seen her about 6 years previously and I think she was a bit taller than in this photo.
Arch Stanton
said on 10/Dec/13
Only thinking yesterday how beautiful she looked in Carry on Sergeant. As you said on Honor's page Rob we'd kill to date either of them when they in their prime!!

Editor Rob
I'm working on a time machine as I type this.
dm
said on 26/Sep/06
Probably 5 ft. 10 was proffered because in the book Goldfinger that is the given height of Jill Masterson (Shirley's character).