Sofia Milos Height
5ft 7 (170.2 cm)
Swiss born actress best known for playing Yelena Salas in tv series CSI: Miami. In film she has appeared in The Order, The Ladies Man and Passionada.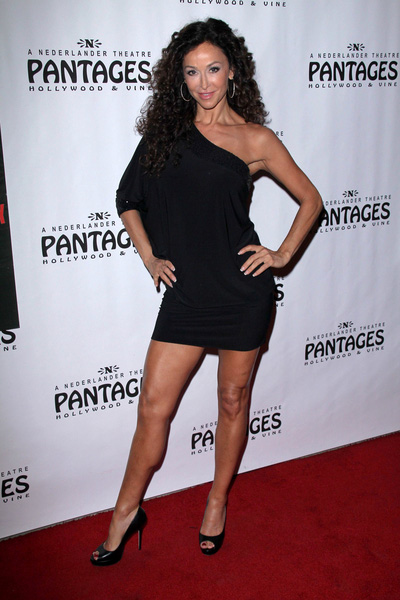 Photo by PR Photos
Add a Comment
36 comments
Average Guess (2 Votes)
5ft 7.13in (170.5cm)
Axal559
said on 15/Sep/17
Perfect listing although I believe she could be a bit more in the 5'7" column. She was definitely three inches shorter than David Caruso in CSI Miami.
Amaze
said on 23/Aug/14
looked so attractive in friends, saw that she was a tall girl
yep 5 7
Bombay Rocker
said on 11/Jul/07
Hey Rob, did Ryan Cabrera actually claim he was 5 feet 8 . In ask men, he is said to be 5 feet 10, now whether he claimed that or they just wrote it down is a q?
Anonymous
said on 4/Oct/06
Oh, I am the one who walked side by side and thinks he's 5'8" but it's true that his hair was huge. Maybe 5'7" even then. 5'6.5" at the smallest.
Wicked Kid
said on 13/Sep/06
Oh right. Like anyone can CLAIM to be Ryan's cousin.
ryan's cousin
said on 6/Sep/06
I'm ryans cousin & he is 5"6'
MD
said on 8/Aug/06
Editor Rob, do you want to finally get around to this one? Again, the guy is 5'6" at the most, and 5'8" with his hair.
Italian23F
said on 9/May/06
I work at a very popular hotspot club among celebrities in South Beach, and Ryan was there last Saturday night along with Enrique Iglesias. Ryan walked in with the club's owner and I was wondering who he was walking in. When I look at the guy, he's REALLY short and then he looked over at me. I recognized him but was having doubts because of his height. I'm 5'5" barefoot so with heels I'm about 5'8" and I was an entire head taller than him. He's probably 5'5" at the very tallest but indeed he has a very cute face.
ryanne
said on 28/Apr/06
when I went to one of is concerts I sware he was only about a couple inches taller than me and I am only 10!he must be short!!!
Anonymous
said on 24/Apr/06
walked by him for 5 min. through LAX on Thursday. I am 5'7"3/4" and I think he was dead on with me. Not taller, for sure.
SEBASTIAN
said on 19/Apr/06
So that makes Nick Lachey the same.
MD
said on 16/Apr/06
Sorry, but let's get real, here. Here is Ryan Cabrera next to Marques Houston, who is a few inches shorter than 5'9" Shannon Elizabeth (sorry, I don't have any photos showing the difference). Many also believe that Shannon's 5'9" height may be a little bit exaggerated, as well. Again, the 5'8" he's given is definitely with the hair. He's really no more than 5'6.5"-5'7" barefoot.
1.
Click Here
2.
Click Here
SEBASTIAN
said on 16/Apr/06
WELL HE SAID HE WAS 5.8.
Rick
said on 31/Mar/06
I agree with Trueheight. Here he is with Nick Lachey (5'9"). Both are wearing flip flops as you can see and Ryan is about the same height as Nick.
Click Here
Trueheight
said on 10/Mar/06
c'mon you ppl; the 5'5 claims are utterly ridiculous. I would bet anything he's anywhere between 5'7 and 5'7.5. His figure is slight, he's got narrow shoulder's, and short arms so he looks shorter. Like the guy from Green Day looks short cuz he's got a long torso and short legs, but he's really a bit over 5'7
cathy
said on 19/Feb/06
i met ryan today at the mall (yea i know right!) and he was with his girl friend Lisa Origliasso who is 4'11" and he wasnt much taller then her, he was about two inches taller then me which would put him at about 5'5"
he didnt have the hair spiked, it was down
deff the coolest thing ever
ne1 know if he has a show in phili or sumthin?
dutch hispanic guy
said on 13/Feb/06
5ft 8in??!! Wow, can you imagine how short all those contestants must be in that music programme score!!
ds
said on 30/Jan/06
Like I said my friend who is def 5'7" said he was short, but a little bit taller than her. So maybe 5'7.5".
Anonymous
said on 8/Jan/06
i met him almost a year ago, and i am 5'9" he was about the same height. if not a lil taller
Ryan addict
said on 24/Dec/05
I read in a magazine when Ryan said he was 5'8 without the hair and with the hair he is 6' ft tall.
Wicked Kid
said on 24/Nov/05
Downgrade please. If the celebrities knew their heights would be taken with tall hair, they'd all copy Ryan!
MD
said on 23/Nov/05
5'8" is definitely with the hair.
Wicked Kid
said on 22/Nov/05
My gosh. I just watched the episode of Ashlee Simpson where she was wearing that ridiculous 2005 sunglasses for some MTV party. Earlier, she and Ryan were walking down a street BOTH with sneakers. He's taller than her by 3" people!! Not 1, not 2, it's 3 at least. Seriously. But really, you have to agree that Ryan doesn't look near average at all! Please, 5'6" looks closer minus his hair. I'm assuming that the 5'8" includes his hair? Lol.
Anonymous
said on 15/Nov/05
no way...this girl said she was really short and she met him and she's like 5"3.5 I believe she said and Ryan Cabrera wa sonly like 2 inches taller and she had like 1.5 inch heels something like soo he he's 5"7 with shoes on and he's probably 5"6
Wicked Kid
said on 11/Nov/05
WOW the MTV Vanessa certainly looks nth less than 5'6" to me though!! But Ryan, he looks 5'6"-5'7"...5'8" is TOO MUCH.
df
said on 26/Oct/05
he's definitely above 5'7" my friend is 5'7" and she met him and he was a bit taller than her. so yeah.
Anonymous
said on 22/Oct/05
ryan is my friend. he is no more than 5'7 in shoes.
Anonymous
said on 19/Oct/05
My friend's talent co. in LA works with Joe Simpson in booking Ryan Cabrera and says that he is 5'6 3/4". Can anyone find him with MTV Vanessa Minillo? She and I worked togetehr as interns and I can confidently put her at 5'5" ( I am just at 5'8").
MD
said on 18/Oct/05
Ok, I just got through watching Jay Leno (what a goldmine for this site, 8/18/05), and Ryan was the musical guest. At the end when Jay goes to shake hands and end the show he stood next to Ryan and was more than 2' taller than him (yes, even with the hair). If I had to guess, he looked 3 to 4 inches shorter than Jay with the top of his head only coming up to Jay's mouth. If you want to take Jay at 5'11" (5'10" really), than the 5'7" I keep pushing for both him and Ryan Seacrest seems even more than realistic.
MD
said on 14/Oct/05
But Rob, it's always easy to throw up a picture of him beside someone obviously quite a few inches shorter and say "look he's no that short." If there is one thing I try to do, it is to always compare people to someone VERY similar in known height.
MD
said on 14/Oct/05
Let's do get this straight. I think I saw your comment about Rove in another thread, and he is not 5'3". The reasoning for believing this was flawed.
Z2
said on 31/Jul/05
I think he wears his hair high so he can add inches without wearing those funny looking "elevator shoes"--shoe lifts. In reality, on my view, he only looks to be 5'6.5"
maggie
said on 29/Mar/05
i think he's about 5'8" too and 5'10" with the hair. I saw him in concert. Looks about that height. yes, and ashlee is shorter than him by like 2 or 3 inches. so i say that's right.
Brad
said on 19/Mar/05
I met him in person, I'm 5'11" so I say 5'8" without the hair, 5'10" with.
blitzer
said on 26/Feb/05
nah hes not tht tall...NOOO WAAYYY , hes probably 5 ft 6 1/2inches . yeh ur right its his spiky hair that makes him look tall but he really isnt
JDD
said on 21/Feb/05
No definitely not..thats the right height i would say....u can see in some parts of the ashlee simpson show ...hes not that tall!!