Stephen Bishop's Height
6ft 2 (188 cm)
American actor and former baseballer, best known for playing Patrick in TV series Imposters. He claimed on a couple of occasions
"I'm 6'3""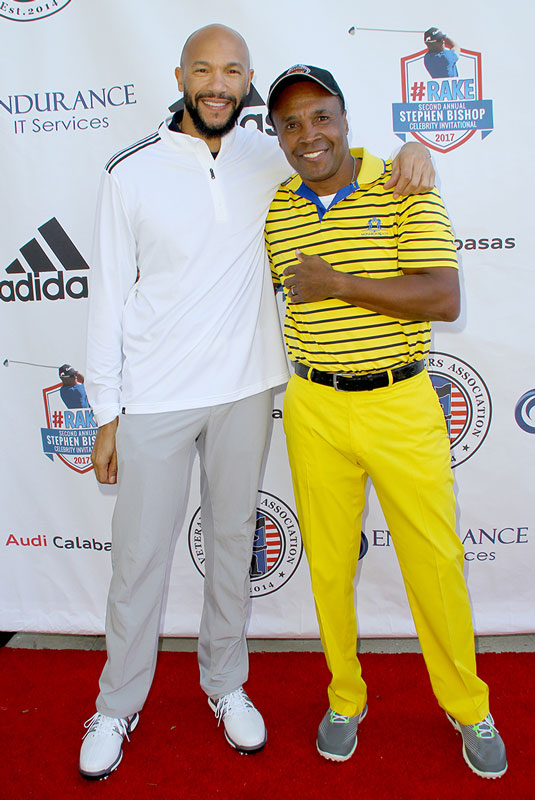 Stephen with
Sugar Ray Leonard
Photos by PR Photos
Add a Comment
6 comments
Average Guess (3 Votes)
6ft 2in (188cm)
Miss Sandy Cowell
said on 15/May/19
@ Myself - Cheers! 😄👍
Stephen gets six two.
Myself
said on 22/Jun/18
@Sandy Cowell
Haha, yeah. Although if you understand russian and watch that video you most probably already know who Vitaly is and if not, the trolling nature of the video is quite obvious when you are listening to what he says, instead of just reading subtitles ;)
I wonder if that's because of the possible damage that he sustained during fights, or he is just not confident enough to formulate a meaningful talk...Because his brother on the other hand is completely the opposide and a pretty charismatic person!
Sandy Cowell
said on 20/Jun/18
@ Myself - Now that was FUNNY! I gave the video it's 69th 'like'...
I thought the music at the end was a lovely touch, and if someone was watching it by mistake, the music would have been a wonderful reminder that that compilation was created FOR A LAUGH!
Nice one, if you don't mind me saying so, Myself!
Myself
said on 20/Jun/18
@Sandy Cowell
Look at Vitaly Klitschko...he went in politics but is known for not being able to say a sentence with much sense and has created a huge amount of memes because what he often says is complete nonsense that is fun to listen to...at least until you remind yourself of his power role as city ambassador of Ukraine...
Some of them (enable subtitles)....
Click Here
Sandy Cowell
said on 18/Jun/18
* Correction Time * 😛
There should have been a question mark after the first sentence of my comment!
Sandy Cowell
said on 17/Jun/18
Isn't it great that sports people as well as models can use their prominence to pursue acting careers. Recently, I have been commenting on Merlin Olson's page, the 6ft5 actor from 'Little House on the Prairie'! His acting is so heartfelt and beautiful that I found it incredible to believe that the big guy was, in fact, a former footballer!
Only time will tell if Stephen manages to give such moving performances, but he has time on his side! I would love to see him acting and come to my own conclusions, but until I do, I have great pleasure in giving Stephen 6ft2!
Another thing, totally unrelated to this Stephen Bishop, is that there was a ginger-haired Stephen Bishop in my brother's class at school! By saying he was quite tall means nothing, as I was a small 14 and-a-half year old when the kids from that class finished their exams and left for the big, wide world of either further education or employment. I rather fancied Stephen and used to wind him up so that he would chase me!